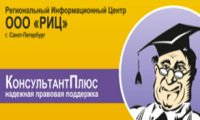 RIC LLC
St. Petersburg, Russian Federation
About us
LLC "RIC" is the Regional Information Center of the All-Russian Network for the Dissemination of Legal Information "Consultant Plus", the official representative of the NGO "Computational Mathematics and Informatics" on the territory of St. Petersburg and the Leningrad region, which is confirmed by the Certificate.
RIC LLC is an unclaimed profile. Only employees of this company may claim it. Know someone who can claim this page?
Latest Reviews
Have you worked with this company before? Drop them a reference now and help them improve their reputation!
Error: Contact form not found.
Error: Contact form not found.