About Far East Land Bridge (FELB)
Incepted in 2007, Far East Land Bridge (FELB) is a railway operator that specializes in rail transportation of 40ft DC, 40ft HC and 20ft containers in and between Europe and Asia. The company owns a fleet of about 2600 containers which they supply for one-way leasing. When customer demand is high, they expand their stock by using boxes for one-way.
With offices in Austria, Germany, Italy, and China, 70+ employees, and nearly 16 years of container logistics experience, FELB prides themselves on their rapid transit time, flexibility, and customer orientation.
"We found new partners and reduced idling time on xChange"
Back in 2018, FELB joined xChange's Leasing platform and primarily booked containers for one-way leasing when they needed to quickly find extra units. Later, they began supplying their own boxes on xChange to balance their fleet, avoid empty repositioning costs, and decrease idle time.
"We joined Container xChange because it exposes us to great opportunities to balance our fleet. Imbalance between the Westbound and Eastbound is about 3:1, so we can quickly lease extra units when we have a shortage or supply our units when the market is low", explains Alexander Redkin, COO of FELB.
Additionally, Asset Managers of FELB, Liping Yang and Jinglin Guan, shared their experience using xChange's leasing marketplace:
"Previously, it was a challenge to find reliable partners to move our containers. And when we did, we had to frequently email them to negotiate terms and conditions, which was a very time-consuming process. Now, with xChange, we can easily find partners to move our containers from Europe to China and all our offers are well structured, saving us time on lengthy negotiations."
"Clear understanding of market rates with Insights"
What's more! FELB is not only an active user of the leasing platform but an avid user of xChange Insights. This is what Jinglin Guan had to say about their experience:
"Insights shows us the market container rates so we can learn our potential earnings and it guides us when negotiating leasing contracts with partners."
And here are the three things that FELB employees love the most about xChange:
"The three things we love about xChange is:
1. The easy and quick process to lease out our stock on the leasing marketplace.
2. Insights trading and leasing data that shows true market situations which help us align our offers and maximize our profits.
3. How fully functional all the interfaces are. For example, the leasing marketplace also provides us updates on our stock levels and the whereabouts of our containers."
"xChange's overall quality of service is a 9/10!"
Being a loyal member of xChange for 5 years, FELB has seen it all- the growth and true service of Container xChange. And with that, this is what they've rated us out of 10 in the following categories: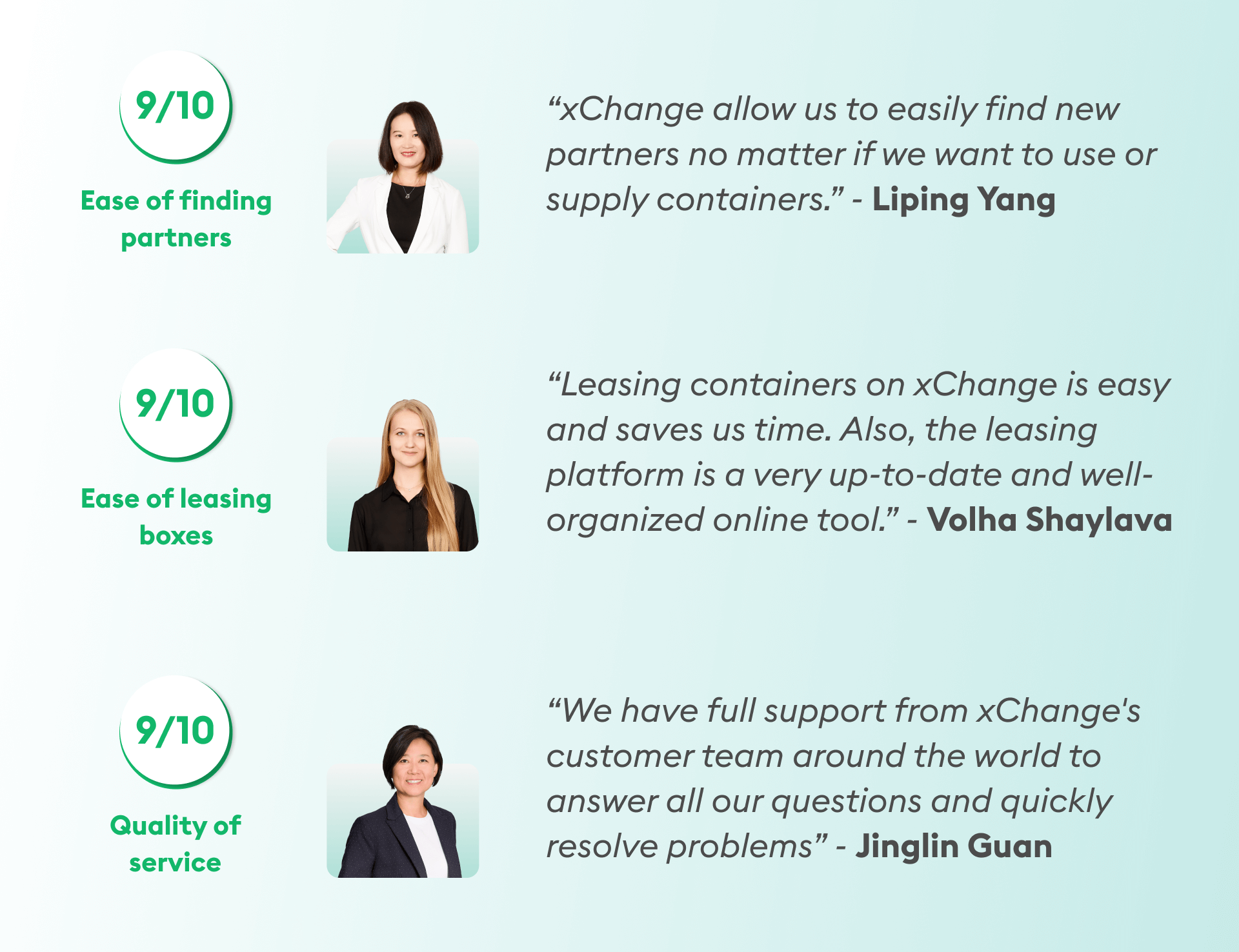 See how 1500+ members (from small businesses to enterprise) are seeing value with xChange, 100% free and no credit card required.