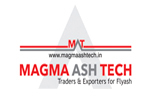 Magma Ash Tech
Mangaluru, India
Member since 2020
About us
We at magma ash tech are a profesional team formed a company with a lucrative product to trade with. not only the effort has been put on marketing, we have designed our product as a user friendly, hassle less transported merchandise. Promoted by mangaldas gupta , having ample expertise in area of iron ore end to end logistics and export, have designed this idea transformed into export of fly ash. We are among the top listed manufacturers, suppliers and exporters offering best quality Fly ASH. We are located at Mangalore, and are catering to all the needs of the customers based across different parts of world. We are known to be a well reputed service provider as well involved in rendering Logistic Services, Consultancy Services and Screening Services. To ensure quality products, we have been following international norms and standards for exporting of Fly Ash.
Latest Reviews
Have you worked with this company before? Drop them a reference now and help them improve their reputation!
Error: Contact form not found.
Error: Contact form not found.