Global Container Leasing Marketplace
Lease shipping containers for one-way in 2,500+ locations globally. Find new reliable suppliers for current business and for irregular or new routes.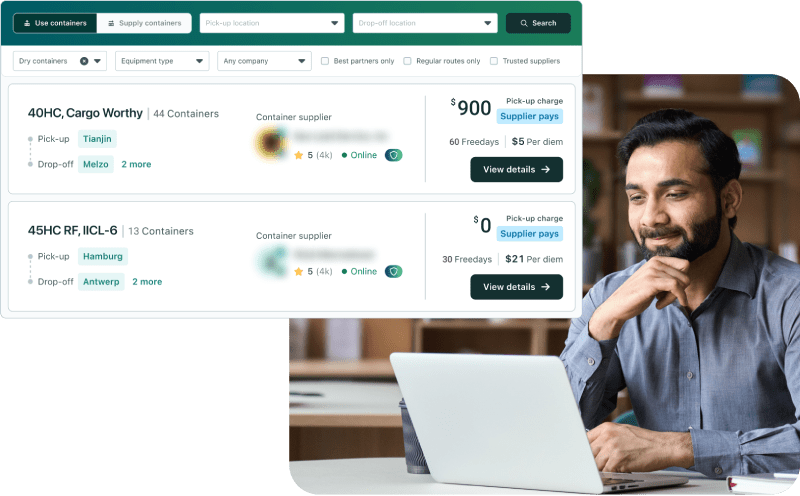 Trusted by 1000+ Freight Forwarders, NVOCCs, container providers, railway operators, and shipping lines

Check available containers from xChange for your routes
20 search results found in total. Interested or found the unit you need? Request more details about your deal for your company via email. No commitment.
Find containers quickly even in new markets
Discover New Global Suppliers in Minutes
Check your desired locations among 2500+ around the world and quickly find new suppliers, that you can trust.
Find Containers that match your needs
Find containers for any type of goods from dry cargo to wood logs and metal scrapes. Simply, choose any type among 40HC, 40DC, 20DC, 45HC, and Reefers.
Transact with full security
We do background checks on every member, so you can safely rent containers on xChange with confidence.
xChange also ensures that you get the containers you need and verifies release references with depots to avoid pick-up issues.
How Freight Forwarders, NVOCCs, railway operators and shipping lines win with xChange
See the only Global Leasing Marketplace in action
Discover current offers for your stretches, see your potential partners, and discuss pricing options.
We speak more than 20 languages.
Want to supply your containers?
Publish your offers on xChange: avoid empty repositioning costs, decrease idle time, and earn money.