Container tracking used to be time-consuming and frustrating. On top of that, you can't always be sure to actually be able to track the containers. That's not how it should be. At xChange we've developed a smart container tracking solution that saves time, creates transparency, and is easy to use.
Cargos are packed, containers are loaded, and the ship is now ready to set sail. While everything looks perfect and as planned, there's always a little apprehension and uncertainty. Timely delivery of shipments and cargo safety are constant thoughts, right?
Well, this is where container tracking enters as the hero! Let's dive in and understand more about what exactly container tracking is and how it works. 
How container tracking works
There's no doubt that development of technology has made many things easier to deal with. And it's definitely a boon to the shipping logistics industry. From increasing productivity in the supply chain to trucking, transportation, and minimizing cost and error, improved technology has benefited us immensely.
Adding to these advantages is the ability to track shipments effortlessly. To run this robust supply chain network smoothly, transparency is an essential part of the process. And container tracking helps to achieve that. It allows you to gain end-to-end visibility of the location of your goods. And mitigate any potential problem by taking timely precautions.  
Until a few years ago, container tracking meant a perhaps complicated process. It was done by checking the container's location manually via the shipping company's website. However, today, this has dramatically changed, thanks to the modern-day container tracking systems.
The idea here is to always stay in touch with the ship and know its position. This is primarily done using an active smart device. It's attached to the container. A cloud-based app/platform then collects, processes and shares the required data.
Different tracking systems
Container tracking systems help the shipping logistics industry in numerous ways. From giving the exact location of a cargo and port details to tracking it anytime and from anywhere. It definitely makes the shipment process less of a nightmare.
However, it's important to get your hands on a few details to track your container's location. You can do so by identifying the container number, booking or lading number, and the shipping line.
We'll take you through the container number and bill of lading in detail in the later part of this article.
3 commonly used tracking systems
While you can trace your container with the above details, here are the different types of tracking system used widely to fetch this information.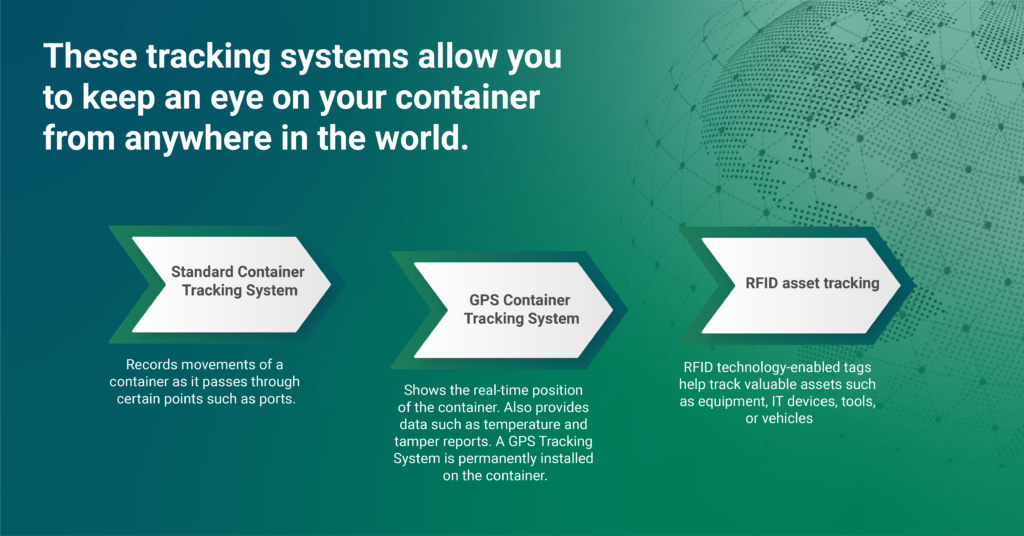 Many companies today provide container tracking systems which can access the exact location of ships of their fleet at any time. With the use of the GPS tracking system or through satellite imagining information about the state of the cargo can be identified.
So, how can you benefit from these tracking systems? Well, as customers, you'll get instant notification about your container status. Thanks to technology, tracking is now hassle-free. You can do that through the web, phone or email from the comfort of your home. This allows you to plan out the logistics more efficiently.
Track containers with Bill of Lading
As mentioned above, Bill of Lading is an important aspect to determine the location of a shipping container. Bill of Lading is a legally binding document issued by a carrier to a shipper.
In simple terms, a Bill of Lading (BOL) is a unique number by the shipping line. It's also called the Master Bill of Lading number. This number consists of 4 letters (carrier's code) followed by either an 8, 10 or 12 digit identifier. For example, MSC12345678. You'll usually find the BOL on the upper right corner. 
You can easily track and trace your shipment using the bill of lading number. All you need to do is specify the Bill of Lading number on the official website of the carrier or any other tracking platform you're using. Most of these tracking platforms send automatic email notifications. 
A bill of lading works as a receipt of freight services. It has details of the cargo such as type, quantity, destination, and gives the title of the shipment to the specified party. The Bill of Lading ensures that the carrier delivers the freight in good condition to the consignee (importer). It's important in international trade to guarantee that exporters receive payment and importers receive merchandise. Bill of Lading serves as a proof of ownership over the goods being carried.  

Track container with a shipping container number 
Another way to track a container is by using the container number. An identification number assigned to a freight container. This consists of three letters (container prefix or owner code) followed by one more letter (equipment identifier), a six-digit serial number and a check digit. For example: ABCD1234567.  
The owner code shows the company to whom the container belongs. The check digit validates the owner code and the container serial number.
Usually, while tracking a container, you type the container number and get the information you're looking for. But you don't have anywhere to save that data. So, every time you want to check up on the containers you have to find and type the container numbers once again. At xChange, you type the number in once. We then store the information and update you automatically.
With our premium container tracking system, xChange Tracking, you'll find all the information on containers at the same place. And you'll get tracking alerts e.g. when the container is close to arriving at its destination or if something looks strange.
Being able to keep track of containers is essential because many things can happen – carrier reliability, accidents, and mistakes are always risks. It's the only way to plan a pick-up time and communicate a change of plans if the containers are e.g. delayed on ship. The importance of container tracking systems is a force to be reckoned with. This is why tracking systems should be there to help and ease the work for container users and suppliers. Keep on reading, and we'll tell you how our container tracking solution, xChange Tracking, can save you time and frustration!
An all-in-one container tracking solution
Imagine all the information you were looking for on your containers were in the same place. That would ease the burden of manually searching container after container.
Well, you don't have to imagine any longer.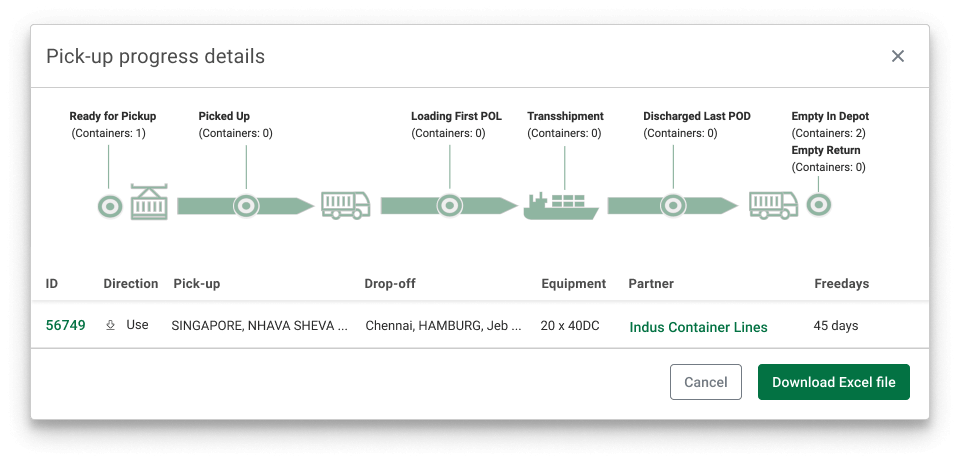 At xChange, our vision is to challenge the status quo. That is why we have developed xChange Tracking. xChange Tracking is a container tracking system that's integrated with the transport or equipment management system you're using. It's add-free and easy to use.
With xChange Tracking, you can monitor containers and manage your releases. You can easily add containers. After you've done that, xChange Tracking automatically updates itself and stores the data for you. That's container tracking made easy!
xChange Tracking tracks your fleet
With xChange Tracking, you finally have all your pickup and drop-off references in one place. Together with an overview of all the containers you use or supply. At xChange you can track containers across carriers. In effect, having your entire fleet tracked all at the same place.
At xChange, the containers are tracked through several channels. The information is gathered from carrier websites, depots, terminals, carrier reports, and xChange forecasts.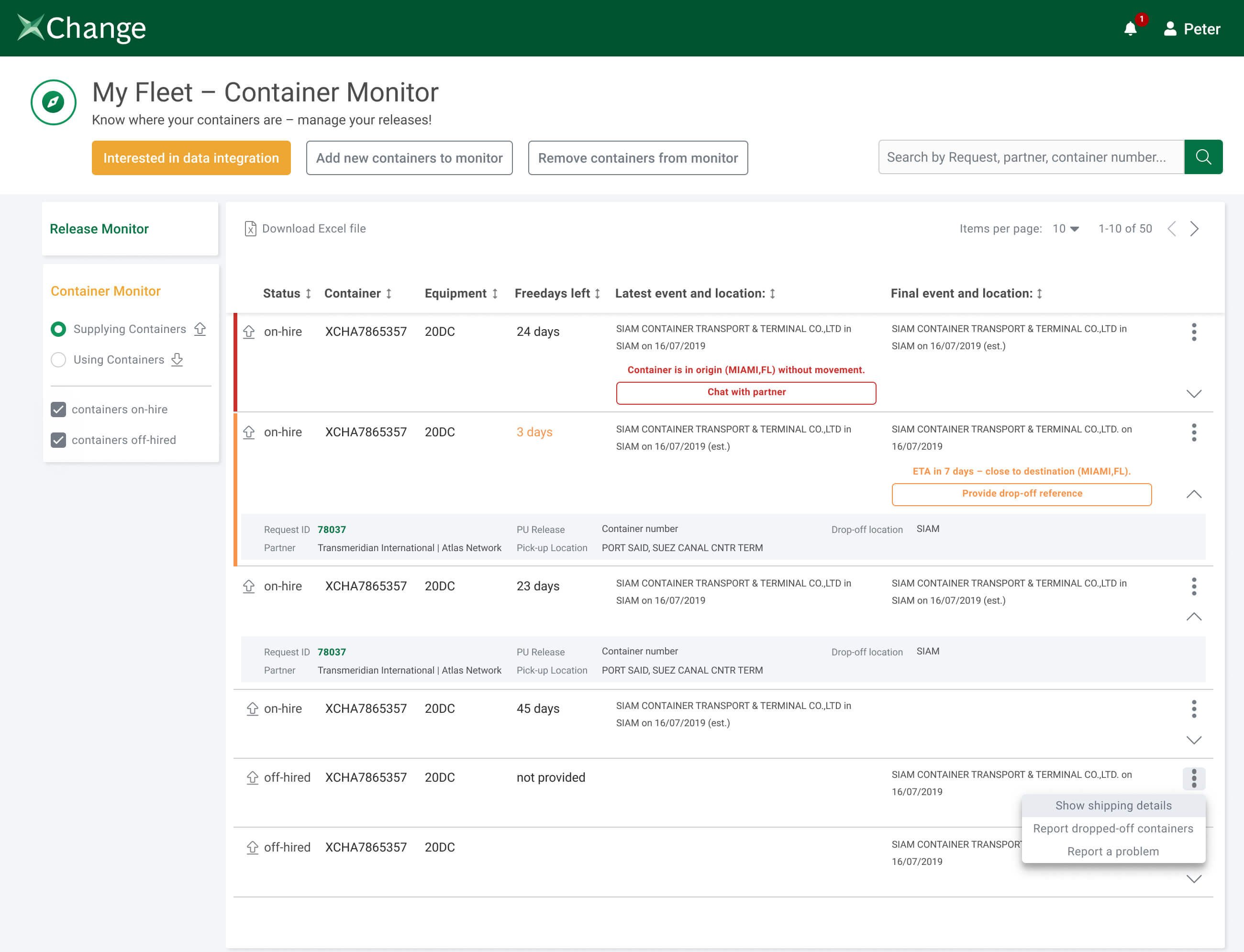 The best thing about xChange Tracking is that it shows tracking alerts and sends you notifications. You don't have to worry about anything. The pick-up and drop-off references are all in one place. You'll also find ETAs, container moves as well as shipping details.
With xChange Tracking, you can even track containers outside of xChange. You can integrate them with your equipment management systems or just export the data as a CSV or excel file. On our dashboard, you can search for locations, container numbers, partner, releases… whatever you want – the system always shows you the data you want to see, up to the single container.
Whether you use or supply containers, xChange Tracking is here to ease your work burden – and give you a better overview of the containers.
xChange Tracking for container users
For both freight forwarders and others who use containers, there are features made specially to help you. We'll mention some of them here. You can easily get an overview of all containers, and you don't have to do anything, because we send tracking alerts. Something that has been difficult until now, requiring a lot of manual work. This, you won't have to do. xChange Tracking does it for you.
The same goes for the tracking information. Everything is on one page. Providing you with the overview of your fleet, so you can make the best business decisions.
Another important feature in our container tracking system is the overview of when your free days run out. This gives you the chance to contact the consignee in case the containers haven't been returned. That way you can avoid demurrage and detention charges.
All this tracking data can help you to easier and better communicate with your customers!
If you would like to figure out more about how xChange Tracking can help you, click on the banner below and schedule a demo!

xChange Tracking for container owners
As there are features targeted containers users, xChange Tracking also has features especially helpful for leasing companies and container traders. Instead of checking every carrier's website, you only have to go to one site. xChange Tracking. Here you'll find the tracking information that you need.
Finding a specific deal and container positioning is easier than ever; the search tool allows you to search specifically with any information such as a partner, container number, contract or release, and port of destination.
To make everything easier for you, we've ensured that information such as pick-up and drop-off references are all in one place.
Using xChange Tracking you'll get a tracking alert in case something changes. For instance, if a container goes to the wrong location or has not arrived at the destination.
You'll also receive alerts if a container is off-hired in the wrong destination. But you won't just get alerts if something is wrong. You'll also get them when things are going as planned. Such as when a container is close to arriving at the destination.
If you would like to learn more about how xChange Tracking can ease your work, click the banner below and schedule a demo!


Container tracking for more transparency and better fleet visibility
xChange Tracking makes your life easy and tells you exactly what to do. It might be a pick-up reminder, the return schedule, or something third. xChange Tracking does the thinking for you.
It also has all the needed documents such as pick-up release or drop-off reference in one place for you!
If you're really into container logistics, xChange Tracking is the only smart container tracking solution that does the work for you. Reduce the cumbersome, manual work, and use the additional time to focus on your core business.
With xChange Tracking, tracking is now fully automated, smart, and fun! If you're interested in upgrading your container tracking system, feel free to get in touch anytime!
FAQ on Container tracking:
How can I track my container?
Most container tracking is carried out using a remote satellite system. Here, the satellite images of a container ship are taken. These images are then sent back to the base station. To know the exact location of your container, you must specify the following – container number, Bill of Lading, and the shipping line.
What is real time tracking?
Real-time tracking is also known as live tracking. One of the ways that's done is through a GPS tracking device installed on the container. This device tracks and updates a container's location every few seconds to keep its users updated with high frequency. Real-time tracking also provides other data such as temperature and tamper reports.
What is a Master Bill of Lading number?
A Master Bill of Lading number is a document issued by the carrier (shipping line) to the Freight Forwarder or NVOCC operator. It's a summary of the contents of a shipment and includes details such as the bill of lading numbers, terms for transporting the freight, details about the consignor, the shipper, or the consignee.
Why is real time tracking important?
One of the biggest advantages of real-time tracking is that you can stay informed about the location of your containers at all times. It's important because this helps you make more informed decisions, increase productivity, reduce unauthorized use, and eventually improve customer service.
Can I get automated notifications on the movement of my shipment?
Most container tracking systems are developed to send out automated notifications regarding their shipments. This is done in order to give you an enhanced shipment tracking experience. Make sure that you choose a container tracking system that has automated shipment notification as one of the main available features.
Summary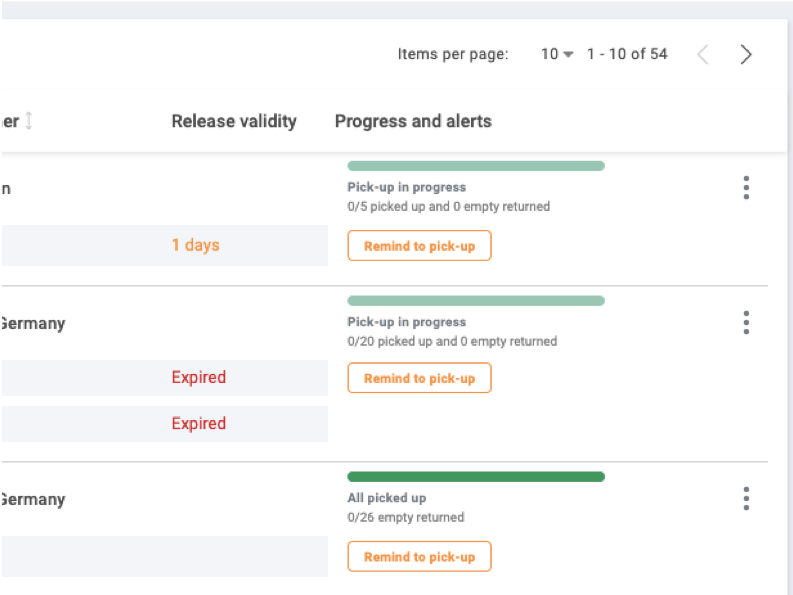 Article Name
Get a Container Tracking ETA for your shipments [Container Tracking Tool]
Description
Container tracking isn't following the times. xChange developed a container tracking solution that saves time, creates transparency, and is easy to use.
Author
Publisher Name
Publisher Logo