For safe transport of your goods, a shipping container is the best choice. But it can also come at a certain cost. Thus, it's important to find boxes with the best container price that's easy on your pocket. Want to skip the article and directly find best prices? Talk to our expert team now.
The invention and evolution of shipping containers has changed the face of sea-freight transportation and globalization as a whole. Maritime shipping is known as the backbone of world trade. So much so that around 89.5% of global trade is carried through the sea. Today, there are 6,145 active ships carrying more than 23 million Twenty-foot Equivalent Units (TEUs) around the world.
Came here only to find containers? Enter a port location to find the best container prices or contact us directly to talk to an expert:
How much do shipping containers cost?
However, the rate of shipping containers is a tricky business at times. Though roughly, a 20ft container costs anywhere between US $1375 to US $6879.94, this cost can globally vary widely.
The reason? There are many!
Shipping container prices: what determines the cost
As you've read above, shipping container price vary globally. There are many factors that play a role in contributing to the wide shipping container price range. Keeping these in mind will help you get the right container at the right price.
Some of the factors include geographical location, container condition and age, cost of delivery, container size and customization or modification. The price of a shipping container also fluctuates with shipping industry market conditions.
Let's understand these factors that have an impact on shipping container prices.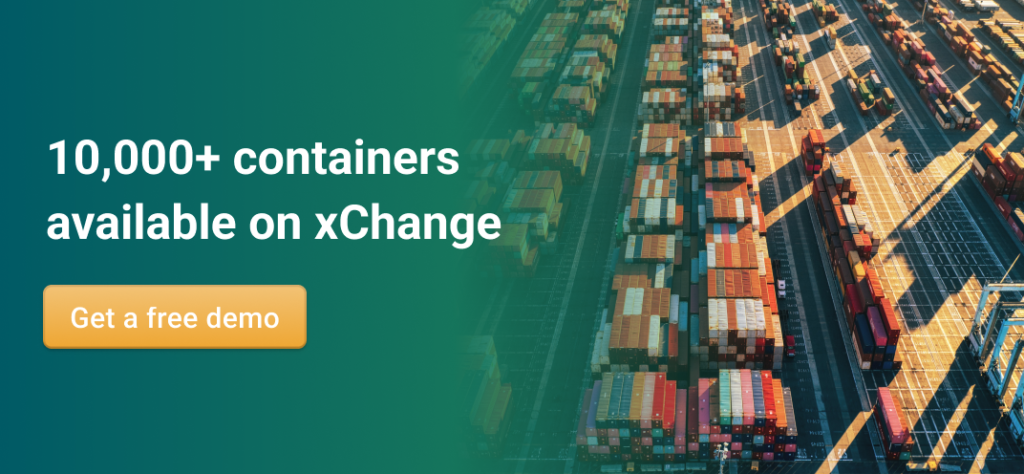 Container price depends on geographical location
Availability of container in a specific location can have a huge impact on shipping container prices. Just like any other products, container prices vary based on supply and demand.
It also depends on the economy and current price of steel in the said region. Having said that, keep in mind the location of your supplier while budgeting your storage container. Sometimes, the delivery fee of a container is more than the container itself. We'll get into the delivery charges in a few minutes. Here, it's important to understand that supply and demand are not the only factors that determine the price. Geographical areas such as a landlocked or port location has a huge role to play. In a landlocked country, there's a lack of direct access to open sea. Thus, the transport and transit cost is significantly higher than moving containers in a port location. The logic is simple, the further supplier has to travel, the more expensive the prices get.
Container condition determines container price
You can go for either a new or used shipping container. A one-use or new container are naturally expensive than the used ones. On an average, a new 20ft container will cost you US $5,000. A used one will be anywhere between US $3,500 to US $5,000. The price may vary depending on the state of the container. Age of the container plays a significant role too. The older the container, the more it's used and repaired over the years. Such container will cost less.
Note: Due to the COVID-19 pandemic, there has been a storage in the container inventory in 2020. As a result, the container price is higher for new containers. And used containers are even harder to find.
Also note that while getting your hands on a used container, make sure it is ISO approved and also go for a thorough inspection.
Cost of delivery impacts container price
As mentioned above, choosing the right supplier holds as an important factor to determine the shipping container price. The location of the supplier can impact the delivery rate (an add- on to the overall container price). Some suppliers charge extra for a hard-to-reach location which costs extra. Thus, the prices vary depending on number of containers delivered and time taken to reach the location. The further you're from a port location, the costlier the container will be. It's important to get a delivery quote before the final yes. Or look for someone with flat rates.
Container price varies with container size
Well, this one's obvious! Shipping container prices increase with size of the box. A 40ft container is about 20%-30% more than a standard 20ft container. Your first priority should be to understand which size of container fits your needs best. xChange can help you understand your requirements better – saving a lot of cash. Here, the cost, depends on the condition of the container. Typically, as you know, there are two standard sizes – 20ft (20' x 8' x 8.5') and 40ft (40' x 8' x. 8.5'). However, customization and modification are possible if a need arises.
Customization or modification adds up to container price
Customization and modification of shipping containers are a common scene in the industry. This too has a huge influence on the shipping container prices globally. The on season of container construction is usually during Spring and Summer. Ask your supplier about the supply and demand challenges they are facing, and when is the best time to buy from them.
Range of container prices
Container xChange provides a neutral trading marketplace for its members. This enables you to buy and sell shipping containers from certified partners. Moreover, with ease and at the best possible price. The xChange trading platform creates transparency on the global container trading market.
Here's an example of average prices of containers traded worldwide on the xChange trading platform.
At xChange, you can find a new 20ft container starting at US $2,000 and a typical 40ft new container at $4,400. A new 40ft high cube container will cost you an average of US $5,306.
If you are looking for a 20ft reefer container at xChange, you can get one at US $6070.8. The 40ft alternative costs an average of US $5251.9. A typical 20ft open top container costs US $2,249.3.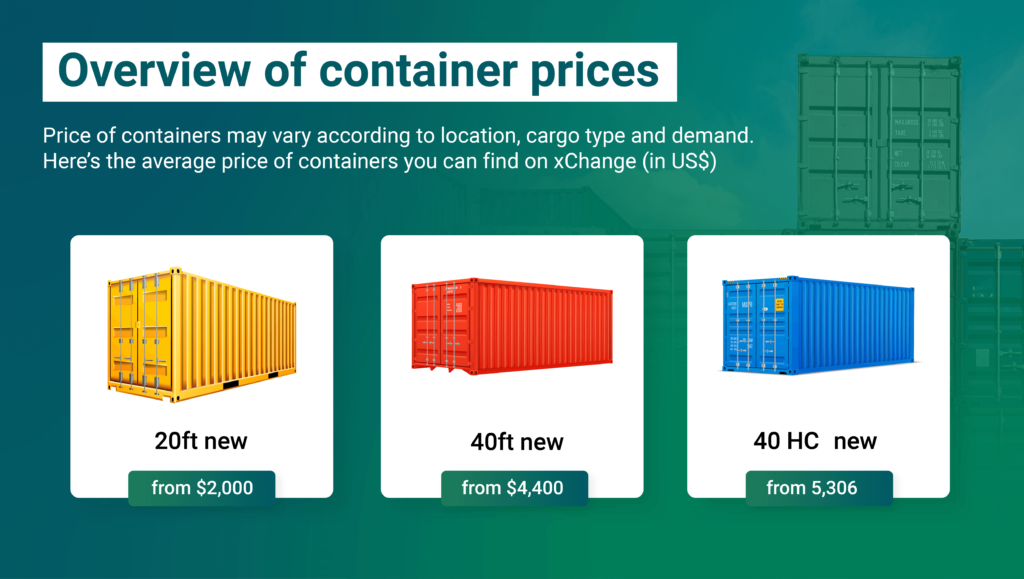 Note: The container prices here are based on thousands of transactions on the trading platform in 2021.
If you want to see how the xChange trading marketplace works and view the range of container prices, our experts can help you get a quick overview.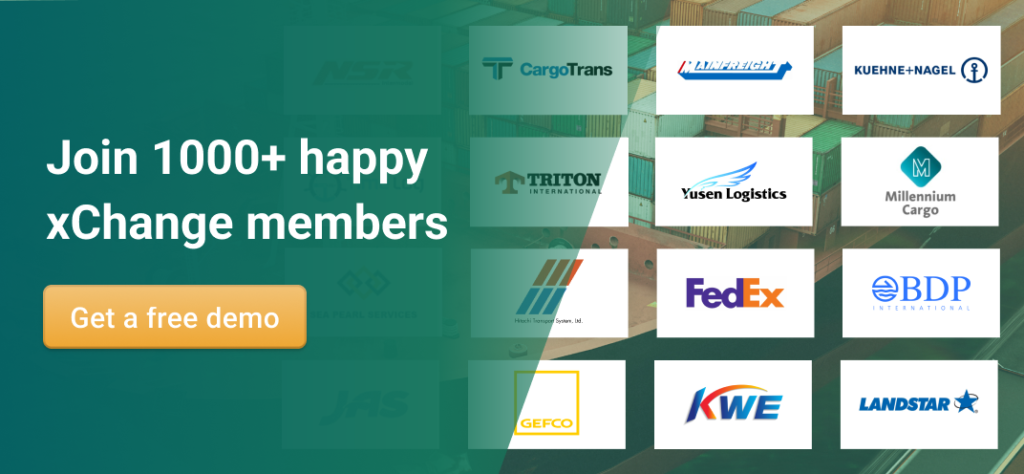 Containers for sale – find the right one
Finding the right container that suits your needs is the most essential thing to do. But understanding which is the best one can be challenging. From the price factor to looking for a trust-worthy company, your search for shipping containers can be an overwhelming experience.
This is where xChange's marketplace comes handy. It helps you connect with the right partner from 2,500 locations. Moreover, xChange helps you buy and sell containers without commission, find available containers from certified partners, advertise your stock and know your counterpart.
Here's an overview of how xChange trading marketplace works:
You can start with a free search to see the trading offers. Simply select the location from where you want to buy or sell containers.  Let's say, you want to buy containers from Hamburg.
This will lead you to all the container trading matches according to your search. It will list out all the available containers with equipment type, location, price per container and partners.
xChange's trading platform is a home to a wide range of containers. Trading of both standard and special equipment takes place here. It allows full transparency on the global container trading marketplace. This helps businesses to anticipate potential losses and take a decision accordingly.
Popular container sizes
With more than 800 companies having access to the trading marketplace, there's a wide variety of equipment to choose between. From standard containers to the specialized ones, you can find a range of container types on the xChange trading platform.
The advantage with xChange is that you can compare prices of the containers from the comfort of your home. These prices are public and the sellers are 100% trust-worthy. xChange follows a mandatory vetting process before sellers make their first deal on the platform.
Here are some of the popular container types and their dimensions:
20ft shipping container dimensions
| | |
| --- | --- |
| Measure | 20ft |
| Internal length | 5.9m / 19.4ft |
| Internal width | 2.35m / 7.8ft |
| Internal height | 2.39m / 7.9ft |
| Tare weight | 2,300kg / 5,071.5 lbs |
| Payload capacity | 25,000 kg / 55,126.9 lbs |
| Cubic capacity | 33.2 m3 / 1,172 cu ft |
Container price for 20ft shipping container
The 20ft shipping container is the most common and in-demand type. However, the the container price largely depends on the market situation. In locations where there's a deficit of containers, the price is typically higher. On an average, a 20ft shipping container price can cost anywhere between US $1,378.91 to US $6,894.53.

40ft shipping container dimensions
| | |
| --- | --- |
| Measure | 40ft |
| Internal length | 12.03m / 39.5ft |
| Internal width | 2.4m / 7.9ft |
| Internal height | 2.39m / 7.9ft |
| Tare weight | 3,750kg / 8,268.8 lbs |
| Payload capacity | 27,600kg / 61,200 lbs |
| Cubic capacity | 67.7 m3 / 2,389 cu ft |
Container price for 40ft container
Another standard favorite is the 40ft container. 40ft shipping containers are also known as Forty-foot Equivalent Unit (FEU). They can carry most kinds of dry cargo, similar to their 20ft container cousin. It is 7ft 10in high on the interior and has 2,350 cubic ft of storage space. The average container price of a 40ft container can range from US $2,751 to US $4,125.82.
40ft high cube shipping container dimensions
| | |
| --- | --- |
| Measure | 40ft high cube |
| Internal length | 12.03m/39.5ft |
| Internal width | 2.35m / 7.8ft |
| Internal height | 2.70m / 8.10ft |
| Tare weight | 3,900kg / 8,598 lbs |
| Payload capacity | 28,600 kg / 63,052 lbs |
| Cubic capacity | 76.3 m3 / 2,694.5 cu ft |
Container price for 40ft high cube container
A 40ft high cube container is a foot taller than a standard 40ft container. This ensures that your goods can be loaded higher. These specialized containers have a storage space of 2,694 cubic ft. They are ideal to transport light and large cargo with maximum height of 2.70 m.
The average container price of a 40ft high cube container can cost between US $4,400 to US $7,200, depending on availability and market conditions.
Get container prices on xChange
It is no doubt that knowing the type of shipping container you require is important. But what's also essential is to know where to find the best shipping container prices in the market.
With xChange, you get the 100% transparency on the market price. Not just this, thanks to the mandatory vetting process that ensures you are connected to the right partners.
Using the xChange trading marketplace also allows you to:
Buy and sell containers without commission within seconds. So, no more back and forth of mass emails exchanges. This means no longer waiting days too.
Grow a solid network with leads that are relevant to your business.
Get notified for containers that match your needs
Protect your payments as xChange supports the entire transaction workflow. From negotiations and track and trace containers to automated billing and invoicing.
If you are looking to buy or sell containers at the best price, xChange provides you a neutral trading platform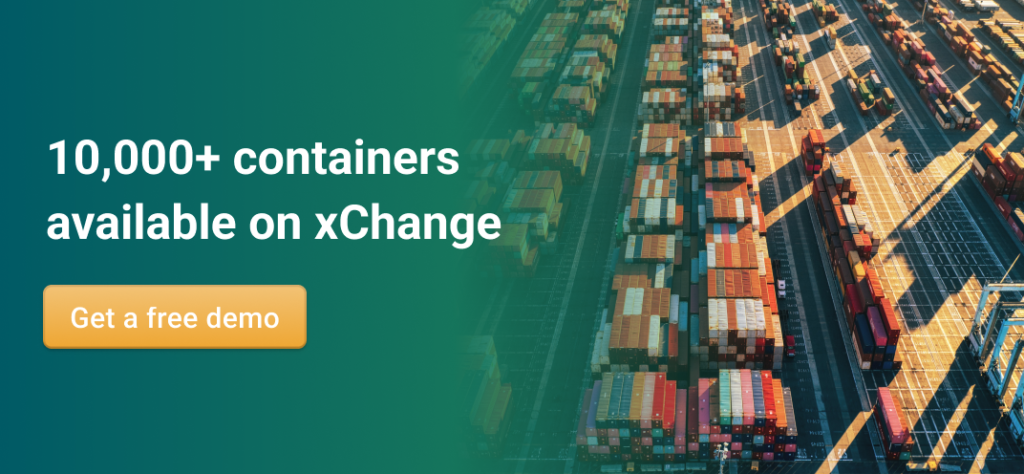 Summary
Article Name
Want to buy containers? Get the best container price here [2022]
Description
Looking for containers but worried about high cost? Buy or sell containers that you want at the best shipping container price.
Author
Publisher Name
Publisher Logo