Average container prices rise by 18% and 37% for 20DC and 40DC respectively at the Indian ports from May to September this year
Explains impact of global supply chain slow down on India's market and the year ahead 
Hamburg, 16 September 2021: Container xChange, the largest global platform for container logistics has launched data trends and analysis on the impact of global supply chain disruption on the Indian container logistics market. Two key elements – continued surge in container prices and growing imbalance of container availability in India is negatively impacting and leading to supply chain slowdown – a massive problem which will continue to grow up until 2022 and beyond.
The data indicates that there is further rise in the historically high prices of 20 ft. and 40 ft. Dry containers at Indian ports (NHAVA SHEVA, Mundra and Chennai).
Compared to May, in September prices for 20ft. dry containers have risen by 18% and similarly, the prices for 40ft. containers have risen by 37% according to the platform data. The average price of a 20 ft. Dry container in India in the month of September this year is $2462 (181320.15 INR), a rise from $2078 from May 2021. The pre-pandemic price of the same specification container was at approximately $1000 for 20DC and $2000 for 40DC at this time of the year. Similarly, the average price of a 40ft. dry high cube container in India is $4193.75 (308859.20 INR), a 37% increase in the prices in May which was $3041.84 (224023.91 INR).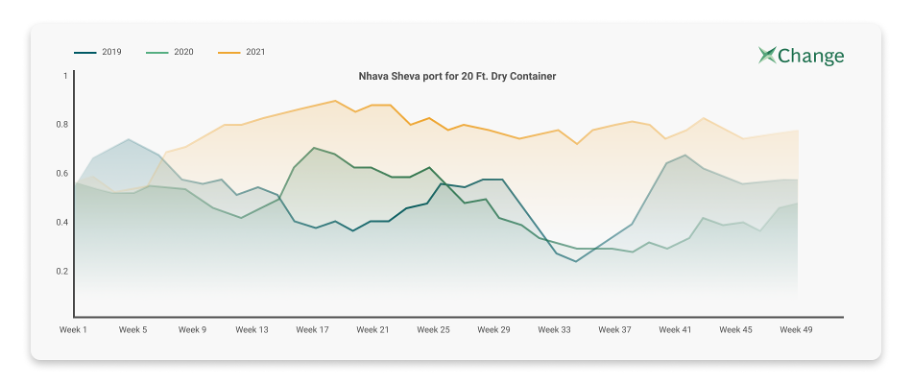 The Container Availability Index (CAx) by Container xChange, a tool used to monitor inbound and outbound volumes of containers for every port globally, indicates that the inbound containers are at an all-time high since the year 2019 by about 4X at the Chennai port (and similarly other ports in India) indicating an all-time high in the imbalance of inbound and outbound containers at the port. Christian Roeloffs, CEO and cofounder, Container xChange says "The growing imbalance of inbound and outbound containers being experienced in the Container Availability Index (CAx) at major Indian ports (including Nhava Sheva, Mundra and Chennai) is an indication of two key market conditions – 1. exports are being impacted immensely (inspite of a record month in July for India's exports) and 2. imbalance of inbound containers over outbound containers is getting worse by the week."
"The CAx values at major Indian ports are rising, because exporters are facing hurdles to export their goods from India (inspite of a record high in July this year). The rising container freight and spot costs over the past months, containers stuck in other locations which delays their cargo and vessel capacity issues are some pain points. Other major cause of delay in container loading is OfCourse the continued impact of COVID-19 outbreak which led to shortage of human resource at the ports. This has continued to impact the system since the outbreak in India in the late march of the year 2020." commented Dr. Johannes Schlingmeier, Co-founder and CEO, Container xChange
The costs have been skyrocketing since the beginning of the year 2021 and continue to soar higher every week. Therefore, the number of containers that could have taken off from India to its destination has slowed down, mirroring a trend being observed in the global supply chain slow down.
Week 36, Container Availability Index data India (main ports):
Port
Container type
2019
2020
2021
Chennai
20 DC
0.74
0.19
0.82
Chennai
40 DC
0.59
0.22
0.82
NHAVA SHEVA
20 DC
0.64
0.42
0.82
NHAVA SHEVA
40 DC
0.72
0.52
0.78
Mundra
20 DC
0.25
0.09
0.61
Mundra
40DC
0.60
0.17
0.76
A CAx value of 0.5 means that the same number of containers leave and enter a port in the same week. CAx values of > 0.5 means that more containers enter and CAx values of < 0.5 means more containers leave a specific port.

At very low CAx values the safety stock at a specific port is nearly empty. As a result, the CAx values turn positive again as only the containers that enter a port can leave again. At very high equipment levels, CAx values are likely to decrease again as a port has to reduce its safety stock first before they can accept new incoming containers. Low CAx values over a time period of multiple weeks indicate a deficit of containers, high values over a time period of multiple weeks indicate a surplus of equipment at a specific port.
Average prices of containers at Indian Ports
Months
20 feet Dry container (In USD)
40 feet Dry container (In USD)

 

May
2078
3042
June
1949
3000
July
2096
3479
August
2340
4417
September
2463
4185
Container xChange is revolutionizing the global container logistics industry by providing a neutral platform for buying, selling and leasing containers and digitizing the process to make it as simple and efficient as the container itself.
About Container  xChange:   
Container xChange is a tech company, an online platform to bring together all stakeholders of the container logistics industry to buy, sell and lease shipping containers. More than 800 companies such as Kuehne+Nagel, Seaco Global or Sarjak use our neutral online platform to gain market transparency, avoid demurrage & detention charges and increase their flexibility. Covering the entire transaction process from finding new partners to tracking containers and managing payments, Container xChange makes using 3rd party equipment and now container trading as easy as booking a hotel. Founded by Dr. Johannes Schlingmeier and Christian Roeloffs in 2017 and headquartered in Hamburg, Germany, the company now has more than 150 employees. Container xChange recently acquired TankContainerFinder.com, the leading marketplace for tank container leasing and trading, further cementing the company's position as a leading neutral provider for shipping equipment. http://container-xchange.com/  
Media Contact
Ritika Kapoor, [email protected] 
M: +91 9887389982