Container xChange updates itself with new features to make container logistics an easy game for you. You can now:
Manage all release references in one place
Set fixed prices to speed up deals
Change the pick-up and drop-off locations even after a deal is accepted.
Read on to know the other updates on xChange available for you.
If you still do not have an account on xChange request a demo and see how the platform can make your container operations much easier:
Get demo now
Four new features on leasing marketplace
1. Manage all your container release references in one place
If you lease containers, you'll know how difficult it's to keep track of all the release references (also called pick up reference or container release order).
Usually, one container booking has a few release references. Thus, you should keep track of:
How many containers are used and left from a reference order?
What is the pick-up and drop-off status of each container?
Which reference will expire soon, and which one's already out-of-date?
We understand that all this can be overwhelming. That's why we created the "Reference Manager" on xChange. It gives you full transparency of all your references. Use filters, search, and sorting through the references to easily understand the pickup and drop-off status of each, find relevant ones and prioritize which one to take next. You can also see details such as pick-up date, ETAWhat is estimated time of arrival?  Estimated time of arrival, commonly known as ETA, is a frequently used term globally to denote the time of coming. In the shipping & logistics industry, it is ... More, Port of Discharge, drop-off depot, drop-off date, free days, and per diems by clicking on the release reference.
xChange shows the release references that are received on the platform automatically. If you want to manage the ones released outside the platform, feel free to add them using Assisted Requests.
2. Storage fees to support pick-up agreements
Sometimes situations arise where containers were only partially or not picked up at all. This can be a huge financial blow to container suppliers. To minimize such impacts during an unforeseen situation, you can now define a storage fee. As a container supplier, you can ask for compensation from your user if:
They cancel a deal after a release reference is provided and confirmed
Only a part of the agreed number of containers are picked up
How fee is calculated and charged
The total fee is the number of non-picked containers multiplied by the number of days between the cancellation and release confirmation dates multiplied by storage fee per day.
Example:
The storage fee agreed upon the request is US $2. The request includes a total of 10 containers. The release was given and confirmed 20 days ago.
However, now the container user decided that he doesn't need the containers anymore. This means the transaction is closed, and the user must pay 10 containers x 20 days x US $2 storage fee = US $400 to the container supplier. This amount is directly credited to the container supplier.
The total fee is charged automatically via the Wallet.
How is the storage fee decided?
Storage fees are part of the request terms. Here, the default value is equal to the per diem value. But the actual amount is decided during the negotiations.
How can you avoid storage fees as a container user?
Pick-up all the containers you've agreed.
Only accept container quantities you'll utilize. If you're unsure whether you can use the entire quantity, split the business into multiple deals.
Only accept a request if you are sure, you can pick-up the containers in the next 2-3 weeks (or per release validity).
3. Change pick-up/drop-off locations even for already accepted deals
As a container user, you can now change the pick-up or drop-off locations even after a deal is accepted. You no longer need to reach out to us anymore and wait for your partner's written confirmation.
You can simply:
Open the request
Click on the "pen" icon next to the pick-up or drop-off locations and
make necessary changes. Don't forget to save your changes.
A notification will alert your partner automatically. Once they approve, you can see the changes on the request terms. Your partner can upload a new release reference for the updated location.
4. See what your top xChange partners have for you first
To help you make deals with trusted suppliers, we've now added a filter on the overview page. This filter can find you the top three companies with the most successful deals. By selecting one or more of these partners, you can see their latest offers or requirements. And you never know, they can turn into a good match for you.
Right to the top three companies you may find a dropdown with the names of all your partners. Filter the list by any company name and see their latest requirements or offers.
You can also use a dropdown to sort offers and requirements, showing those from the best partners first.
By the way, you may have noticed that some offers and requirements are tagged as a Popular route. That means that you had successful transactions in the stretch, and we thought perhaps you would like to use this stretch again.
Two new features on Trading marketplace
1. Container sellers can set fixed prices
If you want to buy a container on xChange you usually negotiate to agree on price and quantity with a seller. But now, container sellers can set a non-negotiable price when they've already given the best price for the deal. In this case, the parties can only discuss the quantity. This saves time for both and speeds up the deal.
The same works for buying demands as well. Once you create a buying demand you can change the settings to a non-negotiable price.
2. Edit release/drop-off references easily
As a container seller, you may need to update release references because of some issues at the depot or if a buyer asks you to. You can now edit the reference e.g., extend the validity date, or make changes to the reference itself. There is no need to delete the old reference and create the new one – just use the edit tool. If a buyer has picked up some of the booked containers, you can still make changes to the release reference – extend the validity date and/or free days.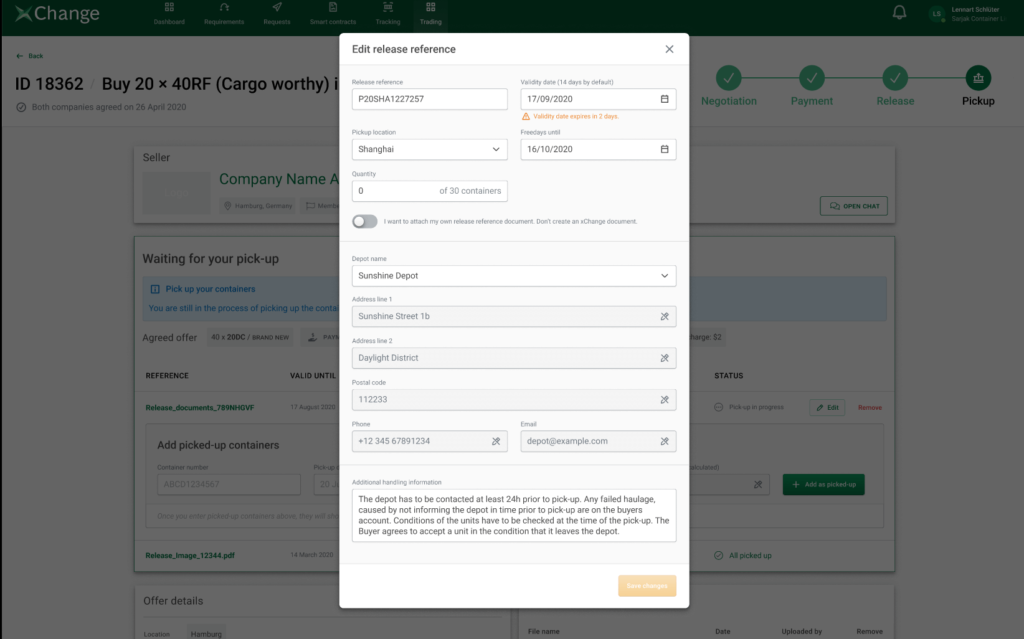 Did you know?
Our container operations team at xChange checks every release and drop-off reference issued on the platform. If it's a release reference, they reach out to the depot to verify that containers are available and ready to be picked up. If it's a drop-off reference, then they check that the depot has capacity for containers by the day of drop-off. If there's a problem with a reference, you'll get a notification. Thus, all issues can be clarified before a buyer arrives at the depot.
Summary
Article Name
New features on trading and leasing marketplaces released in May
Description
Container xChange updates itself with new features to make container logistics an easy game for you. You can now manage all release references in one place, set fixed prices to speed up deals, change the pick-up and drop-off locations even after a deal is accepted, and many more.
Author
Publisher Name
Publisher Logo