Containers have made it possible to ship goods of all shapes and sizes. But, if you've to ship uniquely shaped or oversized goods, then a conventional box may be of no use to you. Not everything can fit inside a box. So, what do you do? You use a flat rack container!
Flat rack containers are one of the most versatile containers that make it possible for you to ship unique cargo. These ISO-certified intermodal containers operate just like standard containers. The only difference is that they can accommodate much more.
More of a visual learner? Watch our video on flat racks here:
As you must've guessed, these containers are in high demand. But don't worry, you can easily find flat racks on xChange. On our online marketplace, you can directly get in touch with the sellers and lessors of the container type and book yourself the most suitable deal.
Want to buy a single flat rack container? Then have a look at our basic membership, which is ideal for one-time buyers!
Is container trading a part of your business? Click on the banner below to schedule a quick demo with our team.
What is a flat rack container?
A flat rack container is a specialized container with walls only at the short ends of the container. Since the container type doesn't have any roof and long walls, you can easily load the oversized and uniquely shaped cargo from the top or sides. As a result, the flat rack container can easily store and ship your heavy or bulky cargo such as machinery, timber, pipes, buses, and boats, among other things.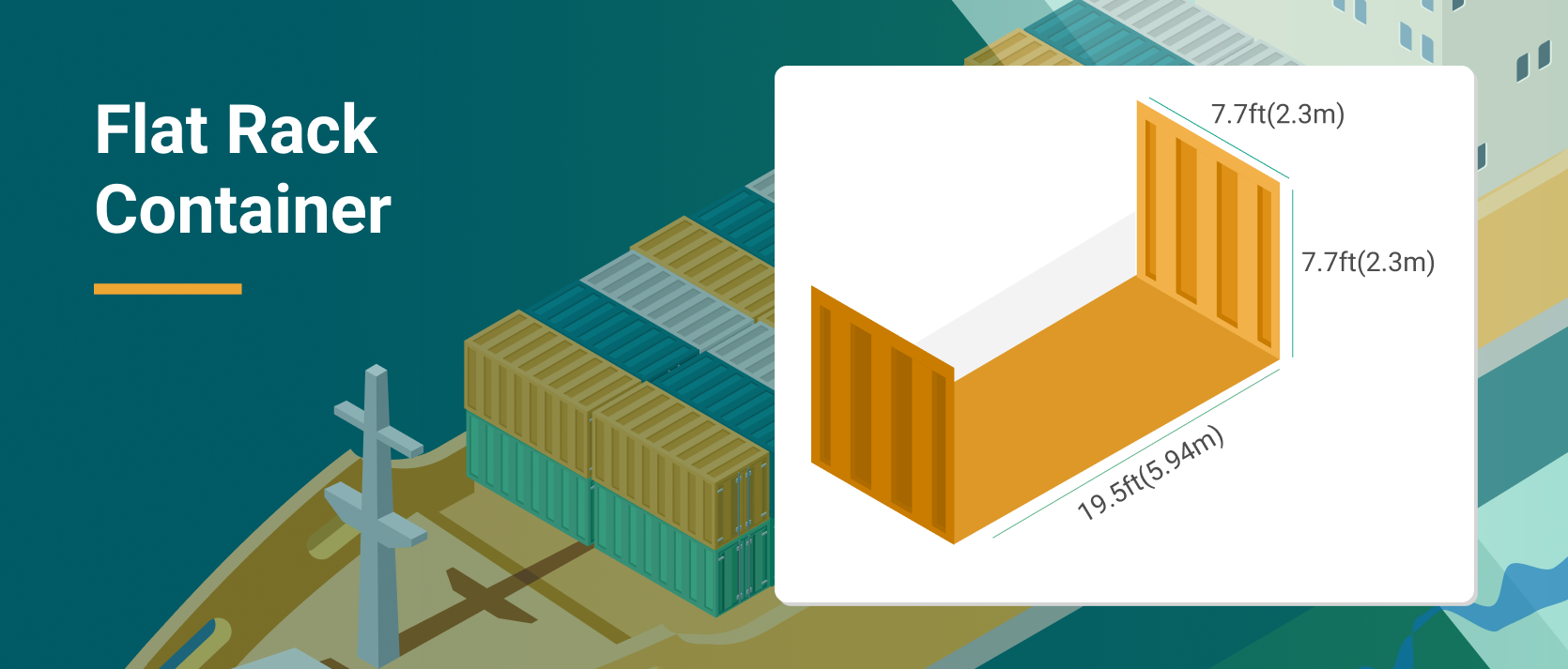 Flat rack containers come in the standard 20ft or 40ft sizes. But they're designed to carry heavier and more concentrated loads up to 2,000kg (for 20ft) and 4,000kg (for 40ft). They're manufactured from steel with softwood flooring.
Now, you must be wondering if three sides of the container are open, how does the cargo remain secure?
Flat rack containers come with lashing rings on the side rails, floor, and corners. You can keep the cargo in place by cross or loop lashing with the help of chain or web lashing. Some containers even come with lashing winches, latching belts, and stanchions to provide additional support and security for the cargo.
Flat rack container dimensions
Let's look at the dimensions of flat racks to get a clearer picture of their capacity.
Most containers are manufactured according to standard sizes set by the International Organization for Standardization (ISO). Although, some may vary depending on the manufacturer and container age.
| | | |
| --- | --- | --- |
| Measurement | 20ft Flat Rack | 40ft Flat Rack |
| Internal length | 5.94 m / 19.5 ft | 12.13 m / 39.8 ft |
| Internal width | 2.35 m / 7.7 ft | 2.40 m / 7.9 ft |
| Internal height | 2.35 m / 7.7 ft | 2.14 m / 7 ft |
| Tare weight | 2,360 kg / 5,203.8 lbs | 5,000 kg / 11,025 lbs |
| Payload capacity | 30,140 kg / 66,458.7 lbs | 40,000 kg / 88,200 lbs |
| Cubic capacity | 32.7 m³ / 1,154.3 cu ft | 62.2 m³ / 2,195.7 cu ft |
No volume limit 
The biggest advantage of a flat rack container is that you can't limit its capacity. Since there are no side walls or roofs, you can load these containers with any cargo as long as they meet the payload criteria.
So, feel free to load these beasts with any cargo with unique dimensions that require special storage. Are you wondering what exactly we mean by 'heavy and unique cargo'? Let's have a look.
Cargo shipped in flat rack
You must know by now that a flat rack can carry goods that a standard container cannot. From agricultural produce like sugarcane to windmills, flat rack containers can carry them all, especially industrial goods. Let's have a look at some of the most commonly shipped cargo.
Breakbulk goods
Heavy machinery
Transformers
Boilers
Tanks
Construction equipment
Cranes
Pipes and tubes
Turbines
Automobiles
Steel
Glass
While certain industries regularly use flat racks, your shipping requirement might not be that frequent. In such a situation, it's best to lease flat rack containers for one-way journeys. This way, you'll ship your cargo cost-effectively without any obligation of paying detention and demurrage charges or even repositioning.
And if you're planning to ship goods frequently, you should definitely invest in good-quality flat rack containers. What if we tell you that you can easily buy flat racks in your budget?
On our trading platform, you get a chance to compare the prices and other terms before buying. All you've to do is enter your requirements, and you'll receive matching offers in one dashboard. You can take your sweet time to compare, select, negotiate, and book deals that suit you the best.
Want to buy flat rack containers without paying us any commission? Click on the banner below!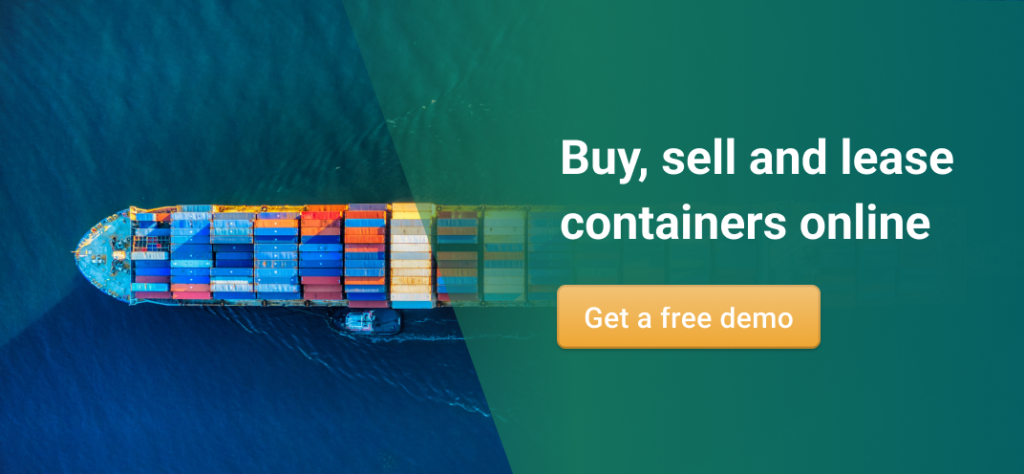 Types of flat rack containers
Before you find yourself a flat rack container, let's take a minute to talk about the two variants of the container type. There are two kinds of flat rack containers: collapsible and non-collapsible.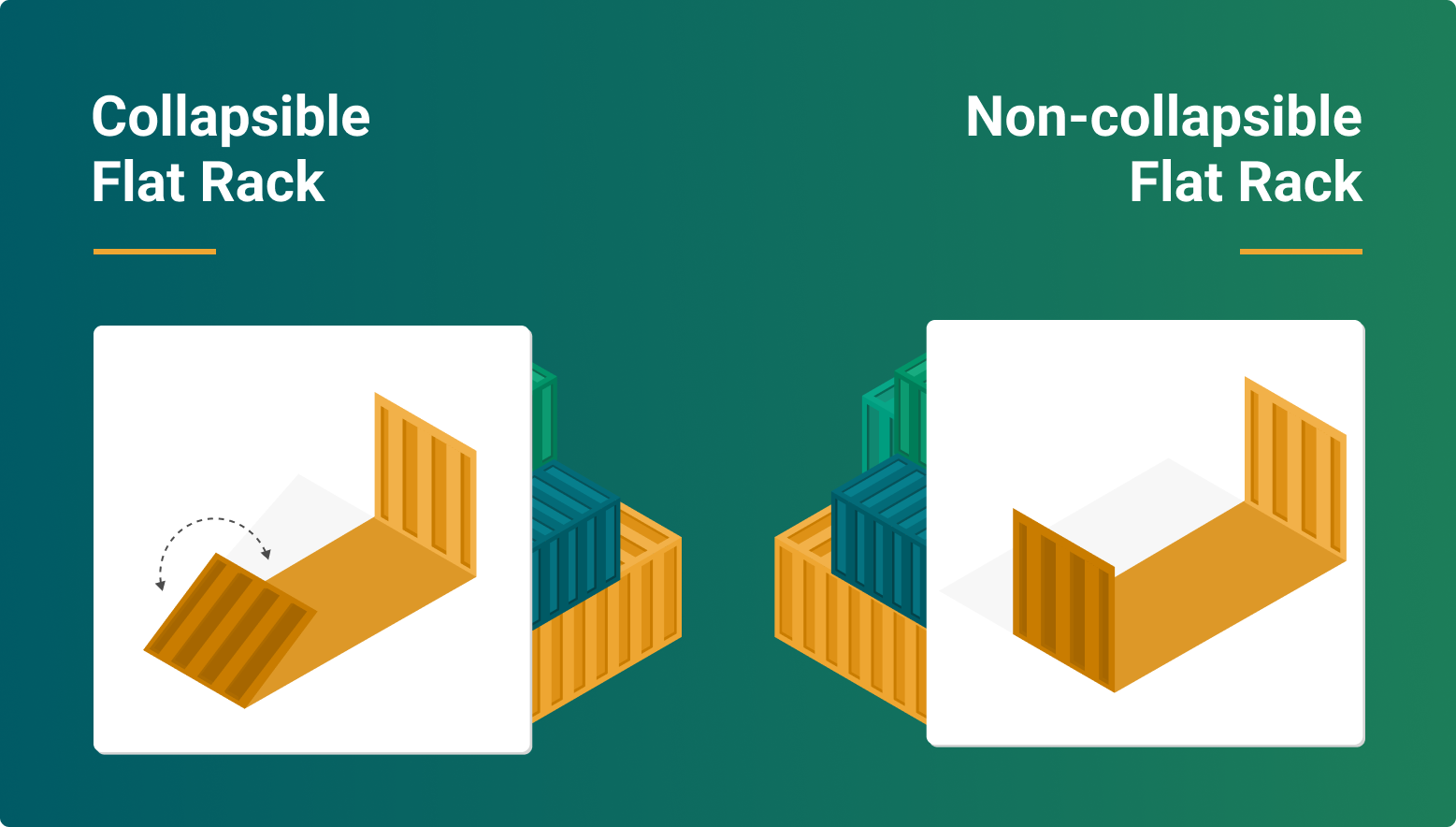 Collapsible flat rack
As the name suggests, collapsible flat rack containers have detachable or foldable walls. These units are very easy to store and transport since they don't have any height. The only disadvantage of collapsible flat rack containers is that the absence of walls makes them structurally weaker than the non-collapsible container.
Fun Fact: 4 collapsible flat racks, when stacked, take up the space of a single standard container.
Non-collapsible flat rack
As the name suggests, non-collapsible flat rack containers have fixed walls at both short ends. This flat rack type has a stronger construction and a higher top load. The only disadvantage of non-collapsible flat rack containers is that it takes a lot of space when not in use.
Find Non-collapsible Flat Rack
How to choose the right flat rack container?
Now that you know about the design, dimensions, uses, and types of flat rack containers, it's time to decide which one will fit your needs the best.
There are a few things to take into consideration before investing in one:
Cargo type
Concentrated load
Payload
Loading and unloading process
There may be times when the unique shape of your load might not evenly distribute over the entire length. With such cargo, you've to ensure that you're not going over the concentrated load limit. The concentrated load should not exceed the floor strength of the container. The load limit is usually set at 2,000kg for 20ft FR and 4,000kg for 40ft FR.
If your cargo is distributed evenly, then its collective weight should be within the payload range of the flat rack container. The payload capacity is usually set at 30,000kg for 20ft FR and 40,000kg for 40ft FR.
And lastly, figure out your loading and unloading process so you can choose between collapsible and non-collapsible container types.
Buy or sell flat rack containers on xChange
If you're looking to buy or sell flat rack containers, we've got just the solution for you.
Container xChange is the first online, neutral global trading marketplace. We make it easy to find new partners and grow your network – as well as your profits. With more than 1,500 vetted companies and 10,000+ containers on the platform, xChange enables you to branch out your business!
Want to do a one-time container purchase? Our basic membership is ideal for you. Learn more about it here.
If you frequently buy and/or sell flat racks or other containers, we recommend you become a Professional Member. See more below!
Benefits of xChange trading
For just US$190 per month, you get unlimited access to the platform and its 1,500+ members. As a Professional Member, you can:
Find vetted partners and make deals. Riskfree.
All companies undergo a mandatory vetting process before becoming members. This means, that you can do business with all xChange members. Risk-free. On top of this, all companies also have public profiles. Here, you can see reviews from previous partners – and how they've rated them. Want an extra layer of security? Keep on reading!
Conduct 100% secure transactions
Not only, does xChange ensure that all sellers are vetted. We also protect the buyers. So, you don't have to worry about paying and not getting your assets. Our dedicated Customer Service team makes sure that your container operations go smoothly. And that your payments are completely secure.
Know market cost and get better price on flat racks
Find the flat racks that fit your needs – and compare prices with other offers. On the trading marketplace, you get a full overview of available containers. You also see what other sellers want for their boxes. Not satisfied with the price? Text the seller right on the platform and agree on a price right then and there.
Choose between 10,000 boxes and make unlimited deals
Do you need a container type that you can't find in your current sourcing channels? Don't worry. With over 10,000 containers located across 2,500+ unique locations, Container xChange makes it easy for you to find the containers you need.
You get all this right from your computer screen and much more for just US $190 per month. Want to see how you can do business with companies such as Trident, SeaCo, and SeaCube? Click on the banner and get a free tour of the platform from our experts.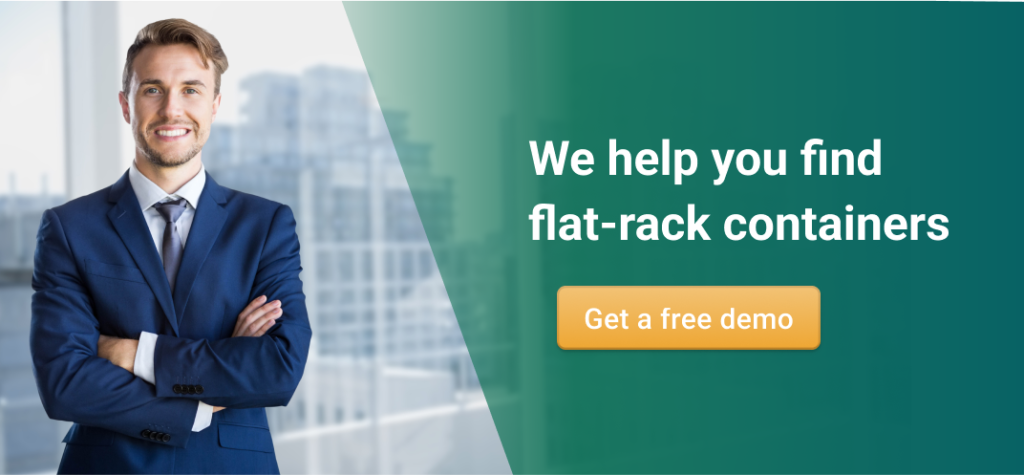 Flat rack container: Frequently asked questions
What are the dimensions of a flat rack container?
The internal dimensions of a standard 20ft flat container is19.5ft X 7.7ft X 7.7ft. Whereas, the internal dimensions of a 40ft flat rack container is 39.8ft X 7.9ft X 7.
What cargo uses flat rack container?
Flat rack container is used to ship and store oversized cargo and uniquely shaped cargo such as breakbulk cargo, construction equipment, cranes, pipes, windmills, automobiles, steel, glass, and sugarcane among other things.
What is flat rack in shipping?
Flat rack in shipping refers to flat rack container type. It's a container type used to ship oversized, heavy, and uniquely shaped cargo.
[custom-related-posts title="Related Posts" none_text="None found" order_by="title" order="ASC"]
Summary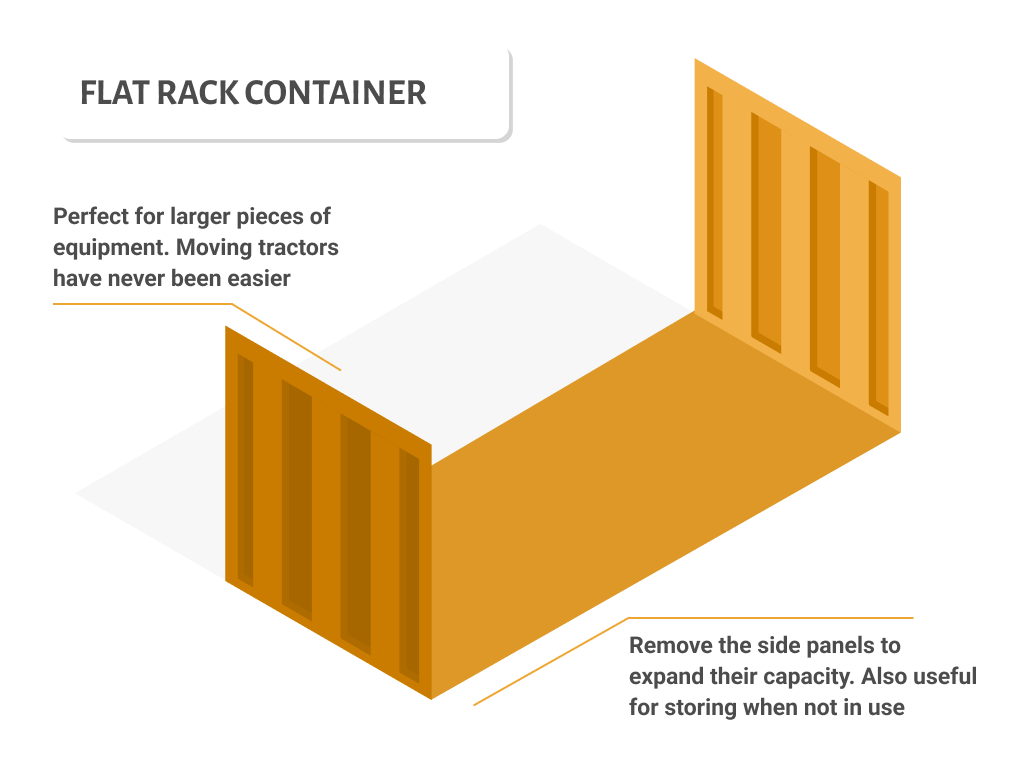 Article Name
Want Flat Rack Container? Get complete guide & offers [2022]
Description
Flat rack container can carry heavy and bulky cargo. Read on to learn about its design, dimensions, uses, and types, and get best deals here!
Author
Publisher Name
Publisher Logo