The Belgian port is one of the biggest ports in the world. And a favorite among shippers regularly sending cargo to Europe. But did you know that the Port of Antwerp isn't your ordinary shipping port? 
In this blog, you'll learn:
Port of Antwerp's inland locations makes it the fastest way into Europe.

Antwerp port is the distribution hub for the European hinterlands. 

Shippers can get EU custom clearance at the port of Antwerp. 

It's the most important port for steel and petrochemicals in Europe.

Barges form the largest mode of transportation at the Antwerp port.

The seaport has specialized terminals for the diverse breakbulk cargo.

The Port of Antwerp offers temperature-controlled storage for goods.
Established with just one lock and dock in 1811, the Port of Antwerp has grown to become the second-biggest shipping port of Europe. Handling more than 240 million tons of freight each year, the western-European port functions as an industrial hub. In fact, you'd be surprised to know that the Port of Antwerp is Europe's largest integrated maritime, logistics, and industrial platform. Fancy, right?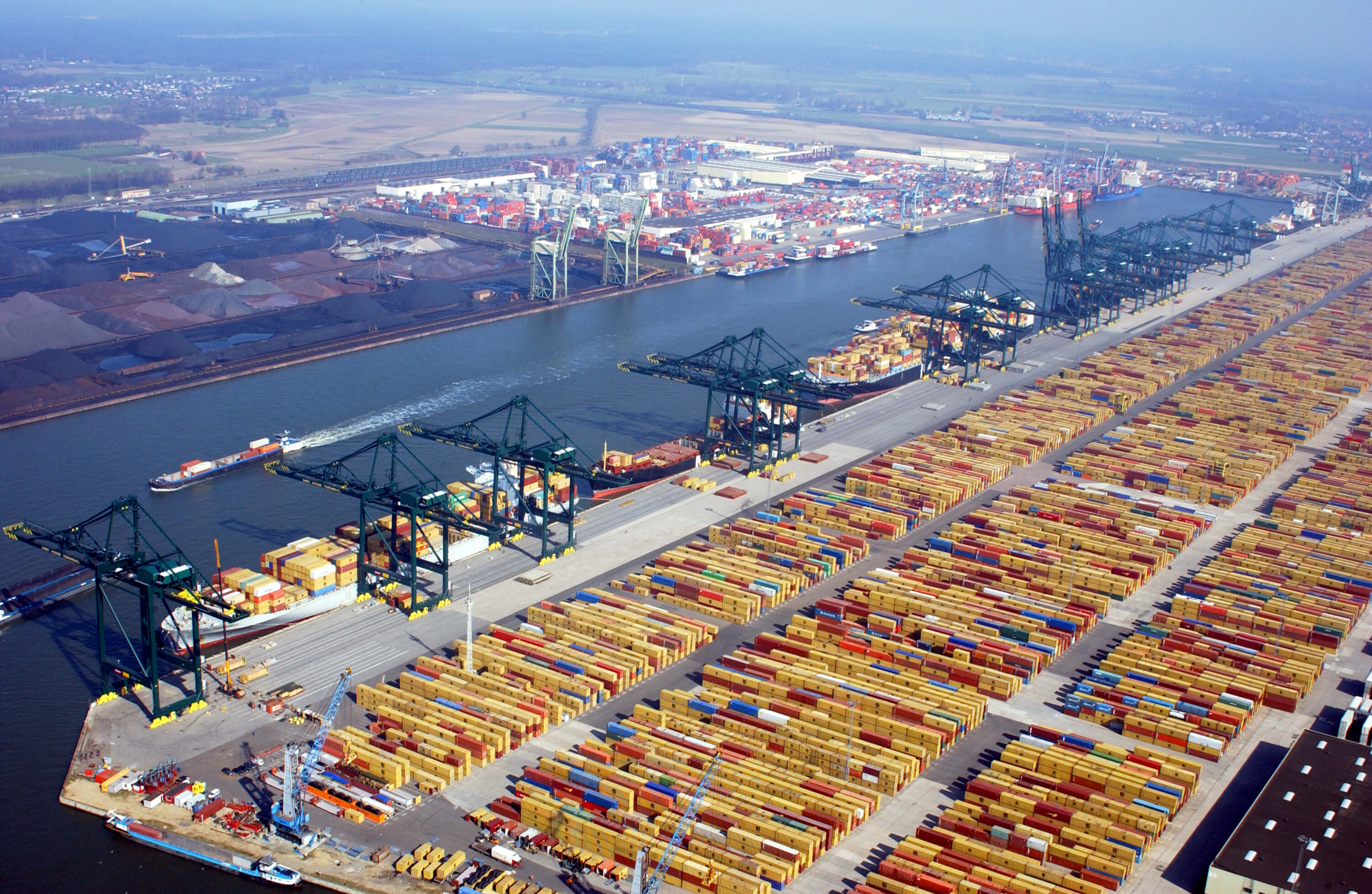 Operated by the Antwerp Port Authority, the port has capacities to handle even the biggest mega-ships. On average, 39 sea-going vessels enter and leave the port per day. That's a lot of traffic for one port — all thanks to its location and connectivity. We'll learn about it in this blog. 
Facts and figures of Port of Antwerp
In the meantime, let's quickly get an overview of the Port of Antwerp.
| | |
| --- | --- |
| Name | Port of Antwerp  |
| Operator | Antwerp Port Authority |
| Country | Belgium |
| Port Code | BEANR |
| Website | www.portofantwerp.be |
| Latitude | 51.2408° N |
| Longitude | 4.4078° E |
| No. of Terminals | 26 |
| Quayside | 160 km |
| Storage Space | 5.3 million sqm.  |
| Throughput | 10,450,897 TEUs |
| Water Depth | 36-40.9 ft. / 11-12.2 m |
| Maximum Vessel Size | 500ft. + in length |
The above-listed information gives you a broad idea about the seaport. However, if you're sending your containers to Antwerp, you'll need more information. You need to know where you can store your containers in transit. To put it simply, you need to find depots at the port. 
You can start and end your search at xChange's depot directory. Use our directory to find depots at the Port of Antwerp. In a few clicks, you can get all the information about services, contact details, and reviews of container depots. Get this info for free by clicking on the banner below.

Where is the Port of Antwerp located?
Let's start with the basics. 
The Port of Antwerp is located on the banks of river Scheldt, about 88km southeast of the North Sea, in Belgium. Almost 3.7% of Belgium's population owes their job directly or indirectly to the port. Clearly, it's the beating heart of the Flemish and Belgian economy. 
But apart from supporting the Belgian economy, the Port of Antwerp's location is key to Western Europe's trade. You'll find it interesting to note that no other port is located so inland in Europe. 
As a result, the Port of Antwerp acts as a gateway to Europe. Let's look at that in detail below.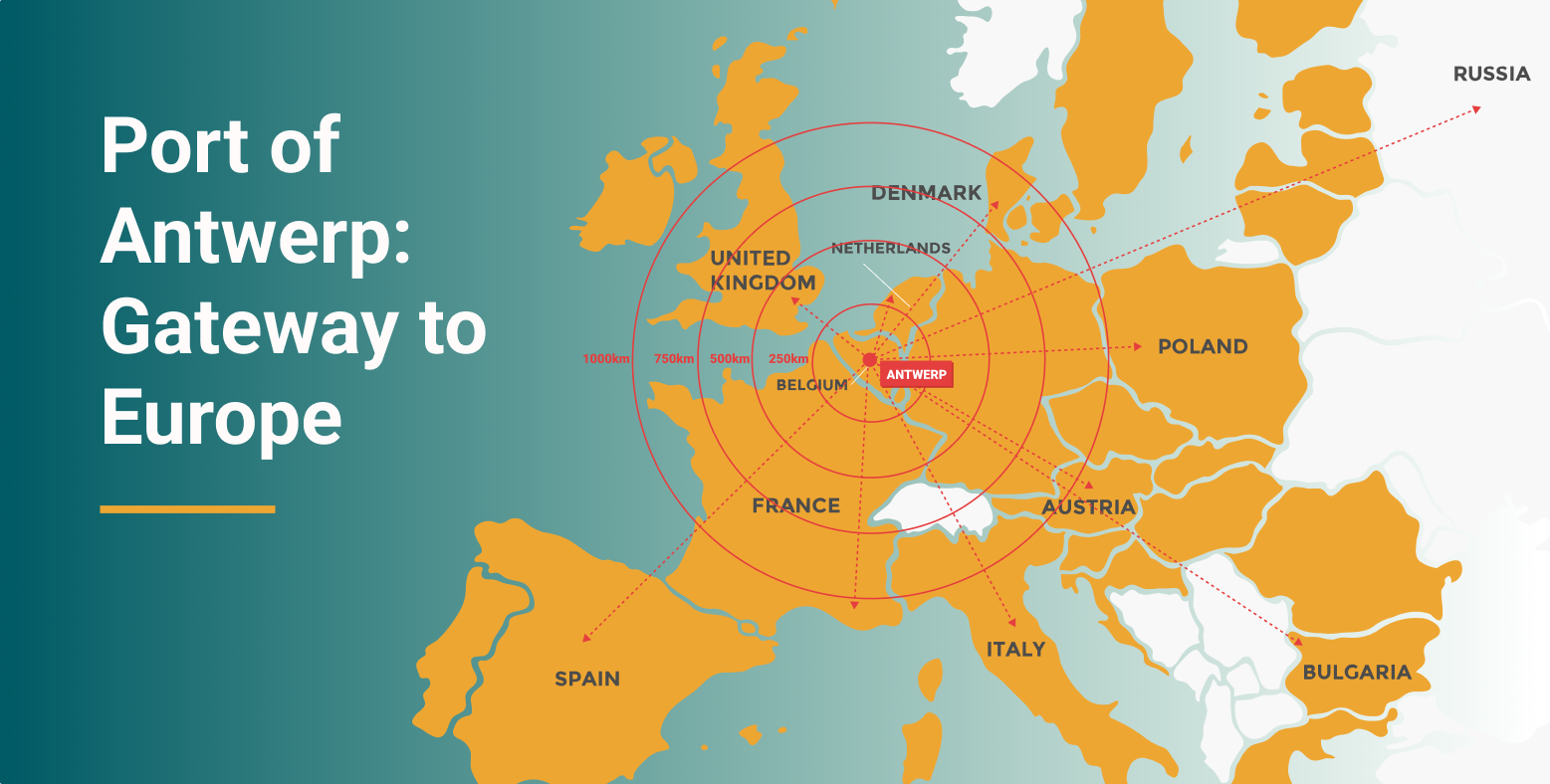 The biggest advantage of the Port of Antwerp is its location. One glance at the map, and you'll see how central Antwerp is in Western Europe. Now, what does that mean for you? 
Distribution hub for the European hinterland
The Port of Antwerp should be your ideal port to deliver your goods in Western Europe, namely France, Austria, Poland, Italy, Spain, and Denmark. In a way, it opens the door to the rest of Europe. 
Once your goods have reached the Port of Antwerp, you can easily tap into 60% of the European purchasing power within the 500km radius. 
Gateway to European Union customs
Before you can reach these lucrative consumers from all over Europe, you have to ensure your goods pass customs. It can get extremely time-consuming and complex if you approach the authorities of all the countries. 
To make it simpler, you can finish the process of clearing customs for the entire EU at the Port of Antwerp. It'll give your goods freedom of passage. Convenient, right?
Most important port for steel and petrochemicals
The Port of Antwerp is located at the heart of the European oil and chemical hub. As a result, the port is surrounded by petrochemical companies. You can find refineries such as Total, ExxonMobil, Gunvor Petroleum Antwerp, and the ATPC Bitumen plant, among others in the port area.  
Moreover, it's Europe's leading port for steel. You can find top-notch infrastructure and highly trained staff at the port to take care of every steel cargo.
Now that you know about Antwerp's strategic location, let's look at three modes of transportation: rail, train, and barges. In fact, these modes of transportation are lifelines for Europe's economy. Let's head over to the next section to learn more about it.
Multimodal transportation at Port of Antwerp
We all know by now that the Port of Antwerp opens doors to Europe. And this wouldn't have been possible without the transport connectivity it offers to the rest of the continent. As a shipper, you should take full advantage of this connectivity.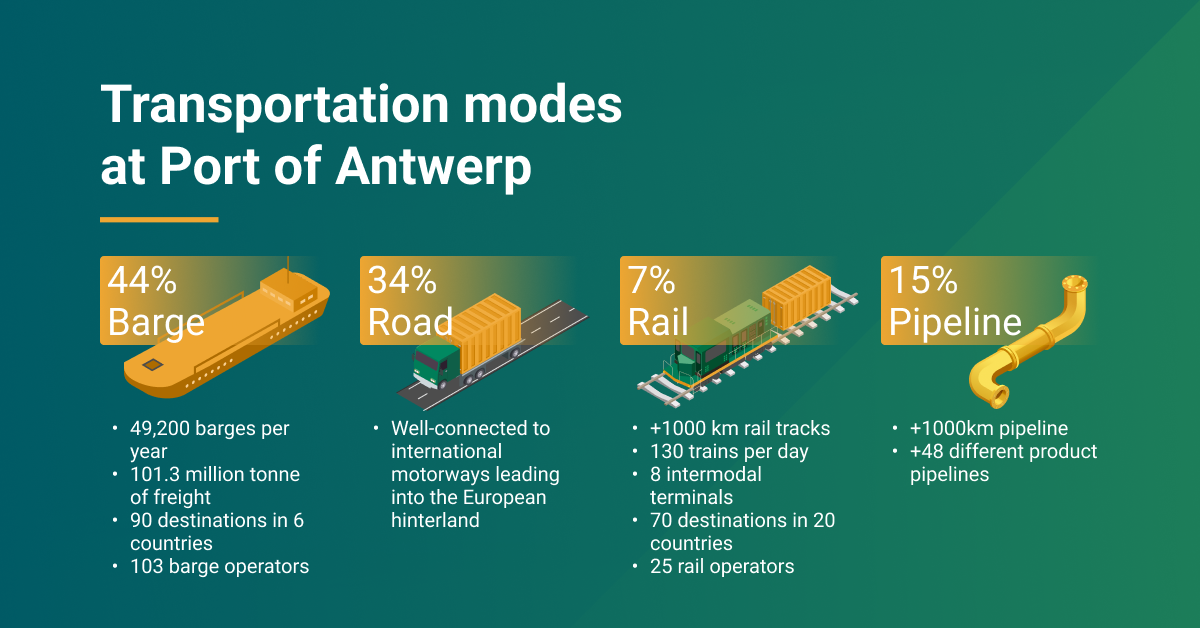 There are four modes of transport at the Port of Antwerp. After you've shipped your goods to the port, naturally, you'll have to transport them to the warehouses. To do so, you can choose from an extensive network of barges, roads, rail, and pipelines.  
A barge is a flat-bottomed boat built to carry bulk cargo mainly through rivers and canals. Barges form the largest mode of transportation at the Antwerp port. Because of the port's inland location, the transit time to other countries is significantly reduced. You can easily reach countries like France, Luxembourg, Switzerland, Germany, and the Netherlands in a matter of hours.
As mentioned earlier, the majority of European consumption centers are in and around Antwerp. So, if you want to ship your goods closer to European consumers, the roads and rail networks will be your best bet. In fact, you can reach Russia, Kazakhstan, Korea, and China by rail.
Now that you have an idea of how you can arrange your transportation, it's time to ready, set, go!
Container prices at the Port of Antwerp
Obviously, you'll need containers first. To get the most of your cargo out in one go, opt for 40 HC containers. That's exactly what most shippers appear to be using at Antwerp. According to our data, 40 HC containers are the most in-demand at Antwerp. Naturally, the extra height means extra cargo. 
Have a look below to get the container prices for one-way leasing and buying containers at Antwerp.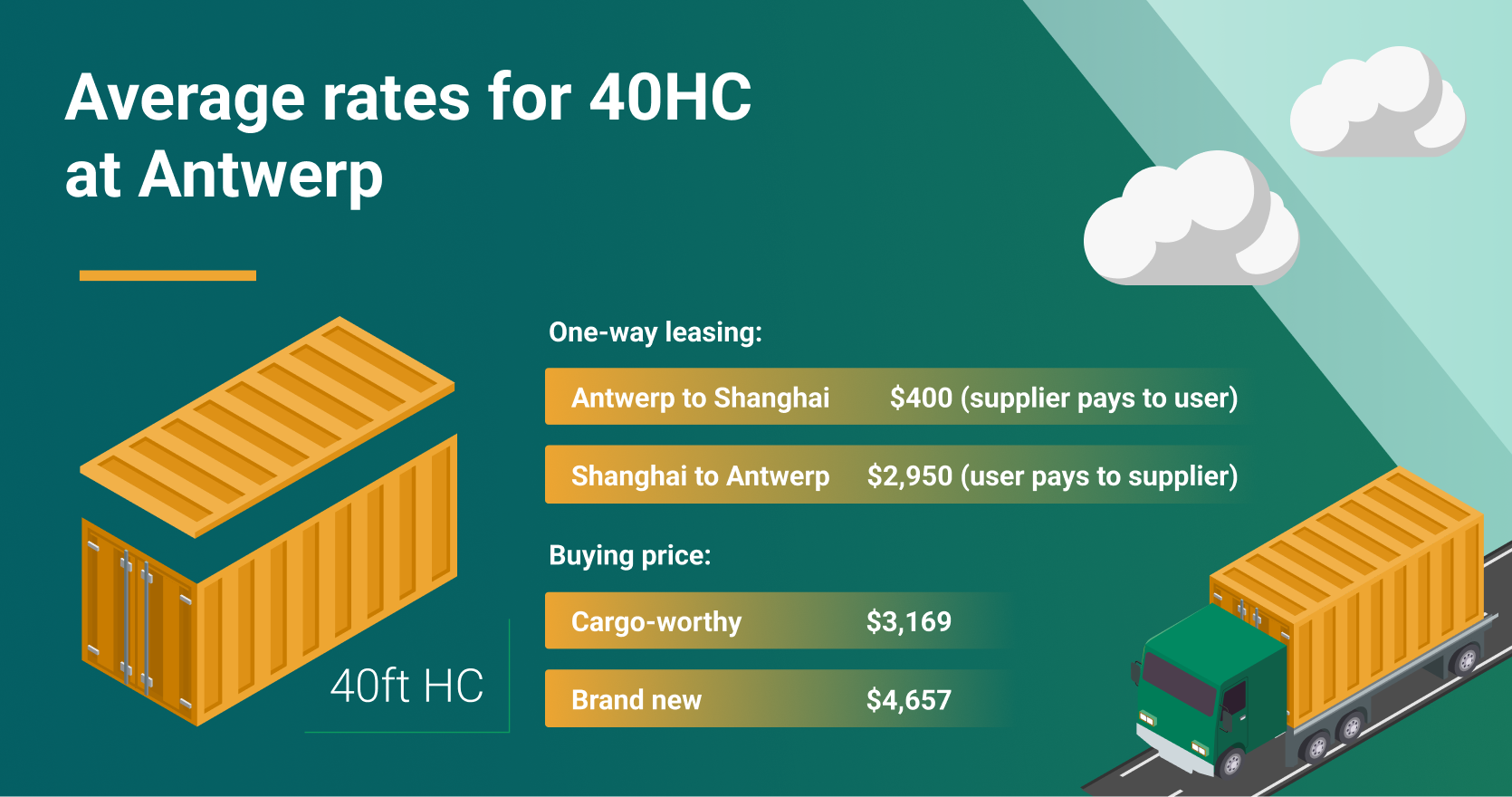 If you're shipping out of Antwerp to a container-deficit location, like Shanghai, then you can make the most of the opportunity. You not only get to ship your cargo but also earn extra money while doing so. Wondering how? All thanks to empty container repositioning. It's a bonus for helping the container owner reposition their cargo to the location where they can earn a far higher profit — like Shanghai.
This is exactly the reason why the pick-up charges at Shanghai for an Antwerp-bound container are high. It's a route where the container owners can recover more than sufficiently. Prepare to shell out money if you want to reach a lucrative customer base in Europe.
The buying price of containers at Antwerp is pretty standard of the current market average. You can invest in containers at Antwerp if you're a frequent user or even interested in sourcing them as SOC containers. Click here to know about the benefits of SOC containers. 
Are you looking to lease or buy containers at Antwerp? You can easily procure the equipment on xChange. Click on the button below to find your desired containers at the Port of Antwerp.
Let's look at how adept the port actually is in handling your cargo. Let's briefly look at the handling of breakbulk, dry bulk, and temperature-sensitive cargo at the Port of Antwerp. 
Specialized handling of breakbulk at Port of Antwerp
Shippers of breakbulk cargo are always in search of specialized services. Mainly because each consignment is unique. At the Port of Antwerp, the special handling starts right from the terminal.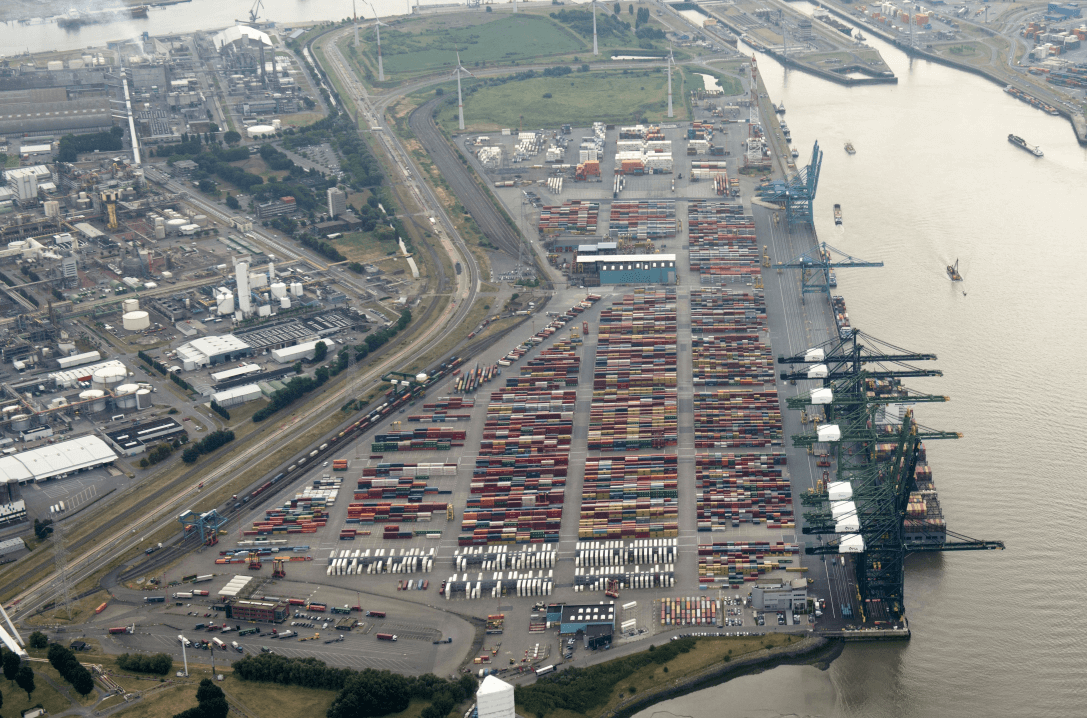 The seaport has specialized terminals to load and unload the most diverse breakbulk cargo. Plus, you can also rent the floating derrick crane Brabo for lifting 800 tonnes of cargo. To put it simply, you can easily ship steel, paper, wood, bags of cocoa, fruit, forest products, parts of wind turbines, and cars, among other goods from and to the Port of Antwerp. 
In fact, you can prepare your goods for the end-consumer at the port itself. For instance, if you're shipping oranges from India to Europe, then you can avail the services of inspections, sampling, labeling, and order picking at the port itself. 
Breakbulk 
No. of Terminals 
Departures each month
(2020)
Freight Volume
(excluding rolling material)
in 2020

14

199

7.4 mil tonnes
Complete cold chain for temperature-sensitive cargo
The importers and exporters often face losses when the reefers are mishandled at the destination port. The breaking of the cold chain contaminates the perishables and makes them ineligible for use.
To prevent any such losses, the Port of Antwerp provides you with an end-to-end cold chain. You can use temperature-controlled pallet storage spaces for fruits, vegetables, life science, and healthcare products. This facility can maintain temperature from 20°C / 68°F up to -20°C / -4°F. 
Temperature-controlled cargo
No. of Reefer TEUs (2020)
Freight Volume in 2020

9.6 hundred thousand 

12.5 million metric tonnes
You can also get your food items inspected at licensed posts and depots on the seaport. 
It's important to maintain a cold chain, even when your containers are held up in transit. Are you wondering where you can store reefers safely in Antwerp? You can start by using the 7 ha of depot capacity dedicated for reefers on the port. Interested to know more about it? Click on the banner below!

Port of Antwerp's handling of dry bulk 
Dry bulk refers to cargo transported in the hold of a ship, wagon, or lorry. Antwerp is an importer of a variety of dry bulk cargo such as iron ore, coal, fertilizers, minerals, and other raw materials for construction. And the seaport provides amenities and services to load, unload, and store cargo.
Dry Bulk 
No. of Terminals 
Freight Volume
in 2020

12

11.5  mil tonnes
Now that you know about the modes of transportation, the cost of containers, and cargo-specific services, you should start planning your shipping. 
Find depots at Port of Antwerp on xChange 
Once you've found the containers and arranged for their transportation, you'll need to look for depots to store them. You need to review the depots for their  services before you book them. But there's only so much you can do sitting remotely. Luckily, xChange has a solution. 
We've compiled a directory of container depots at some of the world's most important and busiest ports. You can access this resource to unlock depots, their services, reviews, and contact information. All this for absolutely free. 
Want to know about depots at the Port of Antwerp? Just head over to our depot directory and enter the name of the city. Voila! A list of container depots is all yours to browse through. 
Want to see it for yourself? Click on the banner below to access our depot directory.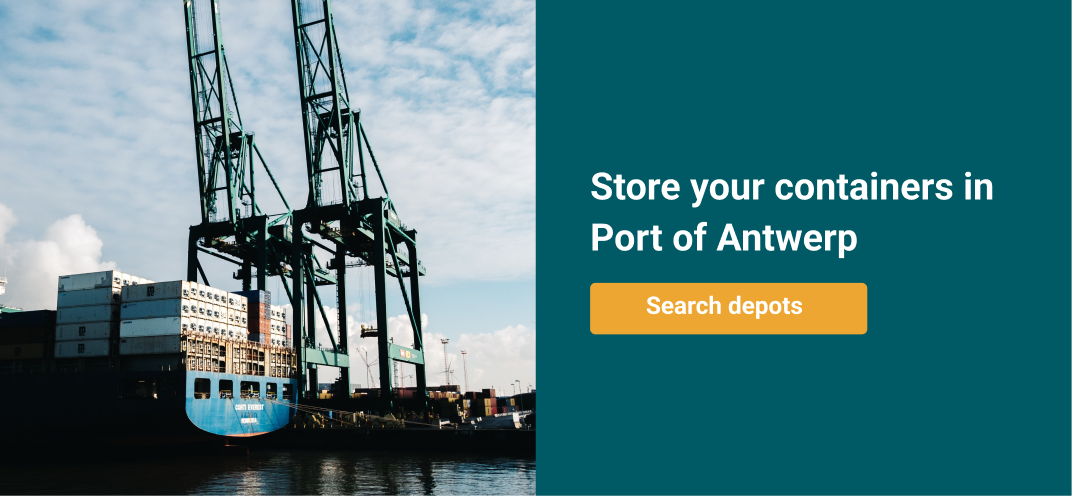 Why is Antwerp Port important?
The Antwerp port is important because its inland location provides the fastest way into Europe. Its intermodal transportation connectivity connects the world with the European hinterland.
Which country port is Antwerp?
Antwerp port is in the country Belgium. It's located on the banks of river Scheldt, about 88km southeast of the North Sea.
Where is BEANR?
BEANR is the port code of the Antwerp seaport. It's located in Belgium, Europe.
[custom-related-posts title="Related Posts" none_text="None found" order_by="title" order="ASC"]
Summary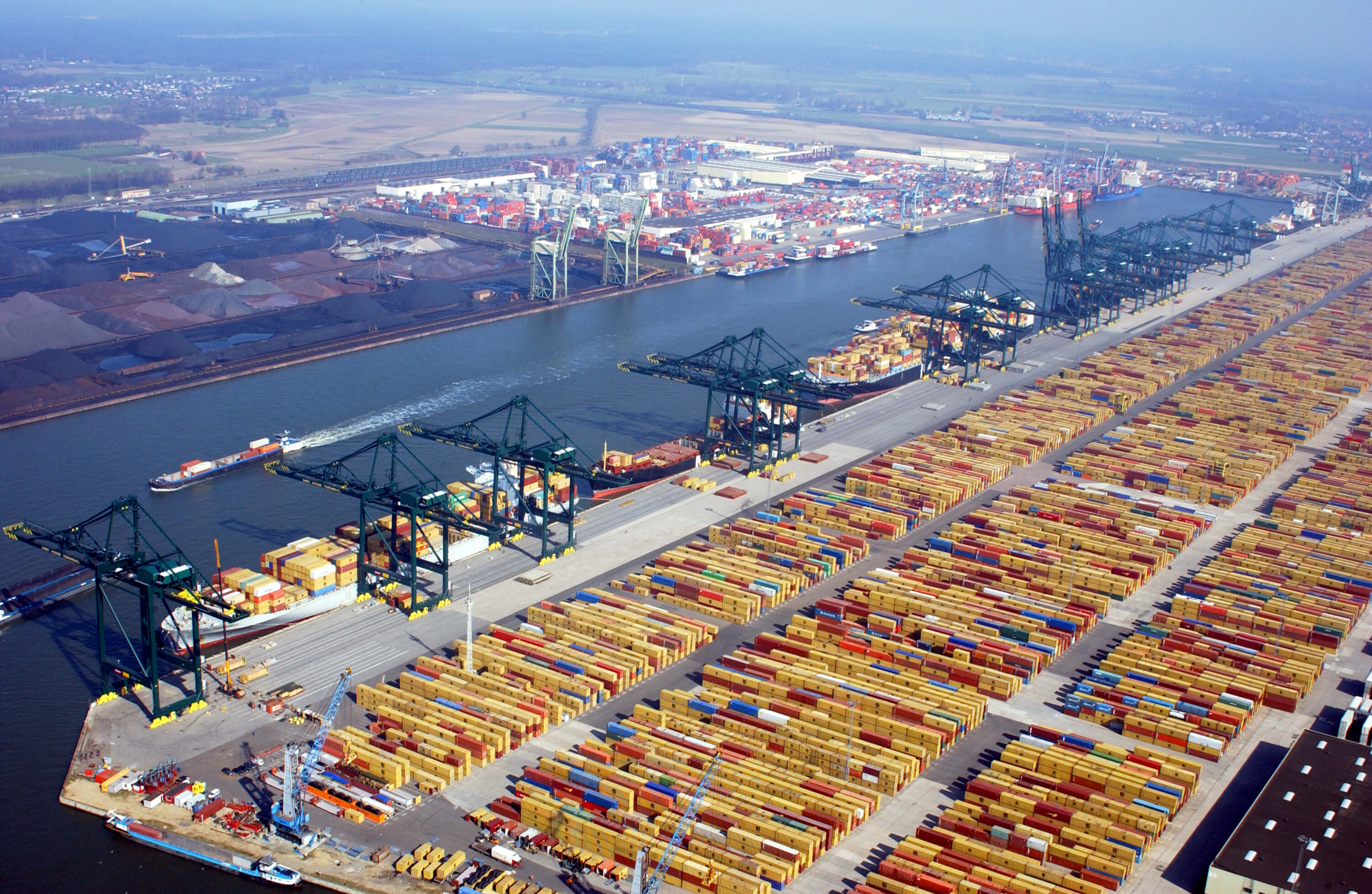 Article Name
Port of Antwerp (BEANR) | An Overview
Description
The Port of Antwerp is Europe's second-biggest shipping port. Learn how it's the fastest way to reach European consumers. Also, find depots!
Author
Publisher Name
Publisher Logo