Containers have been undergoing several modifications with evolving needs. Side door containers were developed due to one of those requirements. A customized form of an ISO container, side door containers were designed for easy loading and unloading of cargo which doesn't fit from the shorter door length, typically oversized cargo.
Side Door Containers, as the name suggests, have doors on the longer side of the container. Unlike the containers with doors only at the shorter end, these containers have 2 pairs of doors: normal doors along the breadth and specialized doors along the length. Keep reading to discover everything about these containers.

Know The Side Door Container
Sharing the same features with a general dry cargo container, the side door container is a more practical and efficient version of the former. Opening from the sides, these containers provide easy accessibility for huge, oversized cargo. These doors can be partially opened or fully opened to access the interior from the longer end of the container.
They are generally available as 20ft, 40ft, and 40ft high cubes. The doors are manufactured from steel or tarpaulin for high durability and tensile strength. Generally, flat steel panels are used for doors, instead of corrugated steel, for increased storage. Rubber seals are fitted along the opening to make it moisture-proof.
Here's how the side door container looks: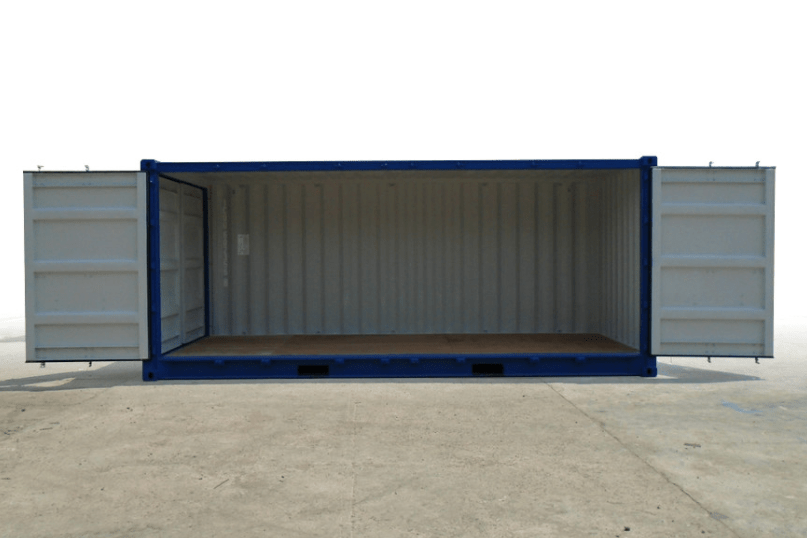 Are you looking to buy or sell Side Door containers? You can try our neutral online trading marketplace at xChange. Now get global buying and selling options with market transparency. Just click on the banner below.
Dimensions: Side Door Container
All containers are made according to standard sizes set by the International Organization for Standardization (ISO). Side door containers are available as 20ft, 40ft, and 40ft high cubes. Here are the internal measurements and capacity of these containers:
| | | | |
| --- | --- | --- | --- |
| Measure | 20ft SD | 40ft SD | 40ft High Cube SD |
| Internal length | 5.89 m / 19.3 ft | 12.03 m / 39.5 ft | 12.03 m / 39.5 ft |
| Internal width | 2.34 m / 7.8 ft | 2.34 m / 7.8 ft | 2.34 m / 7.8 ft |
| Internal height | 2.38 m / 7.9 ft | 2.38 m / 7.9 ft | 2.69 m / 8.9 ft |
| Tare weight | 2,700 kg / 5,950 lbs | 4,700 kg / 10,362 lbs | 5,200 kg / 11,470 lbs |
| Payload capacity | 27,780 kg / 61,244 lbs | 27,300 kg / 60,180 lbs | 28,600 kg / 63,052 lbs |
| Cubic capacity | 33.0 m3 / 1,165 ft3 | 65.3 m3 / 2,306 ft3 | 76.3 m3 / 2,694 ft3 |
In terms of volume, how much can you fit in a 40ft side door container?
380 large trees. Or, 600 big packaging boxes. Or, contents of eight 1 bedroom houses.
But, to simplify things in standard sizes: according to European pallet size (1.2m x 0.8m), you can fit in 30 pallet stacks in a 40ft side door high cube container. For American pallets (1.01m x 1.21m), it can fit 25 pallet stacks.
Advantages & Uses of Side Doors
These containers are really versatile and super-useful.
You can easily load/unload oversized pieces of equipment, machinery, etc. through side door containers that are difficult to be handled through a normal door. This also saves you the cost of cranes and open-top/hard-top containers.
Side doors allow maximum space utilization as goods can be packed more conveniently from the long open end of the container. They also save time, as pallet trucks and forklifts have more space to function in wider space.
With side door containers, managing cargo is really easy and functional — as you get a complete overview of the goods if the longer end of the container is opened completely. Items can be loaded and unloaded much faster as compared to an ISO container.
Going beyond shipping, side door containers are popularly (and uniquely) converted as homes, offices, cafes, pop-ups, etc. They are widely seen in festivals and events as they provide an economical option with minimal set-up. These containers are durable, safe, and weatherproof that can be customized as per the requirements easily.
Trading Side Door Containers
Summing up, side door containers are a better twin of general ISO containers, with greater ease of access and way many options for usage that go beyond shipping.
If you're looking to buy or sell containers, we've got just the solution for you. Providing global buying and selling options, the Container Trading Platform at xChange offers you transparency, choice, and reliance for all types of containers.
With xChange's 100% neutral online container marketplace, you can:
Reach more people and increase your network.

Know whom you're doing business with.

Manage all your transactions in one place – with payment protection.

Offer sales stock to a global network of 150+ certified partners.

Get notified about the best offers according to your needs.

Have 100% market visibility in more than 2500 locations globally.
All this with no hidden costs or extra commission fee. Click on the banner below and get started now. Schedule a free demo with our team at xChange.