Tank container transport is the ideal choice for bulk shipment of both hazardous and non-hazardous bulk liquids, gases, and powders. Read on to know more about the different cargoes, standard certification, and costs.
What is a tank container?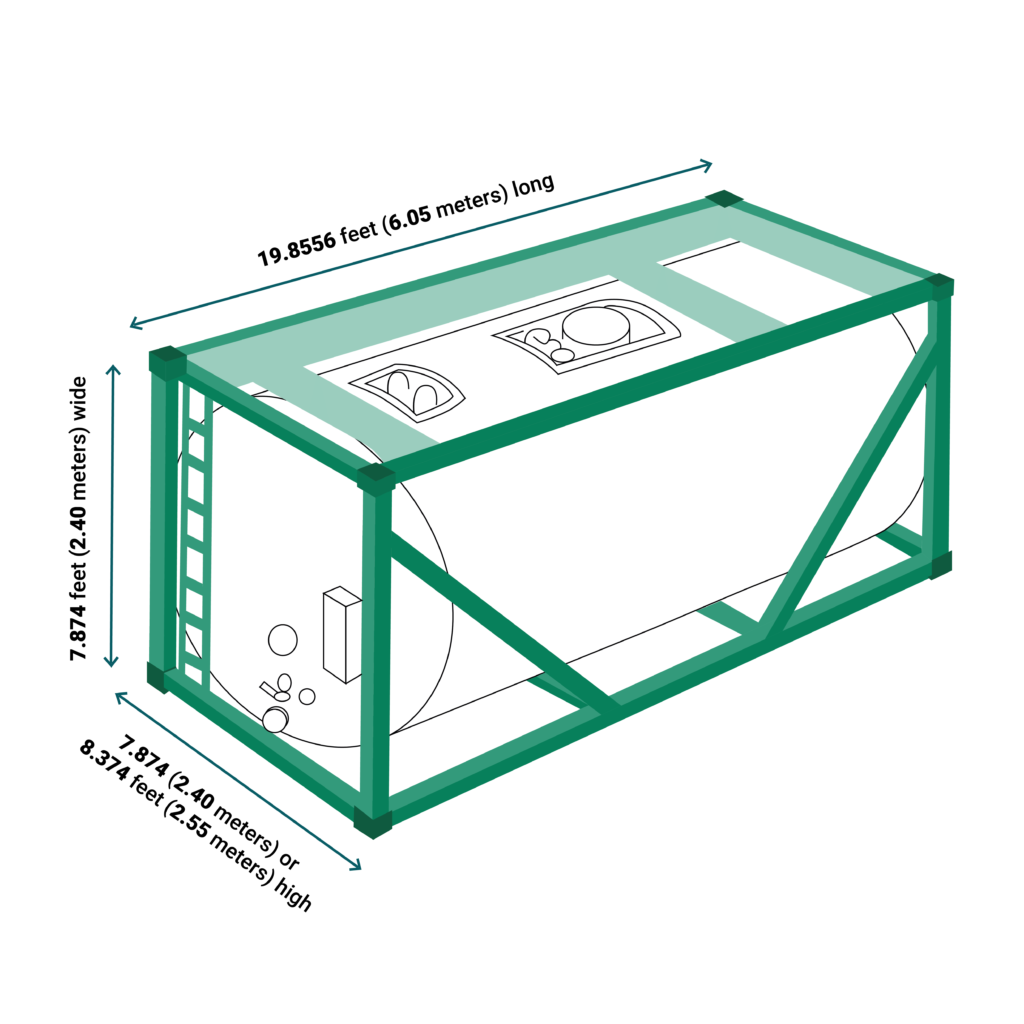 ISO Tank containers are easily recognizable due to their barrel-shaped structure. This container type can carry both hazardous and non-hazardous bulk liquids, gases, and powders.
An ISO tank transports goods with extreme safety and ease. Tanks are made of stainless steel with an insulated coating of aluminium or polyurethane. This protects the container from corrosion and extreme weather conditions.  
According to the International Tank Container Organization (ITCO), the global tank container fleet as of January 2021 stands at 686,650. Thanks to their ability to transport bulk liquid efficiently, tank containers have become a preferred choice for shipping today.
ISO tanks follow the International Organization for Standardization's (ISO) specifications. These specifications are a set of dimensions and features to carry goods with safety. It determines a fixed set of industrial and commercial standards to ensure the consistency, quality, safety, and efficiency of products and services. 
If you are planning to transport bulk liquid using a tank container, make sure it is ISO certified.
ISO tank containers: what does an ISO Certification mean?
ISO is a seal of approval for the production of high-quality goods across industries. An ISO certification gives a sense of relevance to products and services. This certification states that the manufacturing process, service, or management system has the requirements for standardization and quality assurance. 
Make sure you only get a tank that complies with the size, durability, and strength as per the ISO standards. Every tank container must go through a rigorous inspection before it's put into service. This certification guarantees reliability and stability to transport liquids, gases, and chemicals.
11 types of liquids for tank container transport 
An ISO tank container is a cost-effective solution for bulk liquid transportation whether hazardous or non-hazardous. Tank containers can last up to 20 to 35 years, it also assures safe and effortless handling of goods. This makes them a sustainable and viable shipping solution for many. 
If you are planning to ship your liquid goods in tank containers, it's important to know the various types of liquids that can be easily transported in them.  
Let's take a look at the 11 types of liquids that can be transported efficiently in tank containers: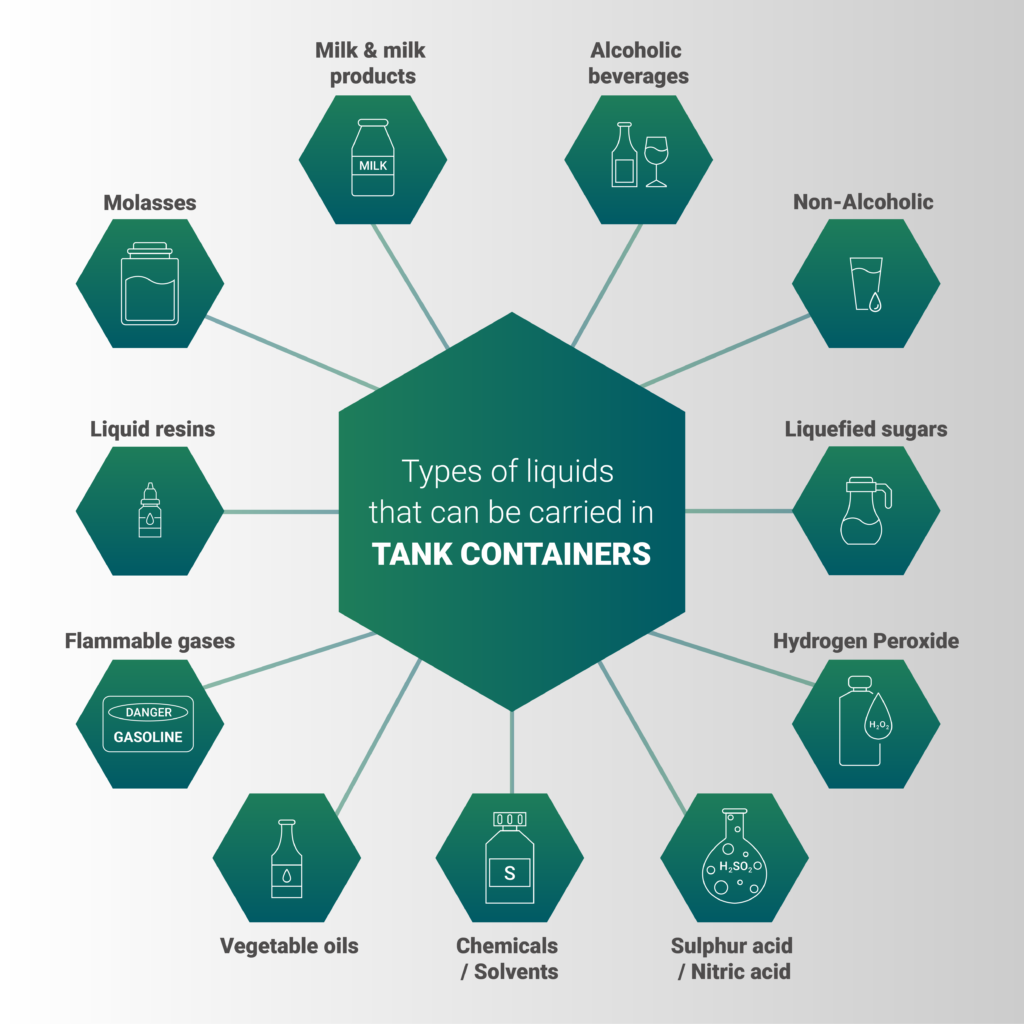 With tank containers allowed to carry such a wide range of liquid goods, it is definitely the most ideal for bulk shipping. All you need to do is find the right tank at the best price. 

13 types of tank containers and their uses
ISO tank containers have a wide range of containers designed to carry specific products. They can carry both hazardous and non-hazardous liquids such as explosives, chemicals, flammable, and food-grade goods. The best part is, a chemical-grade tank container can't be used as a food-grade container (as per ISO standards). Each container must be cleaned and inspected thoroughly before the next cargo is loaded.   
Here are the 13 different types of tank containers you can use for transportation of various goods: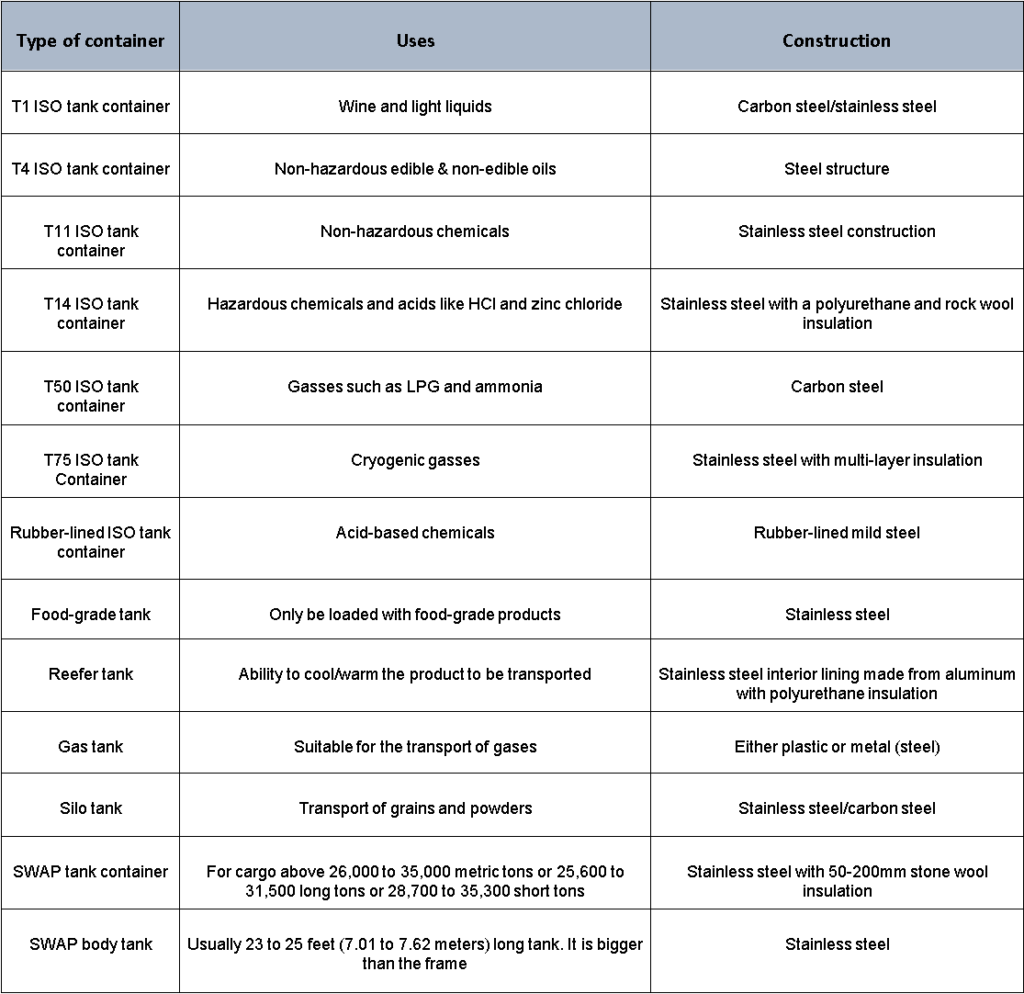 Note: While the price of a tank container depends on the type and other specifications, the average price of a T11 (non-hazardous chemicals) can cost anywhere between US $16,000 and US $20,000. A swap body (with baffles) can cost US $26,000 and a 40ft cryogenic ISO tank container can cost up to $120,000 for a single unit. 

6 benefits of using a tank container
There are many benefits of tank containers. From transporting bulk liquids with ease to ensuring cargo safety and security, let's have a look at a few of them:
1.    Reliability
When it comes to transporting bulk liquids, there's no doubt that ISO tank containers are the most reliable, and cost-effective option. All tank containers follow the ISO standards. Thus, numerous tests and inspections are mandatory before a tank finally comes to the market. This means that there's no compromise on the quality and standard of tank containers. Having said that, if it's a second-hand tank container, it's always wise to check for the ISO stamp. Doing a quality inspection of the valve condition and stability of the container is essential.
2.    Safety
Every ISO tank container is designed for specific goods – chemical, food, and liquid grades. Thus, it ensures safety. It's a mandate that a chemical-grade container can't be used for a food-grade container. However, a food-grade tank can be used as chemical-grade. An ISO tank goes through a thorough cleaning and inspection process before cargo is loaded and after it's unloaded. It's only after the quality inspector gives a go-ahead the container can be refilled.
3.    Environment-friendly
Due to the nature of its construction, it's highly unlikely that an ISO tank container will leak during storage and transportation. This makes tank containers environment-friendly. Thus, it also ensures the safe transportation of hazardous chemicals.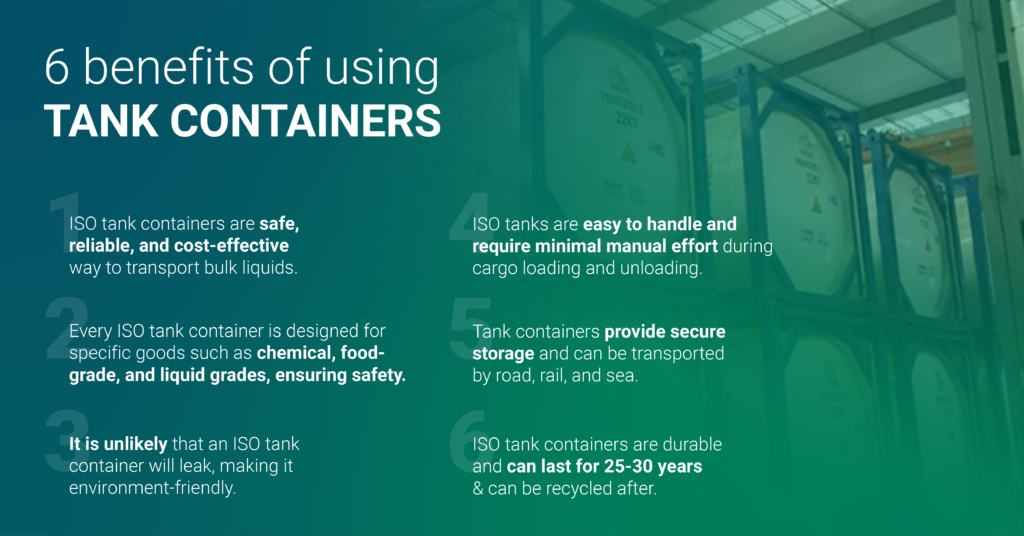 4.    Efficiency
ISO tanks are easy to handle and require minimal manual effort during cargo loading and unloading, thanks to the valves and pre-installed steam coils. Adding to this, a tank can accommodate a huge quantity of goods to be shipped. A 20ft ISO tank can carry 60% – 70% more liquid as compared to a 20ft container with drums.
5.    Security
Tank containers provide secure storage and can be transported by road, rail, and sea. Every tank container comes with a BIC code that ensures the tanks can be tracked – meaning your product is safe. Additionally, the tanks can withstand harsh weather and road conditions as well.
6.    Durability
ISO tank containers are made of stainless steel which gives them a long life of at least 25-30 years. Even after a tank container is damaged beyond repair, it can be recycled or remanufactured into other parts or things.
Get your tank container on xChange
Understanding the need and demand of the market, xChange makes sure to make the experience of buying, selling, and leasing shipping containers a cakewalk for its members.
Container xChange provides an online neutral marketplace for buying and leasing ISO tank containers. xChange makes it easy to:  
Get an instant market transparency, and find available equipment easily, 

Connect with certified partners in more than 2,500 locations in seconds

Get your money on time 

Make more deals with zero back and forth emails 

Buy or lease without commission 

Advertise your stock/fleet 

Grow your network 

Negotiate deals (hassle-free) directly with other members 
Moreover, at Container xChange, vetting process is mandatory for all members, this means more trustworthy partners for you. All the available containers are instantly visible (at their best price), so you know you are not overpaying. 
You can also enjoy services such as container insurance, tracking, surveying, and secure payments. 
Find a tank container that's within your budget. xChange makes it easy to connect with container owners and seamlessly buy a container that's right for you.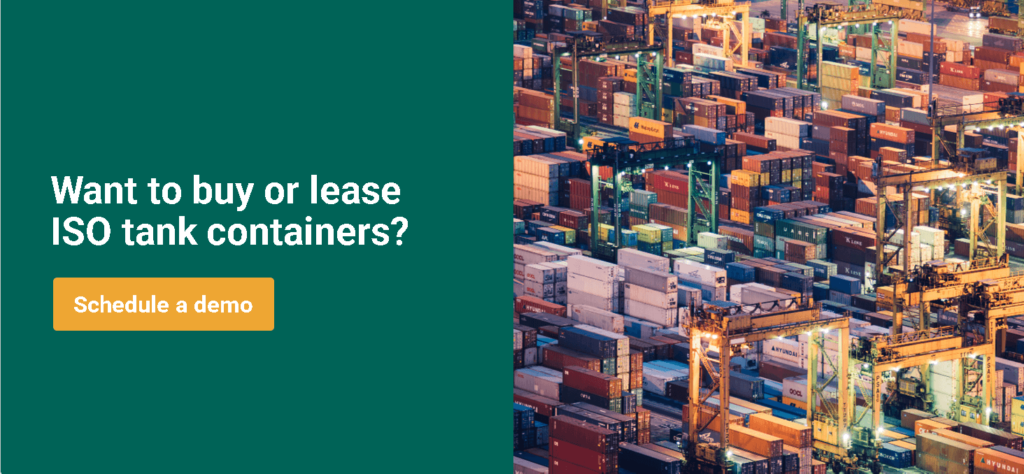 How much does an ISO tank cost?
The price varies depending on the tank specification. A typical standard T11 (non-hazardous chemicals) can cost anywhere between US $16,000 and US $20,000. A swap body (with baffles) can cost US $26,000 and a 40ft cryogenic ISO tank container can cost up to $120,000.
How many liters are in a tank container?
A tank container can carry plenty of liquid cargoes. Its capacity ranges from 21,000 liters to 26,000 liters. Tank containers are extremely beneficial for the transportation and storage of liquid goods.
What is the dimension of a 20ft tank?
The dimension of a 20ft ISO tank container is as follows: the internal length stands at 6.058 m and the width at 2.438 m. Its tare weight is 26,290 kg and capacity is 21,000 liters.
[custom-related-posts title="Related Posts" none_text="None found" order_by="title" order="ASC"]
Summary
Article Name
Tank container transport guide: Cargo for tanks, ISO certification & average costs
Description
Check out the wide variety of cargoes a tank container can transport. Know the average cost and the standard certification needed.
Author
Publisher Name
Publisher Logo