Who is reliable enough to trust with my assets? This was the main question of people after my keynote about "How to take the risk out of container logistics" at the Intermodal Europe in Hamburg. Trust is basically the most important ingredient when doing business with a partner: Will they return my containers on time? Do I have to follow up on my invoices? Can I easily reach my partner when I have questions? Without a certain level of trust, you would probably not make deals with a company, even though the offered price seems cheap. Over the last decades we have built long lasting relationships with partners where trust was not an issue, but now two things have changed: (1) Digital technologies allow us to collaborate with basically the entire world in no time and (2) stakeholders are increasingly asking for transparency e.g. to better understand where the products they purchase come from. To adapt to these changes, we have to redefine "trust" and find answers for how to make time-efficient and risk-free deals with partners you have never worked with before. 
Trust is an everyday problem in logistics 
The lack of trust is an everyday problem for most container owners and users with high impact on decisions they make. Let me give you a few examples: Imagine a container lessee returns your equipment too late or in bad condition. Of course, you might receive per diem fees to compensate you and the DPP (Damage protection plan) covers damages but how do you explain that to your next customer who is waiting for these boxes? How much time does it cost you to follow up, arrange container inspections and send emails back and forth? Imagine if you bought a used car and the condition was completely different to what the seller had told you before, you would probably not work with the same seller again in the future (and I bet you would also advise your friends against buying his/ her cars). What happens is that operational costs increase due to the lack of trust, Maersk, for example, announced random container inspections because of misdeclaration of cargo. Increasing costs and high risk ultimately leads to something everyone probably has already said at least once: We only work with people we know! 
What is currently being done to mitigate risk?
Most of the time decisions are made based on gut feeling or anecdotal evidence from your network, the press, Google or sometimes just a random Linkedin post about a specific company. In addition to that, personal meetings and extensive travel are still the standards for vetting a potential new partner before setting up bank guarantees, credits assessments and "triple-checked" watertight contracts by expensive layers. It's not only incredibly difficult, time-consuming and expensive to collaborate with new partners but also not real-time, non-scalable and error-prone. Such partner vetting processes lead to fewer partnerships, less market transparency and slower speed- which makes no sense in times of real-time communication, cost pressure and the increasing need for market transparency. In today's digital age, there must be a better way! Why? Because you won't have the time to initiate your traditional vetting process when a potential customer is reaching out. If you want to get new deals, you have to be the first one with a quotation!
Other industries rely on platforms as neutral data layers to create trust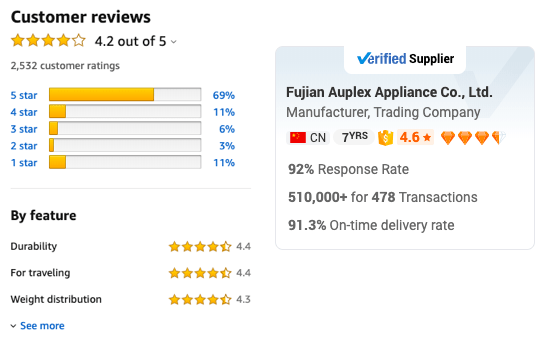 To create trust, we can learn from how other industries have increased trust through platforms as neutral data layers, data standards as the common language, user-generated content and financial credit scoring models. May it be Amazon or Alibaba for buying and selling products online, Trustedshops for e-commerce or Delivery Hero for ordering food online – Other industries rely on platforms as neutral data layers! Take Alibaba as an example: Would you buy from a small, random company that you have never heard of just because the price is cheap? Most likely you would not! On Alibaba you do so because you trust their platform, the Alibaba insurance and their vetting process. Moreover, you trust your peers and you look at how other partners have rated that company in past transactions on Alibaba? That's why most online platforms have introduced performance reviews & ratings. You would probably rather buy from a seller on Amazon with thousands of 5-star reviews instead of from someone with barely any ratings.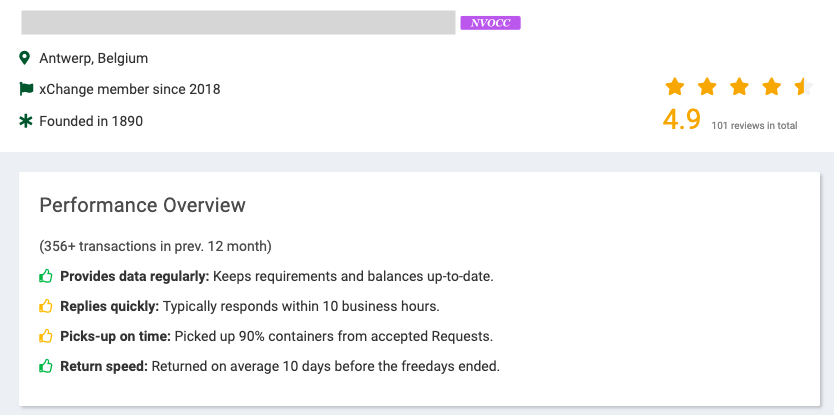 With Container xChange, we can see the same happening in container logistics! Since we introduced peer-to-peer reviews and ratings we have seen an increase in transactions by 17% for top-rated companies (>4 stars on average) and overall it has led to faster replies, release documents and a greater level of trust because members now have a bigger incentive to be a reliable partner. Another great example of how platforms in other industries leverage technology are payment and loan providers such as Klarna or even retailers like Ikea with next level credit scoring models. Instead of gut feeling, they can now, for example, even include signals from social media with their algorithms to forecast creditworthiness – which speeds up vetting processes and decreases human-made errors significantly. May it be reviews, credit checks or vetting – I think we can do the same in logistics! Platforms like Freightos (for freight forwarders and shippers), Xeneta (freight rates) or Container xChange (asset-sharing in container logistics) already exist, but in the end, it comes down to your behaviour! Make credit checks for your partners as easy as possible, be reliable and stick to what you agreed on. Becoming a trustworthy partner yourself is the first step to a greater level of trust in logistics.
Summary
Article Name
How to take the risk out of international container logistics
Description
The lack of trust is an everyday problem for most container owners and users with a high impact on the decisions they make. Increasing costs and high risk ultimately leads to something everyone probably has already said at least once: We only work with people we know! 
Author
Publisher Name
Publisher Logo