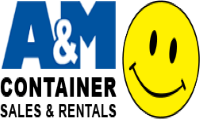 A & M Container Sales and Rentals
Mandeville, Louisiana, United States
Founded in 2002
About us
A&M Container is a locally owned and operated family business that focuses on providing container solutions at the regional level. It was founded in 2002 from the upstairs bedroom of Lewis Nolan's family home but later moved to where it is today, a large container yard with a custom office built from three 40' high cube containers. Conveniently located on I-12 in Ponchatoula, Louisiana, we proudly serve our home areas of Southeast Louisiana and South Mississippi. From this location, we have the ability to offer many custom container modifications to meet your container storage needs. Our containers come directly out of international shipping service and are available in a variety of sizes and conditions. While our size has grown over the years, our commitment to providing customers with a competitive price, excellent customer service and a good product remains the same. Lewis Nolan, along with his staff, have over 45 years of combined experience in the shipping and storage container industry and are extremely well equipped to understand and meet the needs of customers. Our customers range in size from the United States Government, petroleum, chemical and industrial refineries, general contractors, retail establishments to small businesses and individuals; we have the expertise to help you. Our goal is to be your dependable source for on-site storage solutions.
A & M Container Sales and Rentals is an unclaimed profile. Only employees of this company may claim it. Know someone who can claim this page?
Latest Reviews
Have you worked with this company before? Drop them a reference now and help them improve their reputation!
Error: Contact form not found.
Error: Contact form not found.