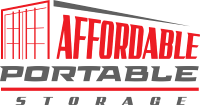 Affordable Portable Storage
Idaho, United States
Member since 2021
Founded in 2004
About us
Affordable Portable Storage is a locally owned family business that was founded in 2000. Affordable Portable Storage has been a great asset to the community over years. They have donated containers to The Boy Scouts of America and to local school districts. We have supplied local companies to help them expand their business since the new millennium.
Operational Performance
0 transactions within the previous 12 month
Latest Reviews
Have you worked with this company before? Drop them a reference now and help them improve their reputation!
Error: Contact form not found.
Error: Contact form not found.