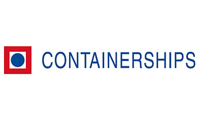 Containerships Ltd.
Helsinki, Finland
Member since 2016
Founded in 1966
About us
Containerships Ltd. is a leading short sea end-to-end operator providing full service logistics from producer to consumer. The company is present in 21 countries and operates a fleet of 14 ships across the North and Baltic Seas as well as the Mediterranean. Containerships is a full-service logistics company providing safe, reliable and sustainable door-to-door multimodal transportation. Our comprehensive European network reaches from Russia to North Africa providing our customers with comprehensive coverage in the region. Our service portfolio consists of both standard and customised containers and logistic solutions thanks to 32 vessels, 700 trucks operating on 34 seas, rail and river services.
Latest Reviews
Have you worked with this company before? Drop them a reference now and help them improve their reputation!
Error: Contact form not found.
Error: Contact form not found.