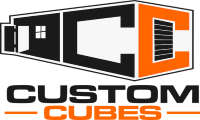 Custom Cubes Ltd
Surrey, Canada
Founded in 2018
About us
Custom Cubes started when founders Mike Ouellette and Brent Nelson saw a structures market that needed to be modernized. We wanted to offer a higher quality product for the same or even less cost than the existing options on the market. Not only did we want to do this with the traditional mobile office and storage market, but we wanted to let our clients use their imagination and work with our team from start to finish on developing custom container structures that match our clients individual needs. As the company has grown and continues to grow, we have been very selective on adding the right members to our team. People that truly care about the company's vision and share the same passion in exceeding our customer's expectations with every project. Our slogan: "Enjoy the quality" is a simple statement but truly represents the importance of quality and longevity in everything that we build. In addition to modifying and using the shipping containers to create custom structures, we have also been working endlessly to create a trusted shipping container sales system. We have implemented multiple inspection processes to ensure quality and offer a "Wind & Watertight" guarantee on all the containers that we sell. We have also setup logistics channels across B.C along with distribution yards to provide cost effective self-unloading delivery services to all of our customers. We are continuously developing more products and are really excited for the coming years.
Custom Cubes Ltd is an unclaimed profile. Only employees of this company may claim it. Know someone who can claim this page?
Latest Reviews
Have you worked with this company before? Drop them a reference now and help them improve their reputation!
Error: Contact form not found.
Error: Contact form not found.