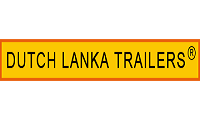 Dutch Lanka Trailers
Rajagiriya, Sri Lanka
Founded in 1998
About us
DLT, established in 1992, is part of TATA Enterprises since 2009 and a wholly-owned subsidiary in 2011 of TRF LTD. DLT is a BOI company in Sri Lanka exporting trailers for Ports and Road trailers globally; DLT exports to more than 45 countries and has a 30% market share in port trailers in the Middle East and 65% market share in Road Trailers in Sri Lanka and Bangladesh. DLT Commenced trailer production in 1998 from Kelaniya factory in Colombo initially, shifted to 11 acres premises in Dankotuwa; near Colombo port. DLT has capacity to produce 3500 trailers per annum. DLT employs a highly competent and motivated Design and Development team for engineering all port and Road transport solutions and developing new applications on rigid and trailers. DLT's extensive product profile bears testimony to the same.
Dutch Lanka Trailers is an unclaimed profile. Only employees of this company may claim it. Know someone who can claim this page?
Latest Reviews
Have you worked with this company before? Drop them a reference now and help them improve their reputation!
Error: Contact form not found.
Error: Contact form not found.