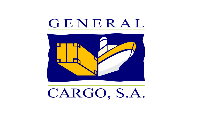 General Cargo S.A
Panama City, Panama
Founded in 2011
About us
We are a Panamanian company with more than 30 years of experience in services of Integral Logistics fulfilling the high standards; thus, ensuring efficiency and profitability for your business. Dedicated to the activity of consolidation, storage, distribution, freight and cargo handling. General Cargo has two offices, one located in Panama City and the other in the Colon Free Zone, the international cargo distribution center of the Americas, is also a short distance from the transatlantic railroad collection centers, main ports and airports of the region. We are member of different international strategic alliances that allows us to have a worldwide network of agents.
General Cargo S.A is an unclaimed profile. Only employees of this company may claim it. Know someone who can claim this page?
Latest Reviews
Have you worked with this company before? Drop them a reference now and help them improve their reputation!
Error: Contact form not found.
Error: Contact form not found.