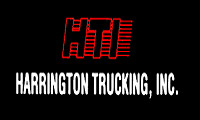 Harrington Trucking
Salt Lake City, United States
Founded in 1975
About us
Founded in 1975, HTI is a locally owned bonded trucker and a full-service depot facility. We have a combined 17 acres between both facilities which also boasts a warehouse for cross-docking, trans-loading, and reworking operations.
Harrington Trucking is an unclaimed profile. Only employees of this company may claim it. Know someone who can claim this page?
Latest Reviews
Have you worked with this company before? Drop them a reference now and help them improve their reputation!
Error: Contact form not found.
Error: Contact form not found.