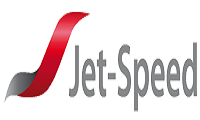 Jet-Speed Logistics
Frankfurt, Germany
About us
JET-SPEED GmbH in Germany combines the excellent services of two top international companies: it is a joint venture between the logistics provider DACHSER and Jet-Speed Ltd in Hong Kong, one of the biggest air freight specialists in Hong Kong. We provide our customers and partners with an international network for air- and oceanfreight. Our highly motivated team continuously develops individual, tailor-made solutions to optimize the supply chain of our clients. This involves besides regular consolidations and direct-shipping, also Supply-Chain-Solutions, Contract Logistics, and Warehousing-Services. Even your Project shipping by air and ocean your shipments are in the best hands with us. Jet-Speed is much more than a successfully-functioning logistics services provider. Here at Jet-Speed, we profit from two family-owned businesses rich in tradition, that draws its commitment and innovative power from the trusting and constructive cooperation of its employees. Our culture is characterized by solid values, the spirit of humanity, tolerance, and sustainable corporate management. Only those who treat their fellow human beings, customers, and the environment with respect and mindfulness can operate credibly and successfully in international markets long-term. All these things allow us to be a reliable partner for logistics customers from industry and commerce.
Jet-Speed Logistics is an unclaimed profile. Only employees of this company may claim it. Know someone who can claim this page?
Latest Reviews
Have you worked with this company before? Drop them a reference now and help them improve their reputation!
Error: Contact form not found.
Error: Contact form not found.