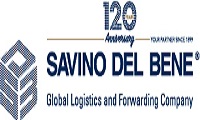 Savino Del Bene S.p.A.
Bremen, Germany
Member since 2020
Founded in 1999
About us
Savino Del Bene is a multinational company operating worldwide in international shipments and logistics support services. Established in Florence in 1899, over the decades the company has grown and specialized to reach its actual position as the largest Italian shipping company. With a network of more than 282 offices and over 4.400 employees across the five continents, the company manages air, sea, and land transport services through established relationships with the best carriers. When requested, it offers tailor-made logistics solutions for the shipment and distribution of any type of merchandise. Customer satisfaction is at the very foundation of Savino Del Bene's mission, and has been since its inception. Consistent with its QHSE Policy (Quality, Health, Safety and Environment), Savino Del Bene is committed to training and updating its staff in every department, with the belief that this business attitude is the main reason behind its customers' loyalty.
Operational Performance
0 transactions within the previous 12 month
Latest Reviews
Have you worked with this company before? Drop them a reference now and help them improve their reputation!
Error: Contact form not found.
Error: Contact form not found.