Indian Sub-Continent and Middle East: Lucrative Regions for Container Shipping Amidst China Exodus
Container Availability Index value of major ports, Nhava Sheva, Mundra, and Chennai rose in March maintained at 0.77, Jebel Ali at 0.79, and Chittagong at 0.92
39% Y-O-Y drop in average container prices in India from $3288 in March 2022 to $2088 in March 2023
Hamburg, Germany, 24 April 2023: Container traders and shipping companies in the middle east and ISC region are benefitting from lower rates and enhanced governmental initiatives aimed to build this region as a lucrative component of the global supply chains, according to the ISC and ME market update issued by Container xChange, an online container logistics platform for container trading, leasing and management.
According to Container xChange data, container prices and leasing rates continue to fall significantly in the region in the first quarter of 2023.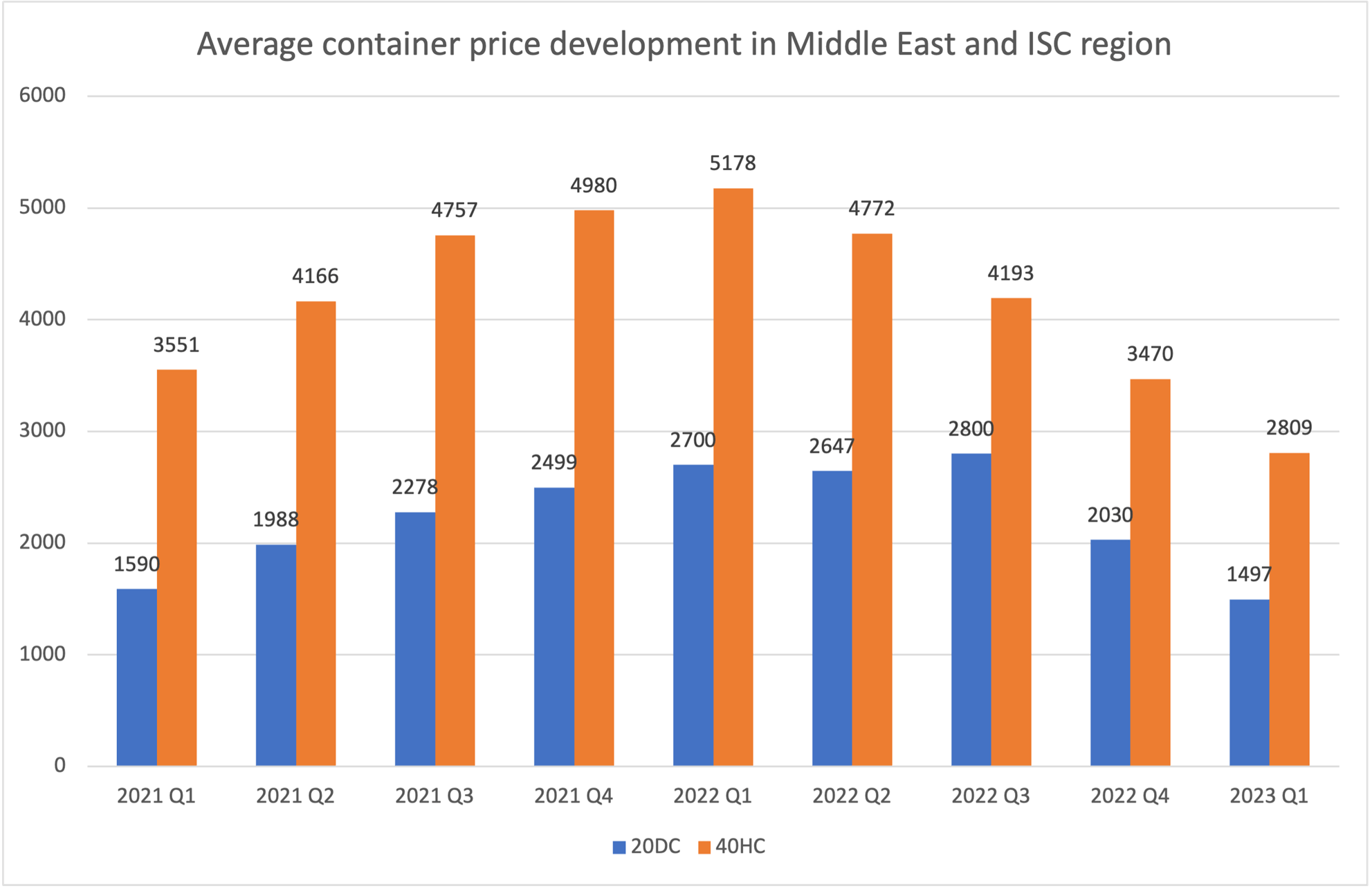 Quarter-wise Average prices in USD of a cargo-worthy 20 DC and 40 HC container in the Middle East & ISC; Data source: Insights
The container availability has also improved in the region. This presents a great opportunity for container trading and leasing in that region as the world prepares to establish more distributed supply chains, not relying on a linear supply chain anymore.
Geneva-based Mediterranean Shipping Co. (MSC) has enhanced connections between India and the Middle East with a regular weekly service out of Cochin port.
Favourable container pricing in Middle East & ISC for carriers
In March 2023, the average price of a cargo-worthy 20ft dry container in ISC and ME was $1,200, while a cargo-worthy 40 HC container was priced at $1,860. This indicates a significant drop in prices compared to just six months ago when the cost of a 40ft container was 38% higher.
Average prices of a cargo-worthy 40ft container in Middle East & ISC; Data source: Insights
For 20 DC average container prices in the ME & ISC region, there has been a downward trend, with container prices from Q4 2022 ($2030) to Q1 2023 ($1496), amounting to a drop of 26%. For 40 HC average container prices in the ME & ISC region, there has been a downward trend, with container prices from Q4 2022 ($3469) to Q1 2023 ($2809), amounting to a drop of 19%.
Analysing the current market scenario, Christian Roeloffs, CEO & Co-Founder, Container xChange said, "In the past couple of years, carriers have faced challenges in expanding their capacity to meet the growing demand for ISC & ME exports. As demand slowed, rates have significantly dropped. Despite this, container lines are still promoting trade in these regions to help carriers benefit from potential growth opportunities, especially as western importers move towards a "China+1" procurement strategy."
'Though there is increased competition due to capacity expansion, the favourable container market conditions in these regions offer an opportunity for carriers to target more volumes as the global trade witnesses redrawn trading patterns.", he added.
Increased Box Availability amidst Container Surplus
There are currently a multitude of containers readily available at three major ports – Mundra, Chittagong, and Jebel Ali. Specifically, the port of Chittagong boasts a high CAx score of 0.92.
Average CAx values for Mundra, Chittagong and Jebel Ali; Data source: Insights
Understanding CAx Value: When the CAx value is 0.5, the number of containers filled with cargo leaving and entering a port in a week is the same. If the CAx value is above 0.5, it means that more containers with cargo are entering the port, while if it's below 0.5, more containers with cargo are leaving the port.
Considering this, the port authority of Chattogram, the prime seaport in Bangladesh has issued an official notification last month, inviting cargo carriers up to 200-metre length and 10-metre draught to take berth at the jetties. With this new length and water draught, vessels carrying over 3,000 TEUs will now be able to dock at Chittagong.
For India, the graph below displays the CAx data for Nhava Sheva, Mundra and Chennai ports, indicating a significant increase in the number of inbound containers at the port in 2023, as well as in 2022 by week 40. The CAx value is well above 0.5 threshold maintained at 0.81 since the beginning of 2023 indicating greater inbound containers at the ports.
This could well be corroborated by the rising imports in the country, causing a higher number of container equipment entering the ports leading to increase in availability of containers.

Average CAx in India for Nhava Sheva, Mundra and Chennai ports
Low CAx values observed consistently for several weeks indicate a shortage of containers, while high CAx values over an extended period imply that there is an excess of containers at a specific port.
CAx value at Chennai port have stood still in the 0.84-0.86 range, currently at 0.84, indicating a surplus of inbound containers.
CAx value at Chennai port
In Mundra, the port's CAx too is toppling at a high value of 0.84 currently. The port has seen elevated inbound containers starting 2023 itself.

CAx value at Mundra port
Nhava Sheva port's CAx has risen to 0.77 over the last four weeks indicating greater ratio of inbound vs outbound containers.

CAx value at Nhava Sheva port
India's Integration into Global Value Chains and Favourable Container Pricing Trends Make it an Attractive 'China+1' Alternative
The government has intended to integrate with global value chains and take advantage of the 'China plus one' approach adopted by multinational companies. Additionally, the country is actively negotiating free trade agreements with important trading partners, which is likely to be well-received by investors.
In March, container prices in China experienced a significant decline of 62% on average when compared to the same period last year. In India, there has been a 39% year-on-year drop in average container prices from $3288 in March 2022 to $2088 in March 2023 as illustrated below.
Contrastingly, the drop in average container prices in India was not as significant as that in China.

Average prices of a cargo-worthy 20 DC & 40ft container in India; Data source: Insights
Furthermore, as compared to other China+1 alternatives average container prices in India are comparatively high indicating a higher demand for container equipment.
Average Container Price in the SEA region
The Indian sub-continent and the Middle East are now creating hubs for manufacturers, building infrastructure to support ocean and air transport, and actively making consumer markets more compact. This emerging trend of regionalization is not only viable for businesses but also strategic. It presents a significant opportunity for container shipping companies to expand their supply chains and provide efficient and cost-effective solutions to their customers.
Rise in Transatlantic operations
Container fleet operations on the transatlantic route have been continuously expanding. In the year 2022, it has been reported that an additional 162,300 TEUs were included in the fleet, with the most significant increase seen in services connected to the Middle East and the Indian subcontinent.
In 2023 Q1, Shipping giants such as Hapag-Lloyd, COSCO, and OOCL have either suspended or closed their services in China and redeployed their ships in the transatlantic service. Additionally, Siemens, one of the world's largest industrial conglomerates, is keen on investments in Southeast Asia to reduce supply chain risks amidst the ongoing geopolitical tension between the US and China.
Expansion of Supply Chains
COSCO Shipping Ports has invested in 25% of the equity in Egypt's Sokhna New Container Terminal, and the project's total investment is approximately $375 million. Once complete, the terminal's container capacity will reach 1.7 million TEUs, providing ample opportunities for growth. CMA CGM Group has also announced the launch of the new Bangladesh India Gulf Express (BIGEX) service that will start sailing from the port of Chittagong on 5 April 2023.
Maersk's New Shipping Region: A.P. Moller – Maersk (Maersk) has integrated two emerging markets – West & Central Asia and Africa – to form a new combined IMEA (Indian sub-continent, Middle East and Africa) region. The primary markets for this new region will be India, Pakistan, the UAE, Saudi Arabia, South Africa, Kenya, Ivory Coast, Cameroon, Nigeria, Senegal, and Ghana, among others.
Click on the link for more information: https://www.container-xchange.com/insights/
For more on container logistics industry developments, download the full report 'Where are all the containers' from here