Dealing with damaged cargo is no fun, but you can avoid that by being informed about the different ways to insure your cargo. Read on to find out why you need to insure your cargo, and how it can benefit you.
Protecting your cargo is as important as protecting your container. Container damage results in cargo damage, and you're likely to experience it one way or another. So, let's dive right into today's topic — cargo insurance.
What is cargo insurance?
Cargo insurance safeguards shipments from loss, damage, or theft while they're in transit, so your goods are shipped off safe and sound. There are many ways that cargo insurance can be beneficial. Read on to see how:
What are the benefits of cargo insurance?
Cargo insurance reduces financial loss regardless of whether your goods get damaged or not. Some of the common benefits include:
All risk coverage – Cargo insurance protects against the significant loss or damage caused by external factors such as theft, vermin or damage by improper handling.
General coverage – This is the standard insurance policy for maritime shipments covering partial losses to the policyholder.
Warehouse-to-warehouse coverage – As the term signifies, it protects against loss or damages caused while your cargo is being transported to and from warehouses.
Peace-of-mind – Securing your investment gives you a sense of peace, which means you can sit back and relax knowing your cargo is safe.
Why do you need cargo insurance?
Picture this: You've just sent off an important shipment that'll ultimately break your bank if it were damaged, BUT you haven't insured it. The phone rings and you're informed that there's been an unfortunate accident. Sadly, your cargo is now, as they say, floating with the fish. Should you have taken cargo insurance? The answer is yes!
Your freight is exposed to a great deal of risk as it moves through numerous ports in transit. The longer you leave it unprotected, the bigger the risk becomes. There are outside factors to consider such as weather conditions, theft and container loss.
If you're trying to avoid paying out of your pocket for the damage, insurance might be your best bet even though it isn't always required. Better safe than sorry!
Now you're probably wondering what type would be suitable for you. Below are two main types of cargo that'll help you determine which is your perfect fit.
Cargo insurance types
Cargo insurance can be broken down into two main categories:
Motor truck cargo insurance
This type of insurance covers goods that are transported via land through trucks or utility vehicles. It covers some dangers related to land freight shipping like theft and collision damage.
Marine cargo insurance
This kind is typically used for international shipments and cover both air and ocean freight. It includes damage from loading and unloading, weather, accidents, and other dangers that affect ships and airplanes.
What's not covered by cargo insurance?
Most insurance policies offer comprehensive damage cover, however, they may not cover all the specifics. These include:
Special freight: Your insurance may not cover any hazardous cargo, specific electronic devices, and other expensive or delicate things.
Modes of transportation: Some policies will only cover your freight depending on the type of transportation mode you use. (sea, land, air etc.)
Damaged by poor packaging: Your insurance company might not cover any damage to your goods if they're linked to poor freight packaging.
Flawed products: You might not be covered for cargo damage that could be caused by faulty products in your package.
So before you choose an insurance type, remember to check with your insurance company first.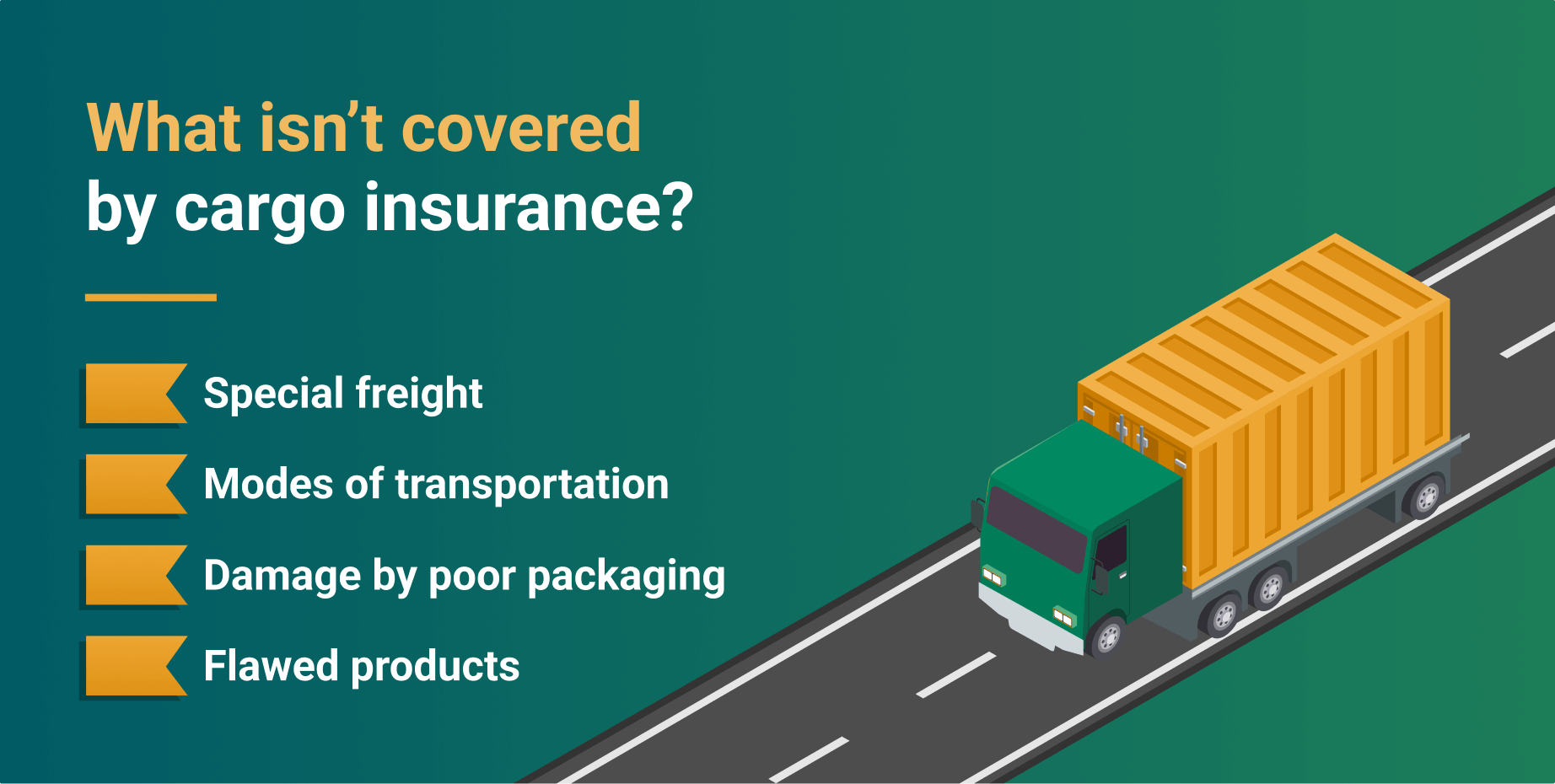 5 pitfalls to avoid when choosing cargo insurance
Some importers and exporters are slightly inexperienced, and oftentimes overlook the small details that end up costing you a huge sum in the end. Here are 5 pitfalls you can avoid when choosing your cargo insurance:
Limited cover – Limited cover is a kind of insurance policy that only pays benefits in the event of particular incidents or specific events as agreed in the contract.
Cover on price – Most businesses tend to choose cover based on price without truly understanding terms and conditions, which can be risky.
Reducing liability – It's important to choose the right amount of cover to avoid cutting down on liability costs as it's not advisable.
Costly deductibles – Although choosing a high deductible can lower premium costs, it's better to choose one that's more affordable.
Low-level cover – When the insurance is chosen by the other party, the lowest insurance is usually selected, which could not offer the cover you want.
Looking out for these pitfalls can help you save a few extra bucks and determine which cover works best for you.
How much does cargo insurance cost?
Now that you've figured out the different types of cargo insurance, here comes the million-dollar question: How much does it cost?
The formula is as follows: take the insured value and times it by the policy rate to get the insurance premium rate per single shipment. Remember, this depends on which insurance provider you choose, and what type of cargo you're insuring.
Let's do the math: If the value of your commercial invoice is $50,000, and your insurance provider charges you $.50 per $100 with a $10 minimum for its policy. Your commercial invoice value sits at $50k, and your insurance then at $250.
This figure is for the most basic policy, so even though it insures the entire value of your shipment, it might lack those added extras offered in other insurance policies.
Once you've settled on an insurance provider, you'll need to know how to file a cargo insurance claim. So, here's how to do it:
Filing cargo insurance claims
Making a freight claim ASAP is essential to protecting your ability to recover your loss. However, there's a process to follow. There are four basic steps to filing cargo insurance claims:
| | |
| --- | --- |
| Steps | Breakdown |
| Check shipment condition for damage | Check your cargo for any damage, or to see if anything is missing. |
| Record as claim in consignment note | If you discover damage or theft, you need a consignment note where you'll record this as a claim. |
| Take photos of the damage | Take clear pictures of the damage as evidence of your claim. |
| Submit a letter of claim  | Submit the letter of claim to your insurance provider. |
Cargo Insurance liability and incoterms
Liability, a.k.a 'third-party-insurance', is the legal duty that small business owners have for the harm or losses that they cause to third parties. It's important to know what you're liable for when it comes to loss, damage or risk as most insurance policies don't always cover things such as intentional damage and contractual obligations.
Incoterms are known as international trade terms. These terms help facilitate international trade smoothly and outlines the responsibilities of all parties involved. You can find out more about updates and changes of incoterms here.
It'd be smart to consider container insurance when you're getting cargo insurance since most cargo is shipped via container. Not sure where to find the right container insurance? Don't fret, we've got you covered.
Get container insurance on xChange
If you're thinking of getting cargo insurance, why not opt for container insurance too. Remember that container damage means cargo damage, so you'll need to insure the safety of your container. Container xChange can help you protect your investments without having to dig deep into those pockets. We offer two types of container insurance, so you have the power to choose which suits you best.
Two types of container insurance on xChange
| | |
| --- | --- |
| Total Loss Insurance | $2,50 USD up to 4,10 USD per container  |
| Container Damage Insurance | $12 USD up to 140 USD per container  |
These prices are dependent on container type and are subject to a 60-day period.
Our container insurance provides thorough coverage for (actual) total loss, constructive total loss, general average, and strange disappearance. Our goal is to lower risk and liability while performing one-ways on xChange. You can add container insurance to any deal.
Start investing in container insurance today. Reach out to our team of experts who'll be able to assist you in finding the right container insurance in no time. Click below to get in touch with us.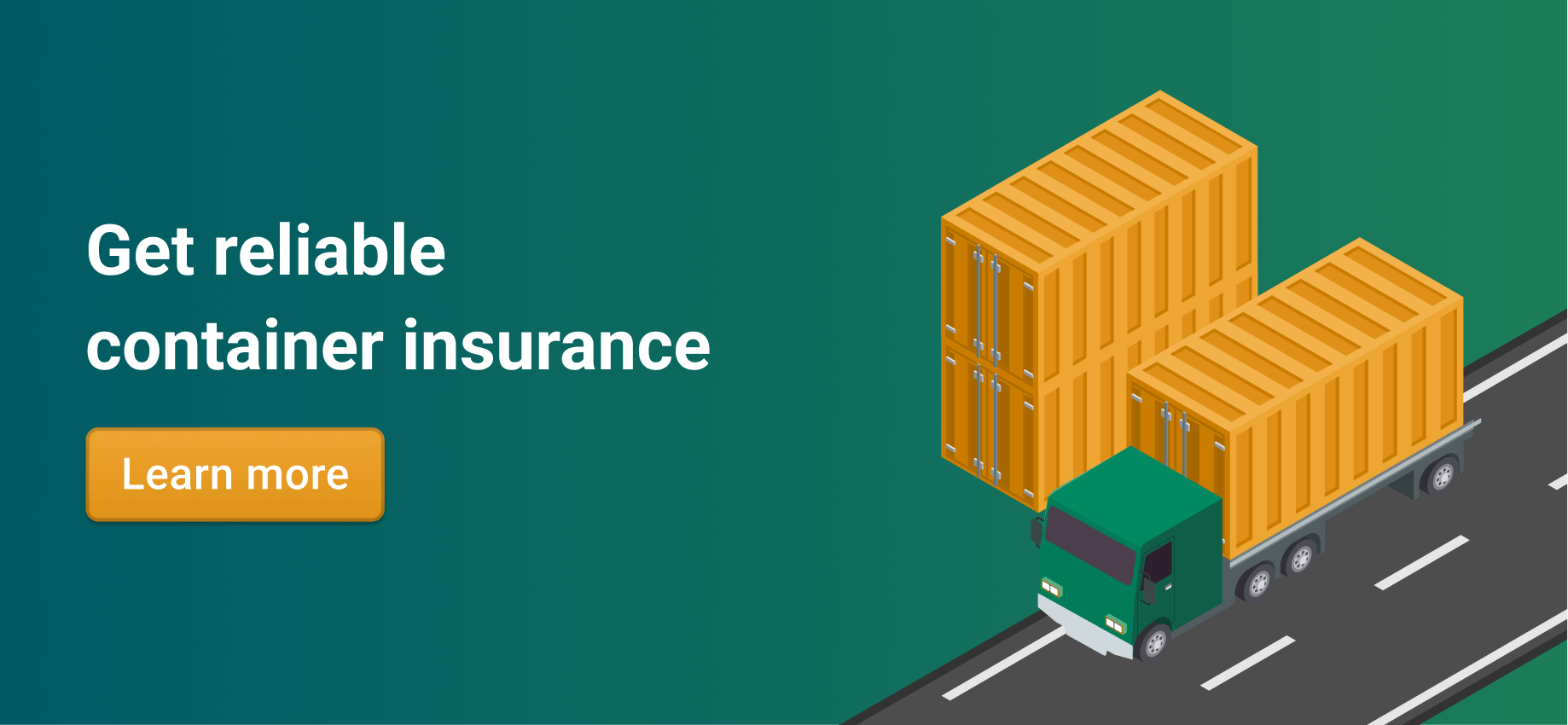 Common cargo insurance FAQs
What are cargo insurance types?
Cargo insurance types are types of insurance that cover specific things such as land cargo which covers cargo transported by land and marine cargo which covers cargo transported by sea or air.
What is insurance liability?
Insurance liability is a type of insurance that protects an insured party from lawsuits brought out due to property damage and injury claims.
Are container ships insured?
It's not necessary for cargo ships to have insurance to cover every circumstance in which cargo suffers a loss.
[custom-related-posts title="Related Posts" none_text="None found" order_by="title" order="ASC"]
Summary
Article Name
Cargo insurance: What does it mean? [+ benefits & insurance cost]
Description
Cargo insurance is vital in the container shipping industry. Find out how to ensure the safety of your cargo during shipment.
Author
Publisher Name
Publisher Logo