A container number is extremely important in the shipping industry. Read this blog to find out everything about container numbers and other markings on shipping containers. 
Around 80% of the world's cargo is transported through shipping containers. With millions of containers in circulation globally, how do companies identify and keep track of their containers? 
Well, this is where the role of a container number comes into play. Each container has a unique container number – a combination of numbers and letters. Container number not only helps identify containers but is also used for container and shipment  tracking.
At xChange, we help you track your containers using your container number. But more on that later. For now, let's take a detailed look at container numbers.
What's a container number? 
A container number is a unique alpha-numeric combination of seven numbers and four letters used for identifying containers internationally. It's assigned to each container by the classification agency International Standards Organization (ISO) through the Bureau International des Containers (BIC). The BIC uses the ISO 6346 standard when assigning the container numbers.
Container numbers provide valuable information about the cargo, transportation, ownership, and condition of the shipping container. Read on to find out how.
Understanding the container number format
Each container marking plays a significant role in transportation. Markings are important for monitoring and general safety of a container. Let's have a look at each of these container markings individually to get an idea of what they mean.

Owner prefix code 
The first three capital letters of the container number are known as the Owner Prefix Code. It helps identify the container owner. For example, 'MAEU' is the owner prefix code for Maersk. Each prefix code must be unique and registered with the BIC to avoid duplicates. For your understanding, we've taken 'BIC' as the owner code in our above-illustrated example.
You can always do a BIC search to identify the owner of a container here. But please note, the owner of the container may not necessarily operate it as they could have leased the container to another shipping line or operator. 
Equipment category identifier 
This is the letter that appears right after the Owner Prefix Code. In our example, it's 'U' which stands for freight containers. Other categories are: J – detachable freight containers related equipment; and Z – trailers and chassisWhat is a chassis? Chassis, in freight & logistics, refers to a skeleton framework with wheels on it used to move containers. It is also called intermodal chassis or container chassis. Similar to ... More. 
Together with the owner code, the category can be grouped under one term, known as an alpha prefix.
Serial number 
Next, comes the serial or registration number. It's a six-digit number decided by the owner of the container. In our example, '123456' is the serial number of the container. A container owner can have up to 1 million serial number combinations! 
Check digit 
The last number of the container number- that's placed out of the rest of the numbers on the right side is called the check digit. In our example, we've used '7' as the check digit. It's always boxed to ensure it stands out from the rest of the number. Although it seems insignificant, it is of vital importance. It allows operators, terminals, depots and other parties in the supply chain to automatically validate the container number.
If you type the BIC code and the 6-digit serial number into the BIC Check Digit Calculator, it'll display the check digit which validates the container.
ISO Code
The ISO code is usually located below the container number. It's a sequence of four letters or digits. It provides information about the container type and dimensions. The first character of ISO code represents the length of the unit and the second character represents the width or height. The third and fourth characters determine the type of container it is.
Let's take an example of an ISO code '45G1'. Here, '45' indicates that it's a 45ft high cube container. 'G1' indicates that it's a general-purpose container. Depending on the country, a container is labelled as Dry Van (DV), General Purpose (GP or G1), Standard (SD), or Dry Container (DC).
If you see a container, you'll notice that there are many other markings on it apart from the container number. Read on to find out what these markings mean and what they tell you about the container and the cargo being transported. 
What are mandatory operational markings?
Operational markings are mostly found on the doors of the containers. But the container number and the size and type codes are also displayed on both sides for crane operators, transporters, authorities and forklift operators.
These mandatory operational markings on containers give all the necessary information needed for the movement of containers. These also include visual warnings.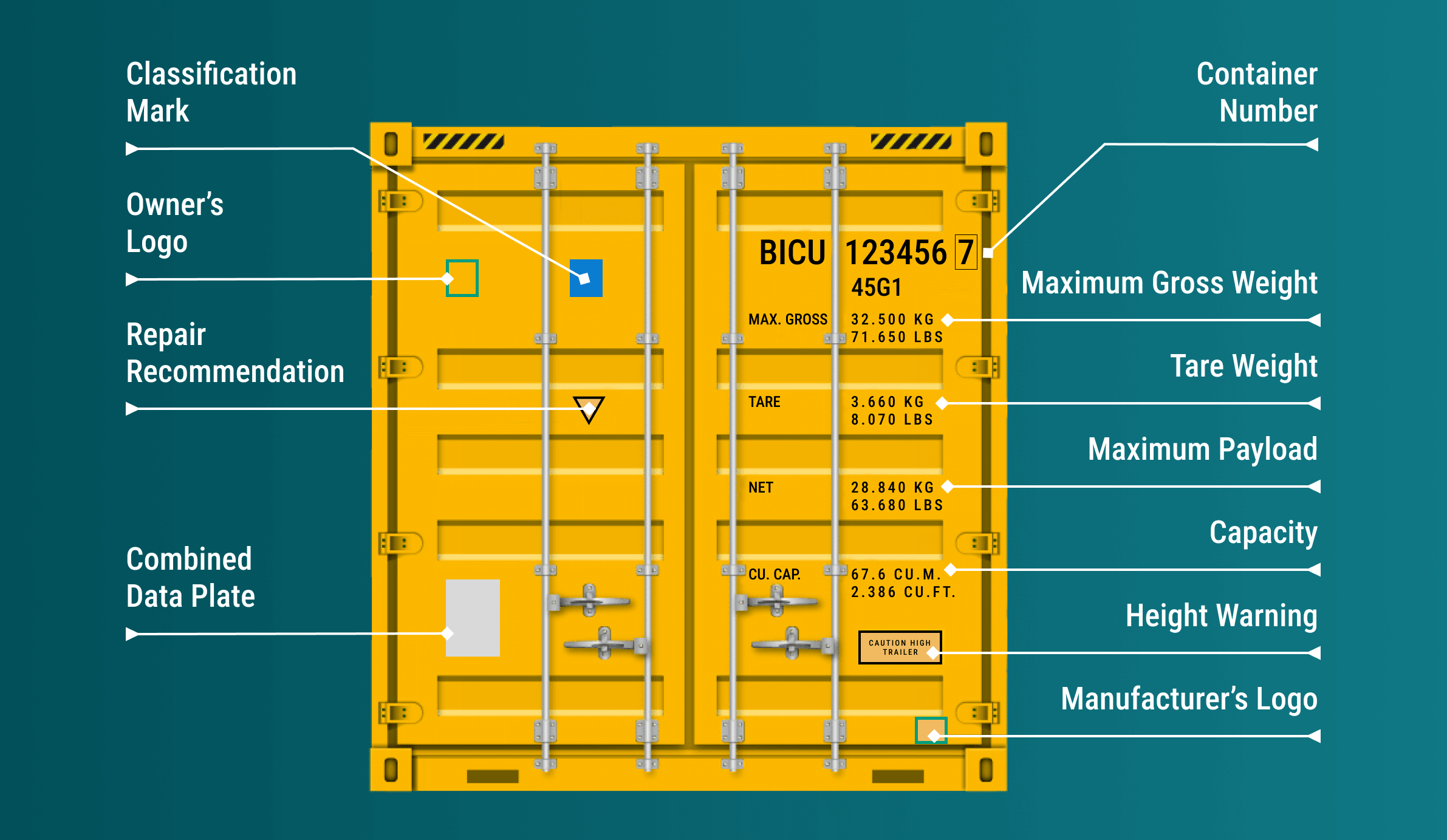 Let's understand what these markings mean with reference to the image above.
Maximum gross and tare mass:

Gross weight indicates the maximum weight of a loaded container, while tare weight indicates the weight of the empty container. In this case, 32,500kg or 71,650 lbs is the maximum gross weight and 3,660 or 8,070 lbs is the tare mass.

Net weight:

Also called payload, the net weight is gross weight minus tare weight. It's the maximum weight that can be loaded in the container. In the example, 28,840 or 63,580 lbs is the net weight.

Maximum cargo volume:

This marking is labelled as CU. CAP, which stands for 'cubic capacity'.It indicated the maximum volume of cargo that can be loaded in the container. It's provided because cargo is usually measured in volume before it's measured in weight. In the example above, the cargo volume of the container is 67.6 cubic metres or 2,386 cubic feet.
Now that you have an idea of all the markings displayed on a container, let's take a look at some other markings.
Height marks for containers:

Containers higher than 2.6m or 8ft 6 incheshave a height warning. Height marks are displayed in two places on the container. One, on the top edge of each side and the other below the identification number of the container.

Logos:

Some containers, as you can see from the image above, also have different logos. It can be a manufacturer's logo, an owner's logo or a repair recommendation logo.
Although ISO doesn't provide any standards for the quality of operational markings, it's recommended that these markings last the entire life of the container.
Now that you have an idea of the various markings, let's come back to the container number and see how it helps in keeping track of containers. 
Role of container number in shipment tracking
Up until a few years ago, container tracking was a complicated process. It was difficult to keep track of your containers once they sailed. But now, thanks to the modern-day container tracking system, you can track your containers easily. This is usually done through the container number, but can also be done through bill of lading.
While tracking a container, you type in the container number on a tracking website and get the information you're looking for. Although it's pretty convenient, you can't save your data anywhere. So, you have to type the container number once again to get updates.
With xChange tracking, you only type the container number once. We store this information and give you updates automatically. But before we get into more details on xChange tracking, let's see the benefits of tracking your containers.
Benefits of container number tracking
Keeping track of your containers has many benefits. Here are a few of these.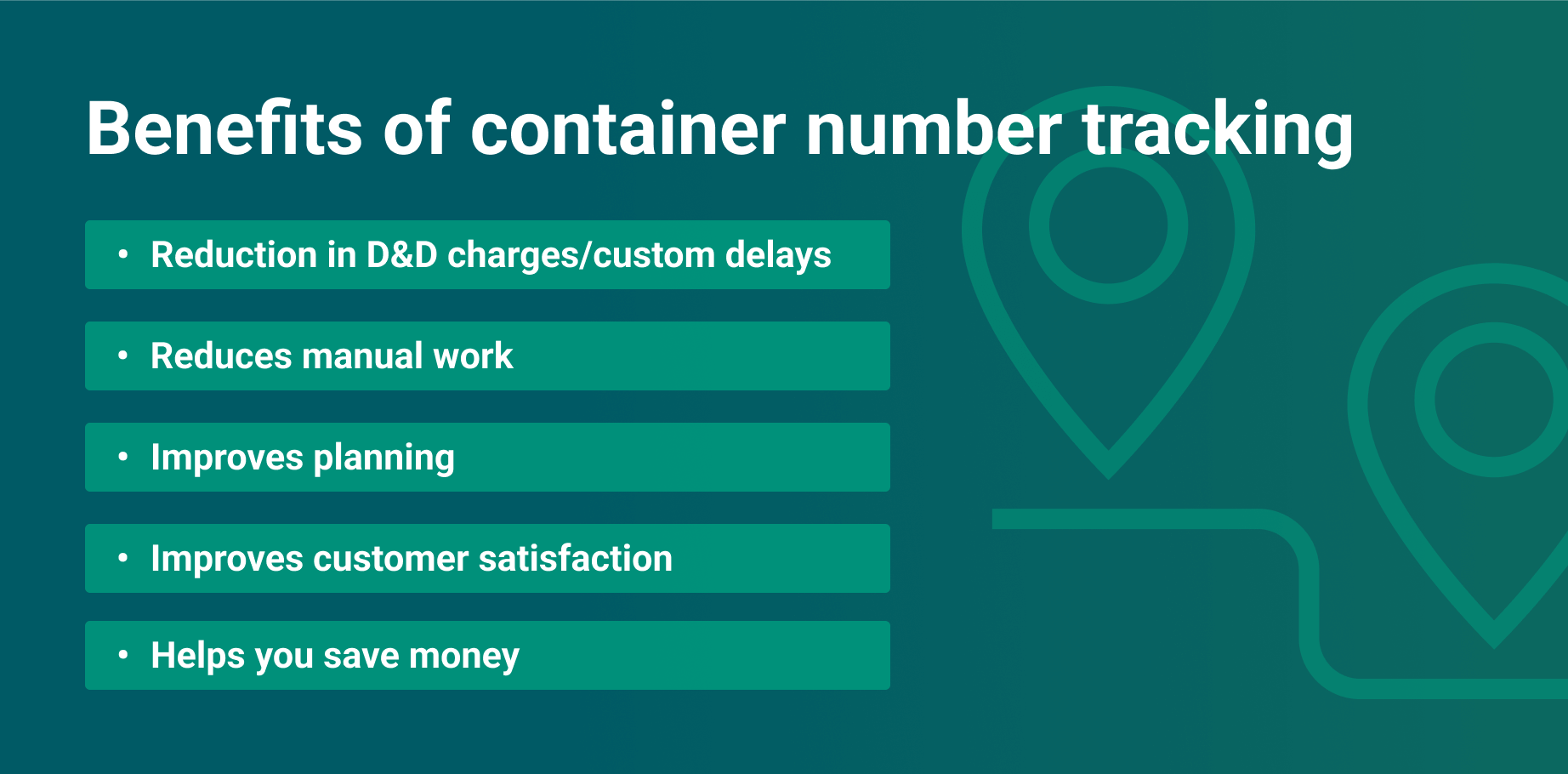 Reduction in D&D charges:

Demerauge and detention charges

are a nightmare for every shipper and freight forwarder. These charges significantly increase your cost of shipping, at no fault of yours. Container number tracking allows you to get timely updates on your containers, making it possible for you to plan accordingly. If you're aware of when your containers will arrive at the destination port, you can make all the necessary arrangements to avoid delays and reduce D&D charges.

Reduces manual work:

Remember we talked about how you have to manually type in your container number on most tracking websites to get updates? Now, imagine you have multiple containers on different routes. Taking updates on each container by visiting different carriers' websites is a tedious task. That's why, our

container tracking system has an integrated API

that automatically gives you updates, thereby reducing your manual work.

Improves planning:

Imagine that your container has arrived at the destination port before time. If you don't track your containers, you'll assume that your container is still on the way. Meanwhile, your container is incurring D&D charges every day! Tracking containers can help you avoid such situations because it improves your planning.

Improves customer satisfaction:

Continuing with the previous benefit, improving your planning will also improve customer satisfaction. When you give timely updates to your customers, they'll trust you more with their shipments. Plus, if you inform your customers about a delay in advance, they'll be more understanding. As compared to informing them last minute.

Helps save you money:

If you combine all the benefits we've listed so far, you'll know that tracking your containers can save you money. Reducing D&D charges, reducing manual work, improving planning and gaining customer satisfaction, will help you save and earn more money.
Now that we've listed so many benefits of container number tracking, read on to find out how xChange can help you with container tracking. 
Container tracking: Track shipments in real time with container number
At Container xChange, we help you in tracking your containers and give you automated real-time updates. Regardless of whether you've secured your containers through xChange. This means you can track all containers in your inventory, including the boxes you're using on the xChange platform and outside of it.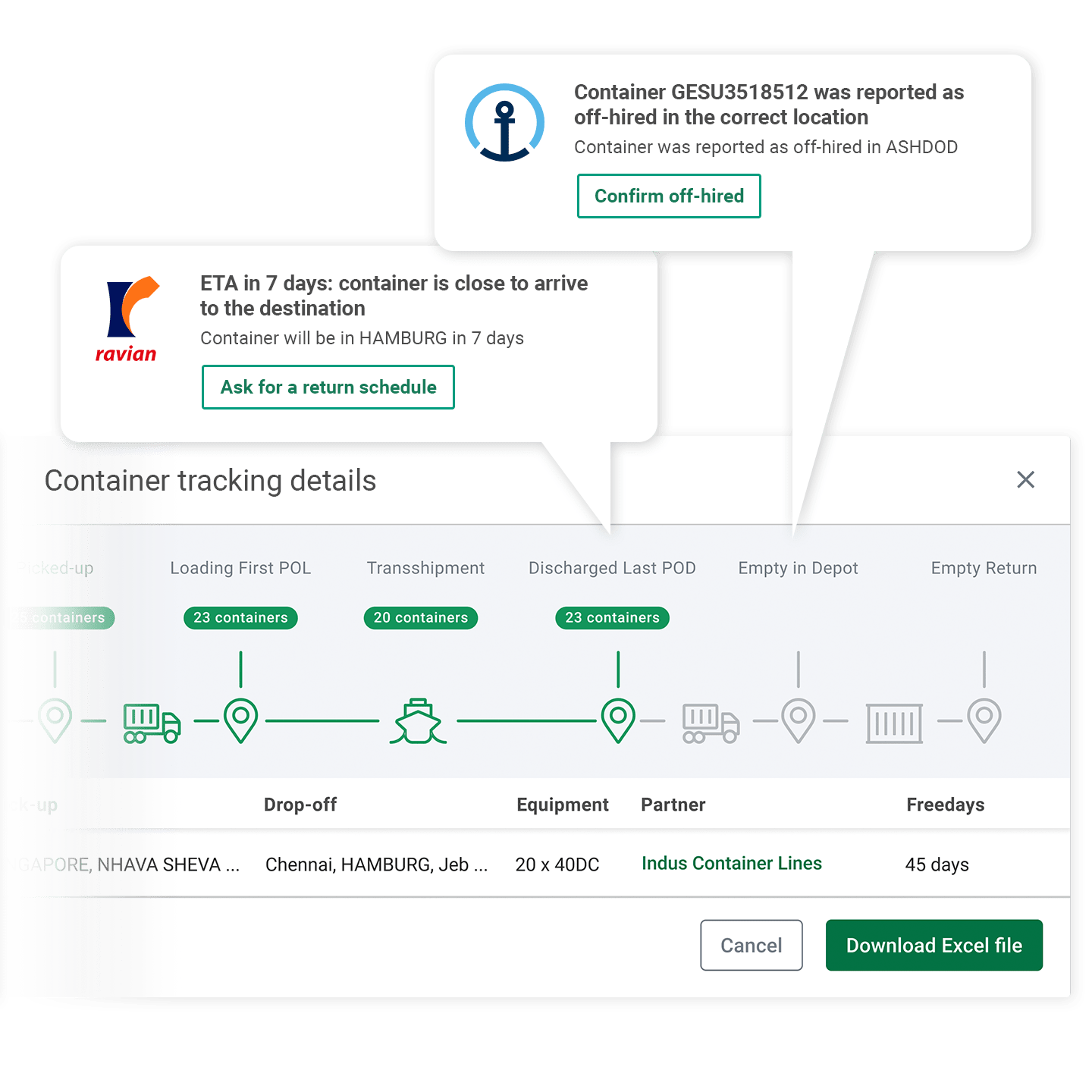 On our container tracking dashboard, you get an overview of all your containers. You can see information on specific container numbers, locations, partners or contracts. Plus, you don't have to type in your container number again and again. We'll store the number for you and give you information on:
Pick-up reminders

Container ETAsWhat is estimated time of arrival?  Estimated time of arrival, commonly known as ETA, is a frequently used term globally to denote the time of coming. In the shipping & logistics industry, it is ... More

Return schedules

Delay warnings

Route changes

Container close to destination update

Rollovers within the company and with customers
Apart from this, our container tracking system also stores all important documents under one tool for easy access. This includes pick-up and drop-off references. This helps you monitor and manage your containers easily.
Ready to track your containers in real-time? All you have to do is click here and type your container number or bill of lading number.
Now that you know how to track containers, the next thing to pay attention to is what's happening in the shipping industry. Read on to find out how we can help you with that.
Want regular container logistics update? Read our monthly report
At Container xChange, we're constantly trying to make shipping easy and profitable for our members. To help you with that, we publish our monthly "Where are all the containers" report.
In this report, you get information on global events that are impacting container logistics and the supply chain. You get the latest news, insights, and trends about the shipping industry.
We provide you with monthly trends of container prices in the major ports of the world. This helps you identify the most profitable options, liquid locations and helps you plan your logistics better. 
For example, our report mentioned that the spot rate of a 40ft container in the China-West Coast route fell by 20% to $2.361 in October. The typical premium rate a year back was $20,000! 
Now imagine getting this important information (and more) without having to research on your own. Plus, our report is absolutely free. All you have to do is click the banner below to grab your free copy of  the latest logistics update.

Container number: Common FAQs 
What is a container number?
A container number is a sequence of four letters and seven numbers that help identify containers internationally. Each shipping container has a unique container number which is assigned by The Bureau International des Containers.
What does a container number consist of?
A container number is a unique combination of letters and numbers. It consists of important information about the owner of the container and the type of container it is.
What's the importance of container number?
Each container has a unique container number. It helps identify the containers and helps in clearing customs. Moreover, the container number is also used to keep track of the containers.
Summary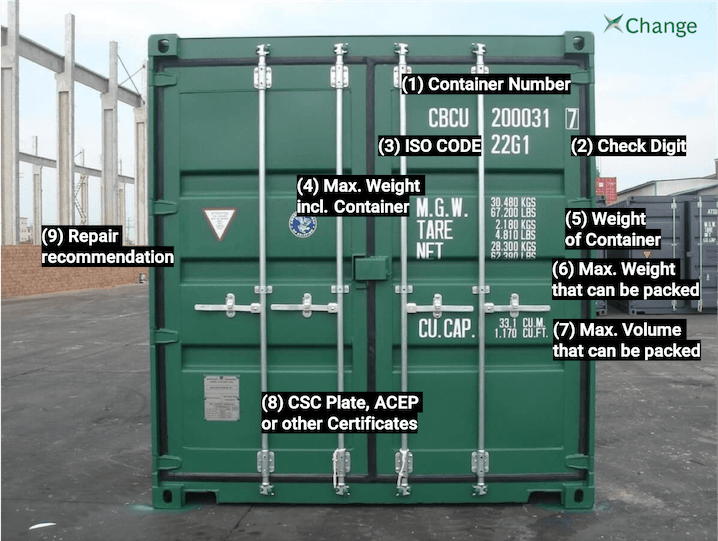 Article Name
Container Number: What each number means [+how to track]
Description
Container number is the most important marking on a shipping container. Learn more about how it's used to track containers globally.
Author
Publisher Name
Publisher Logo