Container shortage is one of the biggest hurdles in the shipping industry and many blame the pandemic for the sudden worldwide disruption. Read on to know the reasons behind the shortage of containers, the situation now, and where you can find containers at the best price.
Container shortage seems like a never-ending problem. While some ports are congested, others don't have enough containers to meet the export demand. It's all due to the imbalance of global trade. 
If you've been in the shipping industry for long, you know how frustrating it can be to look for containers. You either pay an exorbitant freight rate for your shipments or don't find many available containers.
If you're facing container shortage on your route and location, then you can either lease containers one way or even buy them from our online container marketplace.
To boost your container fleet to meet the demand, simply head over to our trading platform to buy containers in 2500+ locations. Or, if you urgently want to lease containers for your route, then use our leasing public search below to check out the availability now!

Container shortage: Explained
Shortage of containers refers to a situation when shippers in demand of containers are not able to get one. This can happen due to a number of reasons that we'll discuss in detail later in the blog.
Let's first understand the domino effect of the shortage of containers in the global supply chain. 
The domino effect of container shortage
The shortage of containers got worse during the pandemic when there was a worldwide lockdown. Empty containers were not picked up due to labor shortage and trade slowdown. This led to port congestion. As a result, there was a scarcity of containers at other ports. Moreover, with fewer shipping vessels operating, the container imbalance increased further.
Let's understand this domino effect through an example. You must be aware that the port of Los Angeles is facing port delays and congestion for a long time now. If containers get stuck at this port, it will automatically create a shortage at other ports. This is what's happening currently and as a result, the entire shipping process is getting disrupted. 
Shipping operators tried to curb this domino effect by adding new containers. Now, there's a surplus of 6 million TEUs globally! However, this led to a sudden drop in the prices of shipping containers, which was not something container manufacturers desired. So how do we maintain container balance while keeping all shipping parties satisfied? Well, xChange can help you with this, but more on this later in the blog.   
5 reasons why container shortage happens
Here are some of the main reasons for the shortage of containers.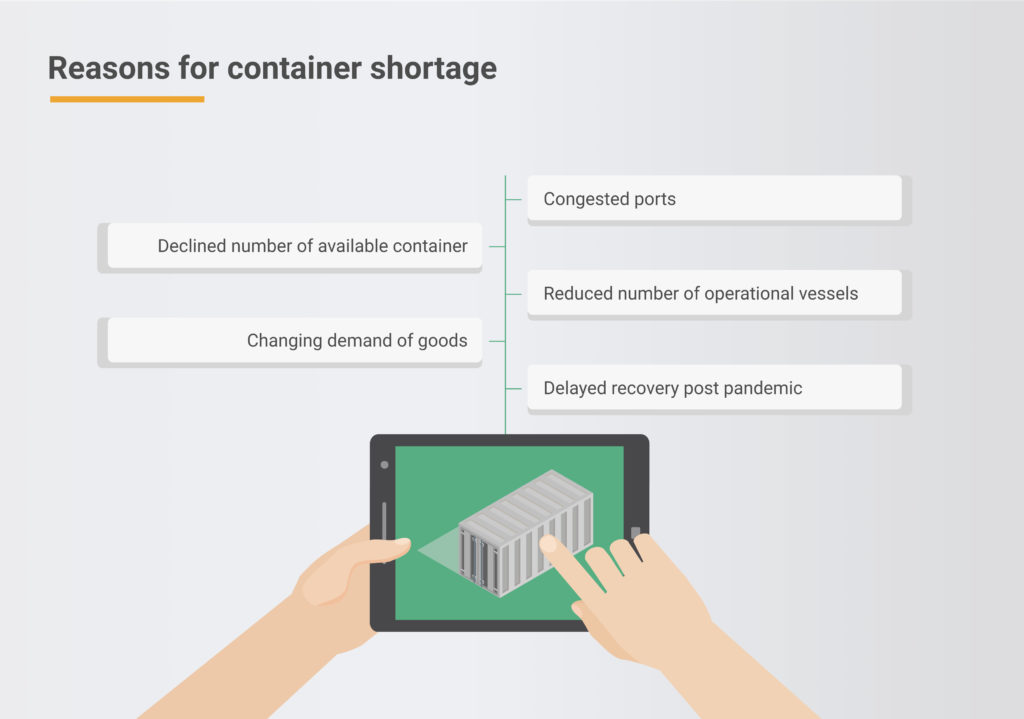 Congested ports
Port operations include a series of complex maritime procedures. To achieve that, ports need enough workers. Lack of labor can cause port delays, leading to port congestion. You'll be surprised to know that even the most busiest ports like Los Angeles and Long Beach suffered from a lack of labor, causing congestion. 
Changing demand of goods
The pandemic caused a distinct change in consumer buying behavior. People started buying more through online platforms. This was an unforeseen change and led to several irregularities in the global trade. This also, ultimately, increased the cost burden of carriers.
Declined number of available containers
When the pandemic set in, there was a sudden disruption in the normal flow of containers around the world. Even though there are millions of boxes worldwide, this disruption led to scarcity at ports where the boxes were needed.
Reduced number of operational vessels
Some vessels went for restoration when global trade halted for a while. Others were in transit to retain some level of profitability, given that there was a slow flow of import and export.
Delayed recovery post-pandemic and Russia-Ukraine war
The Russia-Ukraine war has severely impacted container availability in both these regions. Trade restrictions and attacks on vessels make it extremely difficult for shippers to continue with their business in these regions, causing a container shortage.
Similarly, some regions are still recovering from the Covid-19 pandemic. Ports in China, which were the first ones to be affected by the pandemic are still recovering from the economic shutdown. 
Let's take the example of Shanghai port. We've derived the data from our Container Availability Index. It shows whether a port is facing a container surplus or deficit. A CAx value > 0.5 means that more containers enter a port. And CAx value < 0.5 means more containers leave.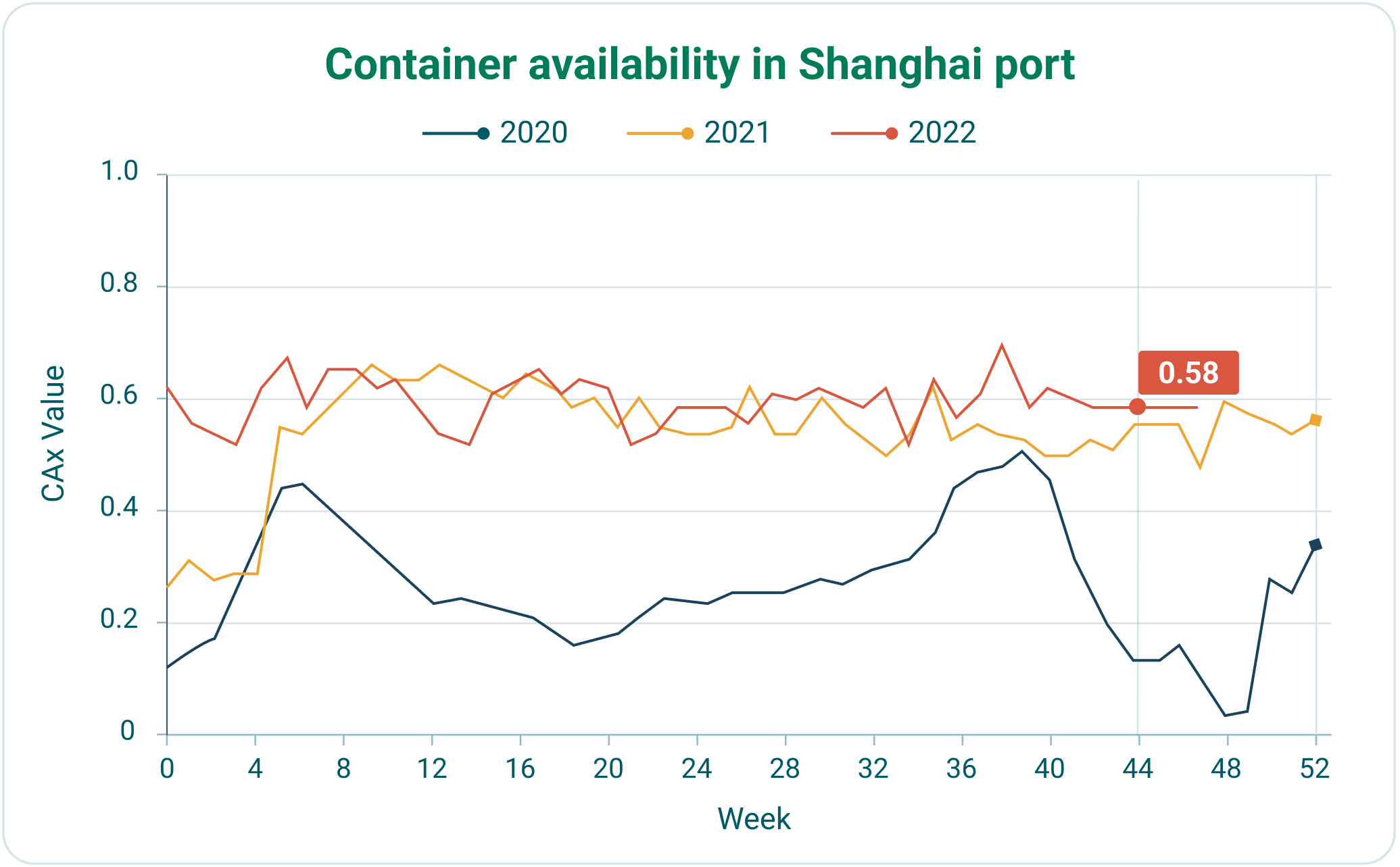 In this graph, you can see that there was a shortage of containers in Shanghai in 2020 due to the pandemic. However, as the economy began to recover, the availability of containers also increased. The CAx value has been above 0.5 in the years 2021 and 2022, implying that containers are available but there's still some inconsistency.  
The port of Shanghai is a good example of how the shortage of containers can fluctuate and affect the shipping business. Read on to find how we can solve this.
3 ways to solve the issue of container shortage
Since the issue of container shortage is influenced by much larger phenomenon of trade and container imbalances, one cannot essentially solve it easily. Yet, there are ways in which you can mitigate this by preparing yourself in advance. Here are some ways to do that.
Use digital solutions
Using digital solutions for logistics is one of the best ways to reduce the shortage of containers. Some digital solutions allow you to track your containers which helps in better planning. xChange members can track their containers through our tracking product: https://www.container-xchange.com/container-tracking/.
Research for accurate market forecasts
It's always better to keep up to date with what's happening in your industry. It helps you plan better and can prepare you for any unforeseen events. You can do this by reading our monthly container report which we'll discuss in detail later in the blog.
Optimize your bookings
Optimizing your bookings is another way to deal with the shortage of containers. If you use our platform, you can find trusted partners, minimize cancellations, as well as reduce manual workload. Simply head over to our demo page to book your free demo now.

Now that you have an overview of the causes and solutions of the shortage of containers, let's take a look at the current situation of containers across the globe.
Container shortage and availability in different locations
Taking a look at the shortage and availability of containers across the globe will help you get a better idea about the current happenings in the shipping industry.
Container availability in Asia
China has long been a container hub in Asia due to its high exports. However, other Asian countries like Vietnam and India have also increased their exports causing a high container availability in these regions.
Container availability in Middle East & Africa
The increase in trade in Africa and the Middle East has caused a high container availability in both these regions. To know more on how Dubai has emerged to be the centre of shipping industry for Middle East and Africa, read this blog.    
Container availability in the UK and Europe
Container availability has been unstable in the UK & Europe due to several political and economical reasons. The Russia-Ukraine war, strikes, and trade restrictions have impacted the availability of containers.
Container availability in Americas
Port congestion on American West Coast ports caused a shortage of containers. However, companies are now opting to ship their containers to East Coast ports, thereby tackling the issue to some extent. 
This was just a sneak peek. If you want a more detailed analysis of container availability and prices in different locations, simply download our free "Where are all the containers" report from the banner below.


Container shortage: How Container xChange can help you find boxes
Shortage of containers was caused by not one, but a series of factors. But despite the global shortage, we have 10,000+ containers available for you on our online container leasing and trading marketplace.
All you have to do is head over to our leasing or trading platform and submit your container requirements on your route or location, respectively. You'll see a host of offers from suppliers, matching your requirements. Simply browse through the offers and select the one that suits you the best. Pretty convenient, right? 
Members on our platform can connect with lessors and sellers in 2500+ locations to find containers. We offer 100% market transparency so you can look at the prices of different suppliers and make an informed decision. Moreover, all our members go through a vetting process. This ensures that you find trustworthy partners for your business. 
So what are you waiting for? Click the banner below to start looking for containers now. Our experts will guide you at each step of the way and answer all your queries.
Container Shortage: Common FAQs
Why is there a shortage of containers?
Container shortage is an ingrained part of the logistics industry. However, the COVID-19 pandemic made the situation a little too rough. The sudden worldwide disruption impacted the global supply chain and reduced the number of available containers and operational vessels. There was an imbalance of import and export resulting in shipping containers getting stuck in locations they aren't supposed to be.
How long will the container shortage last?
Container shortage is an ongoing problem. With the holiday season coming up, the situation of shortage of containers will remain grim for some time. However, the good thing is, you can still find available containers on xChange.
Why is ocean freight increasing?
The first blow was the pandemic. However, when international trade volumes increased, there was a surge in demand for container spaces in vessels. However, these vessels continued to announce "blank sailings", which means they would not sail or cancel stopping at certain ports.
[custom-related-posts title="Related Posts" none_text="None found" order_by="title" order="ASC"]
Summary
Article Name
Despite container shortage: Container availability still high on xChange
Description
Is COVID-19 to be blamed as container shortage continues to be a logistical nightmare for the global supply chain? Here's your answer & some good news!
Author
Publisher Name
Publisher Logo