Are you scouting for ways to get your SOC container tracking done efficiently? Or perhaps you're looking to lease a SOC? Then you've come to the right place. Find out how you can track your boxes in near-real time, lease SOCs at top rates and also gather a ton of info along the way on SOCs.
Picture this: You're informed that your container full of cargo left the depot at the port of Rotterdam. But now you are worried because you've no further information on its location. On top of this, your client is constantly asking you for an update on where their cargo has reached. What would you do in this situation? The best solution is to find a trusted platform that will give you real-time tracking data. And now that you are here, you don't even have to look any further. We've got exactly what you need.
Say hello to Container Control! Our carefully curated product that helps you get near real-time updates on the full route of your container after it leaves the depot. It also notifies about any delays. And, of course, our team of experts are always here to assist you in handling any conflicts along the way, if necessary.
Sounds good, huh? Let's uncover how you can avail these SOC container tracking benefits on our platform in just a few minutes. But before we get there, if you are looking to lease a SOC container at reasonable rates from vetted trustworthy suppliers, you can straight away explore our public search.
All you have to do is enter your pick-up and drop-off locations, and container type, and hit the search button. You can then take your pick from a list of containers, suppliers, and current leasing rates. And get your SOC in just a few clicks.
SOC container tracking and its importance in international cargo management
Now, only getting your hands on a container is not enough. As we mentioned earlier, as a freight forwarder, you have to keep yourself up-to-date on the box's location. This will help you to maintain constant communication with your customer and grow your business.
Here's why SOC container tracking is an important factor to consider in international cargo management:
SOC container tracking can assist in preventing the loss of your cargo. If your container goes off the decided track, you'll be able to locate your container and get it back on track.
Knowing where your container is will help you plan your route better and save expensive diversions.
You'll be able to provide better client service. Your customers will be more likely to trust you with their business if they are aware that their cargo is being traced.
SOC container tracking can prevent delays at customs if you have all the information regarding your shipment handy.
By tracking your containers, you can avoid many potential problems and ensure that your shipments arrive on time, as planned, and undamaged.

SOC container tracking made easy with Container xChange
Are you now ready to get cracking on your SOC container tracking? You can master tracking with our carefully thought-through and designed product Container Control.
Container Control helps you eliminate inefficiencies in global container logistics such as dealing with partners worldwide in different time zones and currencies, managing several invoices at once, and manual workload and errors in tracking containers and operations with the old-school excel spreadsheets and Outlook.
Our product helps to keep your container logistics operations running smoothly and efficiently – increasing your business growth. It does so, by letting you view the data from anywhere at any time. And also manages your tracking better under one digital platform.
To let you in on exactly how it all works we're going to break it down for you in the following sections below.
Release reference
One component of Container Control is the release reference feature. With this feature:
How the  Release reference of Container Control helps? 
 You'll be able to retrieve data directly from depots in near-real time. As a result, delays are non-existent because of total transparency and simple data access.

You can cut down on depot costs as well as demurrage and detention fees by having complete visibility of the status of your containers.
You can view details like ETAWhat is estimated time of arrival?  Estimated time of arrival, commonly known as ETA, is a frequently used term globally to denote the time of coming. In the shipping & logistics industry, it is ... More, point of discharge, free days, and per diems with this feature.
We directly confirm release references with the depot, so you won't need to send and receive emails back and forth to learn which containers are ready for pickup.
Additionally, we'll monitor pickups and drop-offs.
And we'll provide complete customer support if you encounter any problems with container movements.
To simplify your container operations, you may also instantly link bookings to container release orders (references) and keep track of updates for each booking and container.
We also immediately upload your release references and confirm the releases with the depot to expedite matters.
And non-xChange references can also be easily uploaded to our platform.
If you want to know more about the release reference feature click here to let our team of experts give you all the information.

Booking manager
The other feature under Container Control is the Booking Manager. This tool allows you to:
What you'll get with the Booking Manager
Keep track of all your bookings and monitor your container's journey.

Have everything under one platform allowing you to assign containers based on release references.
Keep track of all your bookings and updates for each and every container at any level of release and have comprehensive visibility over all your bookings.
Want to get a quick demo of how the booking manager helps you streamline your operations? Talk to our expert team to see the feature in action. 
As you can see, your SOC container tracking is now made easy with Container Control on the xChange platform, so you can leave your worries about tracking out of the door.
Note: Other benefits we offer with Container Control are insurance and surveying to ensure the safety and quality of your containers.
Now that you have a tracking tool at hand, why not make sourcing a SOC an easier task too? With our leasing platform, you can source SOCs from only certified companies without any hidden fees.
Before you get leasing, it's always a good idea to brush up on the basics. But if you want to skip that, no problem, you can click here to directly start your leasing adventure
Shipper-owned container (SOC): An overview
SOC containers,  also known as shipper-owned containers, are boxes that are owned by a shipper (an individual or a business) and are used to transport cargo across great distances.
Simply put, a container is termed as a SOC, if you as a Beneficial Cargo Owner (BCO), freight forwarder, or NVOCC arrange for your own container instead of using a shipping line's equipment. This way you have your own box to transport cargo in and just have to pay the carrier for the available space on the ship.
With a SOC you get:
Control over your own boxes and which regions you want to send them to.
Flexibility over choosing which containers you need, in what condition, and for how long.
Independence from paying added surcharges on shipping line's equipment.
The benefits go beyond these. Let's explore:
Avoid demurrage and detention fees and curb empty container repositioning with SOCs
You can use SOCs one way, say from Hamburgh, Germany to Mumbai, India. That's it. You lease the SOC for that one journey and then deliver them back to your partner's depot at the destination port. This way you get your cargo moved, and you get your box to where you need it. You only pay the pick-up fees, you don't even have to pay any per diem fees. That's because most container owners are only interested in a quick turnaround. They, in fact, want you to just reposition their equipment. In that way, they can get the boxes moved from a surplus area to a deficit area, hence, eradicating empty container repositioning, which is otherwise an expensive affair. Once you have moved your cargo, you can sell the container again on our platform at a good price and help in repositioning them.
Additionally, by using a SOC container you save a lot of money on demurrage and detention as your daily rental fees do not depend on the duration of the rental. They stay the same price per day. Also, with SOCs when you lease containers from shippers, you're under no obligation to pay demurrage and detention charges to carriers. So, you avoid unexpected demurrage and detention costs as you are not obligated to move and/or return the containers to and from the carrier within a certain time frame.
So, using a SOC is a win-win choice for both container owners and users. You can read more about the benefits of SOC containers in our separate blog.

Lease SOCs on Container xChange at competitive rates
On our platform, you'll find 10,000+ SOC container types in 2,500 locations worldwide. When leasing from suppliers you can keep your transactions 100% secure with our 1000+ vetted suppliers, whom you can negotiate with directly, without a middleman. You can also see the performance reviews and partner ratings on their company profile on xChange. Ensuring that you can see what other companies say about them and who else they've worked with.
As for prices, you can lease units at reasonable rates thanks to our complete market price transparency. With us, you can compare prices and terms and select the offer that suits you the best – you choose exactly what you want to pay for. With the xChange leasing marketplace, you get competitive rates with zero hidden fees that you won't find anywhere outside of the platform.
Here's how it works:
All you have to do is key in your pick-up and drop-off locations and the container type.
You'll then see a list of offers from vetted suppliers under one dashboard.
You can then compare these offers and pick a deal that works for you.
Once you have chosen a deal, you can directly negotiate with the supplier and source your SOC – it's that easy.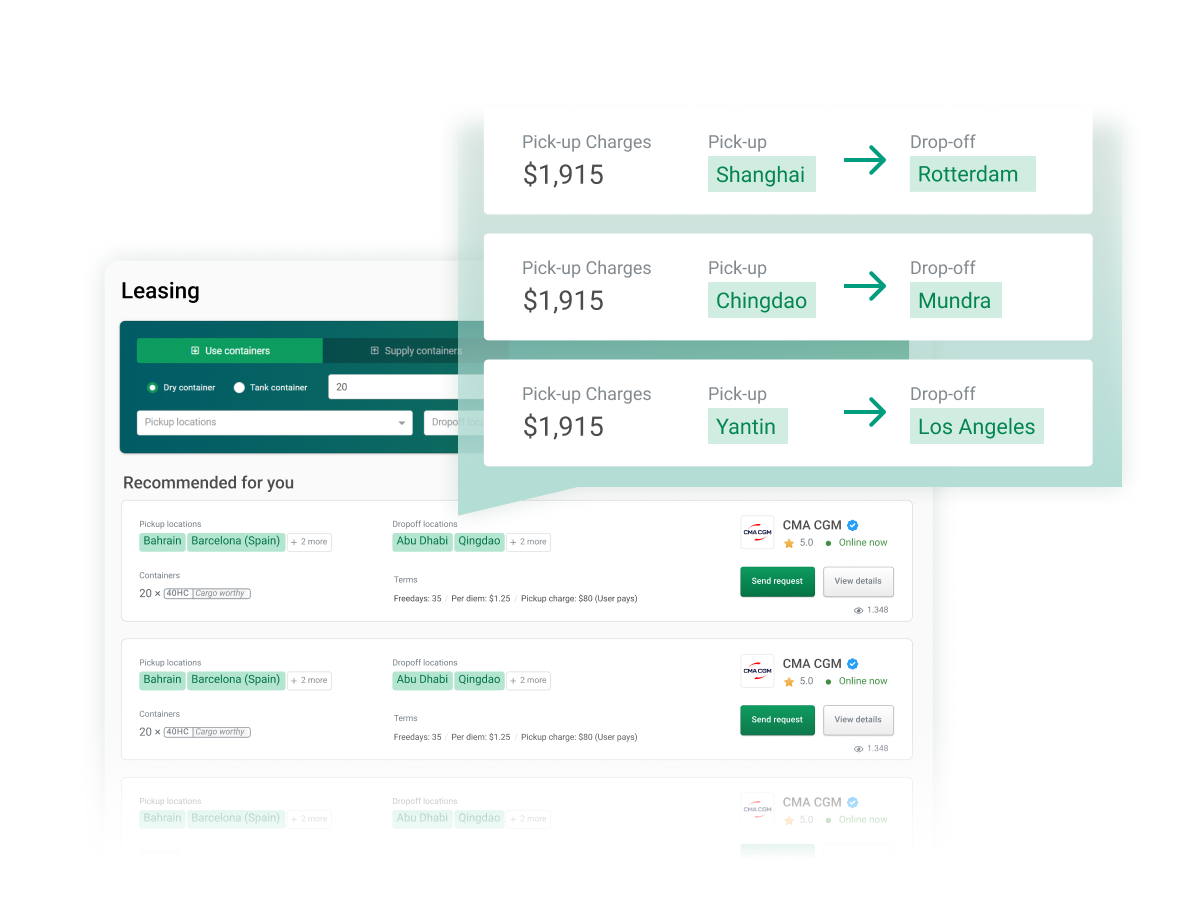 So go on and lease your SOC container in just four steps at the most competitive prices on our platform. And if you have any trouble along the way our customer support team is always here to clear all your doubts and get you to your box.
Here you are, you've got your SOC container and also embarked on the journey to track them efficiently. That's two of your problems at the beginning of the blog solved!
Lease SOCs and simplify your SOC container tracking with Container xChange
If you've made it this far, the only thing left for you to do now is lease a SOC and carry out your SOC container tracking with ease on our platform. We've already told you how you can go about doing so, but before we let you go, we want to let you in on some more benefits you can make use of on our platform.
Remember the trouble we talked about working with partners across the world and managing several invoices? Well, we have a great payment handling system also known as the xChange wallet, which generates only one consolidated bill for you to pay (so you don't have to deal with different invoices, companies, and country regulations) and securely manages all your transactions in one place.
We also have big names in the industry working with us, such as Seaco Global, Trident, SeaCube, and other trusted names with whom you can work directly while also building your business network.
Let's hear from our customer
Our customer, Gloria Gu, Procurement Manager, DT Logistics says, "In less than 10 months since moving to xChange, we've successfully leased over 100 containers on xChange and found a few new trustworthy suppliers that we are continuing to collaborate with."
Just like our customer here, you too can lease SOCs at inexpensive rates and leave behind your worries on SOC container tracking. Hop onboard our platform to find top deals on SOCs, monitor your boxes with ease, and simplify your container logistics operations, today!
 SOC container tracking: Common FAQs
What is the meaning of SOC in shipping?
SOC containers, also known as shipper-owned containers, are shipping containers that are owned by a shipper (an individual or a business) and are used to transport cargo across great distances.
What is SOC and COC container?
SOC stands for shipper-owned containers and COC means carrier-owned containers.
How can I track my container?
You can track your SOCs and also receive container status updates and tracking alerts – such as ETAsWhat is estimated time of arrival?  Estimated time of arrival, commonly known as ETA, is a frequently used term globally to denote the time of coming. In the shipping & logistics industry, it is ... More and misuse warnings on xChange.
Summary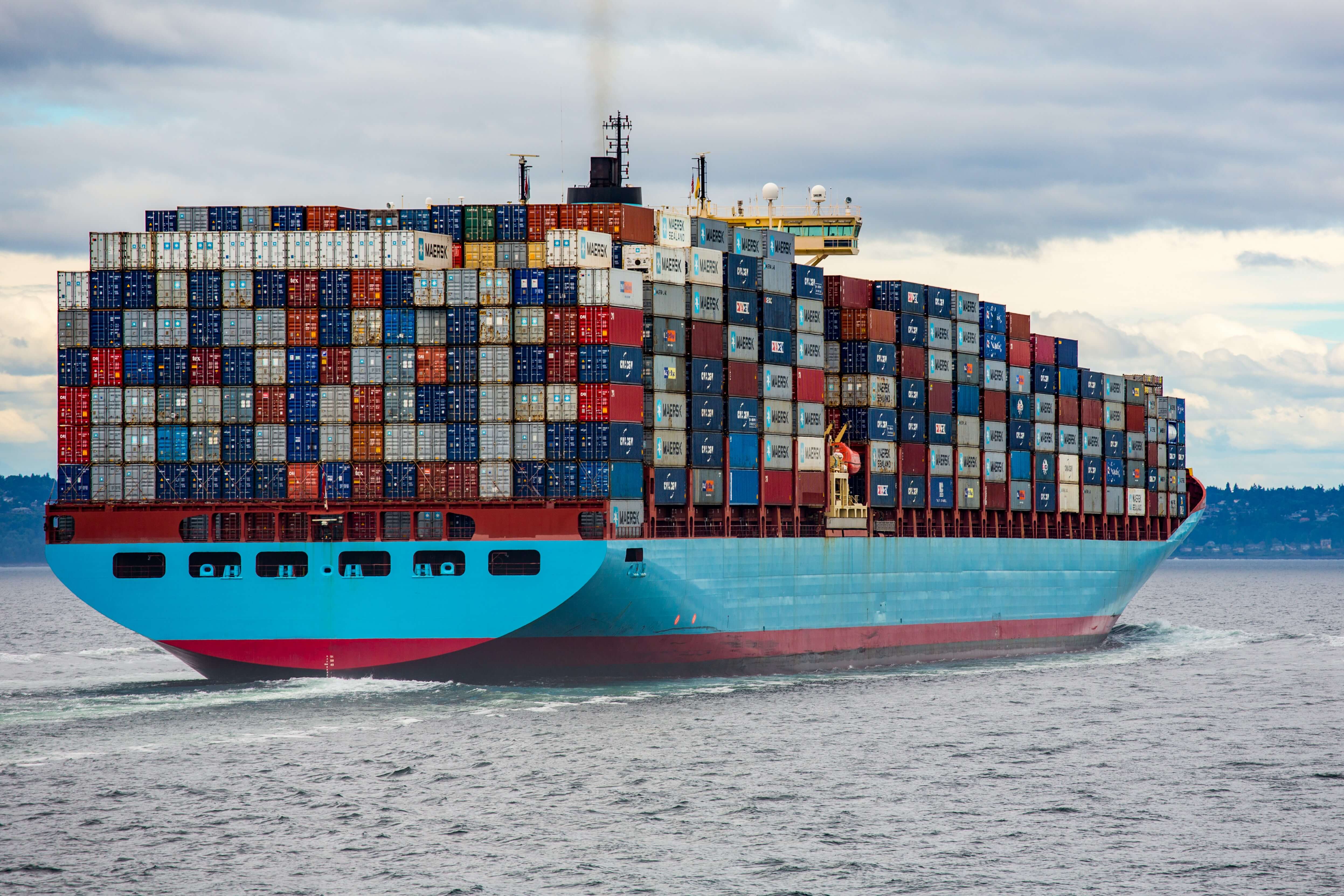 Article Name
SOC container tracking: The best guide to track your box [2023]
Description
Want to know about SOCs and SOC container tracking? Here's your guide to tracking your SOC containers and save a few dollars on surcharges.
Author
Publisher Name
Publisher Logo