Are you looking for someone to use a one way container to save money on empty container repositioning? It doesn't have to be difficult to get started. Keep reading, and learn the shortcut to kickstart a successful one-way journey.
Empty container repositioning is expensive for most container owners. Imagine if you could save all that money you're currently using on moving your empty containers. But still, get the boxes moved to where you need them. That would warm nicely on the bank account and be convenient, wouldn't it?
That's exactly what one-way containers – also known as cabotage containers – do. One-way containers are called precisely that because the user only uses the box one way, e.g., from Los Angeles, the US, to Shanghai, China. That's it. The container user leases the box for that one journey.
A win-win situation. The container user gets cargo moved, and you get your box to where you need it. To make it even better, the user pays for the shipping of the container. Meaning you don't have to pay anything to get your box to your preferred location.
One way container meaning and its benefit
As mentioned above, a one way container makes a journey across one stretch carrying cargo one way from point A to B. A container user leases your container for a solitary, one-way trip. So, they move their cargo by paying the usual freight charges.
While you the owner transport your box to the location of your choice without incurring the costs of empty container repositioning. Which can prove to be an expensive proposition for you.

Why use one way containers?
Container flow imbalance is a major challenge in the container flow process. It occurs when there is a shortage of containers. Generally, they carry goods to a country/port. Then, those same boxes are used to bring goods back to the country of origin. When exports match imports, the system runs smoothly. But when a country has nothing to ship back, the containers sit empty at ports and warehouses while the country of origin faces container scarcity.
Let's take the example of China in explaining the container flow imbalance.
There are large amounts of commodities shipped from China to the U.S. The export exceeds the imports. Therefore, China doesn't have enough containers coming back. When the containers arrive in the U.S, they pile up at the ports since the import here exceeds the export. This produces a surplus of containers in the U.S. and a deficit in China.
This sums up what the container flow imbalance is – as seen in the example above, the main reason for the container imbalance is that more shipments go from China to the U.S. than the other way around.
The logistical challenges and costs associated with transporting empty boxes to new locations where they await a new journey can be reduced with the use of one way containers.
Leasing one way containers allows you to have flexible positioning possibilities with pre-determined locations. This advantage with one way lease container translates to great revenue and savings possibilities for you, awesome right?
Save money on empty container repositioning with one way container transport
Let's understand empty container repositioning a bit better to uncover how exactly you can save money here by leasing one way containers.
Situations like the example of China and the US in the section above can lead to a lot of empty containers sitting at port collecting unnecessary surcharges along with empty container repositioning.
The charges that pile up at the port include
Handling charges at terminals and ports
Port storage and maintenance at warehouses
Inland transportation
Seaborn repositioning
Now imagine if you could move your empty boxes to your desired destination cutting out all these surcharges. You wouldn't have to pay to move them, and you'd be free of the administrative hassle of figuring out slots on the vessel, trucking, and so on.
You can make this a reality with one-way leasing. Using your boxes as one-way containers during the container flow process can help you save money on empty container repositioning. But how exactly does it work for container users? Well, for them it increases their operational flexibility.
And for you the owner you lease your box for that one journey, e.g., the US to China, and get them moved for free, and they get their cargo moved too.
The advantage of leasing out boxes: you get to move boxes while earning, and avoid paying any freight rate.

One way container – How it used to be?
But one-way containers can be hard to organize operationally. You pick up a container at your partner's depot. You move it from one location to another and return it at the agreed depot. Though this concept might seem simple here's a quick rundown of the difficulties you might face.
Sourcing one-way containers can be a big challenge. And as we know container owners have their own set of issues to deal with.
You might have empty boxes that you want to use as one-way containers. But how do you find users who'd be interested in one-way container use? Well, maybe you'll send out a dozen or so emails to your network. Or you'll pick up the phone and spend hours calling. One call after the other, followed by one decline after the other.
So, when you finally lean back in your chair and put the phone down, you're left feeling drained. And – if you're lucky – maybe with one or two interested users.
Then comes the extensive contract negotiations and background checks on the partners and the tracking of your box.
How to get started with one-way containers
So how do you get started on the one way journey? Don't worry we've got your back.
So, first thing first: Do you already have empty boxes you'd like to move from one location to another?
If you're curious to know whether anyone is interested in picking up one way boxes, try out our search function below. Through this, you can see how many xChange members are currently looking for one way containers on the stretches where your boxes are or they need to be moved to.
All you have to do is click the 'I want to supply' button and fill out where you want your containers picked up and dropped off. Instantly you'll see a list of matches.
Type in your locations to find container users waiting to use your boxes👇
Difference between one way container and one trip container
Before moving ahead with how you can get your hands on a one way container on Container xChange and the benefits you'll have. We want to give you an understanding of another similar-sounding term, one trip container. This may seem like it has the same meaning. But the reality is very different, have a look below: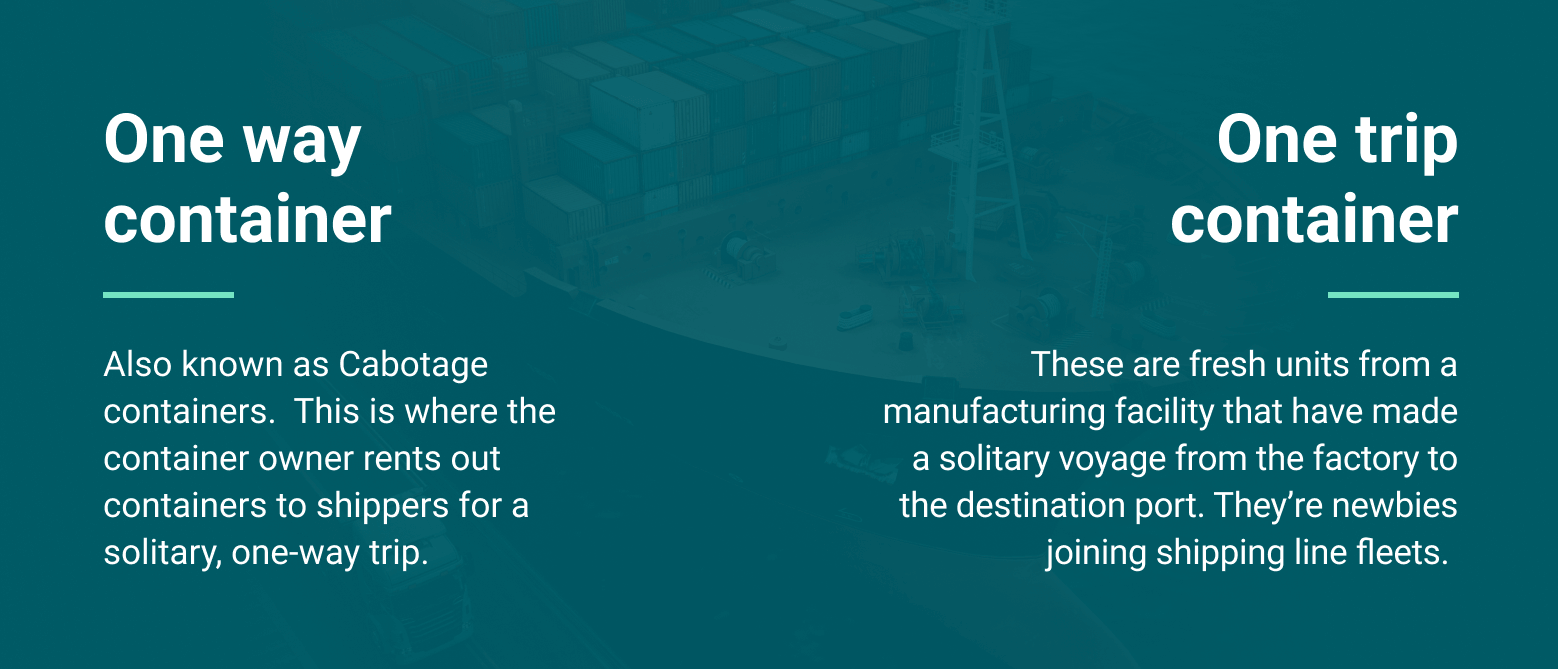 Moving on from the image but keeping in line with visual learning, if you'd like a quick and thorough audio-visual explanation of one-way containers then watch the video below.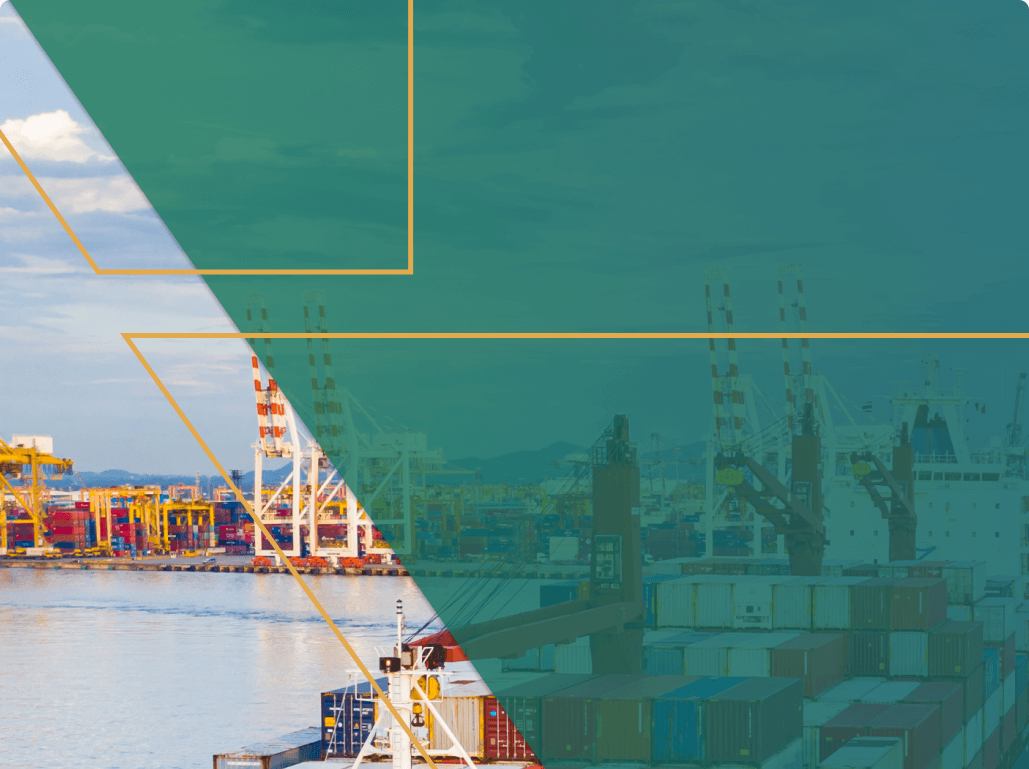 Find partners for your one-way containers online
As we come to the end of our blog just imagine the money you're going to be saving after you've minimized the number of empty containers you reposition. We know that many companies swallow the cost of empty repositioning because it seems too unmanageable to do anything differently. But that doesn't have to be you.
What would be a better deal than having someone else move the box for you – and pay for the shipping? Container xChange is here to make it easy for you to offer one-way containers. With our online neutral platform, you can automatically update your one-way offers and find new partners.
To make it safer for you, every xChange member goes through a mandatory background check, before they can make deals on the platform. You can also see the performance reviews and partner ratings on their company profile. Ensuring that you can see what other companies say about them and who else they've worked with.
And to make it even simpler, all members fill out the same contract upon entry on the platform. Making your negotiations smoother and your work faster. There's also an easy-to-use payment handling feature that sends you one consolidated bill and handles all your transactions in one place. Along with near real-time container tracking and monitoring features.
So, you see, it doesn't have to be that difficult to get started on your one-way container journey after all.
Click on the banner below and get in touch with our expert team. They'll show you how you can successfully move your box one way.
Ready to get started on that good deal a one way container?

One way container: Common FAQs
What is a one way container?
One-way containers are called precisely that because the container user only uses the box one way, e.g., from Los Angeles, the US., to Shanghai, China. That's it. The container user leases the shipping container for that one journey.
What is one way shipping?
One way shipping refers to the process of a container making a journey across one stretch carrying cargo one way from point A to B. A container owner rents out your containers for a solitary, one-way trip.
Are shipping containers only used once?
Yes, shipping containers are typically reused and re-purposed for a variety of commercial and residential needs. Shipping containers are originally used as intermodal storage containers that efficiently transport large, bulky, and heavy cargo overseas.
What happens to empty shipping containers?
Usually, three things happen with empty shipping containers. The empty shipping containers are loaded with a new batch of cargo and shipped from the port to their new destination. They are shipped to their new destination sans cargo due to empty shipping repositioning. Or, they get piled up at depots and ports.
[custom-related-posts]
Summary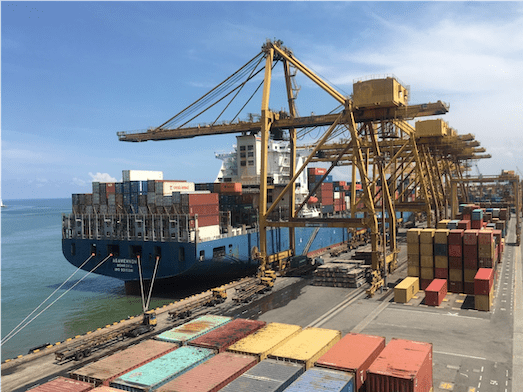 Article Name
What is a one way container? [+top leasing rates on boxes]
Description
Find great deals on one way container leasing to help you save money on empty repositioning costs. Read our blog to find out how.
Author
Publisher Name
Publisher Logo