Would you also like supply chain visibility and know where your shipments are at all times? Many things can happen from departure to arrival, so we've gathered 4 tips on solutions that can help you increase the supply chain visibility for your shipments.
Guest post in collaboration with DigibizMobi. 
Supply chain visibility has long been an issue in the logistics industry. And chances are that you've experienced your containers arriving earlier or later than planned – and doesn't that just mess everything up when you don't know about the changed delivery?
Not only can it be a costly affair to have truckers waiting for containers that didn't arrive. Paying extra demurrage and detention when you need to change your plans and wait for available chassis, can equally put a dent in your profits. And all that's without mentioning your customers and how you can keep them happy when you don't know when their shipments will arrive.
All of these issues are only worsened because of the lack of transparency in the supply chain.
What is supply chain visibility?
Supply chain visibility gives you the ability to track individual shipments from the supplier, manufacturer to the consumer. You can improve the visibility in many ways. One of the ways you can do it is, for instance, through smart containers.
In this piece we'll go through the following digitalization solutions that can help increase the visibility in your supply chain:
Smart containers
IoT
Real-time tracking without IoT
Big data and artificial intelligence
But first, let's pinpoint exactly why visibility in the supply chain matters to you too.
Why is supply chain visibility important?
Supply chain visibility is critical to ensuring satisfied customers and saving money. If you know, whether your shipments are on time or not, you can make changes accordingly and inform your customers of possible changes of the ETA.
Here are just some of the things supply chain visibility will give you:
Access to vital information instantly
Transparency and capability to see blind spots in your supply chain
Better and more accurate responses to your customers
Increase your efficiency and give you the chance to make changes throughout the shipping journey when unexpected events happen
Supply chain visibility is by many recognized as one of the top technology investments in the industry. According to Gartner in less than 2 years from now, more than 50% of global leading enterprises will have invested in real-time transportation visibility solutions.
Still not completely convinced that supply chain visibility is something that can benefit you? Here comes a few examples of how it can help you in your daily work👇
How supply chain visibility offers a helping hand
Many areas of business benefit from real-time visibility and predictive ETA's. With dynamic insight into arrival time corporate planners allocate inventory from the warehouse shelves and on the move alike.
Operations teams are scheduling production orders just in time, orchestrating the delivery of supporting items based on accurate knowledge of the arrival of critical BOM items. Safety stocks are reduced with improved visibility into materials, parts, and subassemblies in transit. Working capital is freed up delighting corporate finance teams.
On the outbound – customer service and sales teams keep customers informed about the accurate delivery time, updating them on changes, proactively engaging in the resolution of issues and exceptions. Experience shows that companies engaging supply chain visibility solutions see a jump in on-time performance, from an average of 65-70% to over 95%.
How to increase supply chain visibility
Supply chain visibility and smart containers
Any normal container can become a smart container. All you have to do is fit internet-connected devices and interconnected sensors that collect, collate, and transmit container data. These sensors and devices act like traditional data loggers – but you can view all the information in real-time anywhere across the globe. At any time.
With precise knowledge of the location and status of the shipment at any moment, you can see where delays are happening, and optimize your delivery routes. As well as making changes to the pick-up times with the trucking company or re-book your railway transportation.
BlackBerry Radar Solution for Smart Containers
BlackBerry Radar® is a complete supply chain visibility/smart logistics asset tracking solution for shipping containers. Your shipping container becomes a smart logistics asset in less than 10 minutes and starts to report its global location and status of the cargo.
H2, a Radar Sensor Gateway, communicates with Radar A2 – cargo cube utilization, ambient temperature, and humidity sensor to send global location and sensor data to the cloud.
Radar Online Portal features custom dashboards, reports, and tools. Instant alerts on security events or critical changes in cargo status parameters are sent to designated users by text, email, or even a voice call. Radar conveniently integrates with Blockchain applications or cloud-based supply chain management platforms through Restful API.
To learn more about BlackBerry Radar and other smart logistics technologies please reach out to DigiBizMobi.
IoT in supply chain visibility
When we talk about smart containers and the devices we can attach to the boxes, IoT plays a vital role.
Gone is traditional working with fixed required date in the system which was the best guess at the time of order placement. No need to call or email suppliers or freight forwarders to confirm if shipments were dispatched per the committed date.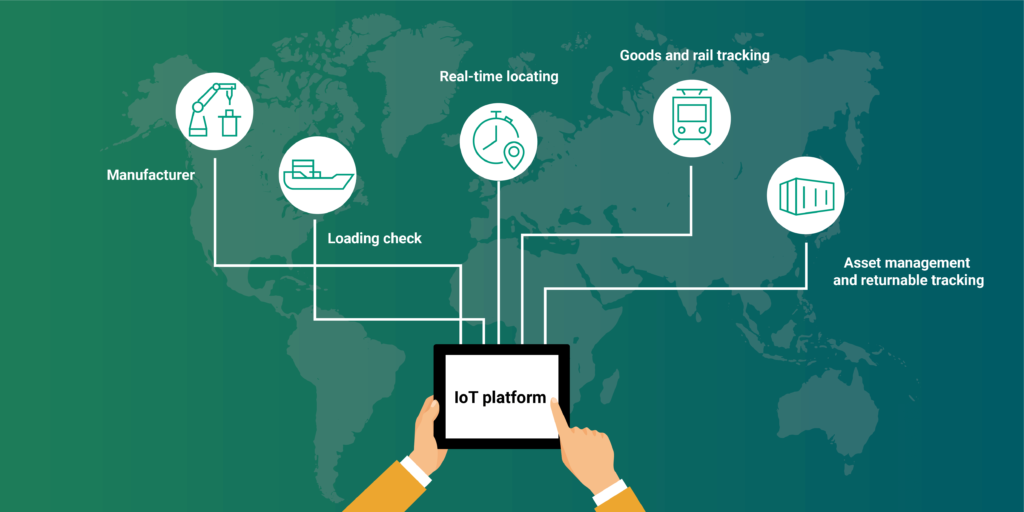 Internet of Things, also known as IoT, is a network of physical "things" that have sensors or software installed in them and can connect to the internet. These things can produce, exchange and transfer data to other devices in the same system without human interaction. Those smart devices can be anything from home appliances to complex industrial tools. Or as we've already talked about, smart containers.
IoT plays an equally big role in optimizing fleet management and warehousing. If you own a smartwatch that tracks your fitness and keeps reminding you to do those 10K steps a day – that is a small piece of IoT in your everyday life.
Real-time tracking without IoT solutions
We all have a budget we need to stick to – and some are bigger than others. IoT solutions come with very varying price tags and initial investments for the logistics companies.
If you'd like to digitalize your container logistics but at a lower cost, the xChange Tracking can give you a great start with real-time tracking at low costs and without adding devices.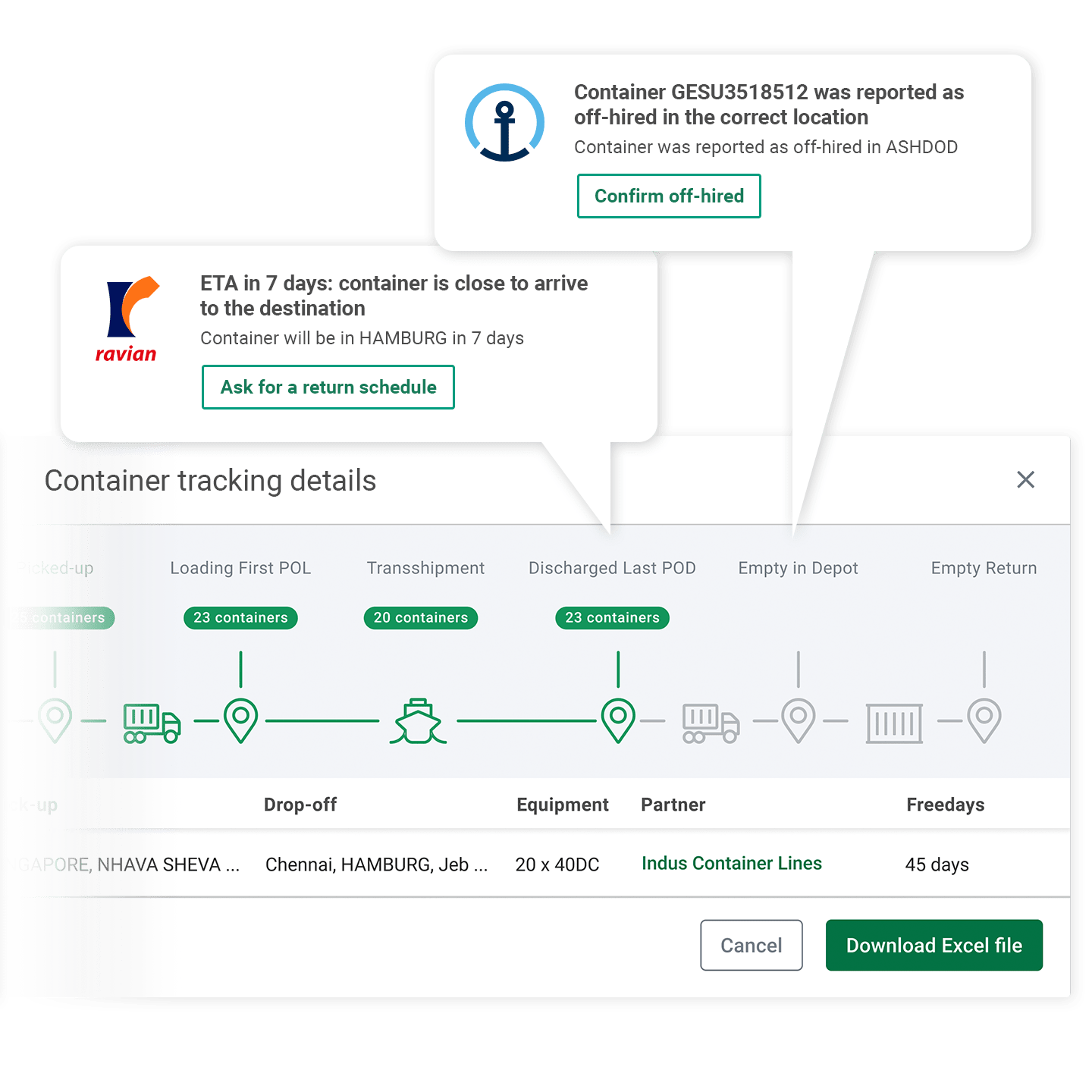 Want to learn more about container tracking at xChange? Read all about it here.
Otherwise, keep reading, and we'll explain how container tracking works on xChange 👇
Big data and Artificial intelligence increase visibility
Before we jump to big data and artificial intelligence, I want to briefly mention the little helper that makes use of these data and AI. The API.
When we mention shipping APIs, we refer to the tracking and data use in container shipping.
Let's use the xChange platform as an example.
With tracking, xChange members can easily and automatically receive the latest tracking information as it populates on their tracking page.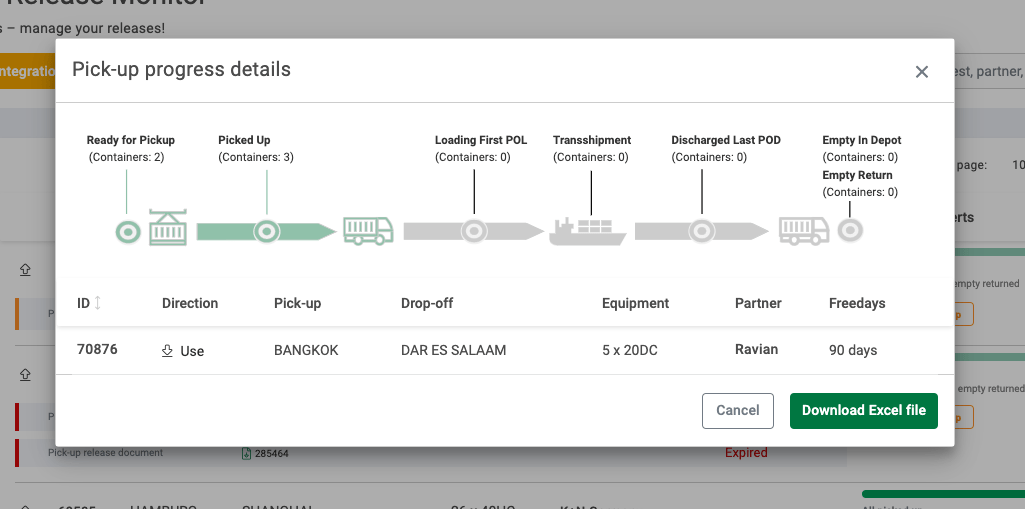 xChange Tracking is an application provided through the xChange platform which lets you know what's going on with your containers and where they are at all times.
How you get that information on the xChange site, is through the help of an API.
In other words, APIs are intermediaries that connect data sources between different applications. The benefit of APIs is their ability to pull in big data from different sources into a centralized platform.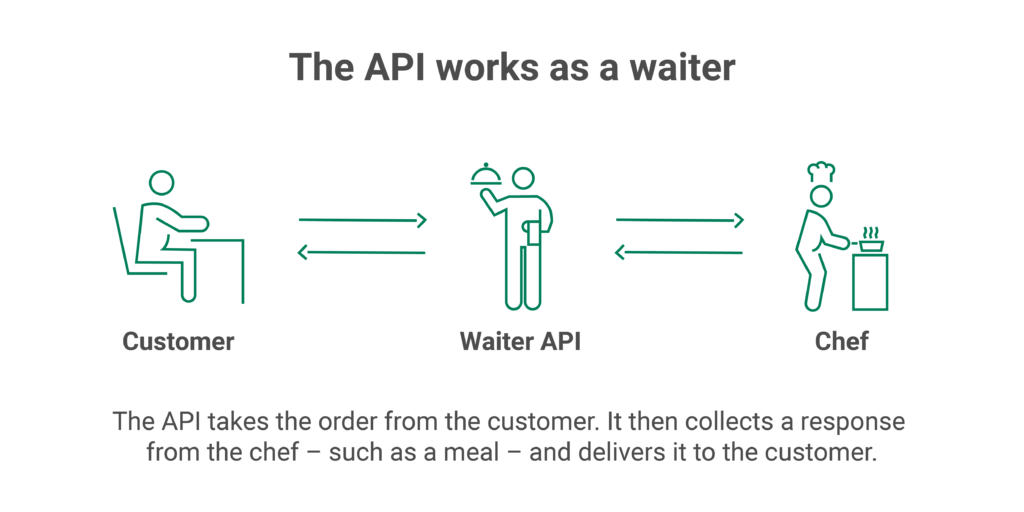 The data can then be used to automate a long row of tasks. And with the help of, for instance, artificial intelligence (AI) data can automatically be sorted and prioritized. With this information, you can act accordingly.
APIs use big data and AI to:
Track high volumes of freight in real-time
Calculate estimated delivery times, taking into account holidays, container specifications, and shipping routes
Get real-time notifications about each shipment/container instantaneously, such as ETAs, delay warnings, and rollovers.
Get supply chain visibility right for you
There are many roads you can choose when it comes to increasing visibility in your supply chain. However, which solution fits you the best, depends on your business and your budget.
For instance, smart containers and IoT devices are at the forefront of technological development in the industry. They can give you a clear overview of where your containers are at any given time.
You can also get real-time tracking through the help of APIs using big data and AI. With APIs you can get the information you need, sorted, and prioritized. All you have to do is log in to a website, app, or similar and look at the information you need.
Want to learn more about digital solutions that can help improve your supply chain visibility? Click on the banner below and read our expert piece on digital solutions that stands to transform the industry.
FAQ Get around supply chain visibility
What is supply chain visibility?
With supply chain visibility you can track your shipments and goods right from the manufacturer and throughout the shipping process. Giving you an overview of where your shipments are at all times, and allowing you to make changes accordingly.
Why is supply chain visibility important?
When you know, whether your shipments are on time or not, you can make changes accordingly and inform your customers of possible changes of the ETA. That way, supply chain visibility is critical to ensure your customers are satisfied and saving you additional costs on the different modes of transportation. Example: The container is running late. So, instead of having a trucker waiting for the box, adding to your expenses, you can inform the company of the changed ETA and ask them to arrive later. Something that can be done throughout the transportation journey.
What is needed to get supply chain visibility?
To improve your supply chain visibility, digital solutions are the way forward. Manual work of calling manufacturers, depots, and terminals doesn't give you visibility. The shipping industry is undergoing a digital transformation, where big data, IoT, and tracking are becoming increasingly important.
Summary
Article Name
What is supply chain visibility? [+ 4 ways to increase the visibility]
Description
What is supply chain visibility? Why is supply chain visibility important? Get the answers to that and tips on how to get visibility in your supply chain.
Author
Publisher Name
Publisher Logo