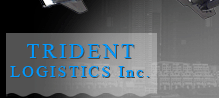 Trident Logistics
About us
Trident Logistics Inc is an international freight forwarding company with full-fledged office at Saudi Arabia, Bahrain and India under independent sponsorship at respective location. With booming economy and surging export/imports, India is fast emerging as an economy power in the world. Trident Logistics Inc will soon expand its operations in India To compliment and contribute to this burgeoning economy. Headed and managed by shipping professionals of over three decades of experience and expertise in international freight forwarding operations, Trident Logistics Inc offers you total logistics solutions for your export and imports. With a dedicated global network of associates we provide matchless, seamless service to match your requirements.
Trident Logistics is an unclaimed profile. Only employees of this company may claim it. Know someone who can claim this page?
Latest Reviews
Have you worked with this company before? Drop them a reference now and help them improve their reputation!
Error: Contact form not found.
Error: Contact form not found.