Are you curious about who the top container manufacturers in the world are? Read on to learn about the biggest global manufacturers, as well as how you can secure quality boxes for great prices. Want to skip the blog? Talk to our expert team about finding containers today.
Container manufacturers are the backbone of the shipping industry. They're the pillars that keep the global equipment fleet afloat.
When the shipping industry faced major container shortages due to Covid-19, manufacturers started to boost their production. During this time, the global pool of shipping containers increased by 13% to almost 50 million TEUs in 2021. Now there's actually a surplus of 6 million TEUs globally.
This being said, we know it can be a real struggle to find the boxes you need, at the right prices online. With so many companies vying for your attention, it can be difficult and overwhelming to know who to trust, or what a good price for a box is these days.
That's where we come in. We're container xChange, a neutral marketplace for buying, selling, and leasing shipping containers of all kinds.
We work with 1000+ reliable partners, ensuring market value (or less!) for quality boxes, in over 2,500 locations worldwide. No matter when you search or what you're looking for, you're bound to find just what you need, at a great price. We vet and pre-approve all of our partners, so that you don't have to.
Want to find boxes from reputable partners at unbeatable prices? Try out our public search to see just how easy it is to get the exact box you need. Simply type in your location and the container type you're after. Then press 'search' to find loads of options right away.
Who are container manufacturers?
Container manufacturers are companies that build shipping containers of all shapes and sizes from scratch. It's important to note that manufacturers differ from suppliers in a fundamental way. Suppliers source and acquire quality containers from manufacturers, manufacturers actually create the boxes from the raw materials.
Many big players in the industry, such as shipping lines, container leasing companies and container trading companies work directly with container manufacturers. The better the relationships these companies have with each other, the better deals they can strike.
Overview of container manufacturing industry
Currently, around 85% of all container manufacturers are based in China. Economically, it makes sense to manufacture boxes in China due to low labor costs, as well as cheap steel production. As China handles so many exports, it's extremely viable to manufacture containers within the country.
As a result, China has become one of the biggest markets for 'one-trip' containers. These brand new containers, manufactured in China, are loaded with cargo and shipped to their location of sale. Thus, making their 'one trip' to their final destination, and delivering cargo at the same time.
There are other countries such as the US, South Korea, Taiwan, Italy, the UK, France and Poland that also make containers, on a smaller scale. The Indian container manufacturing market has also been rapidly expanding in recent years. Want to find out more about container manufacturers in India? Check out this blog post for all you need to know.
Impact of Covid-19 on container manufacturers
Before the Covid-19 pandemic, the container market was expected to maintain a healthy growth rate in 2021. Statista believed that the market would increase by 4.8% between 2020 and 2021. However, as the pandemic hit in early 2020, many container manufacturers started cutting down on production, in an attempt to keep prices stable.
China, as the first to be hit by Covid-19, was also the first to recover. The country resumed exports and container manufacturing sooner than the rest of the world.
However, due to lockdown restrictions, containers started to backlog in ports around the world, and were not able to get back to China. Chinese container manufacturers were able to hike up their container prices drastically due to these shortages. A standard box went from around US $1,600 to around US $2,500 between 2020 and 2021.
So, manufacturers, especially in the Chinese market, have benefited from the pandemic. They're now able to charge higher rates for containers than ever before, due to high demand and low supply. This isn't good news for the rest of the world. As prices remain high for all container types, they're also quite unpredictable.
Tired of hidden fees and high commissions making buying containers a nightmare? On xChange, we're 100% transparent, and all of our prices are stated upfront. You can choose from a whole list of offers, to make sure you're getting the deal that best suits your budget. Click below to learn how all of this is possible, by speaking to one of our friendly experts today.
Top 10 container manufacturers in the world
Now, the part that you've been waiting for. The list of the top 10 container manufacturers globally. Let's dive in and learn more about each of them.
| | | | |
| --- | --- | --- | --- |
| Name | Website | Headquarters | TEU sales volume |
| CIMC | http://www.cimc.com/en | Shenzhen, China | 2 million |
| COSCO Shipping | http://lines.coscoshipping.com/ | Shanghai, China | 1.6 million |
| Singamas | http://www.singamas.com | Shanghai, China | 320,000 |
| CXIC | http://cxic.com | Changzhou, China | 250,000 |
| CEC | http://www.cecontainers.com/ | Shanghai, China | 150,000 |
| W&K Container Inc | https://www.oceancontainer.com | California, USA | Not available |
| Daikin Industries | https://www.daikin.com | Osaka, Japan | Not available |
| Maersk Container Industry | https://www.mcicontainers.com | Copenhagen, Denmark | Not available |
| TLS Offshore Containers International | https://www.tls-containers.com | Singapore | Not available |
| YMC Container Solutions | https://www.ymccontainersolutions.com | East Yorkshire, UK | Not available |
| DCM Hyundai | http://www.dcmhl-hvgpl.com/company.php | Faridabad, India | Not available |
CIMC (China International Marine Container Group Co., Ltd.)
Founded in 1980 as a merger between China Merchants Group and East Asiatic Company, CIMC is based in Shenzhen, China. They provide all types of boxes, ranging from dry containers to modular container homes, with target markets in North America, Asia, and Europe. CIMC has 11 factories and a yearly capacity of 2 million containers. It's the first company to reach 2 million TEUs internationally.
COSCO Shipping
Yet another Chinese giant, Cosco is a multinational transportation service based in Shanghai. It was established in January 2016, and currently has the largest vessel fleet in the world. This includes 1310 ships.  Before purchasing Singamas facilities, Cosco was engaged in the container manufacturing business through its subsidiary, Shanghai Universal Logistics Equipment. Shanghai Universal Logistics has an annual manufacturing capacity of 500,000 TEU. COSCO also holds a 14.5% equity interest in CIMC.
SINGAMAS (Singamas Container Holdings Ltd.)
Singamas was founded in 1988, with its first factory in Shanghai. They are one of the leading container manufacturers in China, with 9 factories. They produce dry freight containers, collapsible flat-rack containers, open-top containers, tank containers, offshore containers, and other specialized boxes. Singamas had a record revenue of $1.7 billion in 2018.
CXIC (CXIC Group Containers Co., Ltd.)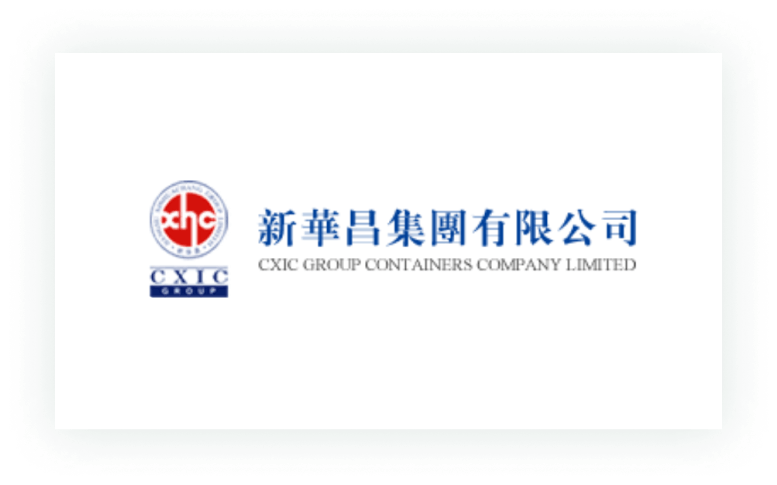 CXIC was founded in 1996 in Changzhou, China. This company specializes in container manufacturing. They produce dry cargo containers, special containers, and tank containers. CXIX exports 90% of its production to over 40 countries around the world. The company has assets worth $1 million, including $300,000 in fixed assets.
CEC (China Eastern Containers)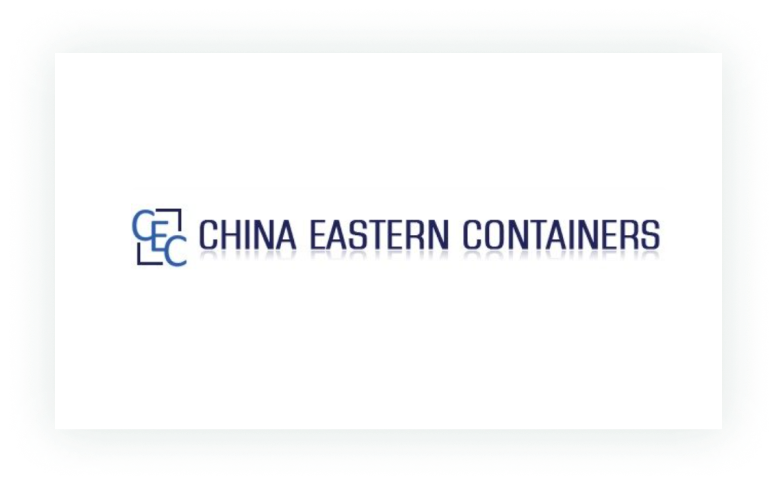 CEC is a fast-growing container manufacturing company based in China, with target markets in North America, Europe, Asia, Australia, and the Middle East. With their headquarters and factory located in Shanghai, they have an annual production capacity of 150,000 TEUs. Their products include standard shipping containers, heavy-duty storage containers, offshore containers, and special boxes.
W&K Container Inc.
W&K is a container manufacturer based in California, USA, and was founded in 1995. With 25 years of experience in the industry, they're contractors to the US federal government and the military. W&K supplies local and municipal governments, as well as the private sector. Their company revenue reached $600,000 recently, which helped them to become one of the largest shipping container manufacturers in 2020.
Daikin Transportation and Refrigeration Systems
This division is a part of Daikin Industries Ltd, which was founded in 1934, and is headquartered in Japan. Daikin is one of the frontrunners in the industry when it comes to refrigerated containers. With their invention of the 'Daikin LXE10E', they had increased their customer base by 1000% by 2010. Daikin supplies containers to more than 50 shipping and leasing companies and had a revenue of $21.6 billion in 2017.
MCI (Maersk Container Industry)
Not only is Maersk one of the biggest shipping lines worldwide, they also manufacture reefer containers. Maersk developed one of the most energy-efficient reefer containers on the market, the 'StarCool'. It has factories in both South America and China. Hapag-Lloyd recently placed a record-breaking order of 13,420 reefers with Maersk, which included 970 TEUs, and 12,450 40ft containers.
TLS Offshore Containers International Pvt Ltd
TLS specializes in offshore containers and special containers. The company set up its manufacturing base in 1995, in Singapore, and is one of the largest container manufacturing bases worldwide. This manufacturer has a global target market, with clients in Asia, Europe, South America, and Australia. TLS buys their parts from Daikin, in order to build their reefer containers.
YMC Container Solutions
Headquartered in the UK, YMC manufactures shipping containers along with a variety of multi-purpose containers. They have been in the industry for over 40 years. YMC has two manufacturing facilities, one located at Brandesburton, and one in Wakefield.
DCM Hyundai Limited (DHL)
DCM was established in 1993, and is a joint venture between DCM Shriram Industries and The Hyundai Group of Korea, who are world leaders in the container business. They have a state-of-the-art facility in Faridabad, close to New Delhi. They also produce trailers, tippers, and containerized bodies.
Average prices of shipping containers in major container manufacturing hubs
As China is currently the biggest worldwide producer of shipping containers, you might be wondering how much containers from China cost right now. Let's take a look at prices for new standard containers, and compare these with new standard containers from the US and India.
For a new standard 20ft container, you're looking at the following prices:
| | | |
| --- | --- | --- |
| China | USA | India |
| US $3,398 | US $3,485  | US $3,181 |
Want to learn more about the different container types and dimensions? Check out this separate blog post.
For a 40ft container on our platform, you'll pay the following:
| | |
| --- | --- |
| China | USA |
| US $6,101 | US $3,956 |
And for a new 40ft high cube box, you're looking at:
| | | |
| --- | --- | --- |
| China | USA | India |
| US $9,997 | US $4,749 | US $5,734 |
Want to know more about container prices? Check out this informative blog post.
How to buy shipping containers at the best price
If you're tired of hidden costs and sneaky commissions putting you in a flat spin, you've come to the right place. We're a neutral marketplace for buying, selling and leasing shipping containers.
On xChange, we offer complete price transparency on all boxes. Container prices are always available upfront, and we take 0% commission on container sales. Yes, you heard that right!
Worried about container availability? With our extensive network of 1000+ partners, we have over 10,000 boxes available at any one time. So put those worries out of your mind.
What's more, all of our prices are negotiable, so you don't have to sign a deal until you're 100% happy with every aspect of it. Plus, you can connect directly with sellers to negotiate all terms, without the frustration of a middle man complicating and delaying the sale.
Once you're a member on xChange, it's so easy to compare the prices of multiple deals simultaneously, so that you can make the most informed decision about which containers to buy, and from whom.
If you want to stay ahead of the game, you can also sign up for the market scanner, which notifies you as soon as new deals within your criteria become available. This way, you'll be able to snap up perfect offers as they arrive. Say goodbye to endless hours searching around on the web, those days are over!
So what are you waiting for? Sign up for a demo today, to learn more about the many benefits of our platform. It's so easy, just click the banner below, to learn how to find boxes from container sellers at great prices today.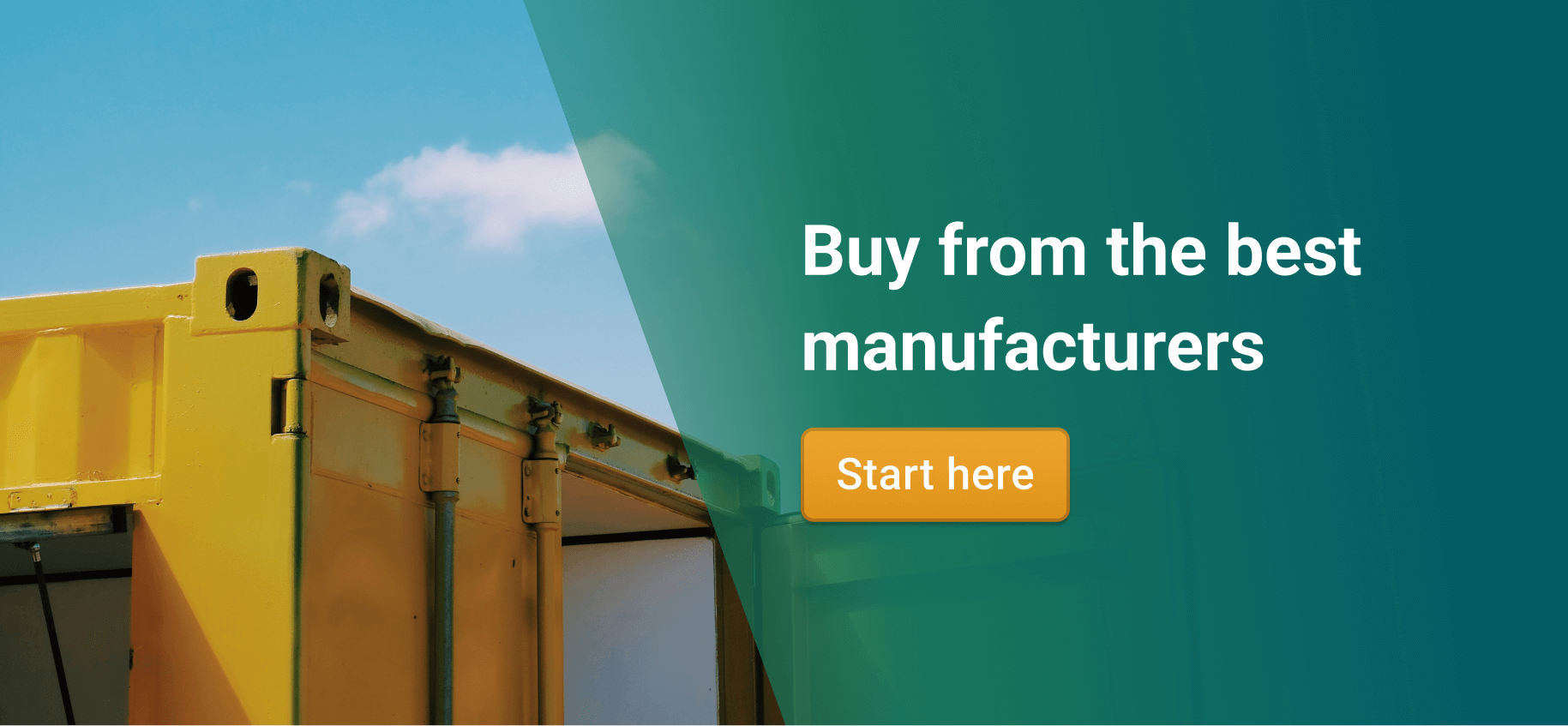 Who is the biggest container manufacturer?
The biggest container manufacturer in the world is CIMC, a Chinese container company. They have an annual capacity of 2 million containers, and are the first company to reach 2 million TEUs internationally.
What companies make shipping containers?
There are many companies who make shipping containers, including CIMC, Singamas and CXIC. These 3 companies currently control around 90% of global container manufacturing. CIMC has 11 factories and an annual capacity of 2 million containers.
Who builds shipping containers?
Shipping container manufacturing companies build shipping containers. These include CIMC, Singamas, CXIC, Maersk and Cosco. Currently, around 85% of container manufacturers are situated in China.
How much does a 40ft shipping container cost?
A new 40ft container will cost you around US $4,208, on average. You can get your hands on a new 20ft container for around US $2,751 and a new 40ft high cube container will cost you US $5,318. Looking for a 20ft reefer container?
Related Posts
Summary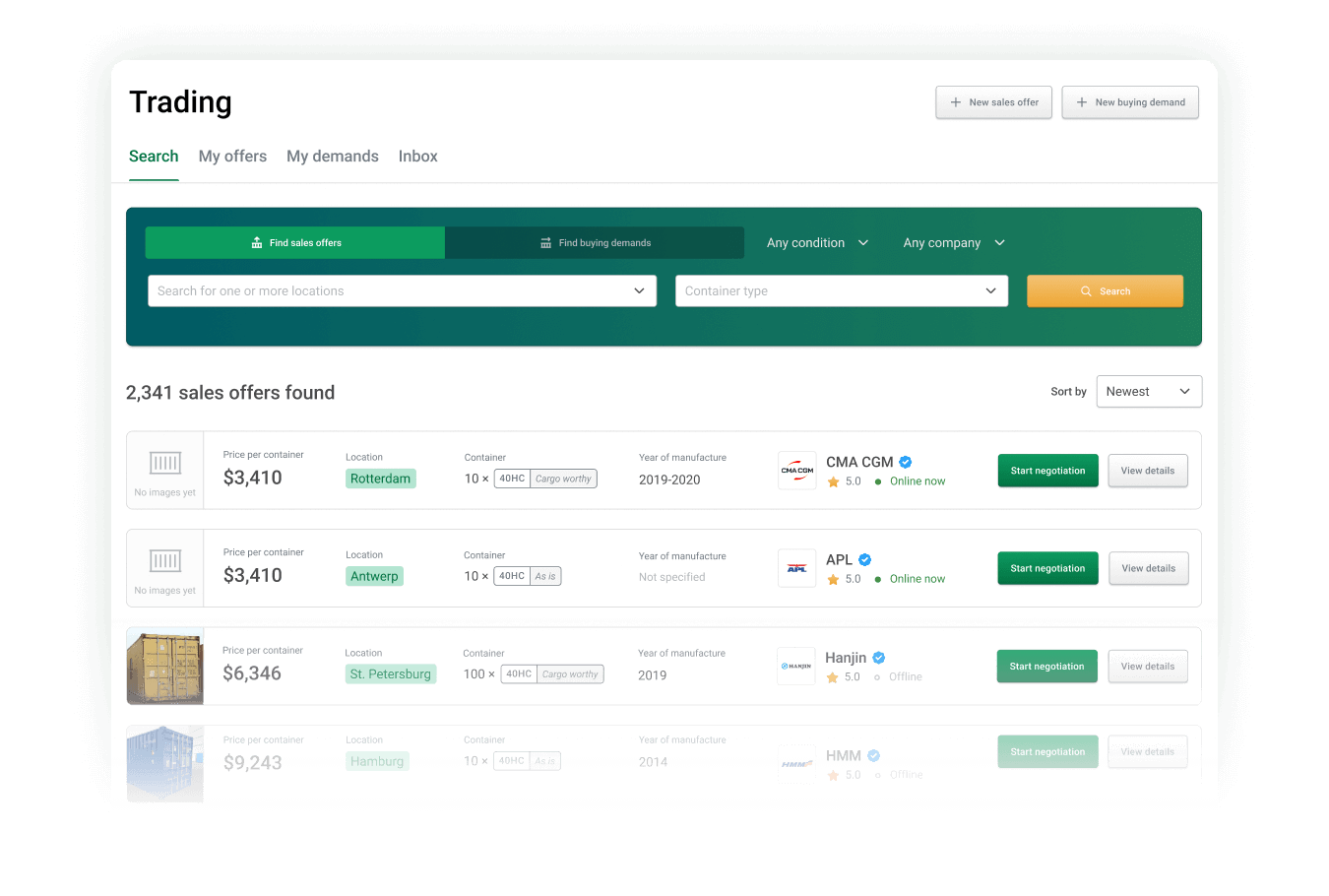 Article Name
Know the top 10 shipping container manufacturers [Global guide]
Description
Learn about the top 10 container manufacturers globally, as well as how to find containers at the best price on Container xChange.
Author
Publisher Name
Publisher Logo