Shipping container conditions can be a determining factor in choosing the right container type for your cargo. It's important that you know these conditions at length to keep your cargo safe. Let's help you understand these conditions better so you can make informed decisions.
Although there's no universal grading system for the condition of shipping containers. There are different abbreviations like –WWT, CW, As Is, and IICL, which t can cause a lot of confusion. So, when you're choosing a box for your cargo it's natural for you to feel a little overwhelmed about which container condition suits your requirement.
This is where we step in to help you better understand these conditions and gradings. But before we get started, you should know that container colors also play a vital role in defining which cargo is best suited for which box. So, to get an overview of container colors, take a look at our separate blog here.
Now coming back to container conditions, let's jump right in!
Shipping container conditions explained
Starting off with the basics, we're sure you're well aware that containers are made of Corten steel. This is the major material that creates all metal shipping containers. All the parts of the container: the corrugated wall panels, cargo doors, cross members, and frames, are made using Corten steel. The reason for this is that Corten steel is rust-resistant – requires no painting. And is also weldable. This makes it the top pick for container manufacturers.
Despite their strong structure, containers are bound to some wear and tear due to factors such as bad weather, improper stowing, contamination by pests or odor, and mishandling during loading and unloading.
This is what determines their conditions. A brand-new container will always be of top quality. But the greater number of journeys make the conditions of the container change over time.
Container conditions can be monitored and maintained with regular surveys carried out by professional container surveyors. These surveys help you stay informed about the maintenance and repairs. This in turn ensures that your container is in good condition.
What is a container grade in container conditions and why it matters?
So, you have an understanding of what are container conditions. Now when you buy or lease a container consider this: look into the box's past life. Was it used to haul around nuclear waste, biohazards, toxic chemicals, or trash? You might be getting a good deal, but is this what you want? Additional questions to ask could be, how many trips has it made? Shorter and more frequent trips mean more wear and tear from loading and unloading. Where did it travel to the most? The sun-baked Australian coasts or the frozen deathly cold areas in the North and South poles? The constant changes in frigid temperatures can cause drastic elemental damage such as rust and warping of the corrugated steel. These factors can severely affect container conditions, so you need to ask these questions before getting your box.
The reason conditions matter is obvious: goods safety, whether it's needed to be transported or stored as inventory. And goods can only stay secure if the box is equipped enough to safeguard them. Hence, the better the condition, the better the cargo safety.
Used shipping container conditions classifications
Before we look at the classifications of conditions, we want to let you in on some of the uses of used and new containers. Some of the most popular uses for new and used shipping containers other than for shipping and storing cargo are:
Workshops, homes, carports, and cabins.
Off-grid living spaces, medical centers, information kiosks, tool sheds, and home additions.
Office spaces for home or work, guest houses, hotels, and the like.
Right, now let's get into it!
From food grade to as is: An overview of the different container conditions 
| | New – "One trip"Container | Cargo Worthy | WWT | As-is |
| --- | --- | --- | --- | --- |
| Wind & watertight | Yes- guaranteed | Yes- guaranteed | Yes- guaranteed | Not guaranteed |
| Floor free of holes | Yes- guaranteed | Yes- guaranteed | Yes- guaranteed | Not guaranteed |
| Doors fully functioning | Yes- guaranteed | Yes- guaranteed | Yes- guaranteed | Not guaranteed |
| Suitable for storage | Yes | Yes | Yes | With repairs |
| Suitable for exports | Yes | Yes | Only with repairs | No |
| Suitable for modifications | Yes | Yes | Yes | Yes, with repairs |
| Paint | Fresh paint | Faded paint acceptable | Faded paint acceptable | Faded paint acceptable |
| Dents & scratches | Minor dents & scratches acceptable | Some dents, repairs and surface rust acceptable | Many dents, repairs and surface rust acceptable | Significant dents acceptable |
| Floors appearance | Like new | Some scratches, gouges and patches acceptable | Many scratches, gouges and patches acceptable | Many scratches, gouges and patches acceptable and potential holes |
| | Best condition available | Good condition, still meets all requirements for shipping | Not ready for shipping, but perfect for storage | No guarantees |
F – Foodgrade Containers/ New

The transport of food needs certain requirements for the shipping container, such as that it has never carried any toxic chemicals or products before. And even though your food is packed in bags and hence is not in direct contact with the container, the mode of transportation still has to be in food-grade containers to avoid unnecessary contamination risks.
The structural condition of your box for this grade is an IICL 5 with valid a CSC Plate.
There is high internal cleanliness with scratches not exceeding 2mm in depth.
Your box is waterproof and with zero-daylight visibility from inside of the box when closed.
Your box has not carried any toxic chemicals or products before.
Meets the standard for food grade quality/ import mostly ruled by governments.
Grade A Container 

These are new, refurbished or used containers. They have only minimal rust and dents and are wind and water-tight (WWT).
If you get this box, your doors, floor, and seals will be in great condition.
The structural condition will be IICL5 with valid a CSC Plate.
The interior of your box will be almost mark-free.
And you'll see minimal surface rust.
Grade B: Cargo worthy container meaning

In short Cargo Worthy (CW), means that the shipping container condition is deemed suitable for cargo transportation. So, if you have cargo to send out, this box will do the trick. Another criterion is that the container meets all the standards set in its original specification. Typically, it also implies that the container has a valid CSC plate, which is a safety approval tag that containers used for international transport must have.
With your CW box, you're guaranteed an IICL 5 with a valid CSC Plate.
Used containers fall into this category.
Your interior will be a minimum of 50% mark free, with some scruffing or scratching and minor surface rust.
The floor of your box will be stained or marked and may have minor delamination.
The exterior may have more prevalent corrosions and dents.
Your container may have a small number of previous repairs.
Grade C (WWT, Wind and Water Tight )

A container is wind and water-tight if no wind or water can penetrate the container. This box is suitable for your cargo transportation under the TIR/UIC/CSC criteria. Typically, it also implies that your container has a valid CSC plate.
These boxes are good for storing and transporting your goods and are also called cargo worthy 2 containers.
There will be some extensive markings, corrosion, and scratches on your box.
The floor of your box will be marked and may also have moderate delamination.
It would have undergone several previous repairs.
This box is said to be the most common and the cheapest.
Your WWT box will show wear and tear.
These boxes are often used as storage containers.
They can also be used for shipping but need a valid CSC plate.
As is container condition
These are damaged containers that have been taken out of commission in the shipping industry and are sometimes not even usable for storage. They could have majority damage on the roof or walls, damaged floors, bad seals, doors that are difficult to open, or structural damage. If you are looking for a box for other purposes such as office spaces, swimming pools, etc, and ready to spend money on its entire repair, they can be ideal.
How Container xChange can help you get access to various container conditions and gradings
Our neutral online marketplace offers you 10,000+ container types and conditions in 2,500 locations worldwide. You get to source these boxes from 1000+ vetted suppliers because all our members can only join our platform after they've passed the mandatory vetting process. You can connect with members directly from our platform without a middleman. And see every member's business profile and who they've worked with and read reviews and ratings left by others to help you pick the best-suited partner.
As for cost, we have a transparent marketplace where the rates are stated upfront and allow you to see and compare the prices before you choose a deal. You get the most competitive rates on boxes at xChange without any hidden fees. And you can negotiate these prices with your chosen supplier to find something that works for you.
There is also an easy-to-use payment handling feature (xChange wallet) that consolidates all of your transactions and sends you one single bill. Additionally, you can also opt for container insurance and damage claims, and container surveys carried out by expert surveyors.
And let's not forget our automated near real-time container monitoring and tracking feature – Container Control. It allows you to know your container's whereabouts so you can manage your operations better.
If you're ready to get started on top deals on your container conditions click on our banner below to let our expert team get you to your box right away.

The info box
Tips to help maintain shipping container conditions:
1. Have periodic inspections done by professional surveyors to get a proper survey report.
2. Take care of repairs (dents, scruffing, etc) and wear and tear at the earliest.
3. Store the container on a level surface- Always store the container at a leveled surface while loading and unloading to avoid any external damages.
4. Treat rusted areas immediately.
5. Keep the door locks and hinges clean and lubricated for ease of use.
6. For a reefer, service the refrigeration unit periodically to avoid expensive repairs later.
Container conditions: Common FAQS
How do I check my container conditions?
You can check your container conditions by hiring a surveyor to make a survey report to see what your container condition can be determined as.
What are the four types of containers?
There are about 11 types of containers. The most common ones are, 20ft, 40ft, 40ft HC and 45ft HC.
What is CW condition?
CW, means that the shipping container condition is deemed suitable for cargo transportation.
What are the container grades?
Container grades provide an indication of the condition of any given container. These range from new builds straight from the factory to much older builds with some or many aesthetic blemishes and/or structural issues.
Summary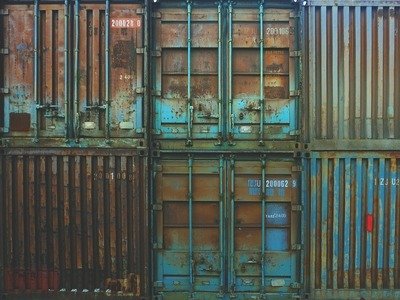 Article Name
Container conditions: Why it matters [+ pay best price for boxes]
Description
Get to know about the different container conditions and grades before you get your box. Also, find competitive prices on boxes on this blog.
Author
Publisher Name
Publisher Logo