Buying a shipping container can get overwhelming and cumbersome. Let this blog be your step-by-step hassle-free guide to getting your hands on one!
There are 11 types of shipping containers you'll find for your cargo shipping needs. Every container comes with different conditions and gradings depending on its usage, structural conditions and aesthetics. We'll take you through the various conditions and gradings a little later in the piece. For now, let's hit the road and help you buy a container in just a few simple steps.
How to buy a shipping container in 7 steps
What do you do when you have to buy a shipping container? You search on Google and exhaust yourself, hoping to find the right link.  
We understand how it can get confusing with numerous results. But here's an idea! Why not become a part of xChange, the leading online marketplace to buy, sell or lease containers and help us help you be more efficient with your search!
As a first step, we've curated 7 simple steps for you to buy a container of your choice. These steps will help you understand your needs and make an informed choice before you shell out hundreds of dollars.
Here's what you need to do: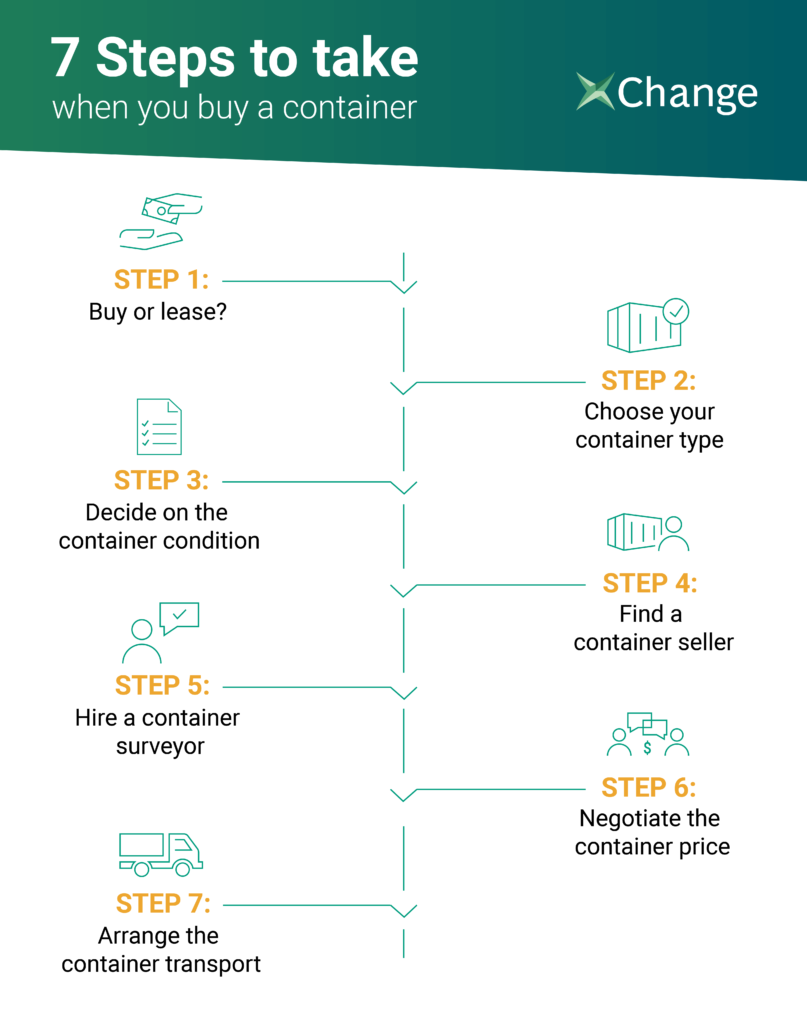 Step 1: Should I buy or lease a shipping container?
The first thing you need to be completely sure about is whether it makes sense for you to actually buy the shipping containers or lease them. That decision depends on your situation.
Let's have a look at some of the different scenarios for you to consider.
If you only need a few containers for storage, being a container owner makes sense. The same goes, if you need containers for an indefinite period, use containers frequently, and don't need too many of them. When you buy a container, it's important that you're sure you'll use the containers. Also because it's an upfront payment you've to make – something that will leave a dent in your finances.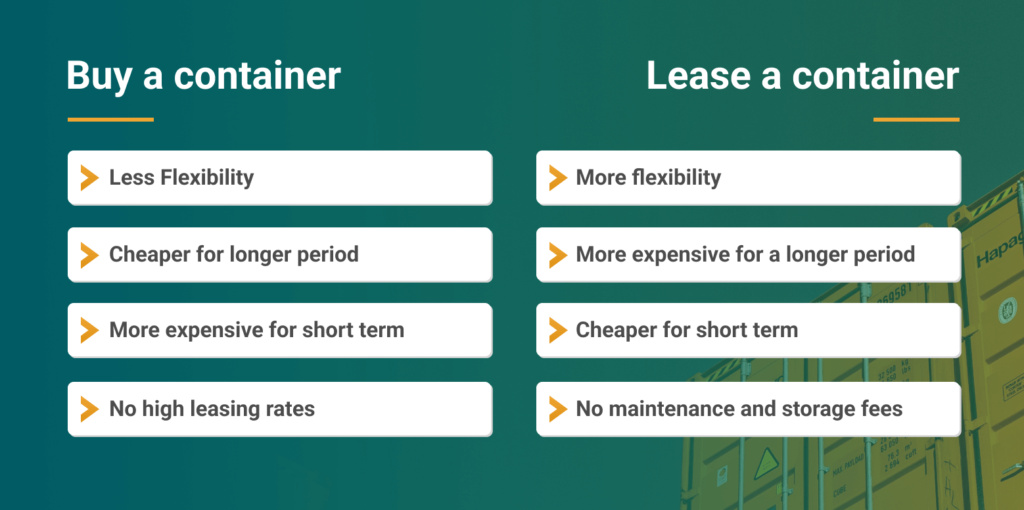 On the other hand, you might be in a situation where you only need to borrow a small number of containers. You could also be in need of a large number of containers, but only one way. Or simply need the containers for a short period of time. If you find yourself in any of those situations, leasing a container could be the best option for you. And you should also consider a one-way lease. When you lease a container, it's cheaper in the short term than when you buy. Because here you only have to pay the leasing rate. However, in the long term, the cost of leasing the container can get higher than what you'd pay for a used container.
Not quite sure whether you should buy or lease the containers? You can learn more about the pros and cons of leasing and buying shipping containers right here in this blog article.
Step 2: Which container type do I need?
Now that you know if you should buy or lease the containers, you're ready for the next step: Deciding on which container type you need. This can feel like yet another jungle of information. But it all comes down to what goods you need to ship.
When you start looking for containers, the first thing you need to consider is: Do I need a standard container, or does my shipment have special requirements?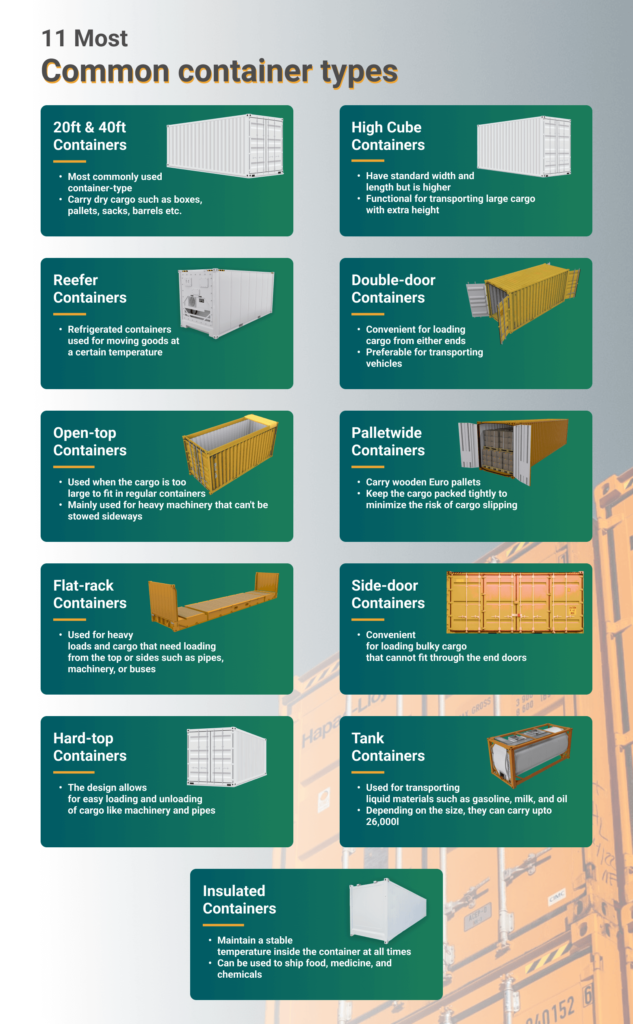 If you need to ship paper or other common dry cargo, a standard container can be the best solution for you. Here, you can choose between the most common containers 20ft and 40ft – as well as their taller sibling, the high cube.
But if you have shipments that are larger, there's a long row of special containers to choose from. If you'll be shipping foods, chemicals, or medicine, you should look into the reefer and the insulated containers. Both of these container types help maintain a steady temperature inside the container.
You can get the full overview and learn more about these container types in our in-depth blog article on container types.
Step 3: Choose the condition and grading of the container
When you've figured out which container type is right for you, it's time to decide on the grading of the container. Which grading and condition you should choose, depends on what you want to ship.
Here, it can get a little complicated. Because there's no universal grading system for shipping containers. Something that also leads to a lot of confusion with all the different abbreviations to explain the container condition, such as WWT, CW, F, and B. And you'll come across these abbreviations when you're buying a container. So, let's clear that up first.
We'll start out with the different grades. There are one-trip containers that have only been shipped from the manufacturer to the owner. Find below the journey for a typical one-trip container 👇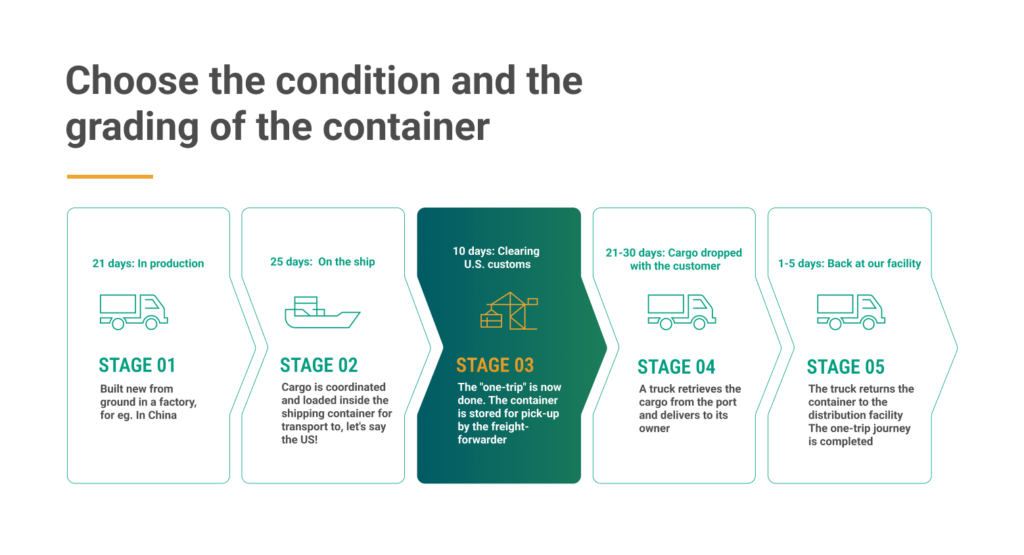 Then, there are Wind and Watertight containers (WWT) as well as Cargo Worthy containers (CW). Cargo worthy means that the condition of the shipping container is deemed suitable for cargo transportation under CSC criteria.
If we, instead, look at the grading, there are other abbreviations to look out for – like the following gradings: F, A, B, and C.
A container with an F grade is a new container – also known as food grade. This means that the container can, for instance, be used to ship foods.
A grade-A container is new, refurbished, or used, whereas, a grade B container is cargo-worthy. Containers with a C grading are often called wind and watertight or cargo-worthy 2 containers.
If you need containers for e.g. storage, you can look for containers graded As-Is.
Feeling a bit confused and overwhelmed with the many different abbreviations and gradings? Here we've just given you a very brief overview of the different things you should keep an eye on. Read this in-depth blog article about container condition and grading right here.
Step 4: Where can I buy a shipping container?
Around the ports, there are usually plenty of container suppliers. So if you want to buy a shipping container, that's one place to look. You can also find containers through local brokers, who've regional networks to find the containers you need.
However, as easy as it can be to find the containers closer to the ports, it also has its downsides. The pricing can be higher given the ease of accessibility and lack of transparent deals you can make. This gives you little chance to know the reasoning behind the price and added fees.
That way is just one way to trade containers. The other solution you might then consider would mean you spending hours sending out emails after emails, hoping that someone in your network knows someone who might have containers for sale. But it also doesn't have to be that difficult. You can simply become a member of Container xChange and find the best match for yourself through a tap on the screen. (We bet it doesn't get easier than this!)

Buy shipping containers from your computer screen
Skip the long email correspondences and hair-pulling frustrations of looking for traders offering competitive pricing. How? With Container xChange.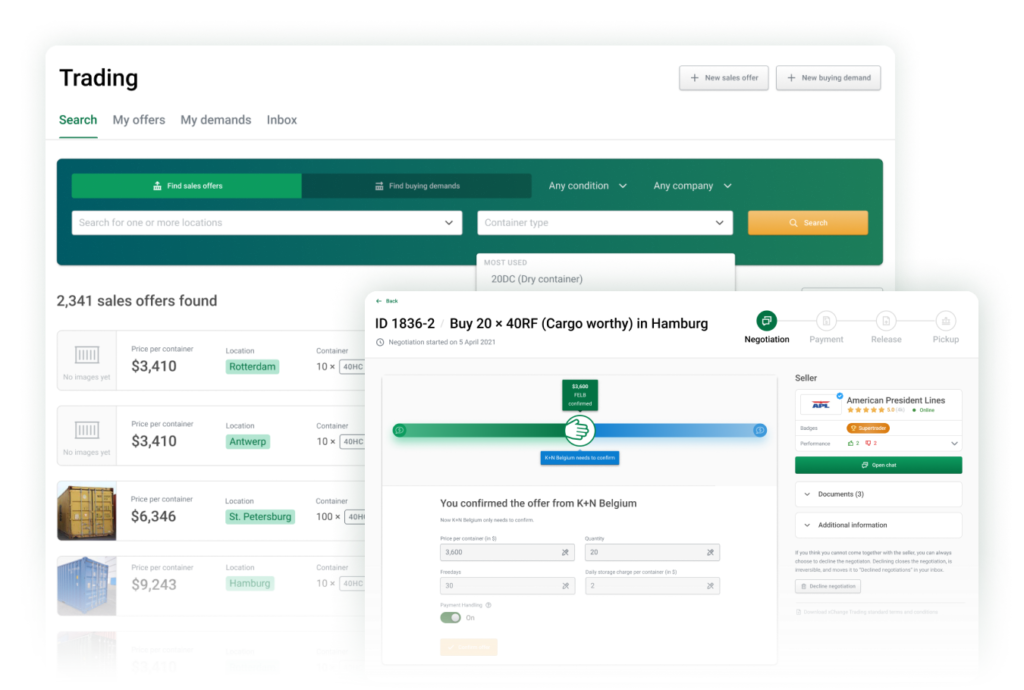 On our neutral online marketplace, you become a part of an international trading network. Here, you can scroll through sales offers, and see the prices of all the containers. This way, you can compare the prices with each other – just like when you're out shopping. Easy, right?
To make it even more simple, we vet all companies before they become xChange members. Ensuring that you can find trustworthy partners. When you find one or more containers you like, you can directly message the seller and negotiate the terms. All of that right from your computer screen. Want to lease containers instead? That's no problem with our online leasing platform.
Step 5: Hire a container surveyor
Reaching out to a surveyor is mostly relevant if you want to lease your shipping containers.
A container surveyor usually conducts inspections, surveys, and examinations of container equipment either before or after a company leases a container to make sure the container is in the desired condition.
This is often something the leasing companies make sure to do, a way of insuring themselves. If you want to learn more about the different inspections a container surveyor offers, have a look at this in-depth blog article.
Step 6: What does a shipping container cost?
The price of a container depends on many of the choices you've made in the previous steps. The container type, container grading, and also where you need them. Because there's a built-in container imbalance in world trade. The major demand for export containers in China and across Asia means that these countries often face a deficit of containers, as Asia has an export that exceeds its import. They, therefore, often don't have enough containers available.
So, if you want to buy a container in, for instance, Shanghai the cost will be higher than if you were to buy one in Hamburg, Germany.
But let's have a look at some average prices:
A used shipping container can cost you in the range of US $1,500 – US $5,000. Here the location also plays a crucial part in the pricing. New and one-trip containers, on the other hand, usually come more expensive and can be anything between US $3,000 – US $5,000.
For instance, a used 40ft shipping container can cost around US$1,400, whereas a new or one-trip 40ft container can cost around US$3,500.
Step 7: Transport the container
You can now officially call yourself a container owner – congratulations! But with your new metal boxes, you need to figure out how to transport them. That means scheduling, booking slots on the vessel, trucking, and transport by rail.
If you're planning on shipping your containers empty, we'd like you to think twice. Because why should you spend more money on the empty repositioning of your new containers, if you can get someone to move it for you – and then you don't have to pay anything?
You might want to consider using your container as a one-way container. Let's say you need to move your box from e.g., Los Angeles, the US, to Shanghai, China. This means that a container user leases the shipping container for that one journey. And that's a situation where you both win.
The container user gets cargo moved, and you get your container to where you need it. To make it even better, the container user pays for the shipping of the container. Meaning you don't have to pay anything to get your container to your preferred location.
Intrigued? Learn all about one-way containers and leasing in this expert piece.
If you're more of a visual learner, don't worry, we've got a solution for that too. Watch our video guide for a better understanding:
Buy a shipping container with a few clicks
Now you've been through our how to buy a shipping container guide. You might have realized that buying shipping containers can be a bit of a mouthful. And, truthfully, it's not always easy to find the containers you need, in the right location, at the right price.
But we, at xChange, want to make it easier to buy and sell containers worldwide across 2,500+ locations. So once, you've decided which container type, grading, and locations you want your containers in, we're here to help.
With Container xChange you get access to containers worldwide. And the owners of these containers have all been vetted and checked, minimizing the risk of you being cheated out of your money.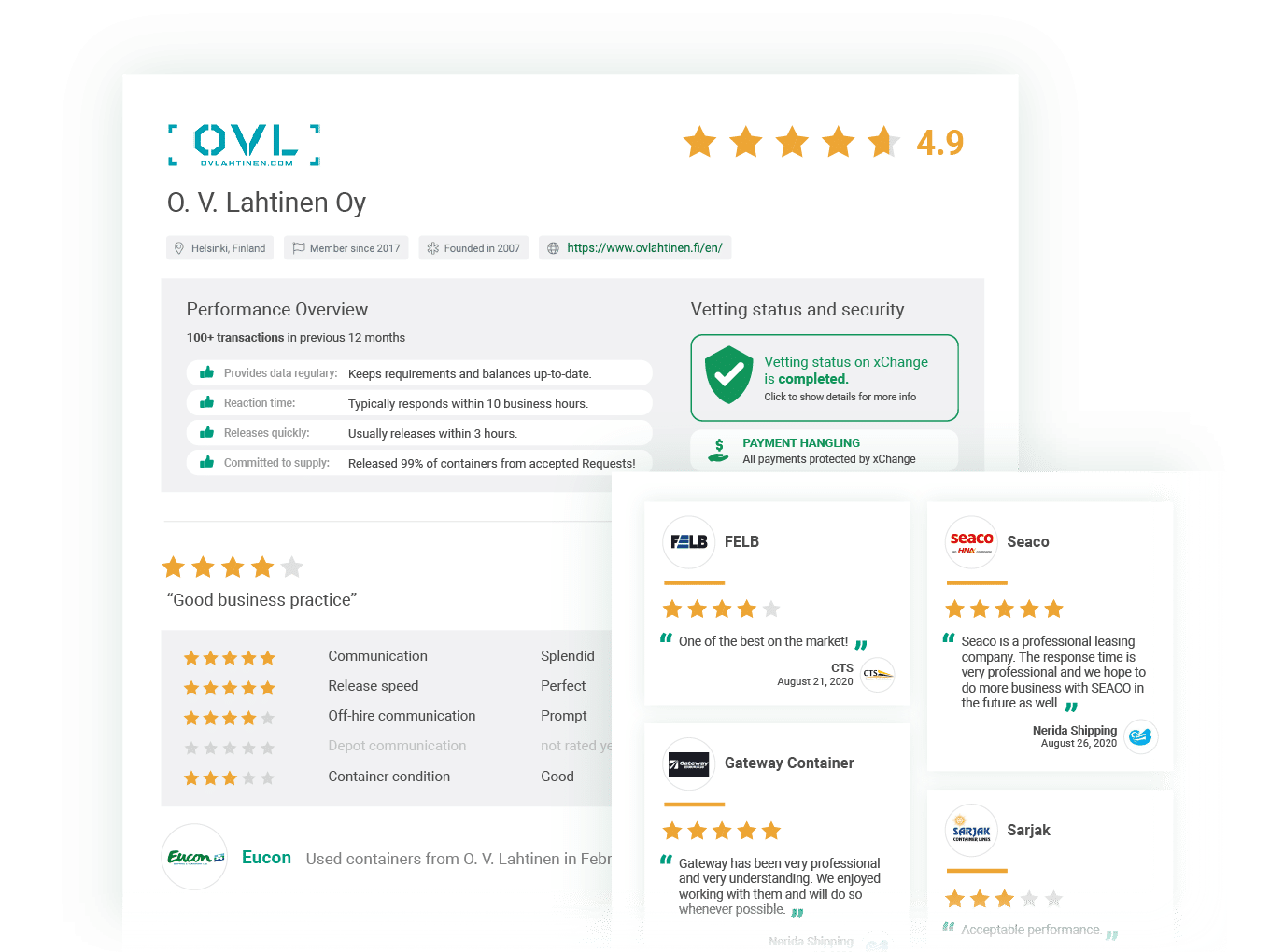 Use xChange to buy containers without any hassles
Do you want to buy a single container? Then have a look at our basic membership, which is ideal for one-time buyers.
Is it, on the other hand, a part of your business to buy and sell containers? We've also got an offer, you don't want to miss!
For just US$190 per month, you get unlimited access to the platform and its 1,500+ members. As a Professional member of the trading platform, you can:
Find vetted partners and make deals. Riskfree.
All companies undergo a mandatory vetting process before becoming members. This means, that you can do business with all xChange members. Risk-free. On top of this, all companies also have public profiles. Here, you can see reviews from previous partners – and how they've rated them. Want an extra layer of security? Keep on reading!
Make 100% secure transactions
Not only, does xChange ensure that all sellers are vetted. We also protect the buyers. So, you don't have to worry about paying and not getting your assets. Our dedicated Customer Service team makes sure that your container operations go smoothly. And that your payments are completely secure.
Know market cost and get better price on containers
Find the containers that fit your needs – and compare prices with other offers. On the trading marketplace, you get a full overview of available containers. And you can see what other sellers want for their boxes. Not satisfied with the price? Text the seller right on the platform and agree on a price right then and there.
Choose between 10,000 boxes and make unlimited deals
Do you need a container type that you can't find in your current sourcing channels? Don't worry. With over 10,000 containers located across 2,500+ unique locations, Container xChange makes it easy for you to find the containers you need.
You get all this right from your computer screen and much more for just US $190 per month. Want to see how you can do business with companies such as Trident, SeaCo, and SeaCube?
Then click on the banner below and book a free 15-minute tour of the platform with our expert team.
Summary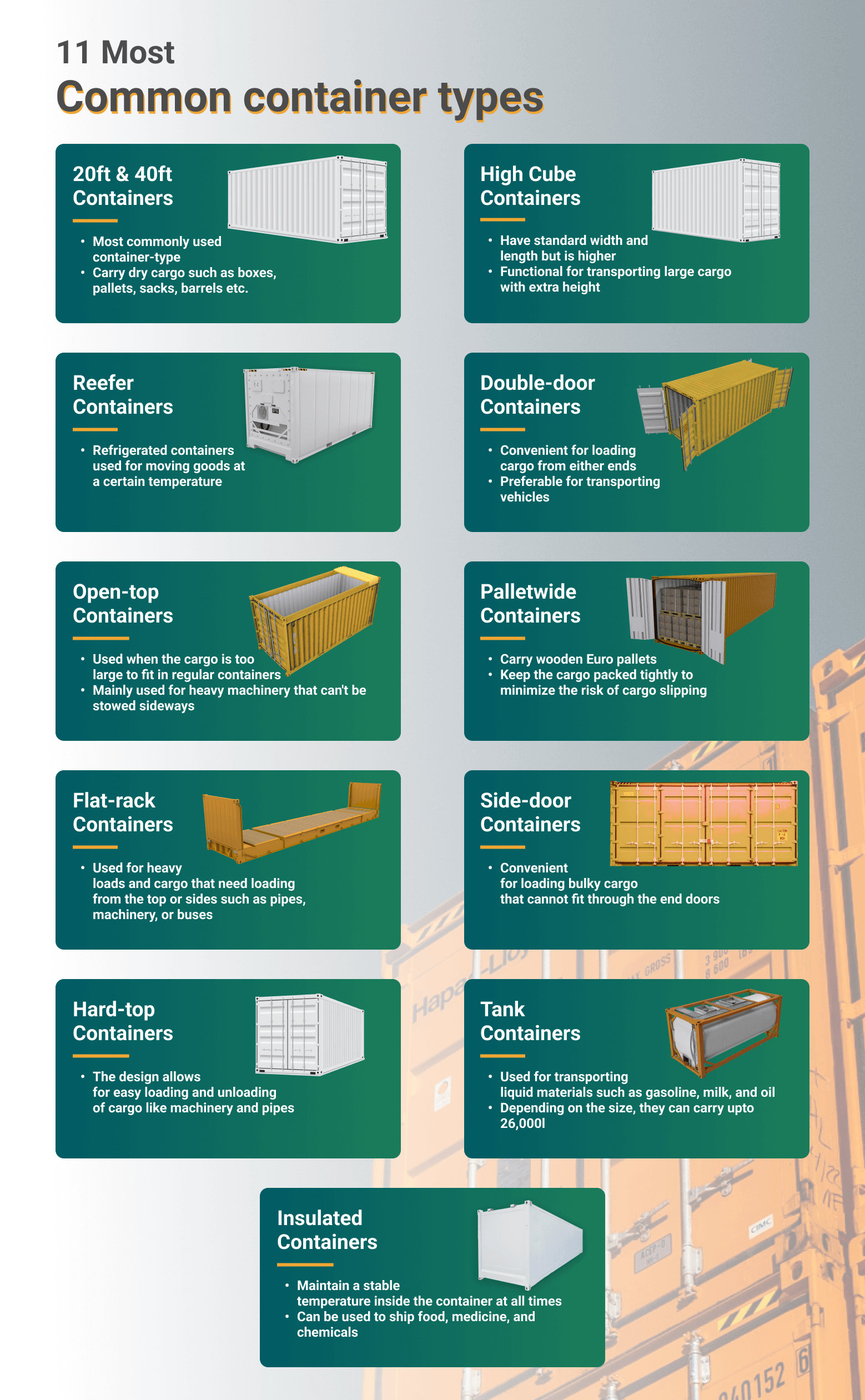 Article Name
Want to buy a shipping container? Here's how [+ detailed 7-step-guide]
Description
Get our step-by-step guide on how to buy a shipping container before you start handing out your money. It might save you both time and money.
Author
Publisher Name
Publisher Logo