Buying a shipping container can seem like a tedious process and can get overwhelming. But we're here to help. Read this blog for a step-by-step guide on how to buy a shipping container. Or, click here to learn how 1,500+ companies are buying containers globally. 
What do you do when you have to buy a shipping container? Well, you may contact your local broker or your regional network for container deals. But in this way, you can never be sure that you're paying the right price. With the lack of transparency in the industry and the huge cuts taken by middlemen – you may end up paying a lot more for a container than the current market price. 
So how do you buy containers at the best price? At Container xChange – the leading online marketplace to buy, sell or lease containers.
On our online container trading platform, you can find containers in 2500+ locations globally within seconds from vetted members. Our platform makes it possible to find container deals, compare and negotiate container prices – all in one place. And we do it without charging any commission. 
Want to find the best container deals? Simply use the trading search below by filling in your desired container type and location. Then, you can choose the deal that's within your budget easily!
0 sales offers found
Currently no match for your search
Change your search criteria or fill out the form below to get notified via email when there is a new match for you on xChange!
Gate-buy
How to buy a shipping container in 7 steps
There are 12 types of shipping containers you'll find for your cargo shipping needs. Every container comes with different conditions and gradings, depending on its usage and structure. So, knowing which container to choose and how to purchase it  is very important. 
That's why we've curated 7 simple steps for you to follow to buy a container of your choice. These steps will help you understand your needs and make an informed choice before you shell out thousands of dollars.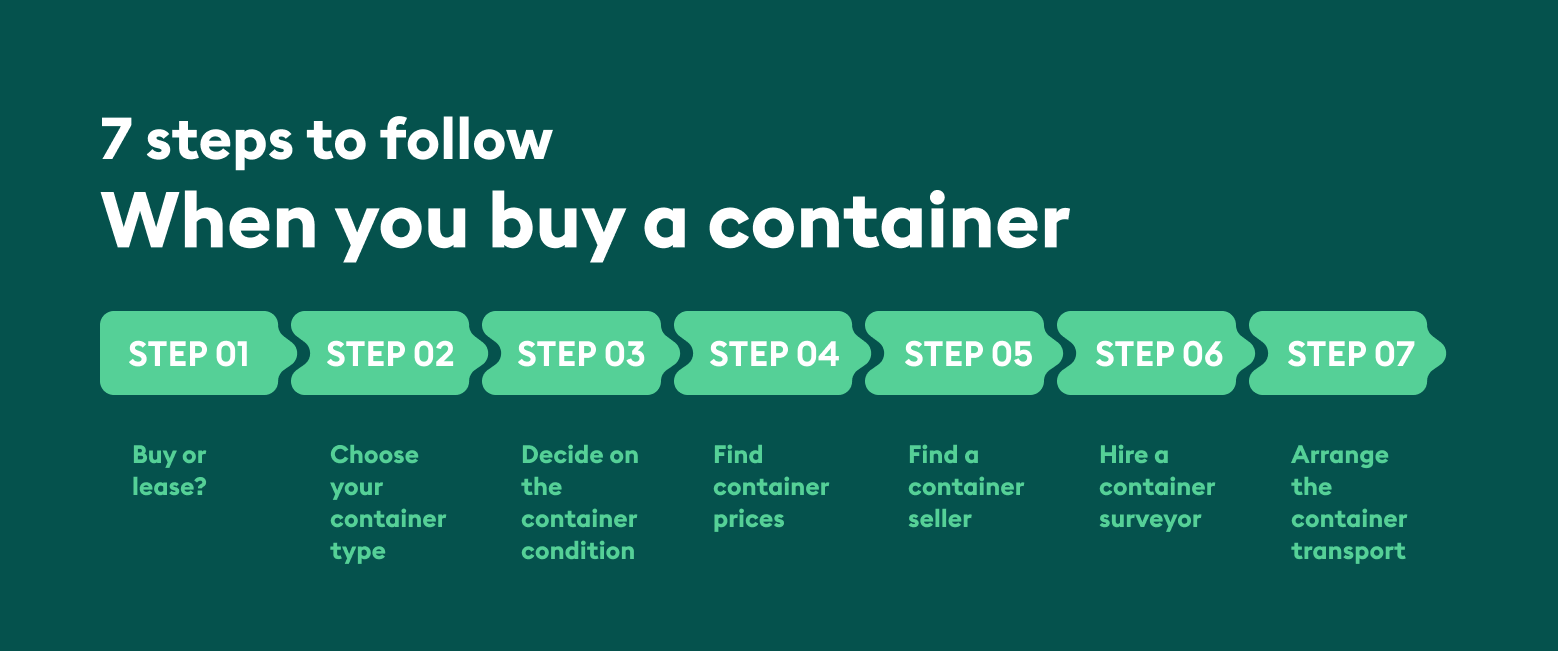 Step 1: Should I buy or lease a shipping container?
The first thing you need to be completely sure about is whether it makes sense for you to actually buy the shipping containers or lease them. That decision depends on your situation.
Let's have a look at some of the different scenarios for you to consider.
If you only need a few containers for storage, being a container owner makes sense. The same goes:
If you need containers for an indefinite period

Use containers frequently

Don't need too many of them
When you buy a container, it's important that you're sure you'll use the container for a long time. This is because you'll make a one-time upfront payment. However, you can recover it later by selling it in the second-hand container market or even using it for other purposes. Buying a container is a good investment if you have the money to purchase one. Want to buy a container at the best price? Click here to check out container deals in your location.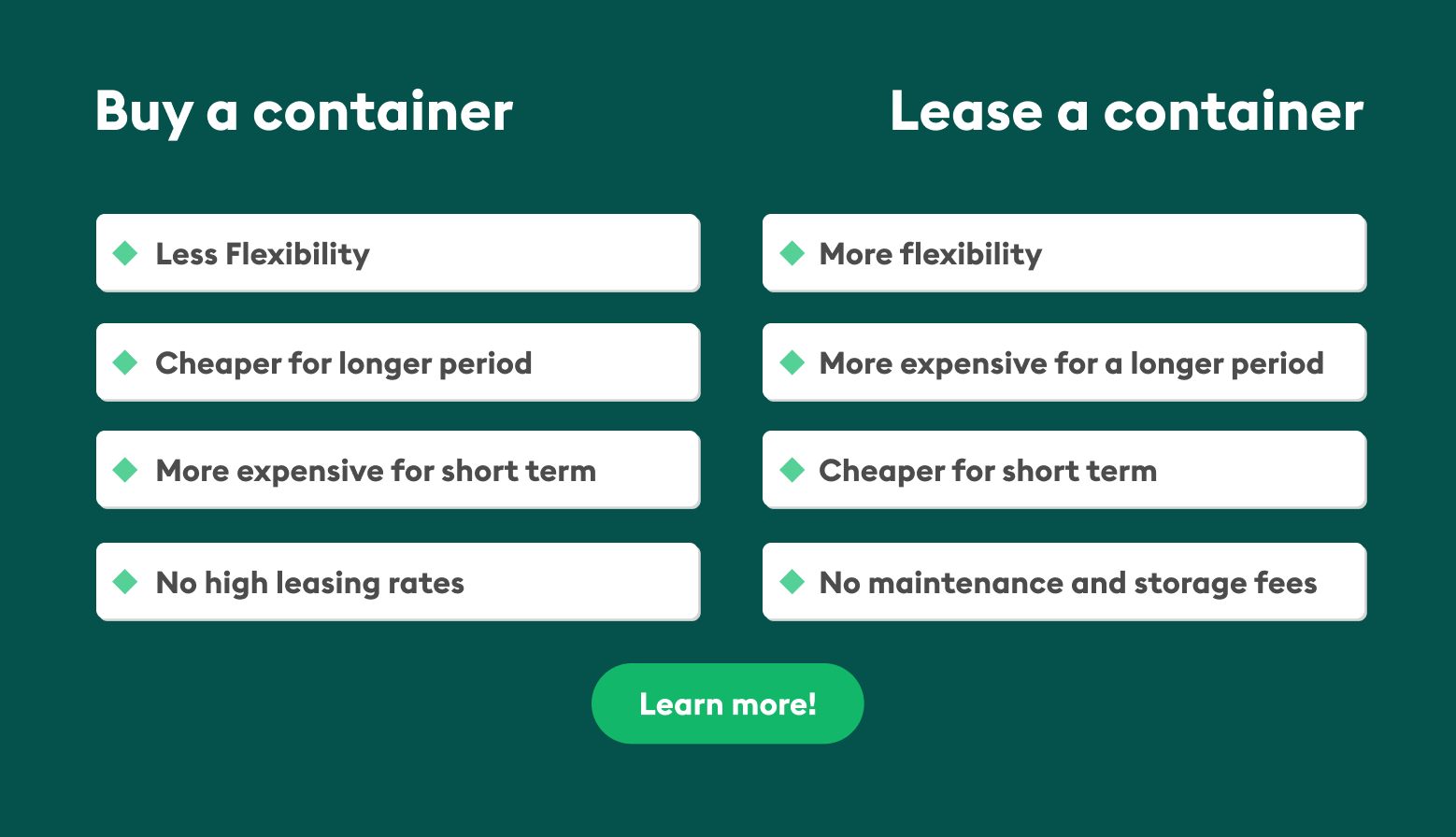 On the other hand, you might only need to use a small number of containers. You could also be in need of a large number of containers, but only for one way. Or simply need the containers for a short period of time. 
If you find yourself in any of these situations, leasing a container would be the best option for you. And you should also consider a one-way lease. When you lease a container, it's cheaper in the short term than when you buy. Because here you only have to pay the leasing rate. However, in the long term, the cost of leasing the container can add up to become even higher than what you'd pay for a used container. 
If any of these points resonate with you, then you can look for one-way containers for lease here.
[Not quite sure whether you should buy or lease the containers? You can learn more about the pros and cons of leasing and buying shipping containers right here in this blog article]
Step 2: Which container type do I need?
Now that you know if you should buy or lease the containers, you're ready for the next step: Deciding on which container type you need. This can feel like yet another jungle of information. But it all comes down to what goods you're shipping. 
When you start looking for containers, the first thing you need to consider is: Do I need a standard container, or does my cargo have special requirements? If you need to ship paper or other common dry cargo, a standard container can be the best solution for you. Here, you can choose between the most common container sizes: 20ft and 40ft – as well as their taller sibling, the high cube. 
But if your cargo has special requirements, there's a long row of special containers for you to choose from. If you'll be shipping foods, chemicals, or medicine, you should look into the reefer containers. Reefers help maintain a steady temperature inside the container (perfect for cold chain logistics).
Or, if you are shipping out-of-gauge or project cargo, you'll definitely need specialized containers such as flat-racks, open-tops, hard-tops, etc. 
You can get the full overview and learn more about these container types in our in-depth blog article on container types.
Step 3: Choose the condition and grading of the container
When you've figured out which container type is right for you, it's time to decide on the grading of the container. It will depend on what you need the container for. This step will make sure that your cargo successfully passes through the customs. Here are the gradings of containers:
New/one-trip:

Containers that are already used once before they reach their destination are called

one-trip shipping containers

. They have only been shipped from the manufacturer to the owner and are practically new.



Grade F (Food grade containers):

A container with an F grade is a new container – also known as a food grade. This means that the container can be used to ship foods and has not carried any toxic chemicals or products before.



Grade A:

These are new, refurbished, or used containers. They have only minimal rust and dents and are wind and water-tight (WWT). These long-lasting containers are great for transporting cargo.



Grade B (cargo-worthy):

This shipping container condition is deemed suitable for cargo transportation. So, if you have cargo to send out, this box will do the trick. Used containers also fall into this category.



Grade C  (Wind & Water-tight):

A container is wind and water-tight (WWT) if no wind or water can penetrate the container. Grade C containers would have undergone several repairs and are often used as

storage containers

.



As-is:

These are damaged containers that have been taken out of commission in the shipping industry. They could have majority damage on the roof or walls, damaged floors, bad seals, doors that are difficult to open, or structural damage.



Step 4: Find out how much a shipping container costs
The next and most important factor you need to pay attention to is the shipping container price. Knowing the price beforehand can help you negotiate better deals with sellers. Here are the prices of 20ft and 40ft standard containers in popular locations.
Standard container prices (cargo-worthy) 

Location
20ft
40ft

China

$1647

$1850

USA

$2136

$2700

India

$1471

$2235

Europe 

$1625

$1800

UAE

$1340

$1903
Now that you know the average current prices of containers, you can easily buy containers at the best prices. But container prices fluctuate regularly and depend on a variety of factors like location or container type. 
That's why it's important to keep track of prices, especially if you're part of the shipping industry. One easy way to do this is to use xChange Insights. With this tool, you get current container prices in 110+ locations globally. All you've to do is submit your location and the container type. 
With Insights, you can also see the price development over weeks, months, and years. This gives you a better understanding of the container market price cycle and helps you determine the best time to buy equipment.
Pro tip: Using Insights, you can buy containers at a lower price and later sell them in locations where the prices are high. This way, you're maximizing your profits by simply being aware of the market prices. Want to get started? Click here to ty Insights for free now!  
Step 5: Where to buy a shipping container?
Around the ports, there are usually plenty of container suppliers. So if you want to buy a shipping container, that's one place to look. You can also find containers through local container brokers, who have regional networks to find the containers you need.
However, as easy as it can be to find the containers closer to the ports, it also has its downsides. The pricing can be higher given the ease of accessibility and lack of transparent deals you can make. This gives you little chance to know the reasoning behind the price and added fees. 
The other solution you might then consider would mean you spending hours sending out email after email, hoping that someone in your network knows someone who might have containers for sale. 
But it also doesn't have to be that difficult. You can simply become a member of Container xChange and find the best match for yourself through a tap on the screen. Simply state your container requirements and location, then you'll get multiple deals to choose from. Connect with 1500+ vetted members in 2500+ locations to buy containers online at the best prices.
Plus, we offer 100% market transparency and don't charge any commission on your deals. (We bet it doesn't get easier than this!) So click the banner below and buy containers at the best prices.
Step 6: Hire a container surveyor
Reaching out to a surveyor is mostly relevant if you want to lease your shipping containers. 
A container surveyor usually conducts inspections, surveys, and examinations of container equipment either before or after a company leases a container to make sure the container is in the desired condition.
This is often something the leasing companies make sure to do to insure themselves. If you want to learn more about the different inspections a container surveyor offers, have a look at this in-depth blog article.
Step 7: Transport the container
Once you've purchased the container at the right price, it's time to figure out how you'll move your box to your location. This means figuring out the scheduling, booking slots on the vessel, trucking, and transporting by rail.
If you're planning on shipping your containers empty, we'd like you to think twice. Because why should you spend more money on the empty repositioning of your containers if you can get someone to move it for you – and then you don't have to pay anything?  
You might want to consider using your container as a one-way container. Let's say you need to move your box from Los Angeles, the US, to Shanghai, China. This means that a container user leases the shipping container for that one journey. And that's a situation where you both win.
The container user gets to move the cargo and you get your container to where you need it. To make it even better, the container user pays for the shipping of the container. Meaning you don't have to pay anything to get your container to your preferred location.
But how do you find partners who want to ship cargo through the same route? At Container xChange! Through our leasing platform, you can put up leasing offers and find vetted members to move your box. Click here to check out how you can put up leasing offers yourself.
Buy containers in a few clicks with Container xChange 
If it's a part of your business to buy and sell containers regularly, we've got an offer you don't want to miss! By choosing Container xChange you can: 
Find vetted partners and make deals. Risk free:

All companies undergo a mandatory vetting process before becoming members. This means you can do business with all xChange members. Risk-free. On top of this, all companies also have public profiles. Here, you can see reviews from previous partners – and how they've rated them. Want an extra layer of security? Keep on reading!



Make 100% secure transactions:

Not only does xChange ensure that all sellers are vetted but we also protect the buyers. So, you don't have to worry about paying and not getting your assets. For this, we keep your money on hold with us for 7 days to ensure you get your containers. Our dedicated Customer Service team makes sure that your container operations go smoothly. And that your payments are completely secure.
Choose between 50,000+ boxes and make unlimited deals:

Do you need a container type that you can't find in your current sourcing channels? Don't worry. With over 50,000 containers located across 2,500+ unique locations, Container xChange makes it easy for you to find the containers you need.
You get all this right from your computer screen and much more with xChange. 1500+ companies such as Trident, Seaco Global, and SeaCube are already finding value on xChange. Learn how you can get the best deal for shipping containers. Book a free tour of the platform with our expert team by clicking the banner below.
How to buy a shipping container: Common FAQs 
How much does a shipping container cost?
The average price of standard container can be anywhere between $1500 to $2500. It depends on the size, location and condition of the container.
What is the average price of 20ft shipping container?
The price depends on the container's condition and location. However, it can be anywhere between $1300 to $2000.
How to purchase a shipping container?
To buy a shipping container, you should first choose the right container type and size. Then find out the average prices and look for sellers in your location.
Summary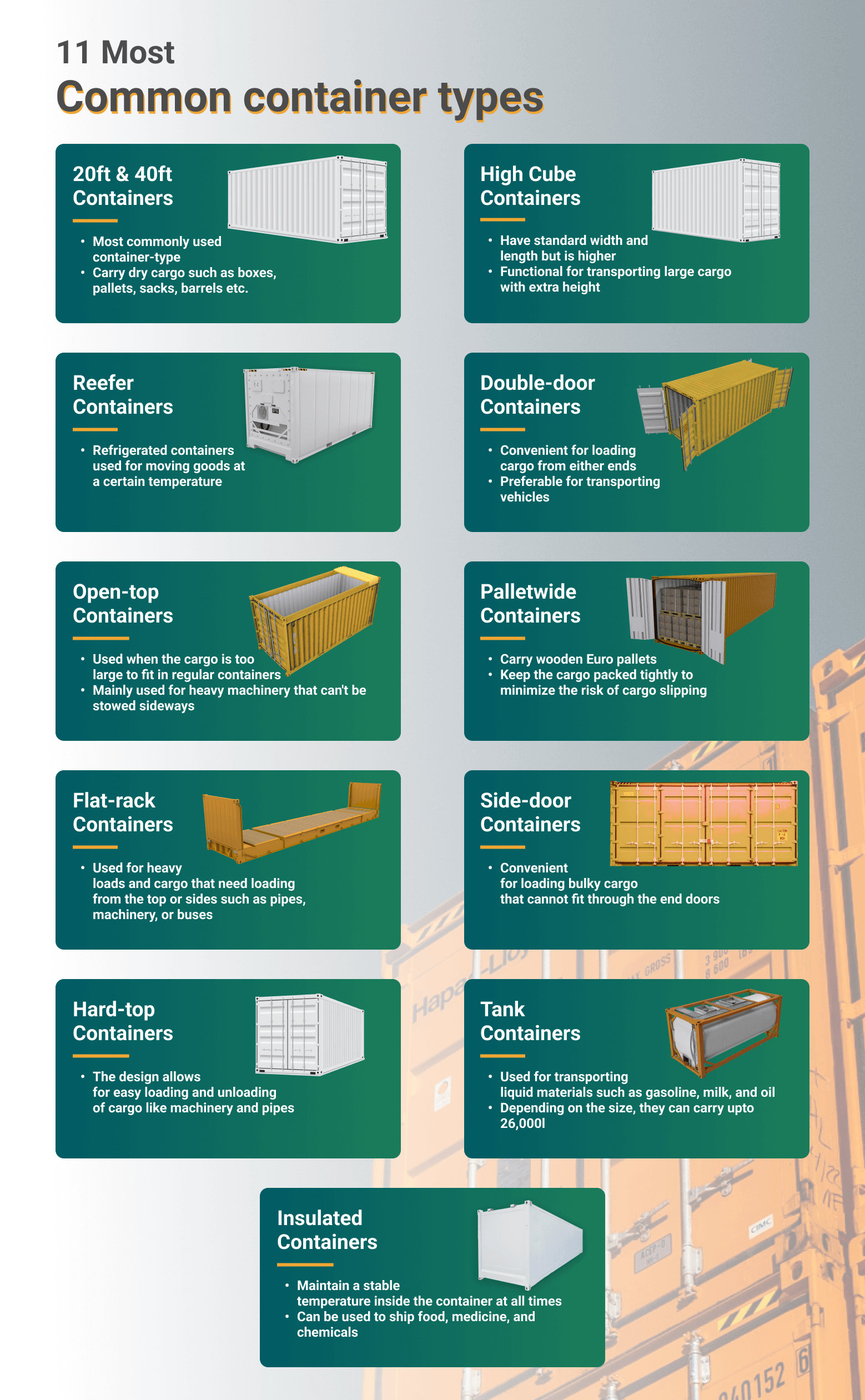 Article Name
How to buy a shipping container: Best guide 2023 [+prices]
Description
Here's your step-by-step guide on how to buy a shipping container to save you time and money on container deals.
Author
Publisher Name
Publisher Logo