Last updated: October 10, 2023
According to the IMO, over 90% of world trade is carried by sea. This makes shipping routes a critical aspect of trade. In this blog, we explore 5 of the world's major (busiest) routes. And you also learn how you can save money on these stretches in the easiest way with Container xChange.
The shipping industry is responsible for the import/export of raw materials, manufactured goods, fuel, and a whole host of other goods around the world. With most global trade being carried by sea, shipping is the pivotal point of world trade.
Thus, it's important that you keep yourself up-to-date about the major shipping routes around the world. Because the routes you pick will ultimately affect the time frame of your cargo reaching its final destination and the overall cost.
Curious to know the busiest sea routes in the world? Scroll down to the next section to find out the names and locations of these shipping routes and how we can help you save money on these stretches.
But if you already have a shipping route in mind and want to jump right into getting a container for that stretch, try our public search below. The process is easy, hassle-free, and secure. All you've to do is choose, "I want to use containers", select a drop-off and pick-up location, and hit search! You can then take your pick from a list of 50,000+ containers, and 1,500+ vetted suppliers, at competitive, comparable, and negotiable prices. You won't find benefits like these in your other sourcing channels. So seize this opportunity today and grab great offers on your box in just a few clicks.
What are the top 5 busiest shipping routes in the world?
The 5 major shipping routes for global trade are:
The English Channel (Europe-UK)
The Panama Canal (Asia- US)
The Suez Canal (Asia- Europe)
The Danish Straits (Russia- Europe)
The Strait of Malacca (Intra-Asia)
Let's explore them in detail below
The English Channel (Europe-UK)
This is the busiest sea route in the world, it connects the North Sea and the Atlantic Ocean. It's an important trade link between Europe and the UK. More than 500 ships pass through this channel daily. It also has the world's busiest shipping lane. This route facilitates the shortest time for transit, cutting transport time from 210 minutes to 90 minutes. The harbor of Dover, on the British side of the strait, and the harbor of Calais on the French side are two of the world's busiest harbors. This adds to the high activity of vessel movements on this route.
Get your box at the price you want to pay on the xChange platform and send your freight across The English Channel to get it to its final destination in less than half the time.
The Panama Canal (Asia- US)
The Panama Canal simplifies major trade processes between Asia and the US, with Asia – East Coast US being its busiest vessel trade route. It serves as a direct connecting point for vessels travelling between the Atlantic and the Pacific Oceans. The Panama Canal saves every vessel anywhere around 2000 to 8000 nautical miles every trip. This man-made shipping lane shortens the voyage by ~8,000 miles and cuts the 67-day transit time to just 10 hours. Close to 14,000 vessels use the route every year. Its expansion in 2016 allowed larger vessels, up to 14,000 TEUs, to pass through, which amplified the volume of cargo that travels on this trade lane.
Take note: The Panama Canal has been struggling with an unprecedented drought for months now. Due to this, current vessels on the trade route or en route are 40% lighter in load. Because of the lessening of cargoes passing this stretch, freight costs have risen ahead of the Christmas shopping season. The Panama Canal could further reduce the maximum number of authorized daily vessel transits if this year's drought continues.
Despite the drought, this still remains a major shipping route between Asia and the US. So if you have cargo that needs to be shipped to the US, you can negotiate good deals on boxes on our platform with vetted suppliers with no hidden fees.
The Suez Canal (Asia- Europe)
This is one of the world's most popular trade routes and is also the fastest and shortest sea route between Asia and Europe (Atlantic and Indian Ocean via the Red Sea). This canal cuts the 24-day transit time to just 16 hours. This helps in not just getting your cargo to its destination faster but also aids in cutting down shipping emissions thanks to shortened travel time.
It is one of the most heavily used ocean routes, with more than 100 ships passing daily. But, due to the high bulk of trade between Asia and Europe, almost all mega-ships are deployed along this route after they first enter the service. This is also one of the reasons why the 2021 Suez Canal blockage became a significant hindrance to global trade. The canal is also narrow and cannot regulate two-way traffic, causing wait time for vessels to shoot up to a week.
If you need a box to get your cargo across Asia to Europe at an exponentially fast pace via The Suez Canal, secure your unit on our platform at competitive rates right away!
The Danish Straits (Russia- Europe)
This strait links the North Sea and Baltic Sea and comprises 3 channels: The Øresund, the Great Belt, and the Little Belt. These are important points of transit for trade in Russia and Europe. The biggest share of shipments for this strait includes petroleum and crude oil.
Need to send a shipment from Russia to Europe across The Danish Straits? Choose a unit from 50,000+ boxes on our platform at comparable and negotiable rates.
The Strait of Malacca (Intra-Asia)
This makes for the shortest and largest passageway between the Pacific and the Indian Ocean. It connects three of Asia's biggest economies: India, China, and Japan to each other and other important Asian economies such as Thailand, Indonesia, Malaysia, Philippines, Singapore, Vietnam, Taiwan, and South Korea. More than 83,000 vessels use this route annually. Almost 40% of the world's traffic passes through this strait.
Do you have cargo that needs to be shipped across The Strait of Malacca? Then get a box on Container xChange at good deals from vetted suppliers today!
Impact of container availability on shipping routes charges
Now when it comes to shipping routes, pick-up charges are a good determinant for choosing a location for your containers or where to ship your cargo from. These charges vary depending on the situation in the shipping industry. One of the factors is the container availability index (CAx). Sometimes it makes sense to have containers in China, other times it makes sense to have them in Denmark. However, it can be difficult for you to predict the flow of containers.
Example: Let's take the Panama Canal route from Shanghai to New York. Now, New York is a surplus location. Which means that there are more containers there than needed. Container suppliers are therefore willing to pay freight forwarders, to move their containers to a deficit location, say, Shanghai via the Panama Canal.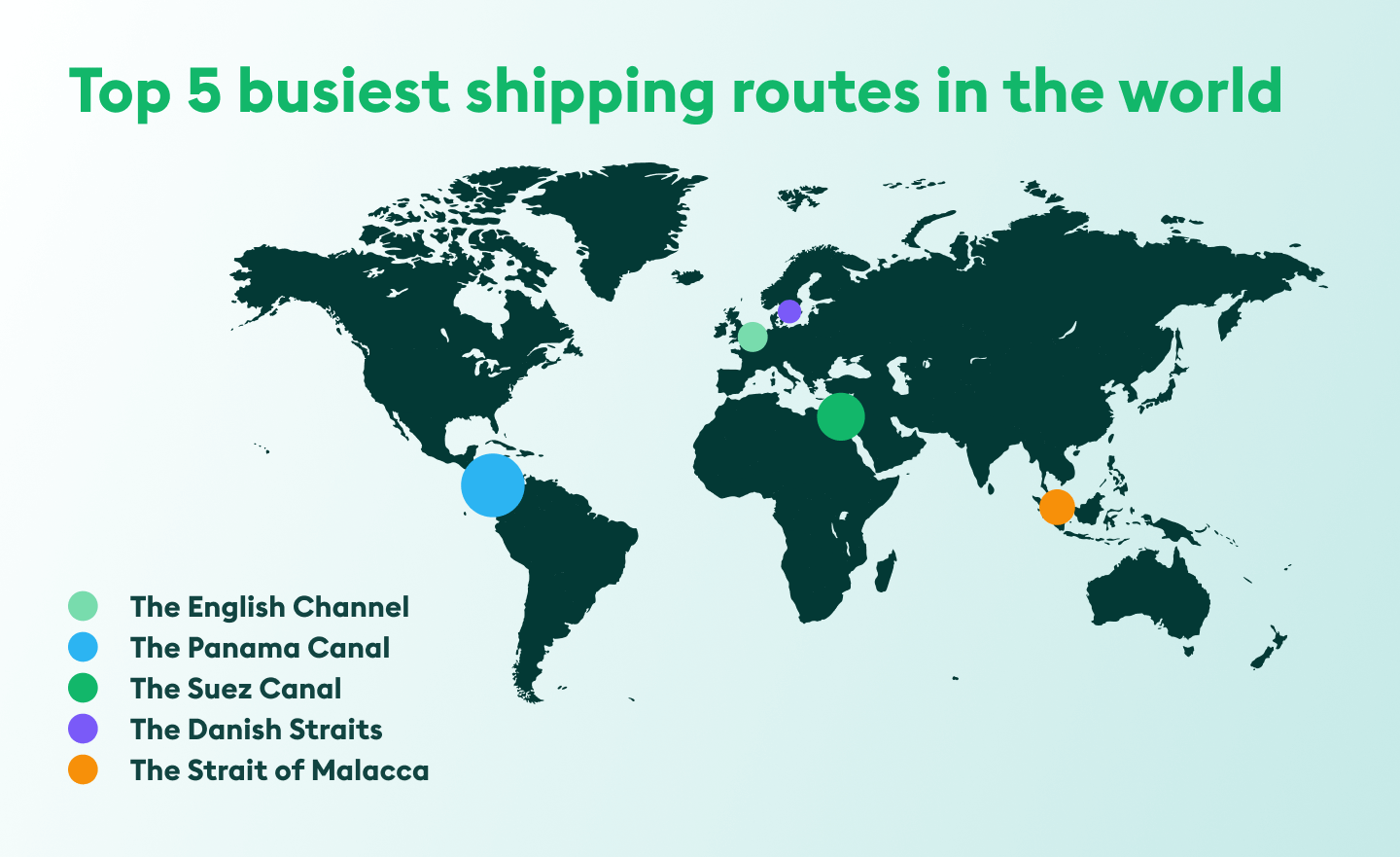 Shanghai has a high export with a lower import. This creates a deficit of containers. So, when the container arrives in Shanghai, the container supplier will be the party charging pick-up charges on routes from Shanghai. Thus, making money on the transfer. Knowing the CAx values = container availability at a port can help with lowering your expenditure by choosing routes where you can save money on repositioning containers from surplus to deficit locations.
To know more about the top 10 most profitable shipping routes for container traders read our separate blog here.

The availability of containers determines whether your company makes money or incurs losses. So, if you want to know about current market trends and happenings in the industry, and get an idea of the CAx of containers around the world, download your free copy of our report, Where are all the containers by clicking on the banner below.

Container type and shipping route charges
Apart from CAx, another thing to consider when it comes to route charges is the type of container you choose. With busy marine lanes comes a lot of traffic. For this problem, carrier-owned containers, or COC containers, are often the best solutions. In cases where the shipment originates in a high surplus area i.e., a region where trade imbalances result in an overstock of empty containers — using COC can give significant discounts on freight charges. But, on most other routes, shipper-owned containers, or SOC containers, could be the go-to choice, especially because of the control they offer on supply, ownership, and cost.
And the good news is on xChange's leasing marketplace you can lease SOCs one way at reasonable rates.
Container xChange can help you curb costs on shipping routes
Container xChange can help you out in two ways when it comes to saving money on certain shipping routes.
Monitor container availability using Container Availability Index (CAx) tool
Container xChange's Container Availability Index can help you know which containers are available in which ports. All you have to do is type in the port you're interested in and see a forecast of the availability of containers. This can help you with better repositioning of containers as well as make better-informed trading decisions. Try it out for yourself and monitor container availability at major ports before taking a trading or leasing decision.
Use SOC on the busiest shipping routes and save on D&D costs
After you've chosen a route with a good CAx you can then head over to our leasing marketplace to lease a SOC from 50,000+ boxes in 2,500+ locations worldwide from 1,500+ vetted members. You can lease the SOC for a one way move from big names such as Kuehne + Nagel, Seaco Global, and Cosco on our platform.
With a SOC you only pay the pick-up fees, you don't even have to pay any per diem fees. That's because most container owners are only interested in a quick turnaround. They, in fact, want you just to reposition their equipment. In that way, they can get the boxes moved from a surplus area to a deficit area, hence, eradicating empty container repositioning, which is otherwise an expensive affair. Once you have moved your cargo, you can sell the container again on our trading platform at a good price and help reposition them.
Additionally, by using SOC container you save a lot of money on demurrage and detention as your daily rental fees do not depend on the duration of the rental. They stay the same price per day. Also, with SOCs when you lease containers from shippers, you're under no obligation to pay demurrage and detention charges to carriers.
Upgrade your business moves with our paired benefits such as:
Knowing container availability at various ports from the comfort of your home.
Leasing SOCs at top rates for one-way moves on your preferred shipping route.
Click the banner to get started right away!

Shipping routes: Definition, history, and difference between routes and lanes
You've now found a way to save money on the next shipment on your chosen shipping route. But how about digging a little deeper into these routes' history?
You already know what a shipping route is (any waterway that vessels sail across to reach their destination). But how did they come to be? Navigators in the olden days learned to understand latitudes and ventured into the seas with only prevailing winds and currents as factors in determining shipping routes – this led to the success or failure of voyages. Then with the advent of steam propulsion wind was no longer needed as a navigational tool. Slowly as the years passed with growing technology modern shipping routes were gradually discovered.
Now, let's quickly understand how a shipping route differs from a shipping lane. Routes connect different parts of the world by sea. Whereas, shipping lanes are used for the movement of certain goods. Example: Off the California coast, oil tankers must follow shipping lanes that are farther from the coast to reduce the chances of a potential oil spill from reaching the shore. Hence, many shipping routes contain shipping lanes.
Use Container xChange's platform to save money on shipping routes
With all your knowledge gathered on shipping routes, it's time to bring you back to Container xChange's offerings. And also save you big bucks by leasing SOCs for these routes.
As mentioned earlier pick-up charges can be determined by container availability and Container xChange's (CAx) can help you see a forecast of the availability of containers in different ports and help you reposition containers and make better-informed trading decisions. After which you can come to our leasing marketplace and source your SOC one way at competitive, comparable, negotiable rates from safe vetted suppliers with a secure and easy payment handling feature the xChange wallet.
This feature generates only one consolidated bill for you to pay (so you don't have to deal with different invoices, companies, and country regulations) and securely manages all your transactions in one place.
And after you've got your container you can track its entire journey from the port of origin to the port of destination in near real-time thanks to our tracking feature. Our tracking system gives you alerts on ETAsWhat is estimated time of arrival?  Estimated time of arrival, commonly known as ETA, is a frequently used term globally to denote the time of coming. In the shipping & logistics industry, it is ... More, container rollovers, delays and misuse warnings, among various other alerts.
So, join our platform to keep a close eye on your one-way SOC container as it moves along your chosen shipping route. Also, free yourself from having to pay any charges for repositioning or D&D on Container xChange. Click on the banner below and let our expert team guide you to your box today!

Shipping routes: Common FAQs
What are major shipping routes?
The Panama Canal, The Suez Canal, The English Channel, The Danish Straits, and The Strait of Malacca.
What is a shipping route?
It is an ocean waterway used by large vessels to connect major ports and carry cargo.
What are shipping routes used for?
Shipping routes both natural and man-made are used by large vessels to connect to major ports and carry cargo.
Summary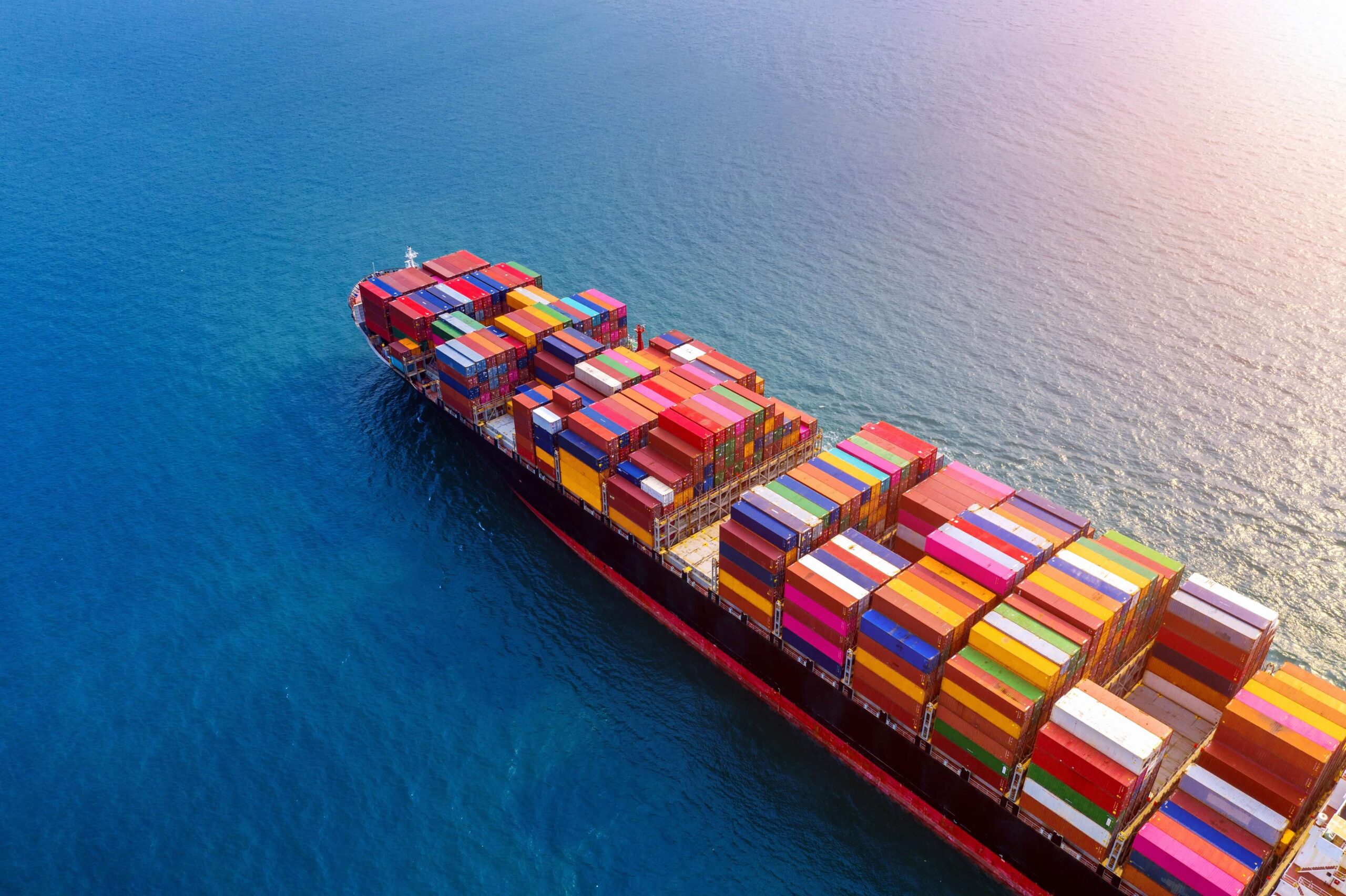 Article Name
5 major shipping routes [+how to save money on these routes]
Description
Here are the 5 major shipping routes for international trade, along with tips to save money on these stretches.
Author
Publisher Name
Publisher Logo