Does your customer require you to send out their shipment to one of the busiest ports in the US? Get to know all about the busiest ports here so you can plan ahead and get the best container leasing rates. 
Around 90% of world trade is carried out by the sea. For thousands of years, shipping has been the most effective method to move large amounts of cargo across the globe. Massive ships enable thousands of containers to be transported through various ports in the United States. 
With the improvement in international trade relations, an extension of established trade routes and the construction of larger ships, marine transport has seen tremendous growth in the recent past. The number of ports along the US coastline have increased significantly, and they now make it easier to receive and export a wide variety of goods.
However, sending shipments to the busiest ports in the US means that you'll be paying high freight and container leasing rates. This is because with an increase in demand in busy locations, the leasing rates also increase. 
But you can choose which can be the best container leasing option for you by browsing through the offers on Container xChange – a global marketplace to lease, buy or sell containers. 
Just fill in your container requirements in the public search below. Browse through multiple pick-up charges for SOCs and choose the best one. You can connect directly with the supplier and even negotiate for better leasing terms on the platform itself! 
The top 10 largest and busiest ports in the US
Before we get into details of the busiest ports in the US, here's an overview of each of these ports.
| | | |
| --- | --- | --- |
| Port | TEUs handled 2022 | Percentage difference since last year (2021) |
| Port of New Jersey and New York | 9,493,664 | +5.7% |
| Port of Long Beach | 9,133,657 | -2.7% |
| Port of Savannah | 5,763,711 | +8% |
| Port of Los Angeles | 10,663,636 | -14.59% |
| Port of Norfolk | 3,703,230 | +5.1% |
| Port of Seattle | – | – |
| Port of Houston | 3,482,385  | +16% |
| Port of Charleston | 2,850,000 | +12% |
| Port of Oakland | 2,337,125 | -4.5% |
| Port of Miami  | – | – |
Port of New Jersey and New York 
The Port of New Jersey and New York makes up the primary port on the east coast of the US. At the end of 2022, the port surpassed the Port of Los Angeles to become the busiest port in the US. The amount of cargo coming into the Port of New York and New Jersey is up by 5.7% since 2021. The port authorities say that the port has been able to handle the extra cargo with no delays and is not looking to give up on any new business. 
Port of Long Beach 
The Port of Long Beach handled 9,133,657 TEUs in 2022 but is now seeing a -2.7% decrease in its volume. The port is popular for its environment-friendly safety operations, making it one of the most sustainable ports in the world. It has six terminals and handles 2,000 vessel calls on average. The exports at this port include cotton, meat, grocery, bulk grain, dairy products, hides, and skins. Imports include beverages, beer/ale/wine, frozen and canned fish, and meat.
Port of Savannah 
The Port of Savannah and the Port of Brunswick come together to form Georgia's chief shipping ports. If you have any shipments to be sent out to Georgia, then this port is the way to go. There are two terminals here: the Ocean City terminal and the Garden City terminal. The Port of Savannah moved 5.7 million TEUs, growing cargo volumes by 8% in 2022, or 432,000 additional TEUs compared to 2021. If this growth continues, the port will surpass the Port of Long Beach as well as the Port of New Jersey and New York. 
Port of Los Angeles 
For the past 22 years, the Port of Los Angeles has been the busiest container port in North America, moving around 10 million cargo containers. The port mainly handles cargo from Transpacific trade. However, this port also faced a lot of port delays and congestion. Ultimately, shippers and freight forwarders moved their shipments to the east coast to avoid paying high leasing rates and to make sure their shipments don't get stuck at ports. That's why although the port handled 10 million TEUs in 2022, it's now experiencing a 14.59% decrease in container volumes. 
Port of Norfolk 
The Port of Norfolk is located in Virginia. It has a TEU capacity of 3,700,000. The port is made up of three sections: The South Terminal, the North Terminal, and the Central Rail Yard. The port's largest trading partner is China. The exports here consist of soybeans, grain products, cereal, flour, bulk grains, and tobacco products. The imports here consist of coffee, vodka, bitters, brandy, cognac, vegetables, and nuts.
Port of Seattle 
The Port of Seattle works together with the Port of Tacoma. Terminal 86 in the Seattle port is known for its futuristic automated grain facility. If your company needs to send out a shipment of grains, rest assured your cargo will be in good hands. Because this terminal is responsible for transferring grains from transport vans to silos. After which, the grains are moved to cargo ships for shipping. 
The Port of Tacoma is a deep-water terminal and hence, it can hold large cargo ships. The primary exports that leave these ports are mostly agricultural, while imports range from vehicles to clothes and toys to various kinds of equipment.
Port of Houston 
Are you sending out a shipment to Texas? Well, you can have it sent to the Port of Houston, which has seen a lot of growth over the years. It had a TEU capacity of 3,482,385 in 2022. Some of Houston's major exports include wood, fertilizers, iron, and steel. However, its primary exports are petroleum, mineral products, oils, and plastics. In terms of imports, there's palm oil, ethanol, kerosene, juices, milk, and wine.
Port of Charleston
The Port of Charleston handled 2,850,000 TEUs in 2022. If you want to avoid paying tariffs on goods, take note that this port has its own free trade zone, which distinguishes it from other ports. All cargo entering and leaving this port can be freely imported and exported because no tariffs are attached to them. The top commodities here are focused on machinery parts, furniture, chemicals and textile apparels. 
Port of Oakland
If your company needs to send out a shipment to California, you can choose the Port of Oakland. It has a TEU capacity of 2,337,125 and is an important port for US agricultural exports. Imports here include apparel, consumer electronics, consumer goods, glass, and a variety of household items. The Oakland port exports lots of dried fruits and nuts, wine, and other beverages as well.
Port of Miami 
Lastly, the Port of Miami handled 1,114,900 TEUs in 2021, making it to our top ten list. Did you know that it's the only south-eastern seaport that is able to house Neo-Panamax vessels? This is because it has the deepest shipping channel of all south-eastern seaports. The exports here are grapefruit, citrus fruit juices, poultry, dairy products, bitters, brandy, and cognac. Imports include fruits, vegetables, frozen fish, shrimp, prawns, wine, and vodka.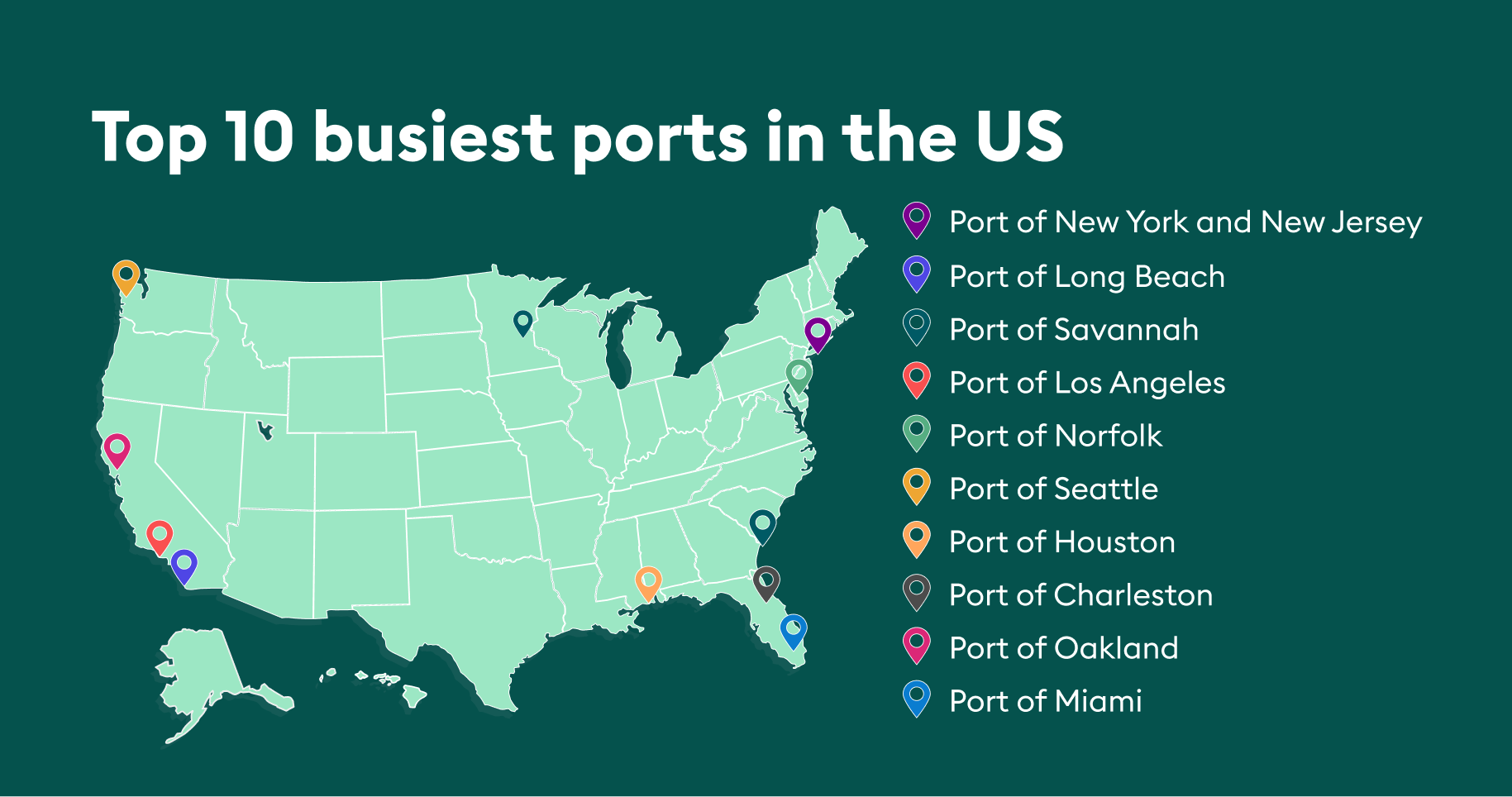 Why are these the busiest ports in the US?
That was a long list of the busiest ports in the US! Let's take a step back now from the individual ports and get a quick understanding of what makes these ports so busy.
For one thing, the US has a lot of influence over global trade due to the country's power and wealth. This is why the ports here serve as massive economic trade hubs with extensive global importance. The country, as a whole, has a lot of transactions of goods through a massive number of imports and exports – no wonder there are so many busy ports here. In fact, the US is now also establishing itself in the container manufacturing industry. 
Another factor contributing to the busy ports goes back to history. The US has made very good use of its waterways for centuries. Years ago, there were many projects carried out all along their rivers. So, they had ports along the coastline and several jetties and ports along the river. Which meant that the number of ports increased. 
With the increase in imports and exports, and the participation in international trade, US ports became some of the busiest ports in the world. 
How do the busiest ports in the US impact leasing charges? 
Now you know why the ports are so busy, but have you thought about how these ports can affect leasing charges? Let's understand this better and figure out how you can get the best container leasing rates for these ports.
Let's give you a scenario – you're planning a shipment from Shanghai, China to Los Angeles, the US. Earlier, the Port of Los Angeles was the busiest port in the US and faced port congestion and port delays. As a result, the leasing charges for this port also skyrocketed. On top of that, freight forwarders would usually go way past the agreed-free days and had to pay high demurrage and detention (D&D) charges. Sometimes, these charges would add up to cost more than the container itself! 
To solve this problem, freight forwarders shifted to other ports on the east coast. By doing this, they were able to get low container leasing and freight rates. And also effectively managed their logistics chain within the stipulated free days. 
To help you understand better, take a look at the graph below which we've gathered from xChange Insights.

Here you can see the one-way pick-up charges for SOC containers at the Port of Los Angeles. The rates were more than $300 back in September last year. But now, due to the decrease in TEUs at the port, the pick-up charges are around $100. 
With the help of the graph above, we can conclude that the more TEUs a port handles, the more its pick-up charges will be. 
Pro tip: You can check out the pick-up charges and free days for SOCs yourself in 130+ locations globally with xChange Insights. This will help you find the most lucrative locations to send your shipments and will in turn save you money. Click here to book a free demo of Insights today. 
How to avoid D&D charges on the busiest ports in the US
Now that you know how busiest ports can increase your leasing rates, let's understand how you can avoid paying surcharges like demurrage and detention when you're shipping goods for your clients.
One of the best ways to do so is by leasing shipper-owned containers or SOCs. Simply put, a container is considered a "SOC" when the Beneficial Cargo Owner (BCO), freight forwarder, or NVOCC organizes their own container.
Since you're sending your shipment to a surplus location, using a carrier-owned container COC, is not beneficial for you. In a busy port, there are higher chances that you'll exceed the number of free days set by the carrier. Then, you'll end up paying high demurrage and detention charges. 
By bringing your own container in the form of SOCs, you're completely avoiding the clause of paying D&D charges to carriers in case there are delays. 
Want to understand this better? Then read our latest logistics report where we actually went undercover as freight forwarders to compare SOCs vs COCs rates! In this report, we've given a detailed calculation that you can use as a reference to compare SOC and COC rates for your next shipment. 
Just click here to get your free copy of the report and get to know which big industry names are keen on SOCs and examples of one-way possible SOC moves.
Lease SOC for your next shipment to the busiest ports in the US 
Now the question that remains is how can you source SOC containers? If you rely on traditional sourcing channels you can expect it to be a tedious process. You'll have to do background checks of container suppliers, negotiate rates and terms, and set up legal agreements.
However, at Container xChange we've created a global marketplace where you can lease, buy or sell containers easily. On our leasing platform, you can simply fill in your container requirements and get multiple SOC offers to choose from. You can choose the best pick-up charges and lease containers at the most profitable rates. 
All our members are vetted so you can be sure that you're dealing with trustworthy companies. Plus, we offer 100% market transparency and don't change any commission on your deals. What's more? Well, all your payments are secure on the xChange platform as it goes through our very safe xChange wallet. 
So increase flexibility in your freight bookings and avoid Demurrage & Detention charges by leasing SOCs for one-way moves. More than 1500 companies in 2500+ locations, such as Kuehne + Nagel and Seaco Global, utilize our platform for smoother container operations. Why not join them and get SOCs at best prices? Simply click the banner below to get a free demo of our platform today! 
Busiest ports in the US: Common FAQs
What's the busiest port in the US?
The busiest port in the US is now the Port of New Jersey and New York. At the end of 2022, the port surpassed the Port of Los Angeles to become the busiest port in the US.
What are the 5 largest ports in the US?
The five largest ports in the US are, The port of Los Angeles, The port of Long Beach, the Port of New Jersey and New York, the Port of Savannah, and the Port of Norfolk.
What is the second largest port in the US?
The second largest port in the US is the Port of Long Beach.
Summary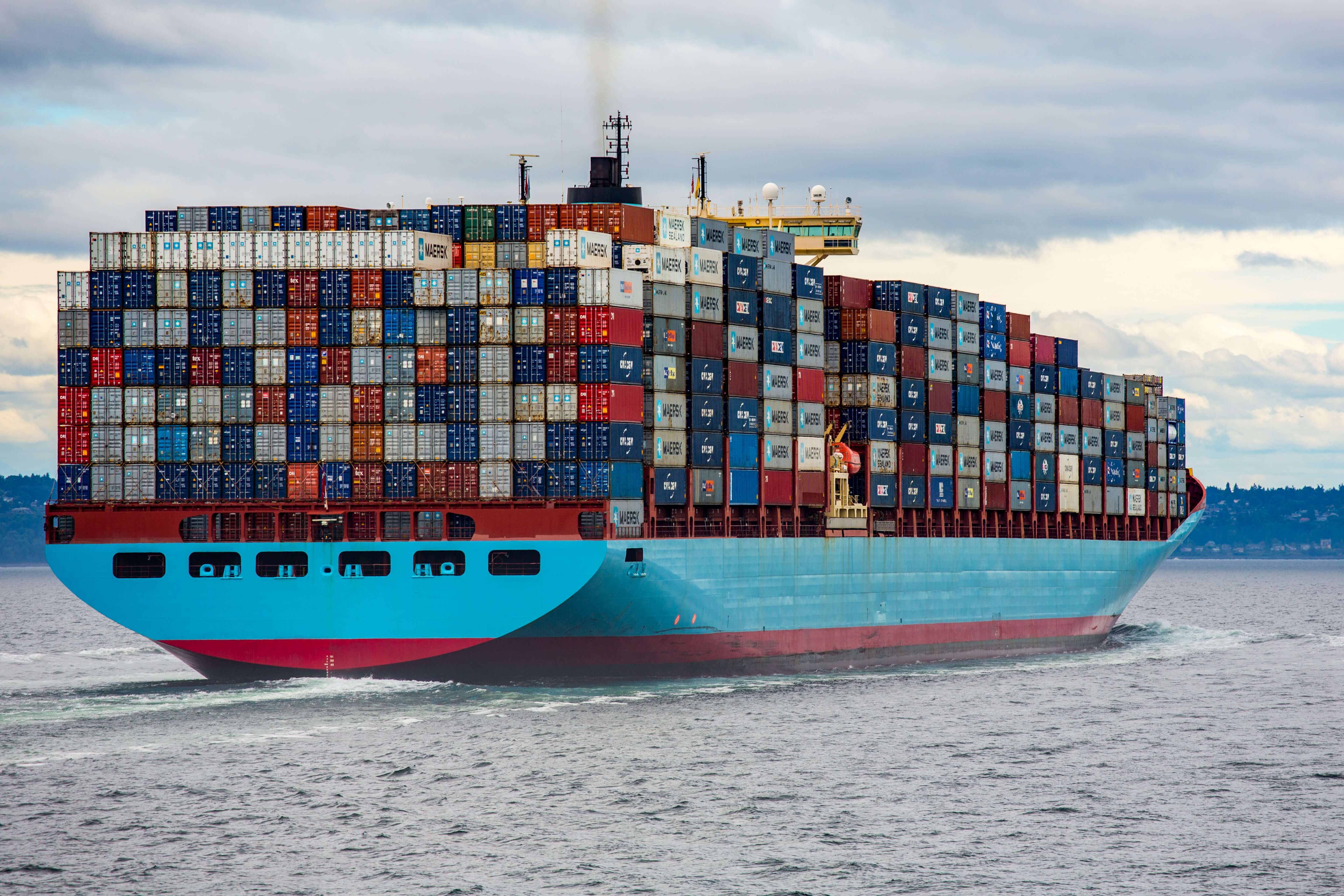 Article Name
Top 10 busiest ports in the US: [ +get the best leasing rates]
Description
Want to know the busiest ports in the US? Get the list of the top 10 busy ports, and also learn how to avoid D&D charges.
Author
Publisher Name
Publisher Logo