On the Belt and Road Initiative (BRI), more than 6000 trains made the journey from China to Europe in 2018,  which is an increase of 72% compared to 2017. Since President Xi Jinping announced the Belt and Road Initiative (BRI) in 2013,  China has sent more than 11,000 freight trains to Europe and back. Since then, more than 65 rail freight routes have been opened between China and 44 cities in 15 European countries, compared no basically any ten years ago. The growing importance of rail freight ex China to Europe is closely linked to Chinas geopolitical strategy aimed at extending its sphere of influence and has an enormous impact for freight forwarders. The faster and cheaper block trains move cargo from China to Europe, the more attractive it gets for European importers. With this article, we help you understand the Chinese Belt and Road Initiative and provide you with strategies that increase your margins and flexibility for the cargo you move ex China to Europe.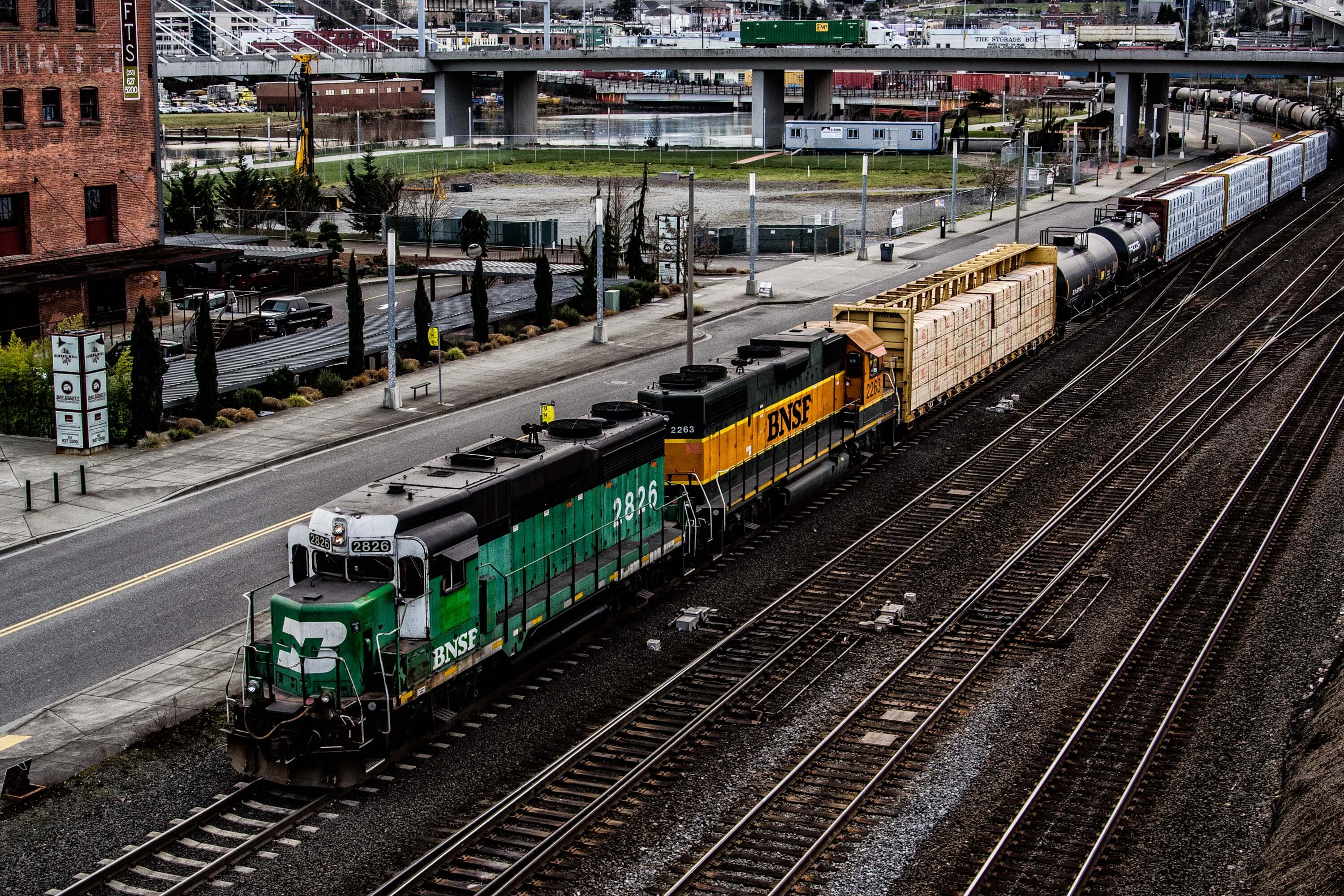 China's Belt and Road Initiative (BRI)
The original Silk Road existed between 206 BCE-220 CE under the western expansion of China's Han Dynasty and spread across the Central Asian countries. The Central Asian countries included Afghanistan, Kazakhstan, Kyrgyzstan, Tajikistan, Turkmenistan, and Uzbekistan, modern-day India, Pakistan and stretching thousands of miles into Europe. The Silk Road was a significant reason for the development of civilisations in these regions. Apart from bartering silk, they also exchange other trade items such as paper and gunpowder. The BRI is the new-age Silk Road which has plans for both land and maritime transport. It was initially called as the, "One Belt, One Road initiative" and eventually became the Belt and Road initiative.
China's multibillion-dollar Belt and Road Initiative (BRI) "is a Marshall Plan, a state-backed campaign for global dominance, a stimulus package for a slowing economy and a massive marketing campaign for Chinese investments around the world"(the Guardian). Announced by Chinese President Xi Jinping in 2013 the BRI is a global spending plan to strengthen trade, infrastructure and investment links between China and 65 other countries. The Chinese government calls the initiative "a bid to enhance regional connectivity and a brighter future", some observers see it as a push for Chinese dominance. Multibillions of dollars have already been committed or spent; China already built, for instance, a 3.2bn railway in Kenya connecting Mombasa and Nairobi. Experts estimate, that China will spend up to 8 trillion dollars as part of their Belt and Road Initiative until 2049, which is the targeted completion date.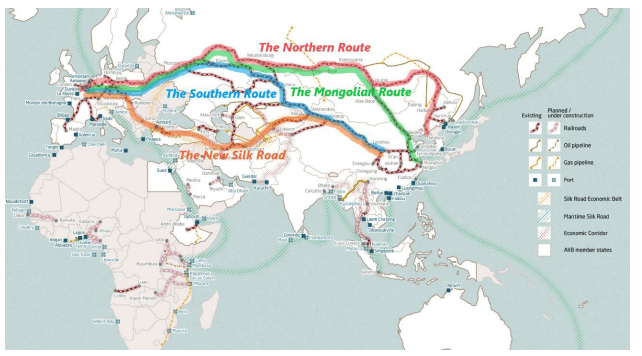 "The Belt" refers to overland routes and "The Road" refers to a maritime network of shipping lanes. Since 2013, especially the freight network across the Eurasian supercontinent has changed rapidly. Railway services did almost not exist before the Belt and Road Initiative was announced as the number of trains between China and Europe was below 100 per year. Now the Eurasian rail network has connected 48 Chinese cities with 42 cities in Europe and is still growing. But there were challenges on the way to build such a massive rail network, mainly different rail gauge and speed capacities. Most of the affected countries use the standard gauge with a width of 1,435 mm, but Kazakhstan, Russia and Belarus use the broad gauge with a width of 1,520 mm. Thus, carrying goods from China to Germany involves two gauge changes, which means, that trains must stop and containers are transloaded.
Additionally, there is a huge difference among the countries in terms of speed and capacity. To give you an example, trains travel 1100 km per day on average in China compared to just 250 km per day in Europe and carry a different number of containers. But all those challenges do not China prevent from succeeding.
As of December 2019, 152 countries are actively a part of Belt and Road Initiative (BRI), and China has been heavily investing in Asian and European countries in many industries. The industries include banking, automobile, robotics, power utility, solar farms, and ports. Below is a graphical representation from Deloitte Insights of China's investments in Europe:
Belt and Road Initiative: Transport modes compared
Rail freight transport is the usage of railroads and trains to transport cargo on land. With a transit time of approximately 16 days, rail freight is much faster than ocean freight which takes up to 45 days to reach the French port of Le Havre from China. It is more expensive than sea freight but cheaper than air freight. Moving goods by train is perfect for high-value industrial products such as vehicles, electronics and computer equipment, as well as promotional equipment that must reach their final destination as quickly as possible.
The rail freight container volume between China and Europe increased by almost 5 times from 2015 to 2017 from being almost non-existent before 2013. Nonetheless, the amount of cargo moved by train to Europe can't be compared to sea shipments. Rail only accounts for 0.11% of total TEUs moved, while sea shipments still account for 99,89% market share.
Factors that impact shippers' decisions on transport modes and shipping routes include the origin and destination location, especially their geographical location and connection to ports or transport hubs. Other important factors include cargo value and interest rate, reliability and flexibility regarding delays or disturbance risks. To give you an example, it can make a huge difference if you start in Middle or East China and go through Piraeus or Hamburg to reach your final destination Duisburg.
Send idle containers back as one-ways
Looking at rail freight ex China to Europe, there's a huge difference in the westbound and eastbound volume: 80% of eastbound containers are empty, while 89% of westbound containers are fully loaded. The Handelsblatt claims that for every two full containers arriving from China only one returns the other way. However, empty containers are a huge problem for rail freight operators as they reduce flexibility and negatively impact profit margins.
Usually, forwarders purchase railway slots directly in China but have to bring their own (shipper owned) containers as rail freight operations only provide slots. Most forwarders either buy containers in China or lease them from a leasing company – but what happens to the container in Europe? Idle time is expensive; finding someone who buys the container in Europe or organizing an empty container move back to China takes a lot of time. Selling a container in Europe means you have to buy new equipment in China again and in addition to that, it is sometimes not even possible to sell containers because of lease agreements.
With Container xChange, we can see that, for instance, FELB* uses our one-way platform to identify partners that reposition their equipment back to China, (almost) for free. The platform helps them find partners, set-up agreements, track containers and handle their payments to make empty container repositioning as simple as possible. Please don't hesitate to reach out if you have empty containers that you need to reposition to China or any other location. Our team is here to help you.
---
* About FELB:
With a stock of more than 6.300 TEU and a transport volume of more than 61.500 TEU in 2018 FELB is not only a pioneer in connecting Asia and Europe but also a Top Player in this industry. As a trusted partner of customers like BMW, Daimler, LG, Samsung and many others FELB not only stands for business stability and long term partnerships but also for ongoing optimization of business and individual solutions.


Summary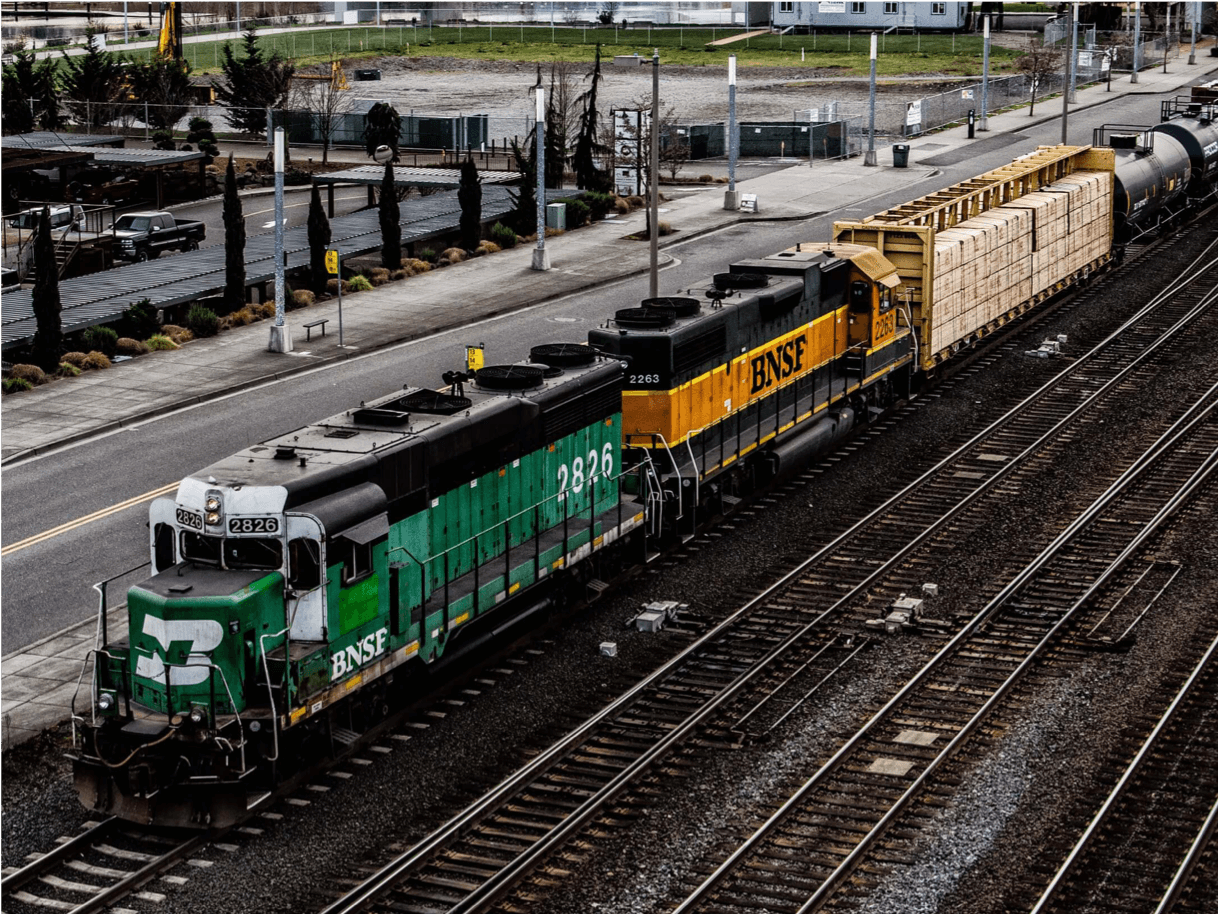 Article Name
Belt and Road Initiative (BRI) and repositioning idle containers
Description
On the Belt and Road Initiative (BRI), more than 6000 trains made the journey from China to Europe in 2018, which is an increase of 72% compared to 2017. Since President Xi Jinping announced the Belt and Road Initiative (BRI) in 2013,  China has sent more than 11,000 freight trains to Europe and back.
Author
Publisher Name
Publisher Logo