If you've decided to lease containers already, well done! The largest share of shipping containers all over the world are owned by leasing companies. And it all starts with the correct container lease agreement. At xChange, we help you with a wide array of services until you find it. And if you're looking specifically for a one-way container to lease, you've stopped at the right spot!
What you'll read about in this piece:
The 4 main types of a container lease agreement.
The uses, advantages and disadvantages of each of these agreements and when to use them.
How Container xChange offers all information about buying and leasing and has 10,000 booked containers every month.
How to avoid lengthy discussions by associating with the biggest container logistics companies on our platform.
Why should you lease a container?
Are you looking for containers for a specific period? Do you have goods or belongings that you want to store in a container to protect them from damages? And do you want flexible options for leasing containers at different of points of time? If the answer is yes, renting a container is the ideal option for you. Container leasing gives you flexibility, both in terms of how you use the container and how you plan your budget. Buying one, on the other hand, adds more responsibilities – and more costs – to your plate.
Not convinced yet? No worries! Decide better if leasing is for you and what the types of leasing are in this blog. From the conventional container to the new emerging trends like this, we bring all types of containers to you.
At xChange, we offer you hundreds of companies to lease a container from. And we recommend the one-way lease in particular if you're a freight forwarder and want a container with immediate flexibility. It keeps you prepared if your customer comes to you with an urgent request to have cargo transported.
Apart from that, we're happy to offer you all kinds of other containers in our marketplace. Besides, every company on our platform signs the same blanket contract. With the BIMCO contract, it's simpler to understand the container lease agreements. This way, you can avoid lengthy conversations with multiple other companies about contracts. You get to speak to most of them through our marketplace and we also offer price transparency. Check it out right here.
Didn't find what you wanted? Find more about lease rates here.
Types of container lease agreements
We get it, it can be overwhelming to learn all the terms associated with leasing a container. Rest assured, we share your concerns and are happy to help you understand how contracts work. Here, we'll tell you about the different types of container lease agreements and help you choose which one fits your needs perfectly.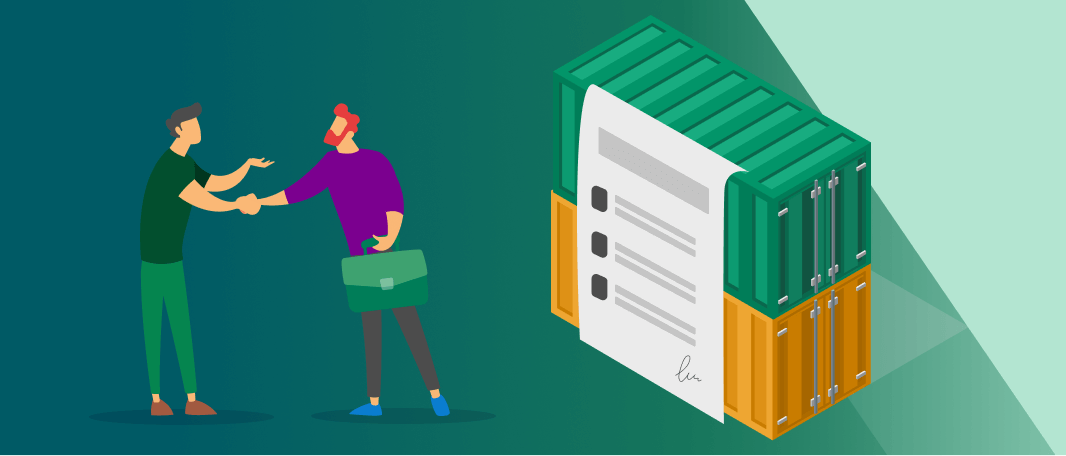 Conditions of container lease agreements
Lost your container at sea? Damaged or broken it? That can be a dreadful nightmare, yes. And you might wonder who would be held accountable for the damage. Or what the cost of repair would be. This will be covered in the container lease agreement that you choose. It will also tell you about the different types of containers needed for a variety of cargo.
Master lease agreement
The master lease is a type of container lease agreement where the leasing company takes charge.

How does it work?
This agreement is also known as 'full-service lease' or 'container pool management plan'. Here you can learn in detail about the types of available containers and their prices per day. You can find the depots where you can collect the containers and also return them. A separate agreement is drawn for each container collected from the depot. The contract comes into effect only when the lessee collects a container from a depot.
Advantages of a master lease agreement
The lessor is responsible for the full management of the container fleet and this includes maintenance and repair. This also means that when you need an empty container, the lessor will make all the arrangements to ensure you get what you need. The agreement is also the most flexible and offers numerous pick up and drop off locations. You also have the option to store your container at the lessor's depot, saving you storage fees.
Disadvantages of a master lease agreement
Well, you may have guessed this one already. It's an expensive arrangement! Under this agreement, while the lessor takes charge of the process, you pay the higher rate. Besides, if you drop your container off at disallowed locations, you'll be imposed heavy fines.
When to use a master lease agreement

The ideal time to opt for this agreement is when you need to lease containers for an unspecified period. Because it's flexible, you can plan and budget your costs accordingly. It's also handy when you don't want to fret about container damages and storage costs because that falls on the leasing company.
Long-term lease agreement
As the name suggests, under this agreement, you agree to lease for a fixed period. It's also known as 'dry lease'.

How does it work?
Through the long-term container leasing agreement, you sign a contract that extends from 5 to 7 years for new containers and 1 to 5 for used containers. You can agree upon a fixed amount of time and a delivery schedule. And you can decide the number of containers.
Advantages of a long-term lease agreement
Many long-term agreements come with a negotiable clause, which means you can modify the rental rates depending on market conditions. Also, you'll probably receive brand new containers under this agreement. The shipping lines can also directly interchange containers with another carrier. This brings in flexibility in repositioning the containers. But in that case, the leasing company will charge a fee that will be already mentioned in the agreement.
Disadvantages of a long-term lease agreement
If you pick this agreement, you're in charge of reposition, repair and maintenance. Unlike the master lease agreement, the leasing company doesn't bear the management responsibility here.
When to use this agreement
Haven't decided whether you want to return the container after the signed duration or extend the contract? Not a problem at all! This is then a good option for you because this agreement is more customer-defined.
Short-term lease agreement
We all know the industry is volatile and subject to uncertainties. It's probably why someone thought of creating a short-term container lease agreement! And no wonder it's also called 'spot market lease' sometimes.

How does it work?
You can sign this agreement for a brief period of time. The duration of this container lease agreement is more than six months.
Advantages of a short-term lease agreement
It's common to use the short-term lease when there's a sudden surge in demand. So this agreement helps you plan ahead of time.
Disadvantages of a short-term lease agreement
This agreement is centred on volatility. Usually, the rents are high . Besides, the leasing companies don't prefer to keep too many spot containers. After all, they want their containers to always be in use.
When to use it
As we covered, this agreement helps you prepare ahead of time. So you can use it when you plan methodically, aiming at making full use of regional and local surges in the business.
One-way Lease
Do you want a container just for a one-way trip? Then this is the most ideal agreement for you. We've seen that lessees have a varied range of concerns and requirements. We hear you and we're with you. You can read more about how we're creating an efficient network of partners here.

How does it work?
Simply put, you lease a container from one location to another . You and your lessor can both reduce costs and optimize operations. In fact, on some stretches, the container owner pays you to lease their containers!
Advantages of one-way lease agreement
This type of leasing is ideal if you have changing needs in different regions. Through our online leasing platform, we can put you in touch with hundreds of leading companies to lease containers from. We also offer you an amazing transaction speed. As you read earlier, Container xChange members sign the same blanket contract, BIMCO. And this way, you can forget the hassle of networking by yourself or scheduling endless calls to discuss terms with others. Instead, you focus on what matters: the pick-up fees, per diems, and number of free days.
Disadvantages of a one-way lease agreement
This is not the agreement that can be useful if you need to lease a storage container or you have a standing need for containers long-term.
When to use it
Let's answer this with a few scenarios to help you better decide.
Scenario 1
You don't want the responsibility of moving or returning the container to the carrier. And you don't even want to think of those dreadful, potential demurrage and detention charges that might come up. Instead, you consider other issues like port congestion, customs clearance and loading time. So that once you're done with the container, you move on wherever you want, without it.
Scenario 2
You've damaged the container you had leased and the repair charges are high. So, you simply reposition the container at a location that gets you a fair price for doing so.
Scenario 3
In times of uncertainties or in zones with accessibility issues, a lot of locations become no-go zones for carriers. Some leasing companies also offer containers in disturbed areas for high rates. So, you source and lease your own container through Container xChange by calling us and checking out what we can offer.
Have a look at this video to have a better understanding of it.
Get your next One-way leasing agreement on xChange
Container xChange is the world's first online marketplace for excess container space. We have the world's largest network of container leasing companies on our platform. Your ease of doing business is our priority.
How would you like to work with the likes of Cosco, Mediterranean Shipping Company (MSC) and Maersk? It's often a challenge to associate with the biggest players in the industry. But at xChange, we have a rigorous vetting and networking process for all companies. This means that you can contact and work with each other with the utmost ease. In fact, we have 1000+ companies registered on our platform. We have around 10000 transactions on our platform every month and the number is only growing.
We'd be thrilled if you join us. But we understand that you might still need time to think or collect more information before making a final call. Let's help you. Our support team will be happy to reach out to you, understand your needs and guide you through the processes, containers, and the agreements. You're one click away from leasing the most ideal container for your business, below. We look forward to talking to you soon.
Container lease agreement: Common FAQs
What does container leasing mean?
Container leasing means that you enter into an agreement with a container supplier to rent their container. The supplier offers the container to a user for a certain period and at a rate decided according to the terms of agreement.
How much does it cost to lease a one-way container?
The prices to lease a one-way container varies according to the regions. For instance, in January 2022, the average one-way pickup charge from China to Germany was $3100. Pickup charges to North America and Europe are currently, relatively high.
How do you lease a shipping container?
You lease a shipping container by first choosing the container type, size, and quantity. Then you figure out the length and type of lease. Choose a suitable leasing company. And submit the paperwork. Then you arrange for container pick-up and finally, make the payment!
What are the different types of container lease agreements?
The different types of container leasing agreements include the Master, Long-term, Short-term, and One-way container lease agreements.
[custom-related-posts title="Related Posts" none_text="None found" order_by="title" order="ASC"]
Summary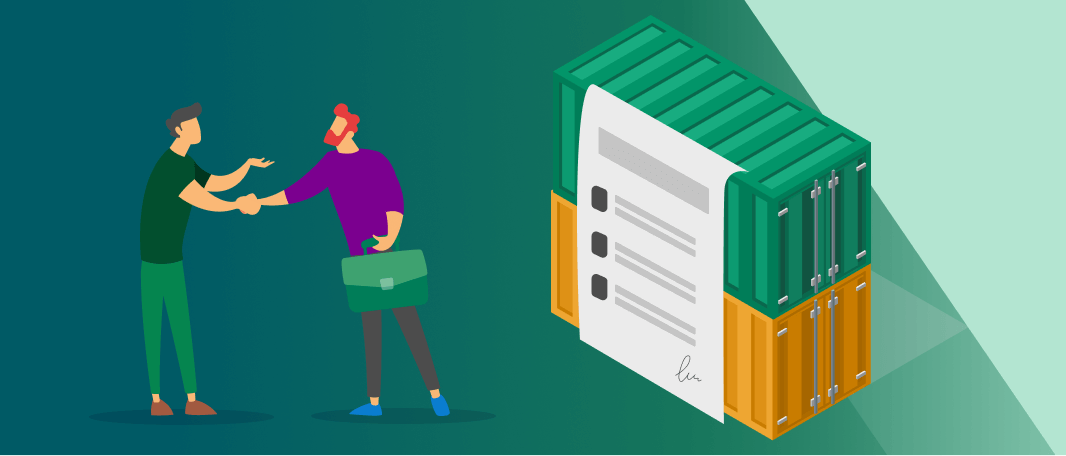 Article Name
Looking for a container lease agreement? Here's your full guide [+overview & examples]
Description
At xChange, we make a container lease agreement easy to understand and introduce you to the world's top container companies. Read more here.
Author
Publisher Name
Publisher Logo