Transporting cargo from one point to another is a chaotic process, especially when you aren't aware of the right people to connect with. You spend hours looking for credible names and getting hot deals on the internet. This blog will ease that bit for you as it helps you know everything about cargo containers and getting them at the best prices.
What are cargo containers 
Cargo containers are large, steel boxes that are used to transport goods by ship, train, and truck. In this blog, we'll focus on the most cost-efficient way in which cargo containers help us in transporting the goods – through sea freight. 
Cargo containers come in a variety of sizes, are typically made of corrugated steel, and are very strong to withhold bulky cargo. 
Types of cargo containers
As you must've read above, cargo containers come in different types and sizes. Some of the most popular types are standardized containers ranging from high cube (HC) containers to special boxes. We'll talk about them in detail below. But before we tread on that, we should know why  all of these containers, regardless of the type – are supposed to be "ISO approved". Here's why –
ISO-approved containers are those that have passed the standards set by the International Organization for Standardization. The ISO is a worldwide federation of national standards bodies that develops and publishes international standards. In order to be certified, a container must meet certain requirements for safety, quality, and performance. 
This certification is important because it helps to ensure that containers are  safe to use and function properly. Certification also helps to build consumer confidence in a product. When looking for a new container, be sure to check for the ISO logo to ensure that it's  certified by this international organization.
Understanding specialized cargo containers and their uses
Special boxes are helpful in carrying different types of cargo and for diverse purposes. As per transactions on Container xChange, we can see how some of the popular stretches where these boxes are transacted include Shanghai, Ningbo, Qingdao and Houston. This further specifies the significance and demand of these containers, symbolizing how their market will only grow with time. 
Some of the special boxes are discussed below.
Reefer 
If you are out to find a container that can help you keep your fresh produce, seafood, meat and dairy fresh – reefer is your type. Reefers are equipped with either an electrical or diesel-powered cooling system, which allows them to maintain a temperature between -30°C and +30°C. 
Looking to buy a reefer? We offer the best deal – The average price of a 20ft Reefer is US $2,844 and a 40 Reefer US $3,753.* 
Flat rack containers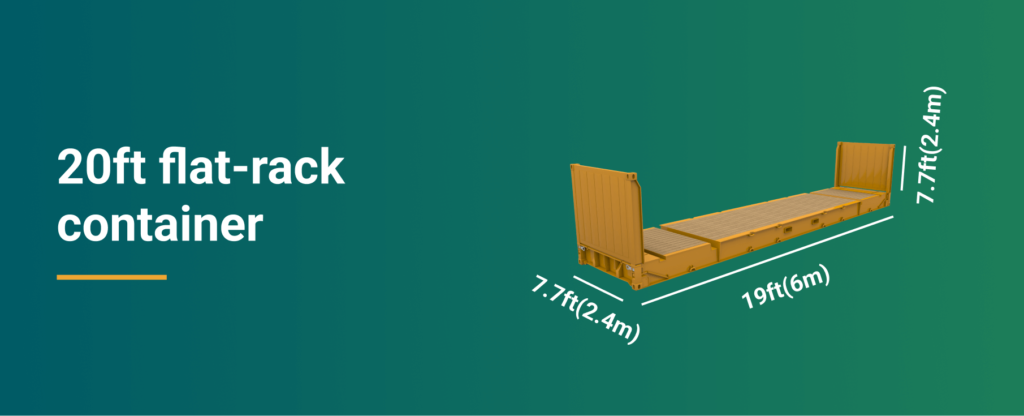 Flat rack containers are a type of intermodal freight container designed for carrying oversized or awkward cargo. Unlike standard containers, which have four walls and a roof, flat rack containers feature two walls and a roof, with the sides open. This makes them well-suited for carrying large items that cannot be easily loaded through a door, such as machinery or lumber. 
If you're surfing the internet to find your flat rack, we've got you an idea of how much it might cost. The average price of a 20ft flat rack is US $2,100 and a 40ft flat rack US $2,645.*
Open top containers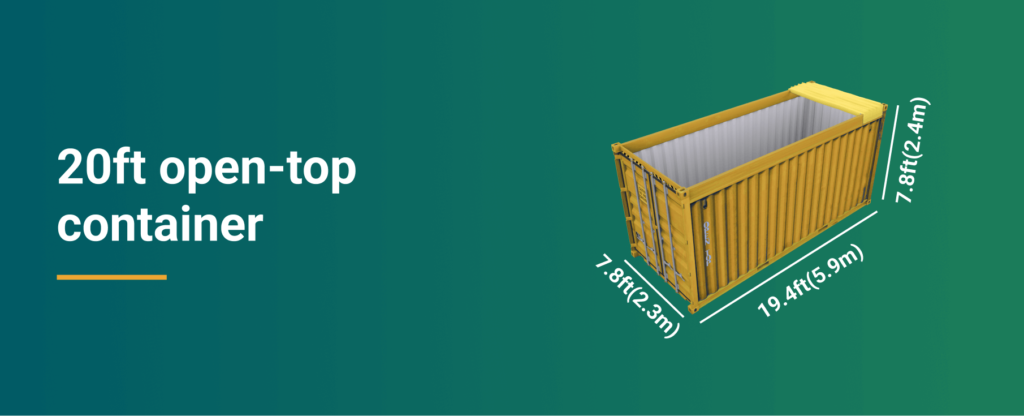 If you're worried about your cargo being oversized, you can opt for open top containers. These containers are a special type of freight container typically used in intermodal shipping. As we can understand by the name, open-top containers don't have a fixed roof, making them well suited for taller cargo that would not fit in a standard container. Open top containers are also often equipped with removable tarps or covers to protect the contents from weather damage. 
If you're looking for a hot price – the average cost of a 20ft open top container is US $2,266 and a 40ft open top container is US $5,150.
Tank containers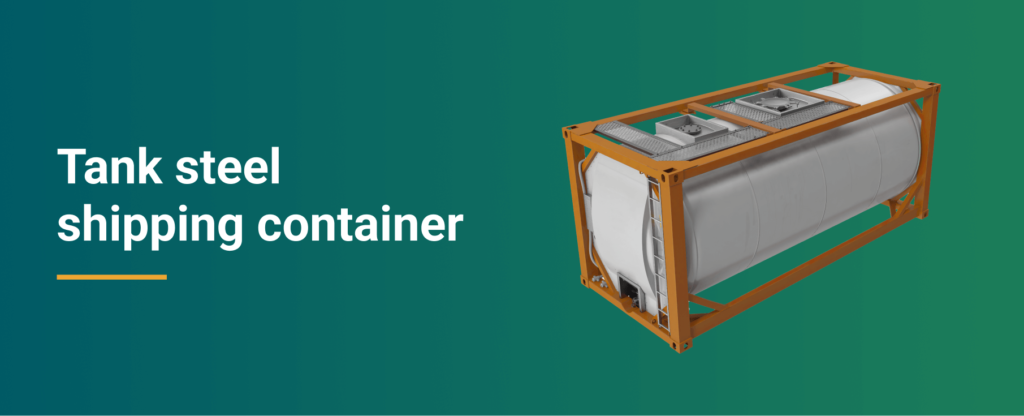 Tank containers are large, cylindrical containers that are used to transport both hazardous and non-hazardous liquids and gasses. You can put them to use for a variety of transportation applications, including the transport of food, chemicals, and petroleum products. 
These tank boxes offer a number of advantages over traditional tank cars, including a higher capacity, greater safety, and easier loading and unloading.
Double door containers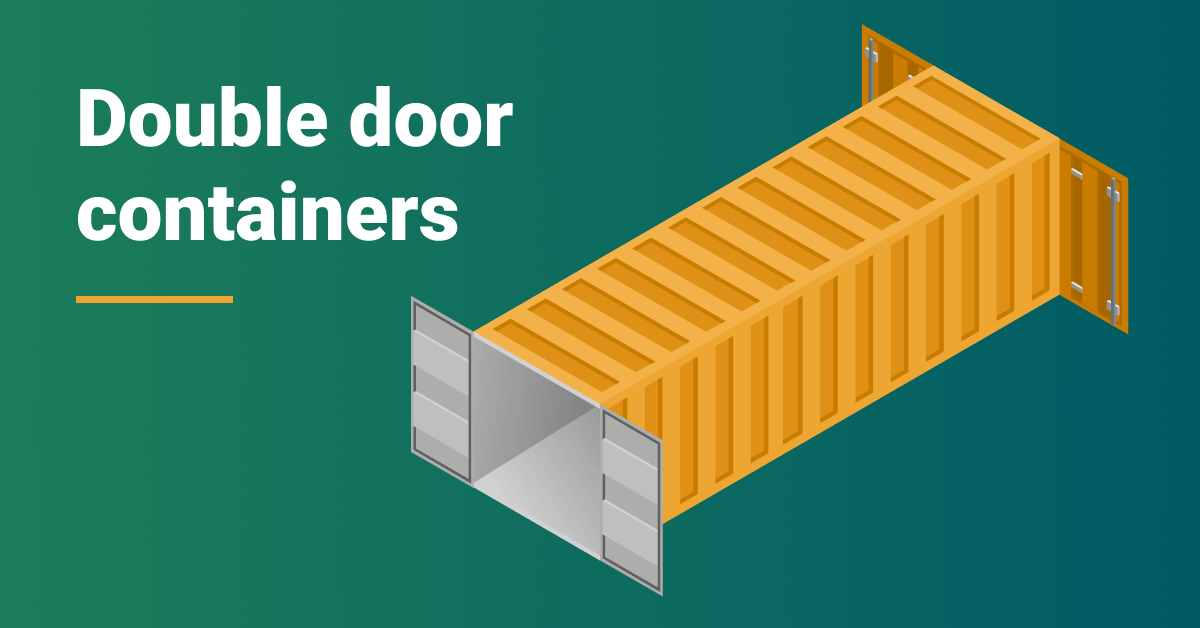 A double-door container is a type of shipping container that features two sets of doors, one at each end. Double-door containers are typically used for transporting goods that need to be loaded and unloaded from both ends, such as oversized machinery or vehicles. 
While they are more expensive than standard shipping containers, double-door containers offer a number of advantages, including easier loading and unloading, improved security, and better ventilation. As a result, they are an increasingly popular choice for businesses that need to move large, heavy, or sensitive items.
Exploring the market to find the right box? Let us help you with the average price of double door containers. The average cost of a 20 double door is US $3,800.*
*All these prices are based on internal transactions on Container xChange and are subject to change. 
For more updates on containers, you can check our monthly report here.
Platform containers
Do you want to ship your favorite car or bike? Do you want to sail across vehicles for business and are confused about how to do that? Platform container has you covered. A platform container is a type of container used to store or transport large, heavy items. Platform containers are usually made of wood or metal, and they have a flat surface with no sides or roof. This makes them ideal for transporting large items that would not fit in a traditional container. 
Platform containers can be very large, and they are often used to transport vehicles, machinery, and other types of heavy equipment. Some platform containers also have wheels, which makes them easier to move around.
If special boxes seem too specific, you also have standard popular containers to look forward to. You can delve deeper into the specifics below.
40ft HC containers gaining popularity
Standard cargo containers play a significant role in helping you transport goods via sea freight. But in order to smoothen the process, it's recommended to know the dimensions of your containers to avoid any last-minute confusion or hassle. Although 20ft and 40ft containers have made their space in the industry, recently 40ft HC is gaining popularity amongst customers. 
Diving deeper into the insights, we can see its basic dimensions –
| | |
| --- | --- |
| Measure | 40 ft High Cube |
| External length | 12.2 m / 40 ft |
| External width | 2.44 m / 8 ft |
| External height | 2.90 m / 9.6 ft |
| Door Width | 2.34 m / 7.8 ft |
| Door Height | 2.57 m / 8.5 ft |
| Max Gross Weight | 32,500 kg / 71,650 lbs |
Cargo containers: the current marketscape
If you've been in the logistics industry, you'd know how a cargo container has come a long way since the 1950s. Today, these boxes are a vital part of the global economy, transporting everything from clothes to cars across the world. 
In recent years, however, we all have witnessed how the pandemic caught us off guard along with the cargo container industry. The sector has faced many challenges after the outbreak of COVID-19. Nevertheless, the industry has shown remarkable resilience and is expected to continue to grow in the coming years. 
Owing to new technologies and innovations, cargo containers are becoming more efficient and versatile than ever before. As the world economy continues to expand, the demand for cargo containers is only likely to increase, meaning that containers will continue to play a vital role in our increasingly interconnected world.
xChange helps you find the right box
Despite the shortage of containers worldwide, xChange has seen a steady number of transitions every month. Thus, proving that whether you can put your hands on a container otherwise or not, you'll surely find a box on our platform. We have 10k+ transactions taking place every month, and with 1,000+ vetted members in 2,500+ locations, it's only a matter of a few steps to get to your choice of box.
Container xChange is the leading neutral marketplace that will help you to find the right cargo container as per your purpose and get the best deals on our platform. Our platform helps you remain updated with the marketscape and get hot deals – all you need to do to avail these perks is connect with us. 
You can become a member  with Container xChange and choose a suitable membership plan that will give you access to a wide range of containers from renowned industry players. 
Why not start with our free membership plan? We'll help  you to get in touch with several credible names such as COSCO Shipping and Seaco Global without any commission and aid you in scaling your business. Reach out to our support team below and get started with the best prices, networking and growing.
Common FAQs about cargo containers
What else can we call a cargo container?
We can call cargo containers by several names such as a box, freight container, shipping container and others.
Do we have different types of containers?
Cargo containers come in different shapes and sizes. We've standard containers ranging from high cube boxes to dry cargo containers as well as special containers like reefers, flat rack, open top etc.
What is the cost of a 20ft container?
A 20ft DC container in Toronto, Ontario will cost you US $2,498*; whereas in Houston, Texas it's priced at US $2,917.* *These prices are based on transactions on Container xChange and are subject to change.
[custom-related-posts title="Related Posts" none_text="None found" order_by="title" order="ASC"]
Summary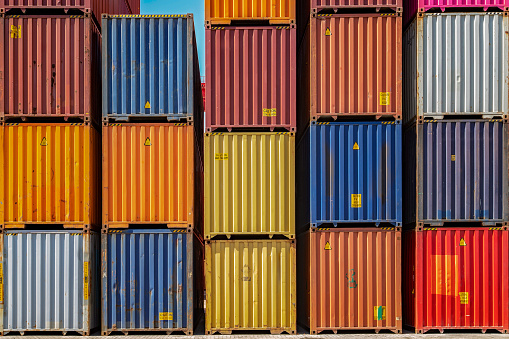 Article Name
What are cargo containers? Get the definition, types, and size [+ best deal in 2022]
Description
Want to ship your cargo but unsure which cargo containers to use? This blog will help you get the different types, sizes and best price to pay.
Author
Publisher Name
Publisher Logo