Getting cargo containers from reliable suppliers at prices that suit your budget can be a challenge. Luckily, this blog is here to help you. Want to skip the blog and get containers right now? Click here to learn how 1,500+ companies are finding cargo containers at the best prices. 
When sourcing containers it can be difficult to know who to trust, as well as how to get equipment at a price you're comfortable with. We know the struggle is real, so we've got the solutions you're looking for. 
Welcome to Container xChange, a secure online marketplace for trading and leasing shipping containers from vetted partners. Choose from 50,000+ containers available in over 2,500 locations around the world. The best part? You can negotiate the prices, to decide exactly what you want to pay.
If you'd like to see for yourself, try out our public search below. Here you can browse and compare multiple container offers in just a few clicks. Input your location and the container type you're looking for to get a sneak peek right now.
Cargo containers for sale: What to pay?
On a mission to find the best deals on cargo containers? First things first, you'll need to know what you should be shelling out. So that you can spot a good offer when it comes along. 
Before you start your search, it's important to note that cargo container prices fluctuate constantly and depend on the following factors:
Supply and demand

Location

Container size
Now, let's take a look at the three standard container sizes and their prices.

20ft cargo container
If you've got small, dense shipments of dry goods the 20ft cargo container will suit your needs perfectly. 
Don't be fooled by its size. With a payload capacity of 25,000kg / 55,126.9 lbs and a cubic capacity of 33.2 m3 / 1,172 cu ft, this container can pack in heavyweight cargo.
Buy cargo-worthy 20ft cargo containers in the US for US $1,594, in China for US $1,328, and US $1,342 in Northern Europe.
Like the prices you see but looking for 20ft cargo containers in other areas? No problem! Find the best offers on 20ft cargo containers in 2,500+ locations now.
40ft cargo container
The 40ft cargo container is the older sibling of the 20ft. Want a pro tip? It might be double the capacity, but it won't be double the price! 40ft containers are great value-for-money, giving you lots of space for larger shipments.
You can invest in a 40ft container for just 30% more than a 20ft. But don't take our word for it, check out the prices below to see for yourself.
If the 40ft is what you've been looking for, you can get one in the US for US $2,505, in China for US $1,715, and in Northern Europe for US $1,771.
Ready to get 40ft containers from vetted suppliers in the locations you need? Search for shipping containers at prices that suit your budget right now.
40ft HC cargo container
If you need extra space for high volume shipments, the 40ft HC is your answer. This container has the same floorspace as the standard 40ft, with an extra foot of height. So you can pack in more cargo without increasing the storage space.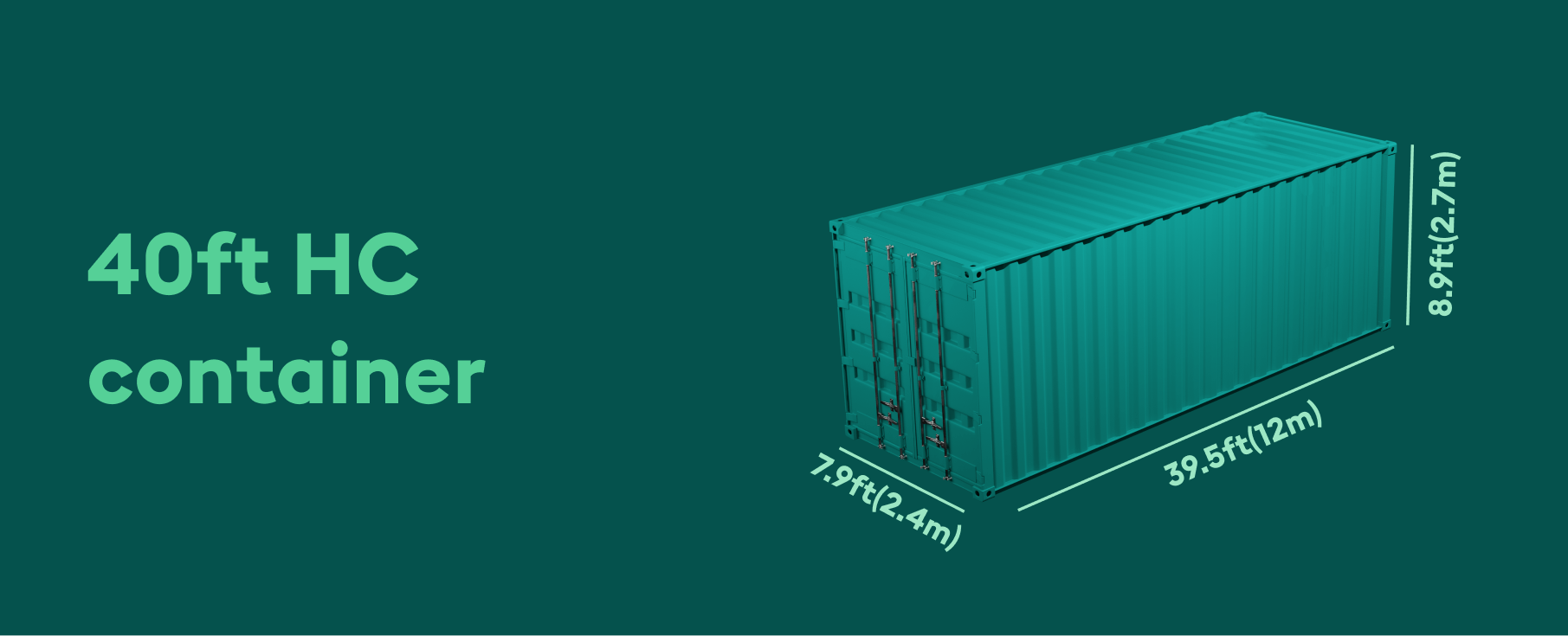 Get high cube containers in the US for US $2,844, in China for US $2,118 and in Northern Europe for US $1,794.
Save cash by fitting more cargo into fewer containers. Browse 40ft high cube offers and negotiate prices to get the best deals in no time at all.
Buying vs leasing: Why one-way cargo containers are cheaper
Choosing between buying and leasing depends on your shipping needs. Let's go over the two options now, so that you can figure out what works for you.
When to buy cargo containers
Investing in cargo containers is a smart move for many reasons. They're a tangible asset, and you can always make money selling them in an in-demand area when you're done with them. Buy cargo containers if you plan on using them long-term and on a frequent basis. This way you'll save money by making one-off purchases rather than constantly shelling out on pick-up charges.
When to lease cargo containers 
We understand that it's not always necessary to buy cargo containers. Perhaps you just need extra equipment for a temporary surge in demand, or a customer with special requirements. In these cases, leasing one-way containers on xChange is the perfect solution. 
Find cargo containers along the stretch you need, negotiate the pick-up charges, and ship your goods. It's so simple and convenient. Once the cargo arrives at the final destination, the containers are no longer your responsibility. You can also skip worrying about container maintenance, which can really add up over time. 
Want an example of how much you can save leasing over buying? Say you want standard 40ft HC containers to ship goods from Shanghai to Rotterdam. As you know, you're looking at US $2,844 to buy a cargo-worthy 40ft high cube in China. 
If you lease the container, on the other hand, you're looking at a pick-up charge of just US $500. Now just think about how much you'll save if you need 10 containers?
Next, let's take a look at some of the different container types available for cargo shipping. 

Types of cargo containers: Which is the right choice for your cargo?
Trying to figure out which cargo container type is right for your cargo? We'll go over some of the most commonly-used containers on the market now, so you can decide what you need for your shipments.
Reefer container
Looking for containers for cold cargo? Then the reefer is for you. Reefers can maintain any temperature between -30°C and +30°C, keeping your goods fresh throughout their journey. 
Want reefer containers for your temperature-sensitive cargo? Get cargo-worthy 40ft reefers for US $7,755 in the US, US $2,685 in Northern Europe, and US $8,362 in China. 
Noticed how cheap reefers are in Europe? Don't miss the boat! Find other great reefer deals now.
Flat rack container
If you've got oversized or awkwardly-shaped cargo, opt for a flat rack. Unlike standard containers, flat racks have only two walls and a roof. This makes them perfect for carrying cargo that's difficult to load or fit into a standard container.
If you want flat racks for out-of-gauge or oddly shaped goods, find cargo-worthy 40ft flat racks for US $2,931 in the US, US $2,569 in China and US $2,683 in Europe. 
The flat rack prices above look pretty good, right? Get searching for more great offers and negotiate the best prices for you right away.
Open top container
Another option for oversized goods is the open top. Open top containers don't have a fixed roof, making them well suited for taller cargo that doesn't fit in a standard container. 
Get 40ft cargo-worthy open tops for US $4,304 in the US, US $4,647 in China and US $6,746 in Northern Europe. Or, browse options yourself to see if you can get an even better deal.
Double door container
Double door containers are perfect if you've got cargo like vehicles to transport. Why? With a door on either end, no reversing is necessary, making getting cars and boats out safely much more effective. 
Want double doors for easy loading and unloading? Get 20ft double doors for US $3,300 in the US and US $3,809 in Europe.
If you want to check prices in more locations, you're in luck, with 2,500+ cities to choose from. So go ahead and click the banner to browse and compare container offers in just a few easy steps.

How to save money when sourcing cargo containers
Shipping goods can be expensive, so we know you'd do anything to cut costs along the way. Let's find out how using Container xChange helps you save money.
In order to ensure the best deals on cargo containers, you'll need to know exactly what you should be shelling out in the first place. This way you can recognise a good deal when you see it.
If contacting sources and searching the web for the latest prices is eating into your valuable time, we've got a fast and effective solution for you instead. 
Welcome to xChange Insights, where you can find up-to-date trading and leasing data in 180 locations around the world, in just a few clicks.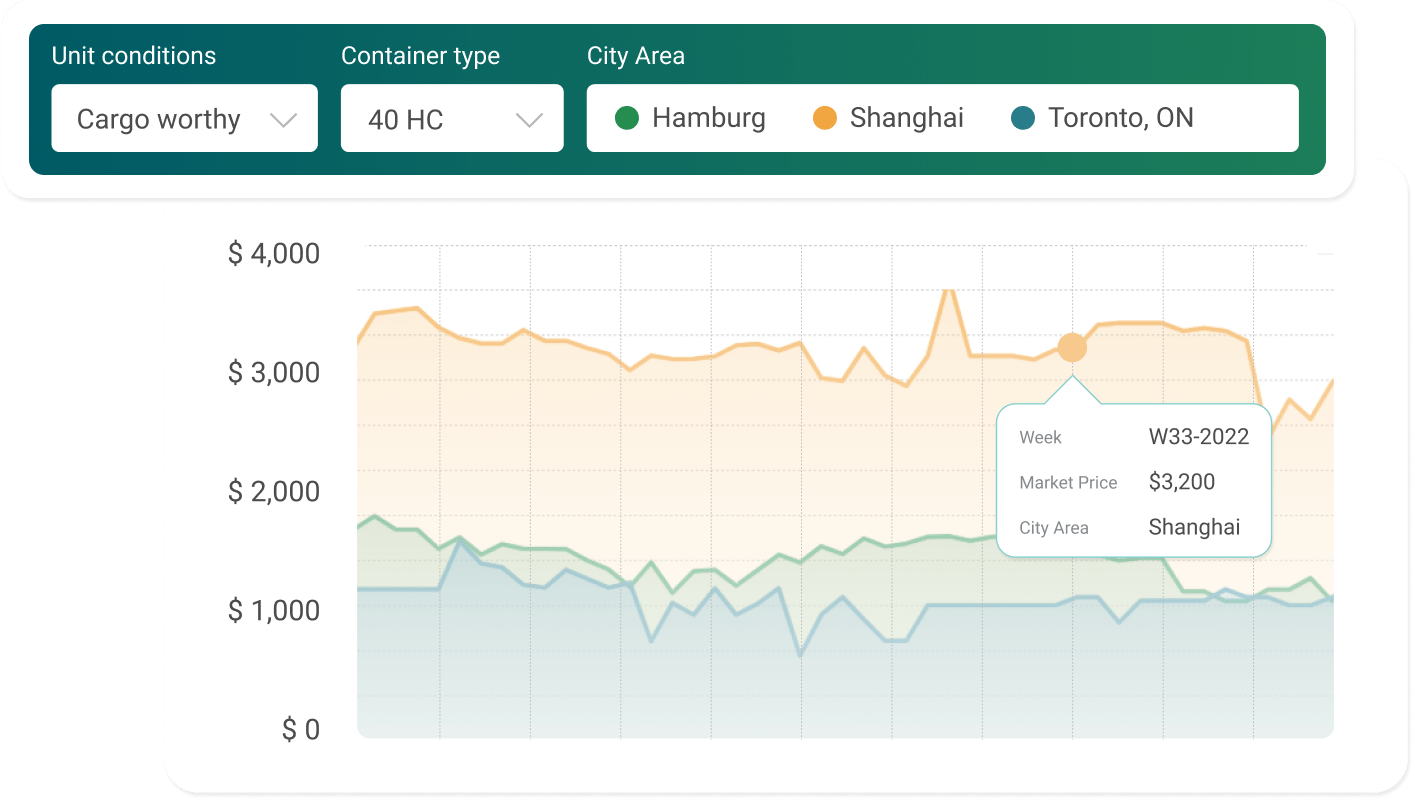 Want to get 40ft HC containers at the best price? No problem. Compare the price in various locations to find the cheapest places to buy, as well as the most lucrative areas to sell containers in to make profits. 
Need to lease containers from Shanghai to Hamburg? Check out the average pick-up charges before heading over to the leasing platform to look for containers. You'll also get an idea of the free days, per diem and storage charges for the container type and route you're looking at.
Insights allows you to check prices and rates monthly, weekly or even daily, so you can stay informed, any time, from anywhere. You can also keep track of the latest market trends and Insights, all from the comfort of your office.
Get Insights today, and you'll be making informed trading and leasing decisions in no time at all.
Buy & lease cargo containers at the best price on Container xChange
So now you know all about the different cargo container types and sizes, as well as how to get them at the best price. What's next? We'll explain the simple process of buying and leasing containers on xChange.
Decide on your criteria
First of all, you need to make sure you know exactly which type and size container you need for your shipments. Also, have an idea of the price you're willing to shell out. You can use Insights for this.
Browse offers
Next, it's time to hop onto the platform to browse trading or leasing deals. You can compare multiple offers at the same time to make sure you're choosing the right option for your needs.
Finalise the deal
If a good offer catches your eye, contact the seller directly to negotiate the price, plus agree on all of the finer details. Don't worry, there are no middlemen involved, just you and the supplier sealing the deal.
Make safe payments
At last, a platform with 100% safe and secure payments. Yes, you heard that right. You can make all of your payments directly on the platform using the xChange Wallet. What's more, receive just one monthly invoice and access your transaction history anytime, from anywhere.
Ready to buy or lease cargo containers at the best prices, from reliable suppliers? Click below to set up your free demo, and learn all about getting deals that suit your requirements and budget now.

Cargo containers: Common FAQs
Do you get different types of containers?
Cargo containers come in different shapes and sizes. This includes standard containers ranging from 20ft, 40ft and high cube containers to special equipment like reefers, flat racks and open tops.
What is the cost of a 20ft container?
The cost of a 20ft container depends on the condition, as well as the location and current market situation. For a new 20ft container in the US, you're looking at US $2,385, in India, US $2,751 and in Northern Europe around US $2,579.
What is a cargo container?
A cargo container is a steel box used to transport cargo of various kinds via ocean, truck and train. You get standard dry containers which transport dry goods, and a variety of special container types such as reefers, flat racks and double doors, each with a specialised purpose.
How much is a cargo container?
The price of a cargo container depends on the container condition, location and market situation. You can get A 40ft cargo container for US $1,715 in the US, US $1,771 in Northern Europe and US $2,505 in China.
Summary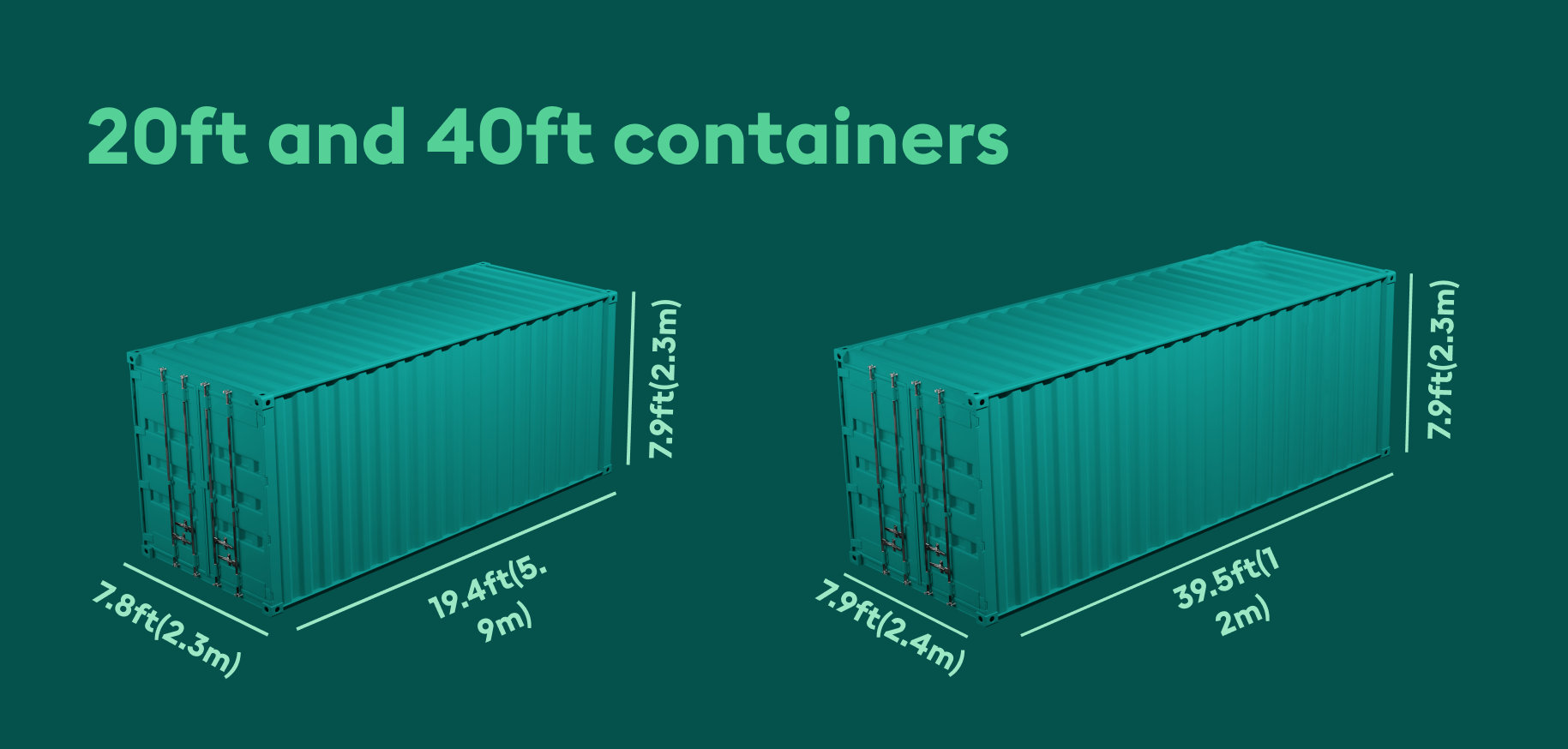 Article Name
Cargo containers: Buy + lease near you at best prices [2023]
Description
If cargo containers are what you need for shipping, find them at the best prices in 2,500+ locations on Container xChange.
Author
Publisher Name
Publisher Logo