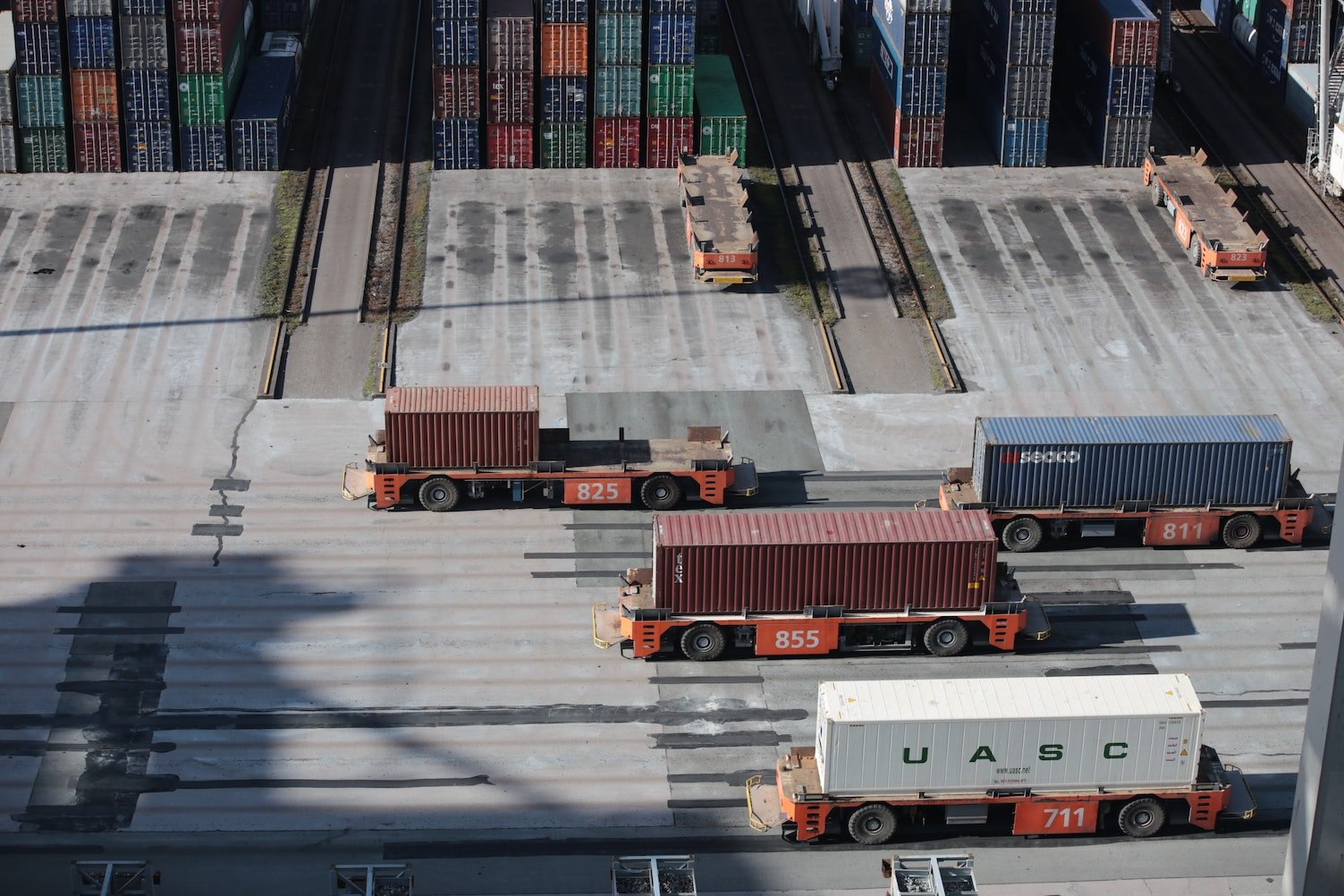 In this blog post, we'll guide you to choose the ideal chassis, the different types available, and the price you have to shell out. But before we get into those details, let's understand the basics of a container chassis a little more.
Container chassis is a specifically designed trailer frame to accommodate a wide range of container types (both standard and special boxes). It can carry any load and maneuver effortlessly. They're available in various types, and you can choose one according to your requirement. This dynamic equipment is the support system of the entire supply chain network.
What is a container chassis?
In simple terms, a container chassis or intermodal chassis is a wheeled structure designed to carry containers via trucks between terminals, warehouses, and ports. A chassis composes of a steel frame with tires and axle systems. It also includes suspension, brakes, and lighting mechanisms.
With the advancement of technology, newer models come with features such as ABS, weight sensors, LED lights, and GPS tracking systems. It's an effortless way to carry or move shipping containers. They play a key role in making transportation easy and efficient.
A standard chassis transports standard ISO containers (20ft and 40ft) with two axles. Generally, a tri-axle chassis is needed to carry 20ft containers above the weight of 36,000 lbs or 40ft containers above 44,000 lbs.
You can choose different types and sizes of container chassis depending on your requirements.
Why do you need a container chassis?
Container chassis, the wheeled equipment, increases movement speed and efficiency. Chassis are designed in a way that they can separate from the truck to accommodate different kinds of containers easily. Let's take a quick look at some of the reasons why you need a container chassis in your shipping process.
1. Smooth and secure shipping
Containers are securely attached to the chassis. It prevents unnecessary container movements – ensuring safer transportation.
2. Durability and easy transportation
They are usually made out of lightweight materials but are durable enough to hold heavy load containers with ease.
3. Suits different shipping requirements
Container chassis come in different types. Companies can choose from a wide range of options based on their specific needs. You'll read more about the types further down the blog.
4. Quick, cost-effective, and offers timely delivery
Container chassis can load several containers at the same time – making the process quick and efficient. This, in turn, fastens delivery and the risk of extra charges for your shipment due to untimely delivery is reduced.
5. Uplifts customer satisfaction
When you're so quick, efficient, and safe in shipping the containers, it's obvious that your customers are delighted. It improves reliability and the overall customer experience.
Even though container chassis help you become more efficient and on time, unexpected things do happen. Things, that can make the containers late – if they're rolled, stuck at port, or even unloaded at the wrong port. Thus, it's a good idea to get your hands on a SOC container
Most commonly used types of container chassis
There are 3 commonly used container chassis. These chassis make loading and unloading of containers easy. They're also designed to adapt to the different sizes of containers. Take a look at these chassis.
Tilt container chassis
Tilt container chassis makes it easy to unload a container. There is an apparatus attached to the chassis with a pivot device to make loading and unloading simple. Unlike the conventional chassis, this one has upper and lower frames attached to it. There's a hydraulic system on the upper frame that tilts upward. You'll also find a roller at the upper frame that connects to the lower frame of the chassis. This whole arrangement of the chassis makes the process of loading and unloading secure and easy to handle. A special design like this costs more money, but if convenience is what you choose, go for this one.
Extendable container chassis
Extendable, as the name suggests, this chassis type can adapt to any container size. It works similar to a regular chassis but is extendable at the back. By doing so, bigger containers are mounted hassle-free. You can go for this type of chassis if you have varying container lengths to transport. Extendable chassis help you transport sealed containers across different countries and states without any hiccups.
Tip: Remember that the length of the chassis should be greater than the size of the container. Place the load/container at the center to keep the trailer stable and balanced.
Common container chassis
This type of container chassis comes without any modification or sophistication. It's a simple fixed structure to carry and transport containers from one place to another. Overhead cranes are used during the loading and unloading process. You can use a common container chassis to transport 20ft, 40ft, or 45ft containers. These chassis have visibly-marked spots to help identify the position where the containers need to be placed securely. Common container chassis are affordable and pretty easy to use. However, you may end up paying extra for external equipment such as overhead cranes.
Different container chassis models in the market
Depending on your shipping requirements and, of course, the container size, there are several types of chassis available in the market. Let's take a look at them.
Chassis type by dimension
20ft container chassis
40ft – 45ft container chassis
48ft to 53ft domestic container chassis
Chassis type by purpose
Generator chassis
All chassis model
Tank chassis
Flatbed chassis
Chassis type by feature/design
Gooseneck chassis
Extendable chassis
Heavy-duty chassis
Lightweight chassis
Combo chassis
Rear B-train chassis
Straight frame chassis
Canadian Chassis
How to choose the right container chassis?
By now, you already have an idea about container chassis and the different types. But along with that, you must also know which container chassis is suitable for you. Choosing the ideal one largely depends on your requirements. Businesses can choose what's best and affordable for their daily operations.
Having an idea of how to choose a container chassis will help ensure that your containers go through a smooth loading and unloading process. It'll also save you a few extra dollars. You can consider the following factors:
Usage and requirements (Industry-specific)
If you only need to transport containers, chassis modeled specifically for containers are the best. But, if you need to move other types of cargo, go for a flatbed container chassis trailer – as it serves a dual purpose. If you need to load/unload cargo at specific places, a tilt chassis is a great choice.
Number of axles/ weight threshold
You can choose the number of axles in the chassis depending on the cargo or container weight. Remember: the more the number of axles, the more the load capacity it can hold. For daily usage, 2 or 3 axle chassis is your best choice.
Costs incurred
Consider your container specifications and requirements before choosing a chassis. Usually, a specialized chassis costs higher than the regular ones.
Rent or buy a chassis 
Did you know you can either rent or purchase a chassis? The key here is to understand your requirements and how often you need a chassis. This also adds to your final costs of shipment. If you're buying a chassis, it'll cost you anywhere between USD 5,000 to USD 30,000. Renting it out can cost you USD 15-30 per day. Moreover, it'll also incur an additional charge, i.e., a "chassis usage charge."
What is container chassis usage charge?
Shipment volumes are increasing (globally) every day. And with it, chassis rental prices are rising too. This makes it difficult for you to get your hands on a chassis because the ports are congested.
The chassis usage charge is one of the several additional charges incurred while moving your cargo. Until 2009, the carriers used to own and provide chassis along with the containers. But, after MAERSK exited the chassis business, others followed suit. This forced trucking companies to purchase or rent their chassis – bringing in an additional charge.
An ocean carrier at port charges the chassis usage fee for the use of their chassis. It's basically to encourage shippers and truckers to supply their chassis. It fosters the idea of using the common chassis pool for pick-up and delivery of containers provided by some ports on the US East Coast.
Chassis charges also attract other fees such as congestion surcharge, terminal handling charges, consolidation fees, to name a few. But the main charges among these are demurrage and detention fees. You can read more about demurrage and detention charges (D&D) in another blog.
How are demurrage and detention charges applied here?
At most ports, it's difficult to get chassis because the ports are congested. This leads to a longer wait time, and in turn, higher demurrage and detention charges, thus driving up the total overhead costs.
We understand that D&D charges can be expensive. But fret not, we've got a solution. You can use SOC containers to manage your freight finances better. These containers belong to shippers, so you borrow equipment from a container owner. Use it one-way and return it to the partner's depot at the destination. SOC containers give you more flexibility and basically, you're in full control of the container in terms of supply, time, or ownership. You can choose the time for which you need the container.
By having this control, you can avoid extra demurrage or detention charges since you're not obliged to move the containers within a limited time.
If you're looking for SOC containers, you can get them on xChange at the best competitive price and with full market transparency. With xChange, rest assured you're not overpaying for your containers.
What does the Market look like?
With the COVID-19 pandemic, the global trade market and the shipping industry suffered majorly. Though the situation is better now, there's an overall drop in the market performance.
However, chassis poolers (different companies using the same chassis by dividing charges) continued to pay their share of the rent to ensure they've got the equipment available when the market is better.
Now that the market recovery is at a steep — diversification of supply chains (which were dependent upon China majorly) are seen. Continued growth is expected in the e-commerce industry across the world in the coming days. This means it would drive up the growth rate in the logistics and supply chain industry — amping up shipments.
Chassis pooling will rise too with the increased trade – because the current number of chassis isn't sufficient to handle the trade boom. The market can also see a rise in the purchase of chassis (as opposed to renting chassis).
Avoid extra fees with xChange
Usually, freight forwarders also provide the container chassis and related services at reasonable charges. You can negotiate the cost with them.
However, buying, leasing, and managing chassis have become a headache for many of you, and we get it. Paying for congestion surcharge, terminal handling charges, consolidation fees, and demurrage and detention fees can quickly add to the cost. And by the end of it, you know that you're are not only paying container chassis usage charge.
We can help you avoid demurrage and detention charges. The solution is SOC containers. With SOC containers you've more flexibility and control of the container when it comes to time and ownership. This eventually helps you avoid demurrage and detention charges and lessen the overall cost.
You can find SOC containers easily on xChange right at your fingertips. All you need to do is type in your location, choose a suitable container, and see your work getting done quickly.  Avoid incurring any extra costs with xChange. We can help you find SOC containers in more than 2,500 locations worldwide. Click on the banner below for more details.
Container chassis – Common FAQs
How big is a standard ISO container chassis?
A standard ISO container chassis come in 20ft, 40ft, or 45ft. However, it's essential to know that there are different types of chassis available for your use and according to your requirement. Some chassis have fixed lengths while others can be extended or shortened depending on the container.
How is a shipping container secured to a chassis?
A shipping container is first placed on a chassis using a crane. This is done carefully ensuring that the container's corner castings are aligned with the chassis' twist locks (pins). The container is then engaged to the chassis with these pins.
Summary
Article Name
What's a container chassis? Know the types & charges [2022]
Description
Want to become a container chassis expert and be sure you choose the right one for you? Get all the info needed to make the best decision here.
Author
Publisher Name
Publisher Logo