The top container manufacturers produce the majority of shipping containers. Read this blog to know more and find out how you can secure quality boxes for great prices. Or, click here to find how 1,500+ companies are buying shipping containers at the best prices.
Container manufacturers are the backbone of the shipping industry. They're the pillars that keep the global equipment fleet afloat.
When the shipping industry faced major container shortages due to Covid-19, manufacturers started to boost their production. During this time, the global pool of shipping containers increased by 13% to almost 50 million TEUs in 2021. Now, there's actually a surplus of containers in the market.  
This makes it a perfect time to buy containers at low prices. And if you're thinking of investing in buying a container, you've come to the right place. At Container xChange, we offer you a global marketplace to buy, sell or lease containers in 2500+ locations globally. We work with 1,500+ reliable partners, ensuring market value (or less) for quality boxes. 
Want to find boxes from reputable partners at unbeatable prices? Try our public search to see how easy it is to get the exact box you need. Simply type in your location and the container type you want Then browse through multiple offers and select the best deals. Try now!
Who are container manufacturers?
Container manufacturers are companies that build shipping containers of all shapes and sizes from scratch. It's important to note that manufacturers differ from container suppliers in a fundamental way. Suppliers source and acquire quality containers from manufacturers, whereas manufacturers actually create the boxes from the raw materials.
Many big players in the industry, such as shipping lines, container leasing companies, and container trading companies work directly with container manufacturers. The better the relationships these companies have with each other, the better deals they can strike. 
Overview of container manufacturing industry
Currently, around 85% of all container manufacturers are based in China. Financially, it makes sense to manufacture boxes in China due to low labor costs, as well as cheap steel production. Plus, with China being the biggest exporting nation, it's extremely viable to manufacture containers within the country.
As a result, China has become one of the biggest markets for 'one-trip' containers. These brand-new containers, manufactured in the country, are loaded with cargo and shipped to their location of sale. Thus, making their 'one trip' to their final destination and delivering cargo at the same time.
However, other countries are trying to reduce their dependence on China for containers. For this, countries such as the US, South Korea, Taiwan, Italy, the UK, France, and Poland have started manufacturing containers, on a smaller scale. 
The Indian container manufacturing market has also been rapidly expanding in recent years. In fact, our recent "Where are all the containers" report mentioned that India is fast growing to be a hub of container manufacturers, sellers, and buyers. The government is also pushing to reduce the cost of logistics and enhance the infrastructure at ports.
Impact of container availability on container manufacturers
Before the Covid-19 pandemic, the container market was expected to maintain a healthy growth rate. It was believed that the market would increase by 5.7% in 2021. However, as the pandemic hit in early 2020, there was a sudden drop in the growth rate of the container market. This was mainly because of port closures due to coronavirus outbreaks, port congestions, and rising prices of bunker fuel. 
At the same time, the demand for goods increased globally as people were ordering more goods than usual. With increased demand and a low supply of containers, container prices skyrocketed during the pandemic. Manufacturing companies then increased the production of containers to meet the increased demand. 
And now, there's a fall in consumer demand due to recessionary fears and inflationary risks – resulting in low usage of containers. And while there was a shortage of containers during the pandemic, the global economy is now facing the opposite problem: too many containers. In fact, there's a surplus of 6 million TEUs in the container market! 
However, there's a silver lining to this problem. Since there's an oversupply of containers and low demand, container prices are now lower than ever. Especially in the second-hand container market. If you're looking to buy containers, it's a great time to purchase. And what other place is better to buy containers than Container xChange? 
On our platform, you can connect with vetted sellers and buy containers in 2500+ locations globally. Simply fill in your container requirements, browse through multiple offers, and choose the best deals. Just click the banner below to find container offers in your location. 
Top 10 container manufacturers in the world
Now, the part that you've been waiting for. The list of the top 10 container manufacturers globally. Let's dive in and learn more about each of them.
Top 10 container manufacturers in the world

Name
Website
Headquarters
TEU sales volume 

CIMC

http://www.cimc.com/en/

 

Shenzhen, China 

1 million

COSCO Shipping Development

https://lines.coscoshipping.com/home/

  

Shanghai, China

1.06 million

Singamas

https://www.singamas.com/

 

Shanghai, China

142,000

CXIC

http://cxic.com/chinese/index.do

 

Changzhou, China

Not available 

W&K Containers Inc

https://www.oceancontainer.com/

 

California, USA

Not available

Daikin Industries

https://www.ref.daikin.com/

 

Osaka, Japan

Not available

Maersk Container Industry

https://www.mcicontainers.com/

 

Copenhagen, Denmark

Not available

TLS Offshore Containers International

https://www.tls-containers.com

 

Singapore

Not available 

YMC Container Solutions

https://www.ymccontainersolutions.com

 

East Yorkshire, UK

Not available

DCM Hyundai

https://dcmcontainers.com/

 

Faridabad, India

Not available 
CIMC (China International Marine Container Group Co., Ltd.)
Founded in 1980 as a merger between China Merchants Group and East Asiatic Company, CIMC is based in Shenzhen, China. They provide all types of boxes, ranging from dry containers to modular container homes, with target markets in North America, Asia, and Europe. Currently, CIMC has 11 factories and a yearly capacity of 2 million dry cargo containers.
COSCO Shipping

Yet another Chinese giant, COSCO is a multinational transportation service based in Shanghai. It was established in January 2016 as a merger between COSCO and China Shipping. The company has 1394 vessels with a capacity of 113.82 million DWT.
The container manufacturing business of the Company focuses on the research, development, production and sales of international standard dry containers, reefer containers, special containers and container houses. The designed annual capacity amounts to over 1.30 million TEU, with customers covering world-famous liner companies and major container leasing companies.
SINGAMAS (Singamas Container Holdings Ltd.)

Singamas was founded in 1988, with its first factory in Shanghai. They are one of the leading container manufacturers in China, with 4 factories. They produce standard dry freight containers, collapsible flat-rack containers, open-top containers, tank containers, offshore containers, and other specialized boxes. The manufacturing operation of Singamas performed in a relatively stable manner in 2022, generating $459 million in revenue.
CXIC (CXIC Group Containers Co., Ltd.)

The company was founded in 1996 in Changzhou, China. CXIC specializes in producing dry cargo containers, special containers and tank containers. The company exports 90% of its containers to over 40 countries in the world and has an annual capacity of 900,000 TEUs.
W&K Container Inc.

W&K is a container manufacturer based in the US. The company was founded in 1995. With 25 years of experience in the industry, they're contractors to the US federal government and the military. W&K supplies local and municipal governments, as well as the private sector. The company also has the ability to make custom container modifications for any special needs.
Daikin Industries 

Daikin Industries Ltd was founded in 1934, and is headquartered in Japan. The company is one of the top manufacturers of reefer containers. With over 50 years of experience in providing refrigeration equipment to the global container industry, Daikin supplies containers to more than 50 shipping and leasing companies.
MCI (Maersk Container Industry)

MCI is headquartered and has R&D and test engineering facilities in Denmark. The company manufactures reefer containers and Star Cool refrigeration units in Qingdao, China. However, according to a press release by Maersk, the company has sold its reefer manufacturing unit to CIMC.
TLS Offshore Containers International Pvt Ltd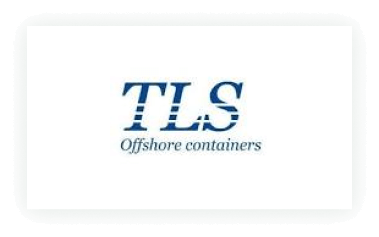 TLS specializes in offshore containers and special containers. The company set up its manufacturing base in 1995 in Singapore. It is one of the largest container manufacturing bases worldwide. This manufacturer has a global target market, with clients in Asia, Europe, South America, and Australia. TLS buys its parts from Daikin, in order to build its reefer containers.
YMC Container Solutions

Headquartered in the UK, YMC manufactures shipping containers along with a variety of multi-purpose containers. They have been in the industry for over 40 years. YMC has two manufacturing facilities located in Brandesburton and Wakefield.
DCM Hyundai Limited (DHL)

DCM was established in 1993 as a joint venture between DCM Shriram Industries and The Hyundai Group of Korea. Both these companies are world leaders in the container business. They have a state-of-the-art facility in Faridabad, India. They also produce trailers, tippers, and containerized bodies.
How much do shipping containers cost?
Now that we've looked at some of the top container manufacturers, let's look at the average prices of containers in the cargo-worthy condition in popular locations. 
Standard shipping container prices (cargo-worthy) 

Location

20ft DC

40ft DC

45ft HC

China

$1314

$1636

$1712

USA

$1465

$2700

$2251

UAE

$1300

$1822

$1994

Europe 

$1018

$2307

$2000

India 

$1241

$2118

$2300
Found a container that's within your budget? Then click here to browse through offers in your location and buy containers at the best prices.
Get up-to-date container prices in your location 
The prices of containers vary significantly from one location to another. That's why it's important to be updated about the current market prices to make profitable deals. 
To help you with this, we present to you xChange Insights. On Insights, you get access to real-time container prices in 110+ locations globally. No need to contact your local network and wait to get container prices anymore. Simply select your location and the container type to find container prices within seconds.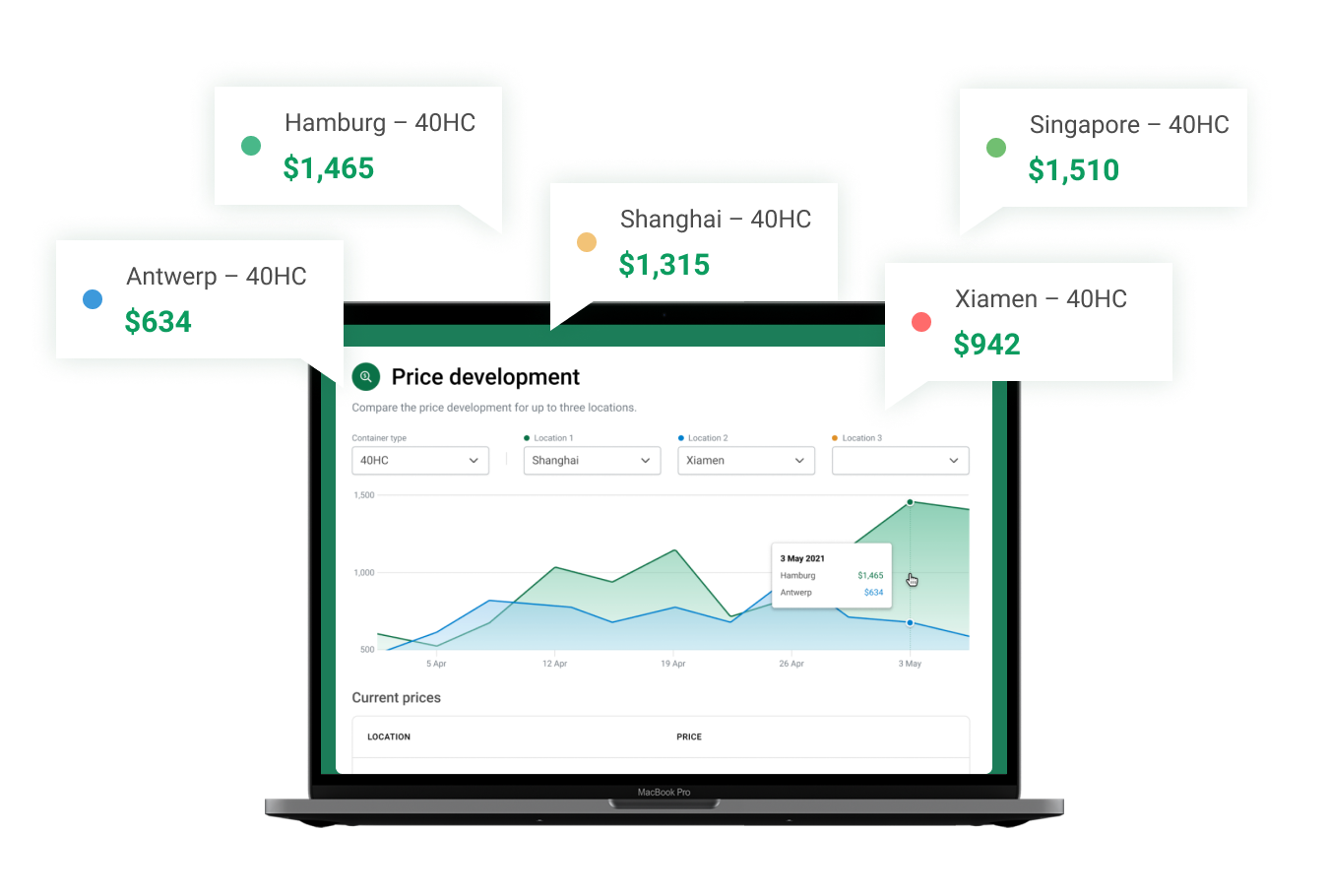 xChange Insights allows you to enter new markets easily and gain upper hand in negotiations. When you know the current container prices, you can make profitable deals. Plus, you can see the price development over days, weeks and even months to determine the right time to buy or sell equipment.
How to buy shipping containers at the best price
Now that you know how to access container prices, it's time to see how you can use our platform to make profitable container deals. 
At Container xChange, we provide you with a global marketplace to buy, lease or sell containers. Once you've joined xChange, simply navigate over to our trading platform, type in your container requirements, and browse available offers.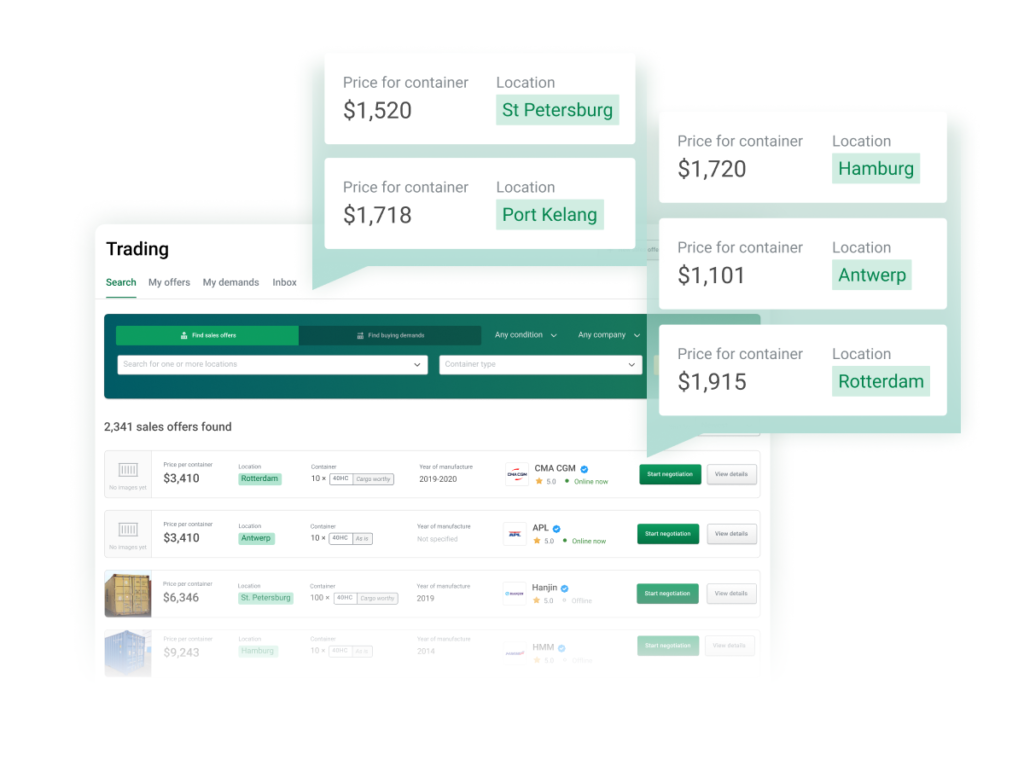 You can compare the prices of multiple offers at the same time, to make sure you're getting the best one out there.
Once you find the offer you like, you can negotiate the price and terms directly with the seller. Chat with them right on the platform to finalize all of the details. And after finalizing the terms of the deal, make secure payments through the xChange wallet.
Here are some other benefits of joining our platform: 
100% market price transparency

Work with vetted and reliable partners 

0% commission on your deals 

Choose from 50,000+ containers in 2500+ locations globally

Deal directly with suppliers – no broker or middleman
You get all this right from your computer screen! Ready to change the way you trade and make profitable container deals? Simply click the banner below and schedule a quick free demo of the platform. Talk to our experts and find out how xChange can help you in simplifying your logistics and making profitable deals.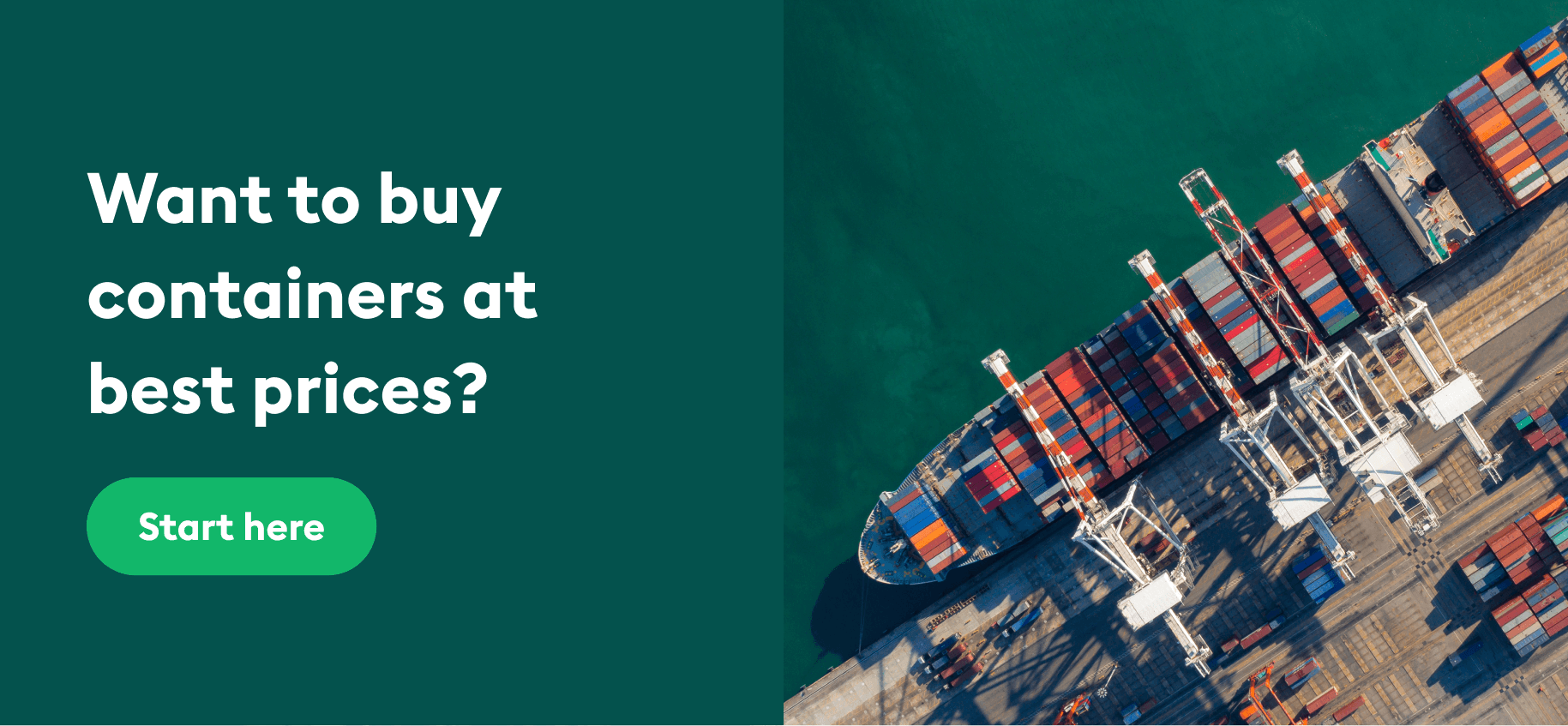 Container manufacturers: Common FAQs
Who is the biggest container manufacturer?
The biggest container manufacturer in the world is CIMC, a Chinese container company. They have an annual capacity of 2 million containers, and are the first company to reach 2 million TEUs internationally.
What companies make shipping containers?
There are many companies who make shipping containers, including CIMC, Singamas and CXIC. These 3 companies currently control around 90% of global container manufacturing. CIMC has 11 factories and an annual capacity of 2 million containers.
Who builds shipping containers?
Shipping container manufacturing companies build shipping containers. These include CIMC, Singamas, CXIC, Maersk and Cosco. Currently, around 85% of container manufacturers are situated in China.
How much does a 40ft shipping container cost?
A new 40ft container will cost you around US $4,208, on average. You can get your hands on a new 20ft container for around US $2,751 and a new 40ft high cube container will cost you US $5,318. Looking for a 20ft reefer container?
Summary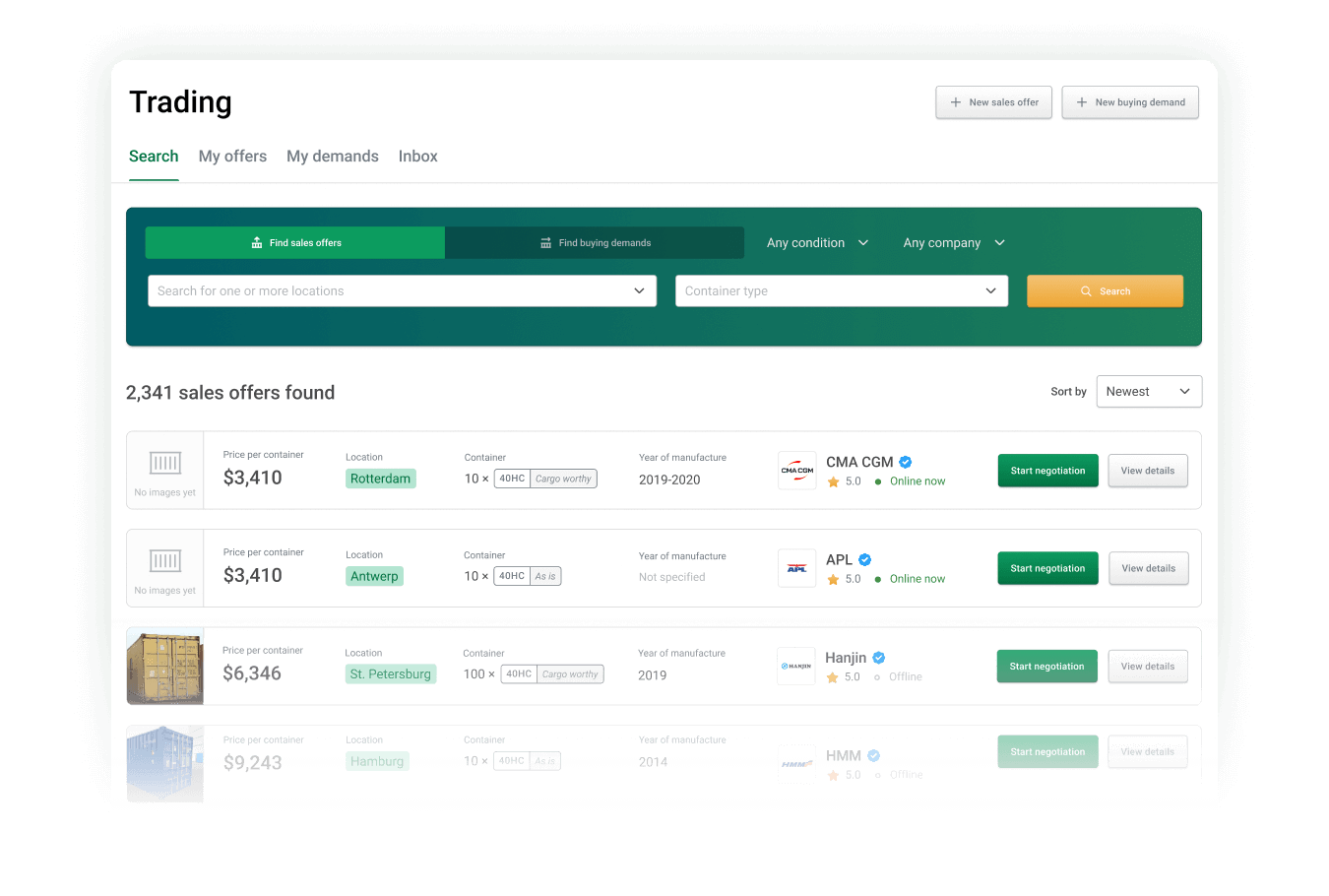 Article Name
Top 10 container manufacturers globally [2023 top list]
Description
Learn about the top 10 container manufacturers globally, as well as how to find containers at the best price on Container xChange.
Author
Publisher Name
Publisher Logo