Are you looking for a way to streamline your daily freight forwarding operations and in turn minimize overall procedural costs? Then incorporating freight forwarding management software in your business processes can prove to be the right decision. Find out what it is and why it's beneficial for you in this blog. Also, get to know how Container xChange can assist you with your shipping logistics business better.
The global freight forwarding market which was 186 billion USD in 2021 is predicted to rise at a CAGR of 3.3% until 2028.
But as a freight forwarder, you know that the process of freight movement is not as simple as it looks. You've got a lot of tasks to look into. Right from sourcing containers to tracking each unit and finally delivering them to the right location, the workflow is arduous and involves a lot of expenditure.
Additionally, it's also your responsibility to make sure that the process is cost-effective to ensure smooth sailing. But how do you really streamline the entire planning and execution of your logistics and make your shipping business efficient and error-free? It's simple! You can make use of freight forwarding management software which provides you with end-to-end logistics operational solutions.
With the advancement of technology in supply chain management, the development of freight forwarding software is finally seeing the light of day.
So, if there were ever a right time to invest in freight forwarding management software it would be now.
Let us take you through what exactly can this software do for you and how Container xChange can help you with your end-to-end operations.
Freight forwarding management software: What is it and how it works
Freight forwarding management software is a tool that helps freight companies manage and automate their daily tasks including freight management and freight brokering for both international and domestic shipping. It increases efficiency and output by streamlining the entire freight forwarding process which includes sourcing containers at good rates, managing booking and references, invoicing and payment tracking, and getting all necessary shipping documentsWhat are shipping documents? In shipping, shipping documents are documents that provide information about the goods being shipped. They may include information such as the origin and destination of th... More in one place.
Freight forwarding management software has one purpose — to simplify your tasks.
This is how it helps you and your business:
Cost-effective, time-saving, and reduces human error – This software replaces manual workload with automated systems and processes. Thus, saving time and also proving to be an affordable option in the long run. Due to automation, there is a reduced risk of human errors which further increases profitability and saves resources. Automation also makes it easier to organize and manage requirements such as warehousing, transportation, containers, etc. and improves operational efficiency.
Seamless integration to simplify processes – Using this software directly accelerates all your process: operations, bookkeeping, billing, orders, tracking, container procurement, and other procedures. It eradicates multiple touchpoints (people and places) and brings the entire supply chain system under one platform (this means you can manage tasks like invoicing shippers, tracking shipments, empty container repositioning, cargo availability, and more under one umbrella). All this can also be accessed and managed anywhere at any time due to it being stored on the cloud.
Also by adopting AI, big data, and machine learning, this software can obtain and process vast volumes of data in a short time. This advanced acquiring and analyzing of data can be used to improve and predict vital information such as ETAWhat is estimated time of arrival?  Estimated time of arrival, commonly known as ETA, is a frequently used term globally to denote the time of coming. In the shipping & logistics industry, it is ... More, ETDWhat is estimated time of departure?  Estimated time of departure, or ETD, is the date/time when the vessel or container is expected to start off from the port of origin. ETD is significant as it giv... More, and weather conditions.
You can see now how freight forwarding management software can help your business. But if you're thinking about how to get started, look no further. Up next, we will tell you how we can help digitize, simplify, and manage your freight forwarding operations end-to-end.

Best freight forwarding management software in 2023
You are aware that container logistics is a worldwide industry in which you work with partners from all over the world. It might be difficult to navigate through issues such as billing, coping with several time zones and currencies, and learning new information about your units. This diminishes the likelihood of business growth while making your operations extremely time-consuming and ineffective.
By sticking to conventional ways of using Excel spreadsheets and Outlook to track your containers and other processes, your manual workload increases. Not to forget, they are time-consuming and error-prone which ultimately causes operational and administrative delays.
However, on Container xChange, we provide you with a complete end-to-end freight forwarding management solution — Container Control — which assists you with features such as:
Near real-time container tracking where you receive regular updates directly from depots. This helps you know the ETAsWhat is estimated time of arrival?  Estimated time of arrival, commonly known as ETA, is a frequently used term globally to denote the time of coming. In the shipping & logistics industry, it is ... More and plan ahead, in case of any delays or potential unforeseen situations.
Record keeping of all container bookings with shippers and partners on the Container xChange platform. On Container Control, you can also connect bookings to container release references for easy monitoring of containers and booking updates.
Add and manage references in order to monitor your container's whereabouts. You can also add the names of those suppliers who aren't members of the Container xChange platform.
Secure payment transactions for all containers with the xChange wallet. You can also keep track of your payment history. You will only receive one monthly consolidated invoice.
Note: Other benefits we offer with Container Control are insurance and surveying to ensure the safety and quality of your containers.
Sneak-peek at other freight forwarding management solutions on Container xChange
Container xChange is the first and one-of-its-kind online platform for all things container logistics. It aims to provide digital solutions to both container users and suppliers. By becoming a member of our platform, you can leverage other well-thought-through digital freight forwarding solutions and eliminate logistics inefficiencies at your fingertips.
Here's a list of all our freight forwarding management offerings:
Digital leasing and trading platform
On our online marketplace, you can lease, buy or sell containers with ease. You can find 10,000+ container types in 2,500+ locations, that you can't find on your current sourcing channels. You can also keep your transactions 100% secure with 1500+ vetted suppliers, and negotiate with them directly without a middleman. We have a mandatory vetting process that every member has to go through before they become a member of the platform, thus ensuring you only deal with certified members.
You can also view performance reviews and partner ratings on their company profile on Container xChange. This helps you to see what other companies say about them and who else they've worked with. So, you can choose who you want to work with. You can then be in communication with them on our platform via calls or chats.
With us, you also get to work with big players in the industry like Seaco Global, Trident, SeaCube, and other trusted names to help build your business network.
All you have to do is become a member of Container xChange, state your container requirements and location, then you'll get multiple deals to choose from. So whether you want to buy, sell, or lease boxes, come and connect with vetted members globally and source containers at the best prices.

Complete market pricing transparency
Speaking of prices, on our platform we offer full market price transparency, so you can source units at inexpensive rates. Here you can compare and negotiate prices and terms and select the offer that suits you the best. This is the best part of sourcing containers from our marketplace – you choose what you want to pay for. With us, you also get the advantage of competitive rates for leasing and trading which are difficult to find outside of the platform with zero hidden fees.
Also with our xChange Insights feature, you have access to actual one-way leasing rates in 180 locations globally. You can compare pick-up charges, free days, and per diems for different stretches as well as see their development for up to 2 years – nice huh? Try Insights for free.
If you're looking for reasonable rates for your boxes, find them right here on Container xChange. Get a free demo from our team of experts and see the platform in action.
Secure and easy payments
With Container xChange, you'll have only one payment partner. We offer 100% automated and secure payments, so you can approve invoices online, and get your payments credited to your xChange wallet in real time. You will also only get one consolidated bill each month.
Container tracking
We also help you with constant updates on your containers. You can easily lease or trade boxes through our platform and start tracking every unit digitally with our add-on feature, xChange Tracking. This feature sends you automated container tracking updates and notifications along with accurate real-time checks on your boxes. With this feature, you get:
Easy to track ETAWhat is estimated time of arrival?  Estimated time of arrival, commonly known as ETA, is a frequently used term globally to denote the time of coming. In the shipping & logistics industry, it is ... More and misuse warnings.
An auto-alert system in the event of delays, discharges, rollovers, or lengthy wait times.
An overview of the number of free days left to save you from paying unnecessary fines.
Pick-up reminders, return schedules, delays at port, container close-to-destination updates, and route changes.
Benefits of using freight forwarding logistics software
You've got a good idea about what we can offer you when it comes to freight forwarding software, but if you want a bit more understanding of the benefits of freight forwarding management software, then have a look at the image below.

How new technologies enable greater efficiency for freight forwarding software
Nowadays, every freight forwarder is aware of the inevitable digitization of the freight forwarding industry. The complete life cycle of freight forwarding management software includes customer relationship management, quotes, digital documentation, product shipments and tracking, and accounting. In simple words: it helps with every aspect of the process: communicating with customers, partners, agents, carriers, and everything else in between.
And with the growing technological advancements in this sector, more high-tech software is making its way into the industry.
At Container xChange, we've designed products that are API-integrated (application programming interface). This means, without you repeatedly updating data, several pieces of software can communicate with one another with the help of API and provide you with refreshed (updated ) data every time without your involvement. By using this software, you can access the near real-time data you require from a single interface rather than switching between them.
To know more about how Container xChange uses the latest technology to help you smoothen the logistics processes, read our separate blog here.

Streamline your workflow with Container xChange's high-tech logistics software
There you have it – your all-in-one freight forwarding management software at your fingertips – Container xChange. Using our high-tech, user-friendly platform you can make your daily freight forwarding tasks such as finding suppliers, securing units, and tracking boxes effortless and easy. It's time to upgrade your global logistics operations by:
Reducing manual workload, human error, and delays
Improving your planning
Storing and accessing all documents and data digitally at any time from anywhere
Securing containers only from vetted suppliers across 2,500 locations
Welcoming a safe and secure transaction environment
Getting more control over deals and negotiations
Monitoring your containers in near real-time
Freight forwarding management software: Common FAQs
What is freight forwarding software?
Freight forwarding management software is a technological tool that helps freight companies manage and automate their daily tasks. This increases their efficiency and output.
What is KPI in freight forwarding?
A logistics key performance indicator (KPI) is a quantitative tool used by freight forwarders to measure performance within their logistics department.
What are the four main types of freight transportation?
The four main types are sea, air, road, and rail.
Summary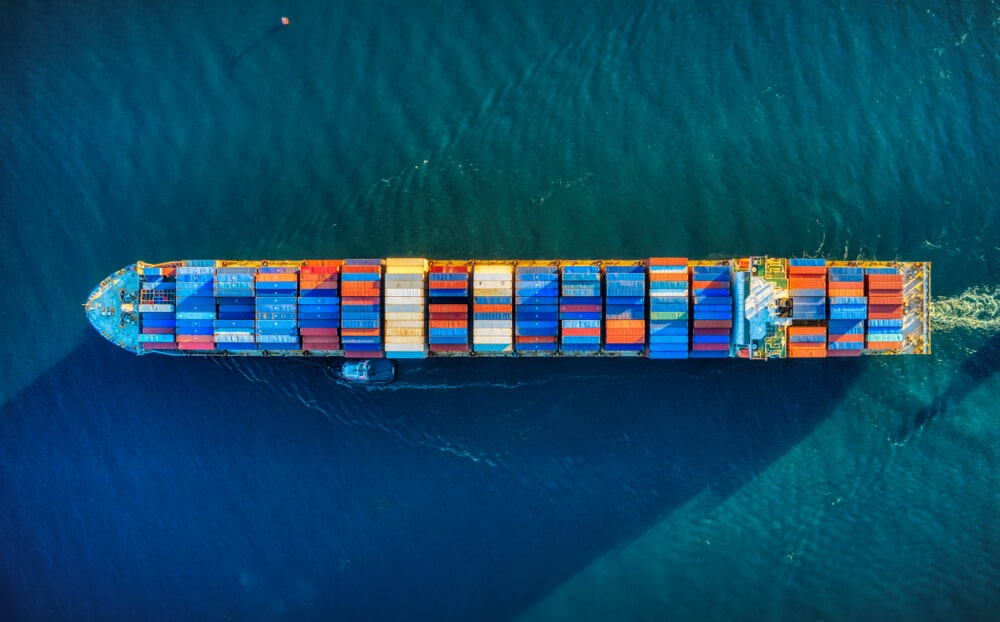 Article Name
Freight forwarding management software [+ how it helps business]
Description
Using freight forwarding management software can streamline your freight movement process and make it error-free and efficient. Learn how!
Author
Publisher Name
Publisher Logo