You type in "shipping container sizes and types". The results pop up with things like "reefer container", "40ft HC", and "double door". Great! Now which one to choose? We break down shipping container sizes, types and uses for you in this blog post. 
At xChange, we make it easy, quick, and convenient to find the exact container you need at a rate you're comfortable with. We're a neutral marketplace for buying, selling, and leasing boxes, with hundreds of certified companies on board. We connect container users and owners in over 2,500 locations worldwide.
That's also why we're here to help you figure out exactly what sizes and dimensions different container types have – and which fit your needs. If you want to buy containers, we've also left tips for that at the end. Let's get started👇
Understanding the different shipping container sizes: An overview
First things first, we'll start with the standard container types. These are the most commonly used containers, and are also called dry containers. We'll expand more on what a dry container is later on in the post.
20ft shipping container
The 20ft shipping container is the most popular and widely used container. It's the smallest of the standard container range and is often used to transport heavy machinery, and raw materials like iron ore and rock.
The 20ft is used to transport cargo to ports and areas without sophisticated lifting equipment, because it's light and small. It's also the most popular choice for intermodal transport, as it's the easiest to move around.
40ft shipping container
The 40ft container can pack in double the cargo of a 20ft box! While the 20ft is often used to carry heavy loads, the 40ft is used to carry larger amounts of lighter consumer goods. Think cotton, furniture, clothing, electronics and even vehicles.
Container users can be charged with a fine if their containers are overweight, which is why larger containers are generally used to carry more goods, rather than heavier goods.
40ft HC shipping container
The 40ft high cube container is a taller version of the 40ft container, and is great for moving over-height cargo (up to 2.7m or 8.1ft tall). Like the standard 40ft, it's also used to carry large amounts of lighter consumer goods like furniture and clothing.
If you want to find out more about standard containers, check out this separate blog post.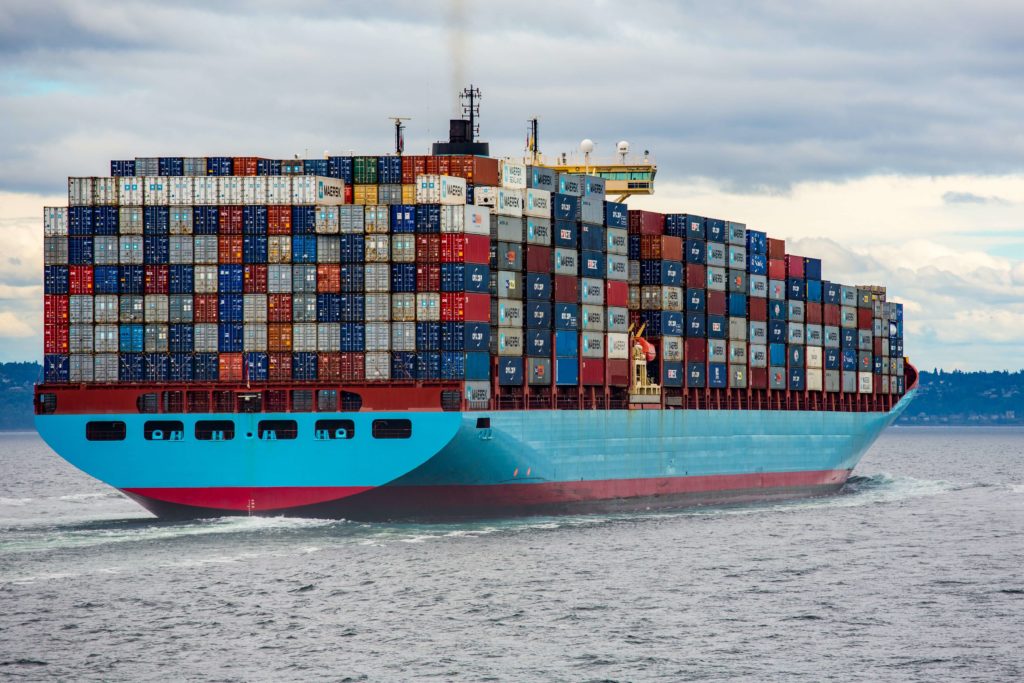 Why are shipping container sizes standardized?
If you've ever thought to yourself, "wow, there are a lot of container types out there", you'd be correct. There are loads of different containers available nowadays, all with different specifications and sizes.
The good news is that container sizes are completely standardized world-wide. If you lease a 40ft container in the US, it will be the exact same size and dimensions as a 40ft container in India.
Standardization is necessary in order to keep the fast-paced logistics industry moving like clockwork. Boxes need to fit on-top of one another like tetris blocks, so that they can be packed quickly and efficiently.
It also means that you'll always know exactly what you're getting, and never have to worry about measuring up a container yourself.
What is a dry shipping container? 
Dry containers, as the name suggests, are used to transport and store dry goods. They're made out of steel or aluminum, and are airtight and water-resistant (as long as they are in a good condition). It's possible to transport and store most kinds of dry goods in a standard container, including boxes, wooden pallets, barrels, sacks of grain, clothing, electronics, and more.
It's very important that a dry container is well maintained, otherwise the user runs the risk of the elements getting in and ruining the cargo. In the next section, we'll highlight some of the important container conditions to look out for.
Container conditions for storage and shipping
Make sure that the container you're leasing or buying is in good condition. Check the following:
Door seals: These must be in good working order, otherwise wind and rain can get into the container. Rodents and bugs could also squeeze through small holes, so the door seals need to be tight.
Container body: Your container should sit flat on the ground, and not be lopsided.
Flooring: Check that the floors are not damaged, peeling, or uneven, as this could cause items to wobble during transport.
Exterior walls: Keep on the lookout for major dents or bumps that could mean the container walls are uneven inside.
Locking bars and brackets: Make sure that these work correctly, as they keep your items safe and secure inside the container.
Shipping container sizes and dimensions
Now that we've learned about the most common container types, it's time to dive into the dimensions of shipping containers. It's obviously important to understand the size of a container before choosing it. Otherwise, your goods might not fit inside – duh!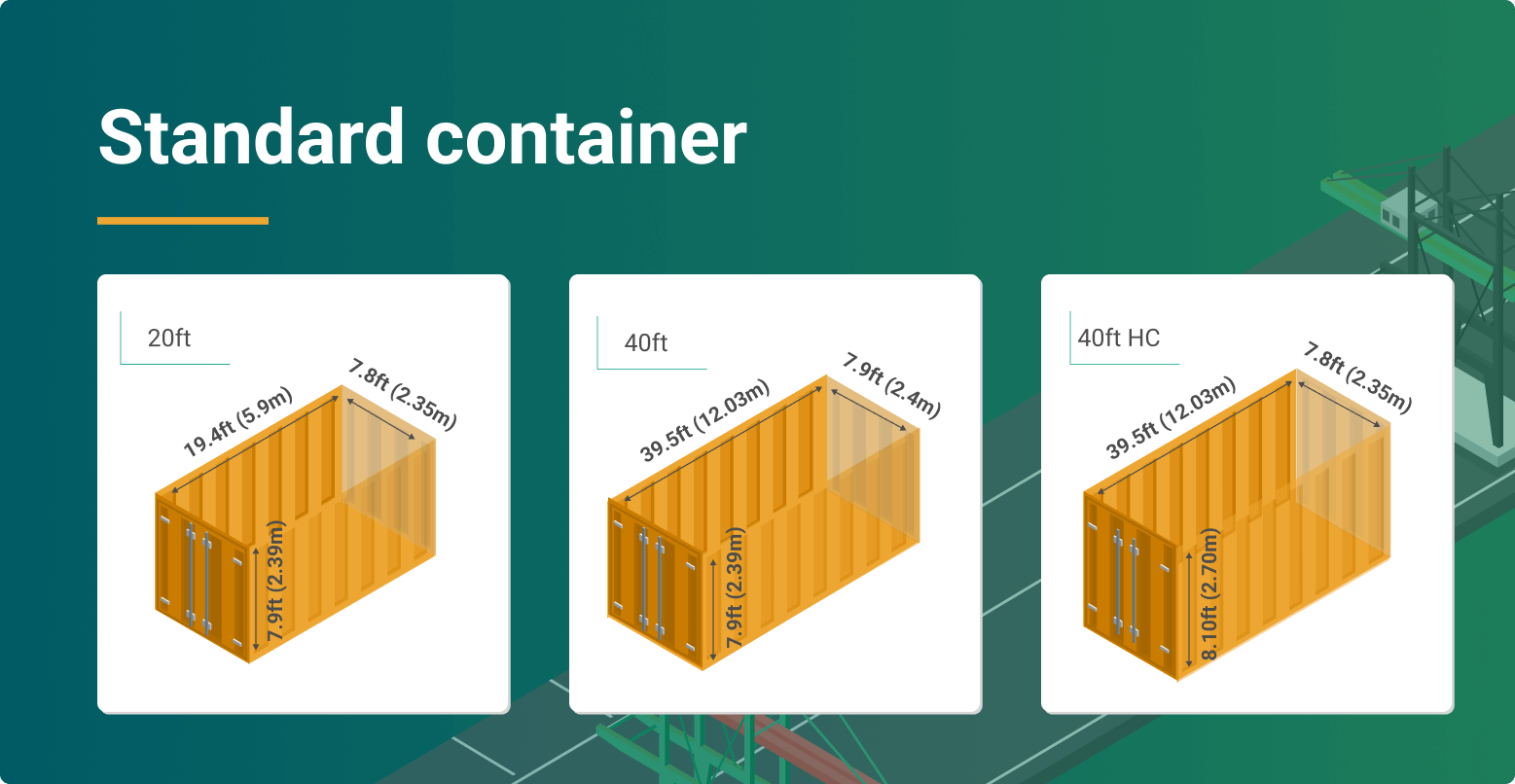 Besides knowing the internal dimensions of your container, it's also important to know things like the payload capacity (maximum capacity of cargo, which should not be exceeded), and tare weight (total weight of a container when empty). This will give you an idea of how much your container weighs, and how much weight it can transport.
| | | | |
| --- | --- | --- | --- |
| Size | 20ft | 40ft | 40ft HC |
| Internal length | 5.9m / 19.4ft | 12.03m / 39.5ft | 12.03m / 39.5ft  |
| Internal width | 2.35m / 7.8ft | 2.4m / 7.9ft | 2.35m / 7.8ft |
| Height | 2.39m / 7.9ft | 2.39m / 7.9ft | 2.70m / 8.10ft |
| Cubic capacity | 1,172 cu ft / 33.2 cu m | 2,389 cu ft / 67,7 cu m | 2,694.5 cu ft / 76.3 cu m  |
| Payload capacity | 55,126.9 lbs / 25,000 kg | 61,200 lbs / 27,600 kg | 63,052 lbs / 28,000 kg |
| Tare weight | 5,071.5 lbs / 2,300 kg | 8,268.8 lbs / 3,750 kg | 8,598 lbs / 3,900 kg |
Special shipping container sizes and types 
Special shipping containers include the reefer, the double door and the flat rack container. The following are some of the things commonly changed on a special container:
The height and width of the container
Technological equipment
Different position of the door or doors
We'll now introduce you to some of the most popular kinds of special containers:
Refrigerated shipping container sizes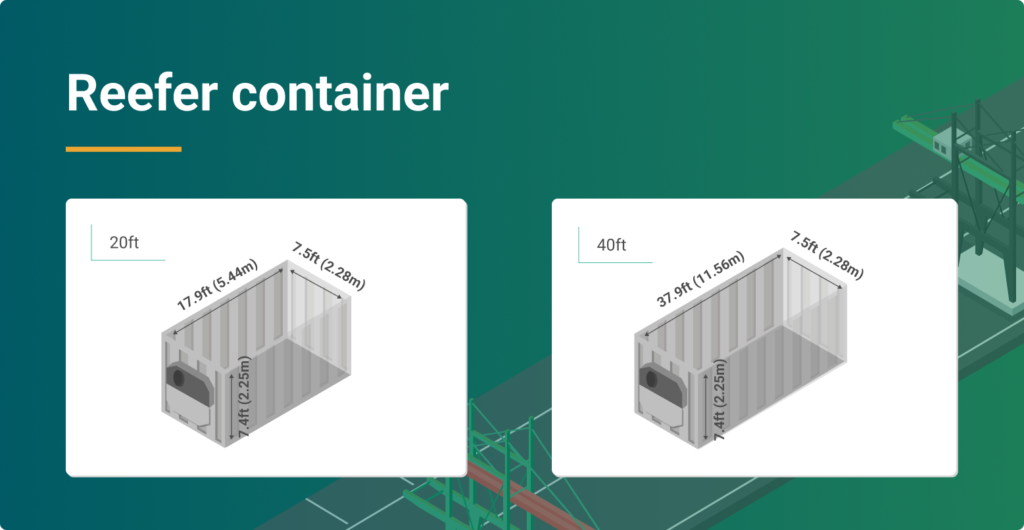 | Measure | 20ft  | 40ft  |
| --- | --- | --- |
| Internal length | 5.44m / 17.9ft | 11.56m / 37.9ft |
| Internal width | 2.29m / 7.5ft | 2.28m / 7.5ft |
| Internal height | 2.27m / 7.5ft | 2.25m / 7.4ft |
| Tare weight | 3,080kg / 6,791.4 lbs | 4,800kg / 10,584 lbs |
| Payload capacity | 27,700 kg / 61,078.5 lbs | 29,520kg / 65,080 lbs |
| Cubic capacity | 59.3 m3 / 2,093.3 cu ft | 67.3 m3 / 2,380 cu ft |
This container is basically a portable fridge. The floor has T-shaped decking, which sends chilled air throughout the inside of the unit. Because of the consistent airflow, a reefer can maintain any temperature between -30°C and +30°C.
The reefer container is used to transport medication, ice-cream, dairy products, fruit and meat. Areas of the container can be sectioned off for freezing, whilst other sections are used for cooling. Reefer containers are powered by fuel when on the road, and by electrical generators at other times. They're expensive both to run and maintain.
Double door shipping container sizes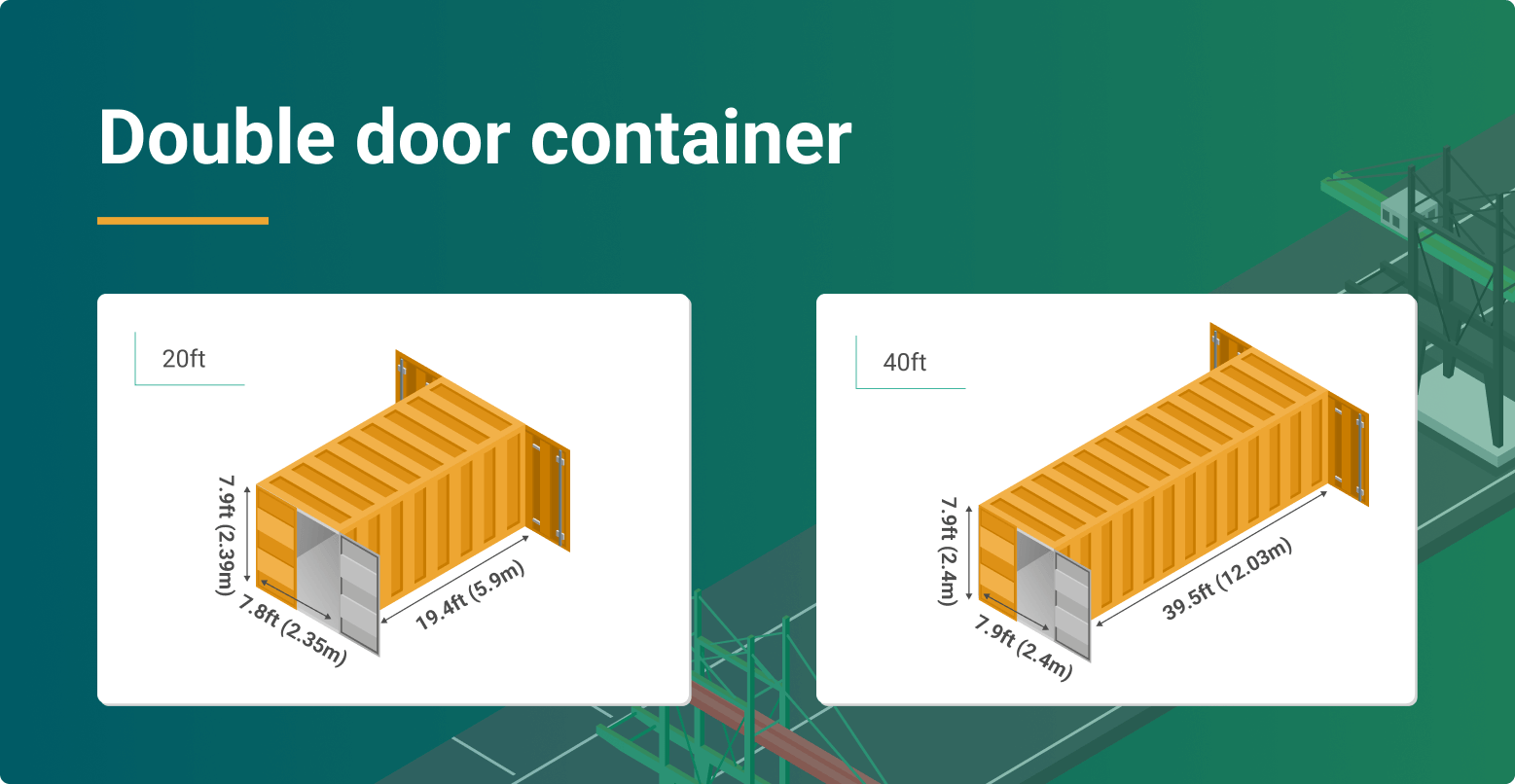 A double door shipping container is a container with doors on both ends. This makes it easy to load and unload certain kinds of cargo, such as vehicles. A car can be driven in forward, and also drive out forward on the other end, no need for reversing! These containers can also be used on construction sites, creating tunnels that workers can move through safely. When double doors are used in this way, they are referred to as tunnel containers (no surprise there!).
Learn more about the double door container here.
Pallet wide shipping container sizes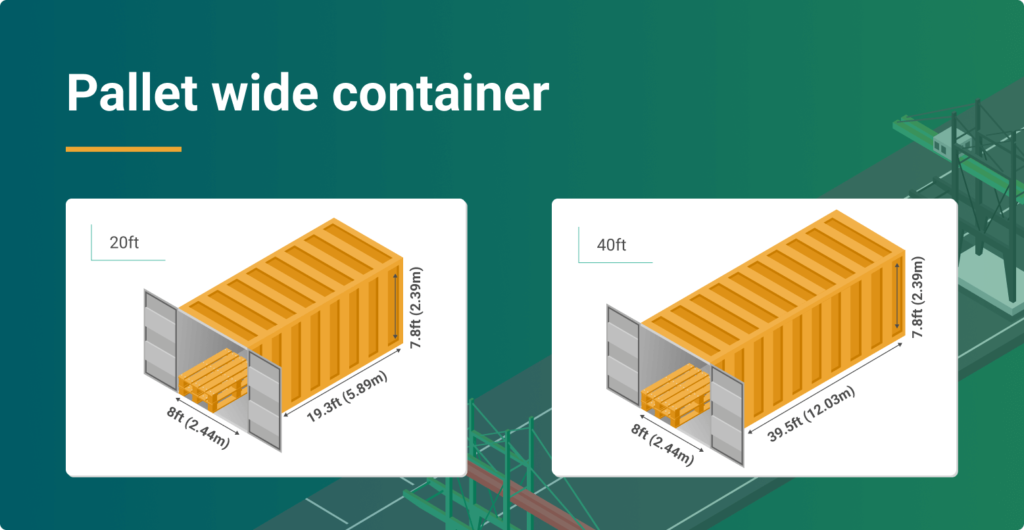 Pallet wide containers are designed especially to fit wooden pallets inside. They carry Euro pallets, which are the pallets used throughout Europe. These Euro pallets have a very specific shape and size. Pallet wide containers come in 20ft, 40ft and 40ft high cube sizes. The container is designed leaving no room for pallets to slip around, as they have to be packed tightly. This prevents them from slipping and breaking during transport.
Find out more about the pallet wide container here.
Flat rack shipping container sizes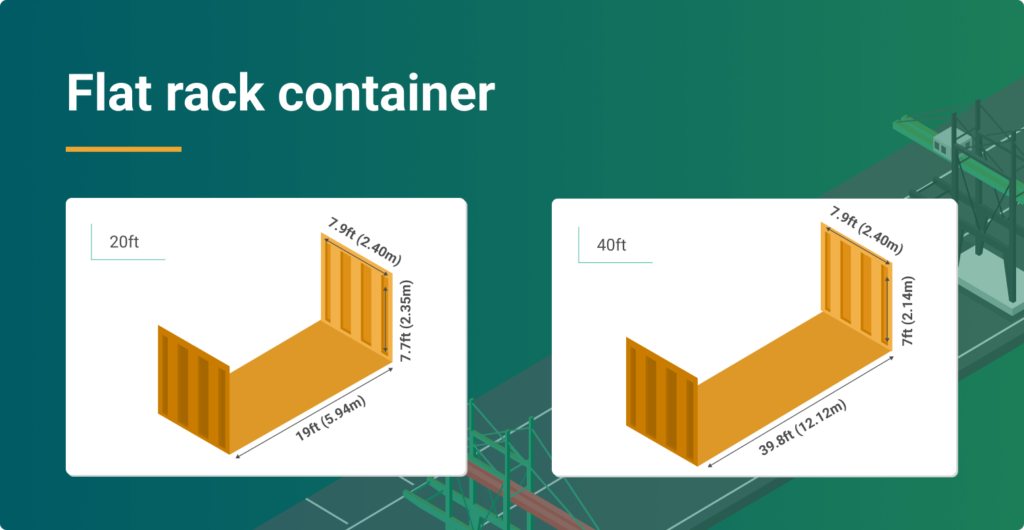 Flat rack containers don't have walls on the longer ends, and have no roof. This container makes it easy to load items of awkward sizes, or to load from the top. Once cargo has been loaded, strong lashing rings are wrapped around the container, securing the load tightly, and preventing anything from moving.
At present, newer flat racks can carry loads of between 40,000 and 50,000 kilograms! That's pretty impressive, don't you think? With a flat rack container, stacking is not possible due to the open top.
Or are you looking to ship your large cargo that doesn't fit into any of the boxes mentioned above? If yes, then head over to this blog to learn how you can ship extremely large and heavy cargo.
Shipping containers vs storage containers: What's the difference?
Yes, containers used for shipping, and containers used for storage do have different requirements. Let's dive into these now:
Containers for shipping
It goes without saying that containers carrying expensive items ranging from chemicals and medication to electronics and new cars need to be strong, sturdy and completely weather-resistant. A container can only protect its cargo if it is in a cargo-worthy condition.
Containers used for shipping need to abide by very strict regulations, and must have all of their certifications in order. Most importantly, a sea-worthy container needs a CSC plate. "CSC" stands for the "convention for safe containers". This plate proves that the container is fit to carry cargo. The CSC plate also provides all of the necessary information about the container itself, including how much it weighs, when it was last fumigated, and the owner's address.
A container is only cargo-worthy if every item on a very long checklist is in working order, otherwise it cannot be loaded onto the ship.
Containers for storage
A storage container still has to be WWT (wind and water-tight), but it can be made from various materials, and does not have to be of certain exact measurements. It also does not have to be in as good a condition in order to do the job of storing goods safely.
Most containers used for storage are old shipping containers that no longer meet the requirements to carry cargo. Often, these containers are refurbished.
If you're looking for a container for storage, it would of course be important to make sure the container is in good condition. Make sure it doesn't have holes, major dents or uneven flooring, and that the locking bars work correctly.
Get shipping containers of all sizes on xChange
Now that you know the dimensions of some of the most popular shipping container types, it's time to get going finding the containers you need. It's so simple to get your hands on the ideal container with xChange! xChange brings you a neutral marketplace, with containers available to lease and buy in over 2,500 locations worldwide.
Do you want to buy a single container and don't have recurring container needs? Have a look at our basic membership, which is ideal for one-time buyers!
Is buying and selling containers a part of your job? And do you have to buy containers on regular basis? Then our Professional membership will help you profit from a long row of benefits.
Benefits of the xChange trading marketplace
For just US$190 per month, you get a long list of advantages as a Professional member. You can:
Find vetted partners and make deals. Riskfree.
All companies undergo a mandatory vetting process before becoming members. This means, that you can do business with all xChange members. Risk-free. On top of this, all companies also have public profiles. Here, you can see reviews from previous partners – and how they've rated them. Want an extra layer of security? Keep on reading!
Make 100% secure transactions
Not only, does xChange ensure that all sellers are vetted. We also protect the buyers. So, you don't have to worry about paying and not getting your assets. Our dedicated Customer Service team makes sure that your container operations go smoothly. And that your payments are completely secure.
Know market cost and negotiate better prices on containers
Find the containers that fit your needs – and compare prices with other offers. On the trading marketplace, you get a full overview of available containers. And you can see what other sellers want for their boxes. Not satisfied with the price? Text the seller right on the platform and agree on a price right then and there.
Choose between 10,000 boxes and make unlimited deals
Do you need a container type that you can't find in your current sourcing channels? Don't worry. With over 10,000 containers located across 2,500+ unique locations, Container xChange makes it easy for you to find the containers you need.
You get all this right from your computer screen and much more for just US $190 per month. Want to see how you can do business with companies such as Trident, SeaCo, and SeaCube?
Then click on the banner below and book a free 15-minute tour of the platform with our expert team.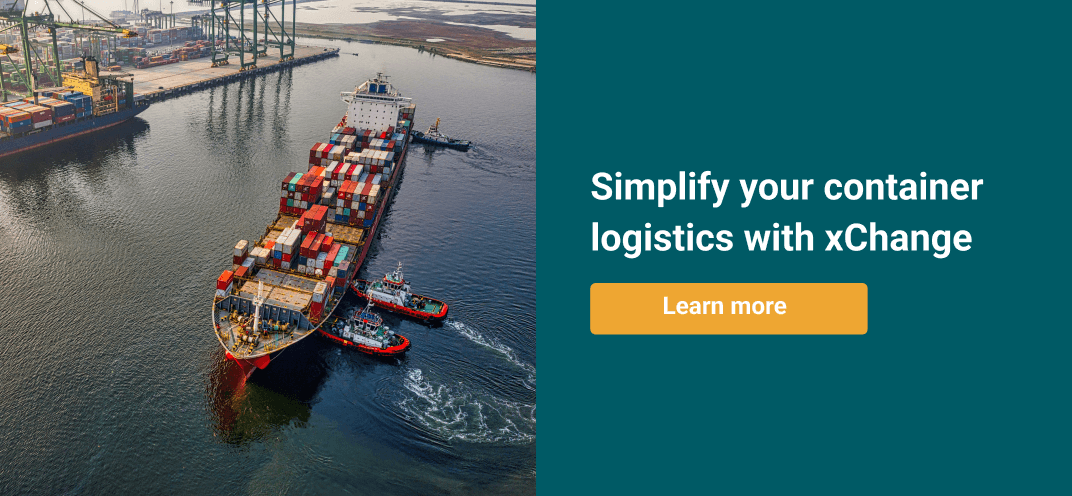 What is the standard size of a shipping container?
A standard container is 8ft (2.44m) wide by 8.6ft (2.59m) high. The taller high cube (HC) container is 9.6ft (2.90m) high. The high cube has become very popular in recent years.
How wide is a standard 40ft shipping container?
A standard 40ft shipping container has an internal width of 7.9ft (2.4m), a height of 7.9ft (2.39m) and an internal length of 39.5ft (12.03m). The 40ft container is one of the most popular containers for transporting dry cargo on ships.
Related Posts
Summary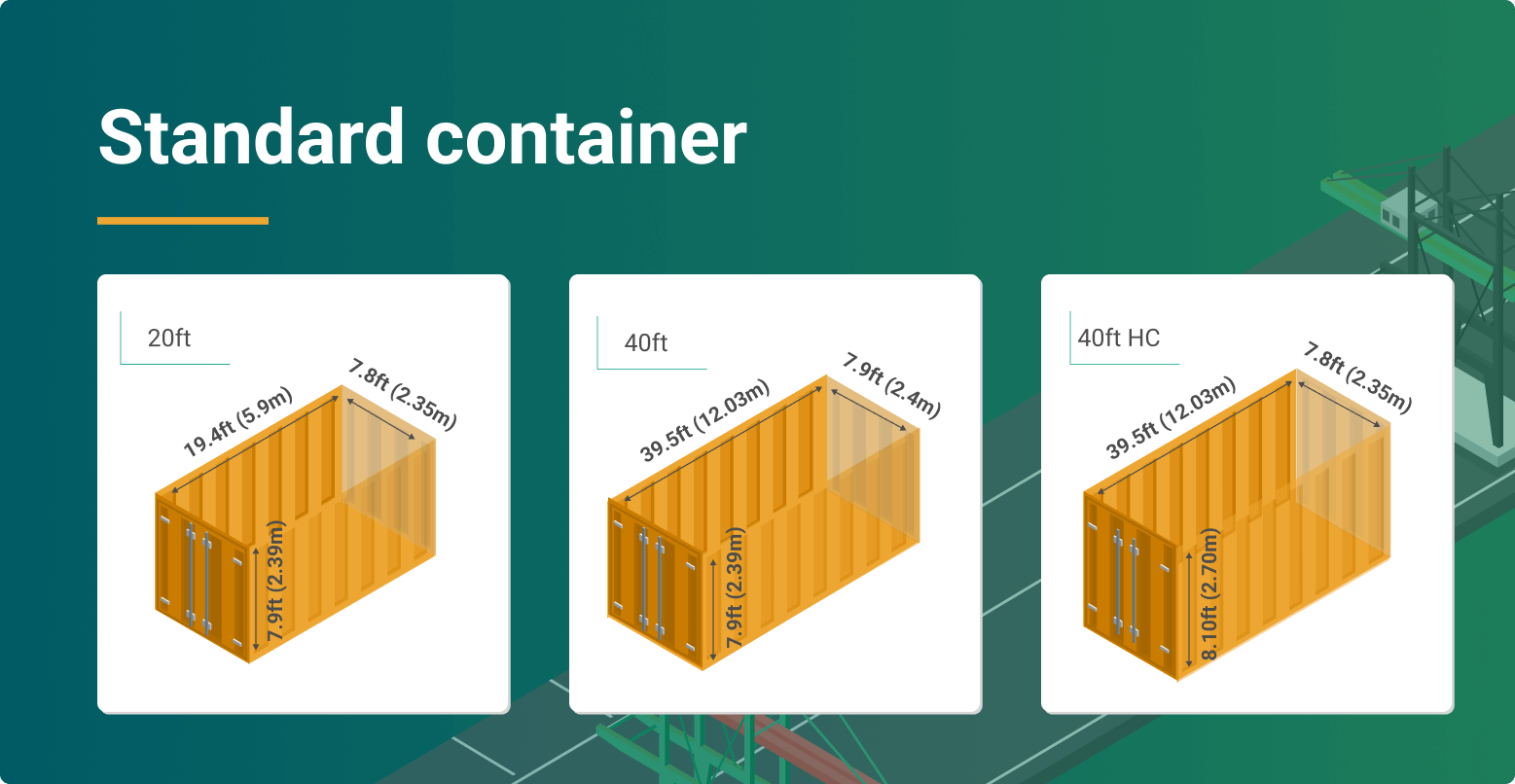 Article Name
Shipping container sizes [2022 overview]+ types, benefits & uses
Description
Want to know all about shipping container sizes, types and uses? Get the complete guide to choosing the ideal container for your needs.
Author
Publisher Name
Publisher Logo