LNG ISO tanks are designed specially to transport gases. Looking for an LNG ISO tank? Get the full overview of the features and specifications as well as average prices on different types.
As the demand for international trade rises day by day, the need for good quality and reliable means of conveyance increases. To carry liquefied natural gas across the world, the LNG ISO tank caters to the demand with a variety of customizable features.
In many countries, LNG ISO tank containers are used to optimize energy supply chains and obtain Liquefied Natural Gas (LNG) for use in cities and remote locations. The LNG containers are available for short and long-term lease and offer an effective solution to the LNG supply problem.
Read on to get a complete overview of the LNG ISO Tank and how to get them at the best price.
LNG ISO Tank Containers
ISO storage tanks for Liquified Natural Gas (LNG) are characterized by their ability to hold this gas at temperatures of -162 °C (-260 °F).
An LNG ISO tank has two containers — an inner tank containing LNG, and an outer tank with insulation materials. Full containment tanks are most common and vary significantly in size based on their purpose. Transporting LNG in ISO tanks is an innovative and effective alternative to conventional natural gas distribution.
Here are other ways where LNG ISO Tank containers are useful 👇
What Can You Transport In LNG ISO Tank Containers? 
LNG ISO tank containers are intermodal containers used to move liquids, gases, and powders. It is built in accordance with the ISO standards, making it suitable for different modes of transportation. Both hazardous and non-hazardous products can be transported in tank containers.
LNG tanks are typically constructed with 4 to 6 tanks arranged in a row down the center. The vessel has a double-hull design because two separate ballast tanks, cofferdams, and voids surround the tanks.
LNG or Liquified Natural Gas is natural gas (predominantly methane, CH4, with some mixture of ethane, C2H6) converted into liquid form for storage or transportation without the use of pressurized vessels or storage. LNG is odorless, colorless, non-toxic, and non-corrosive gas.
The market is full of companies providing LNG ISO tanks at standard rates. xChange helps you to find the right LNG ISO tank container as per your requirements from a pool of verified suppliers.
LNG ISO Tank Container Specifications
LNG ISO tank containers are the easiest means of conveyance to transport liquified natural gases. The tank containers are available in various specifications to serve different purposes.
A 20ft cryogenic LNG ISO container offers a storage capacity of 22,000 liters starting at a 17 BARG working pressure. 
Similarly, two 40ft LNG ISO containers can have different specifications, and they can be leveraged for different purposes. For instance, a 40ft cryogenic LNG ISO container provides an exceptional 45,000 liters of capacity with an incomparable total payload of up to 36,000 kg. The working pressures for a 40ft LNG ISO standard container range between 10 BARG to 22 BARG with and without pump options.
Furthermore, a 45 ft swap body type LNG ISO container is also available in the market with a 7 BARG working pressure and a maximum capacity of 60,000 liters, ensuring the fastest liquid transport with low tare weight.
LNG ISO Tank Types
There are a variety of LNG ISO containers available in the market, like:
Container
Type

Container Specification
(L x B x H /mm)

Loading Capacity
(in L)

Design Temperature
(ºC)

20 ft LNG ISO Container

6058 x 2438 x 2591

22,000 L

55

40 ft LNG ISO Container

12460 x 2500 x 3980

25,000 L

55

20 ft Standard Cryogenic LNG ISO 

6058 x 2438 x 2591

20,200 L

55
Many names: 40ft LNG ISO Container vs. ISO VAC 40 LNG?
There's a common misconception regarding which container to select for different requirements, especially when it comes to choosing between 40 ft LNG ISO Container and ISO VAC 40 LNG.
To clear the confusion, be assured that both the container types — 40ft LNG ISO Tank and ISO VAC 40 LNG — are the same with just variable names.
LNG Container Safety Considerations
LNG ISO tank containers are advised to be handled with extra care since they might contain highly inflammable shipments. Here are some other safety aspects to consider:
Whenever handling natural gas, there is a possibility that gas will permeate clothing, so avoid smoking near the tank, especially while filling and discharging.

In case of a leak, remove any ignition sources and cut off the gas supply. Further, shut off the leaky spot, and have ample ventilation. Also, make sure it is away from any electrical units.
LNG Tanks Under Pressure
LNG ISO tank containers are multi-layered vacuum-insulated pressure tanks, supported by double-walled transport tanks. They are designed for efficient and economical transportation of LNG. The maximum pressure level of an LNG ISO tank container is 0.690 MPa.
LNG ISO Tank Prices 
The prices of LNG ISO tank containers vary depending on factors like which country it is bought in, the country it is sent to, or the type of LNG ISO container used. Here is the price list of different LNG ISO tank containers:
| | |
| --- | --- |
| Container Type | Average Price |
| 20 ft LNG ISO Tank | USD 10,000 |
| 40 ft Cryogenic LNG ISO Tank | USD 50,000 – 52,000 |
| 10 ft Low Pressure LNG ISO Tank | USD 8,000 – 42,000 |
| 40 ft LNG ISO Tank | USD 54,000 – 56,000 |
| 45 ft LNG Tank | USD 33,000  |
Finding and buying a container at the right price has never been easier. All you have to do is turn on your computer, open your internet browser, and scroll through the many containers up for sale around the globe. And you don't have to worry about the hassle of doing background checks for all potential partners nor waste time on lengthy email correspondences back and forth. Because all companies have been thoroughly vetted before joining the platform and you can directly negotiate with the container owner. Sounds good? You can see exactly how the platform works and how it could help you increase your fleet and flexibility – just click on the banner book a call with our team.
ISO Tank Container Types
ISO tanks are cost-effective containers as they can store and transport material with a lower shipping and transportation cost. There are different types of ISO tank containers available in the market catering to diverse requirements. 
ISO Tank Containers are regulated by ISO standards which mandate their manufacturing, testing, and certification as per international guidelines. This certification guarantees their reliability to transport a range of products from food, oil, chemicals, solvents, and fuel.
Here are the major types of ISO tank containers:
Food-grade Tank Container
Used to transport food products made of stainless steel with mineral wool insulation.
Silo Tank Container
Transport bulk powder commodities like cement, fly ash, plaster, and lime.
Swap-body Tank Container
Comes with a barrel that is larger than the frame, and the standard length is 23 to 25 feet.
Reefer Tank Container
A refrigerated tank that maintains a set temperature to preserve products.
Gas Tank Container
Suitable for the intermodal transportation of liquefied gases.
Multi-compartment Tank Container
Have 1/2 partitions inside the tank to allow different products to be shipped in a single container.
LNG ISO Tanks Container
Used to transport liquids, gases, and powders as bulk cargo.
Tank Containers on Container xChange
At Container xChange, you can buy, sell, and lease every type of container, including general dry containers, refrigerated containers, special containers, as well as ISO Tank containers. With the recent acquisition of TankContainerFinder.com, finding ISO tank containers for your transportation requirements is even easier.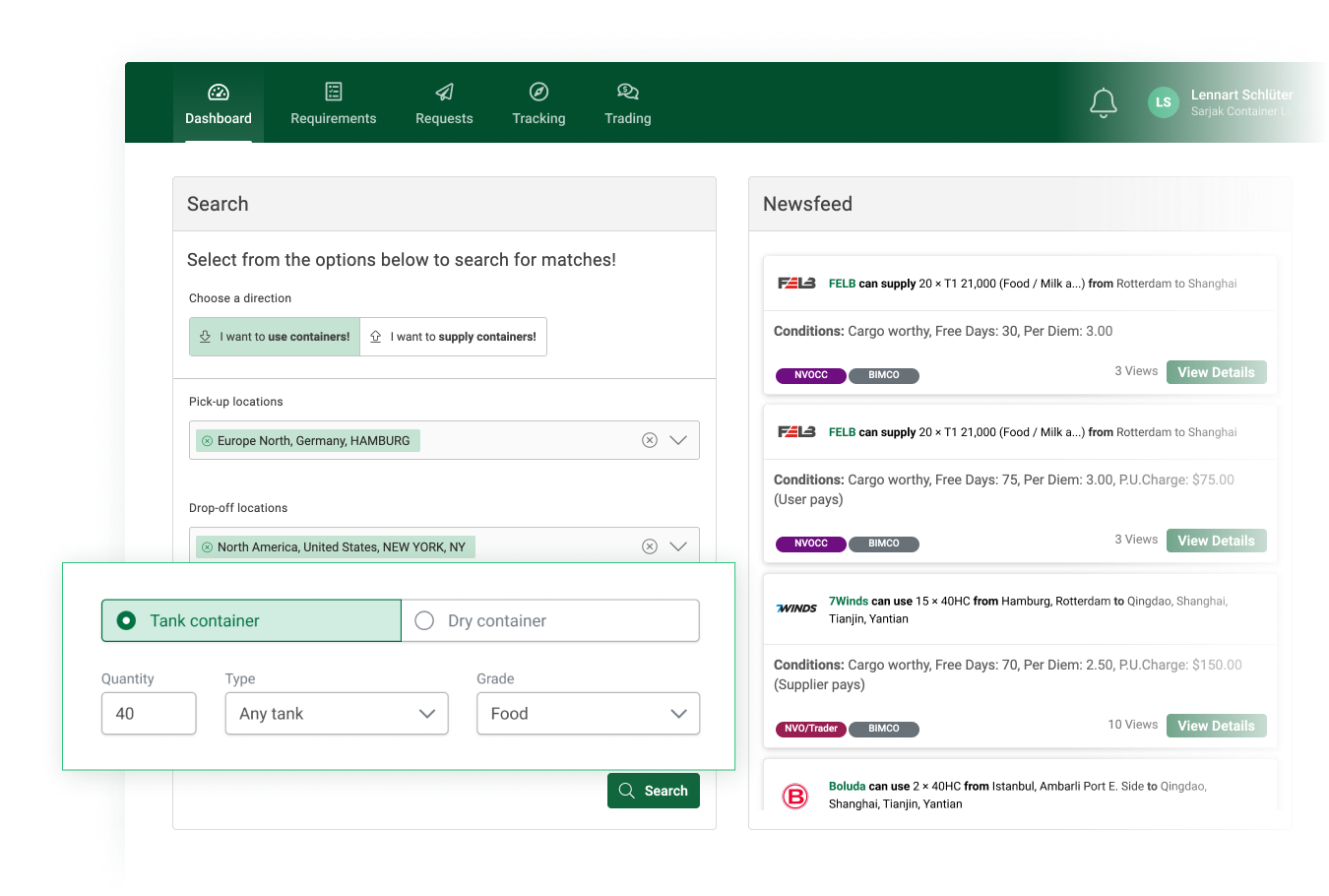 Container xChange is beneficial for both sellers and customers. It gives small sellers an advantage of selling their products in a wider market. Grow your logistics network and connect with 800+ traders and shipping companies across 2500+ locations.
xChange is a one-stop solution for all your container leasing and buying requirements. It comes with numerous benefits, like:
Transparency regarding the complete leasing or buying process

An array of containers to choose from as per requirement

Access to verified partners across the globe

Deals on leasing and buying the various container

Direct negotiations with the shipper to get the best deals
xChange offers you a hassle-free neutral marketplace for trading containers and a platform to connect with certified partners and enjoy great deals on container sale, lease, and purchase.
LNG Tank Container FAQ
Are LNG tanks pressurized?
Yes, LNG Tanks are pressurized. The maximum working pressure of a standard LNG ISO tank is 250 PSIG or lower, with the product stored at 50-120 PSIG.
What is a rollover in LNG tanks?
The rollover in LNG tanks occurs when the vapors from an LNG tank are rapidly released because of stratification.
Related Posts
Summary
Article Name
LNG ISO tank: Features, specifications & costs [2022]
Description
Looking for an LNG ISO tank? Get the full overview of the features and specifications as well as average prices on different types.
Author
Publisher Name
Publisher Logo