Are you looking to rent 40ft containers? Get an overview of the rates and uses, plus get your hands on a 40ft container right here.  
Typing 'how to rent a 40ft container' in Google and hitting enter does the job well. But the results can often be overwhelming. Finding a container leasing company that meets your container needs at decent rates is difficult. And, looking for the best quote can be a long and tedious process.  
Is there container availability at the location you need? Does the supplier have the right type of containers for you? Is it the best price you can get?  
The information you need to make the best decision exists. But the problem is that it's spread all over the web. xChange simplifies how you rent a 40ft container.  
How? 
Simple!  
Put in your pickup and drop-off locations below and hit 'search.' You will get a free preview of all the companies that have containers available in the location you need. Simple, effective, and time-saving. Try now👇  
When should you buy or rent a container?
More than half the world's containers are under the ownership of leasing companies. And buying containers is not economically possible for all. But, even if it is, there still are advantages of leasing containers that you'd want to consider before you make a decision. 
So, exactly when should you rent a 40ft container? And when should you buy it? 
Buying containers makes sense when you:  
store goods for a longer period of time,

 

use them to transport cargo for an indefinite period, 

 

make modifications to the boxes, 

 

convert the boxes into something else.

 
In all other scenarios, it's a good idea to rent your 40ft container. It's best to rent a 40ft container when you must use it for shorter, definite periods for general cargo. For advantages of renting a shipping container than buying it, read on! 
Rent a 40ft container for your short-term requirements. Click below👇   
Advantages of renting 40ft containers   
Some of the main advantages of renting 40ft containers are: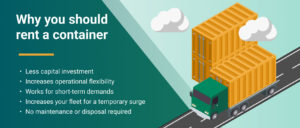 Less capital investment  
If you need containers urgently but don't have massive capital at hand, renting is your best option. If you choose to rent a 40ft container, there's no need for significant investment and even small businesses can afford it.  
Increases operational flexibility  
When you rent a 40ft container instead of buying it, you can always choose the lease agreement according to your needs. You can keep control over timing and pricing. This will give you flexibility and reduce unwanted complications from your transactions. 
Works for short-term demands
If you need containers for a short period or for any temporary use, renting is more beneficial. It provides you with storage, security, and transport for your goods for a set duration of time. Once you return the container, you don't have to worry about it. This also saves you unwanted maintenance costs.  
Increases your fleet for a temporary surge  
There are times in every industry when the demand is higher than expected. If your business is experiencing such a temporary surge, rentals are a good option for you. 
No need for maintenance or disposal
This is the biggest benefit of renting over buying shipping containers. Maintaining containers requires space, inspections, and fixing structural damage. All this is a lot of work and capital investment. If you're renting containers, all of this is taken care of by the container provider.   
Rent a 40ft container on xChange
Now, you know the biggest advantages of renting a container. Have you made up your mind that renting containers is for you? If yes, xChange is a simple-to-use online marketplace for shipping containers.  
At xChange, we want to ensure that you can easily buy and sell containers with trustworthy partners. Our members have been thoroughly vetted by us. Not only do you find containers in the right location, but you also get containers at a comfortable price. 
xChange's online leasing platform connects partners and allows you to negotiate the price directly with the container provider. Plus, the platform provides you with complete security for your payments.  
xChange takes care of all the time-consuming invoicing and documentation work for you. This makes leasing containers a smooth and cost-effective process. All you need to do is click on the banner below!   
Standard 40ft container
The 40ft container is a popular choice for storing cargo or transporting it. It's the standard container, along with its 20ft counterpart. They're also known as 20ft DC or 40ft DC containers. Now, dry containers are simple steel boxes. There's no insulation in them. That's why they can only be used to ship dry cargo like paper, clothes, etc.  
Their wide usage in the shipping industry makes them cheaper to buy in comparison with other special container types.   
Modifying a 40ft container
The 40ft container can also be modified. Some of these modifications may include the following:  
Boxes with locks to provide extra security,

 

Shelves or racks for shipping clothes,

 

Ramps for automobiles,

 

Standard doors that are fitted in,

 

Standard locking systems for containers,

 

Roller doors,

 

Painted any color.

 
40ft container dimensions and capacity
The 40ft container, due to its large size, can hold more cargo than its 20ft counterpart. A 40ft container can hold 23 to 24 Euro pallets or 20 to 21 standard pallets. The table given below gives you the dimensions and capacity of a standard 40ft container.  
When to rent a 40ft container or choose another container type
If you're looking to rent a 40ft container, you need to first identify the type of container you need. Will a standard 40ft container fit your needs? Or would you need a specialized container? Most of this depends on what cargo you're looking to transport.  
For example, if your cargo needs more height than a 40ft container can provide, opting for a high cube container can help.  
Refrigerated shipping containers help transport temperature-sensitive cargo.  
A transtainer is a specialized freight container that is used to transport fuel and oil. The tank is a container type that is used to store and transfer dangerous liquids via rail, road, or sea.  
How much renting a 40ft container costs you [2022 prices]
Leasing is a popular choice. It's easier and more flexible to rent a 40ft container than own one. But leasing rates for shipping containers vary between the Middle East, China, Europe, and Asia for a lot of reasons. They include container demand, pick-up locations, and market rates. 
Have a look below!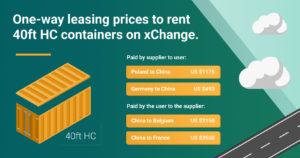 Want to see leasing rates for other stretches? Get a quick overview of available containers in our public search. Just click on the banner below and you'll jump straight to it.
Container hire, rental, and leasing
Rent, hire, and lease are terms that are often used interchangeably by container users. But the meaning differs a bit. Here's what's up:  
Hiring: A user can use an asset belonging to another party for payment of monthly installments. 
Renting: One user allows another to use an asset in return for payment. 
Leasing: Based on a mutual agreement, one user buys an asset and gives it to another user for use by paying consideration over a decided period.  
In this blog, for the ease of understanding, we use renting and leasing interchangeably. 
Rent new and used 40ft containers
At xChange, our leasing platform, you can find a container leasing partner in seconds. You look through the companies listed and choose the one that's within your pricing bandwidth. You pay the price you're willing to pay and join the 10K+ container transactions that take place on the xChange platform each month. 
Shipping container rental FAQs
How much does it cost to rent a 40ft container?
The cost of renting a 40ft container varies depending on the market situation, the demand and supply of that exact container. But you'll have to spend somewhere between USD 2,800 to USD 3,100 to rent a 40ft container.
How much does it cost to move a 40ft container?
The cost of moving a 40ft container depends on the price of the slot on the vessel, trucking, and so on. However, when leasing a 40ft container, the leasing rates can be anywhere from USD 2,800 and USD 3,100.
Summary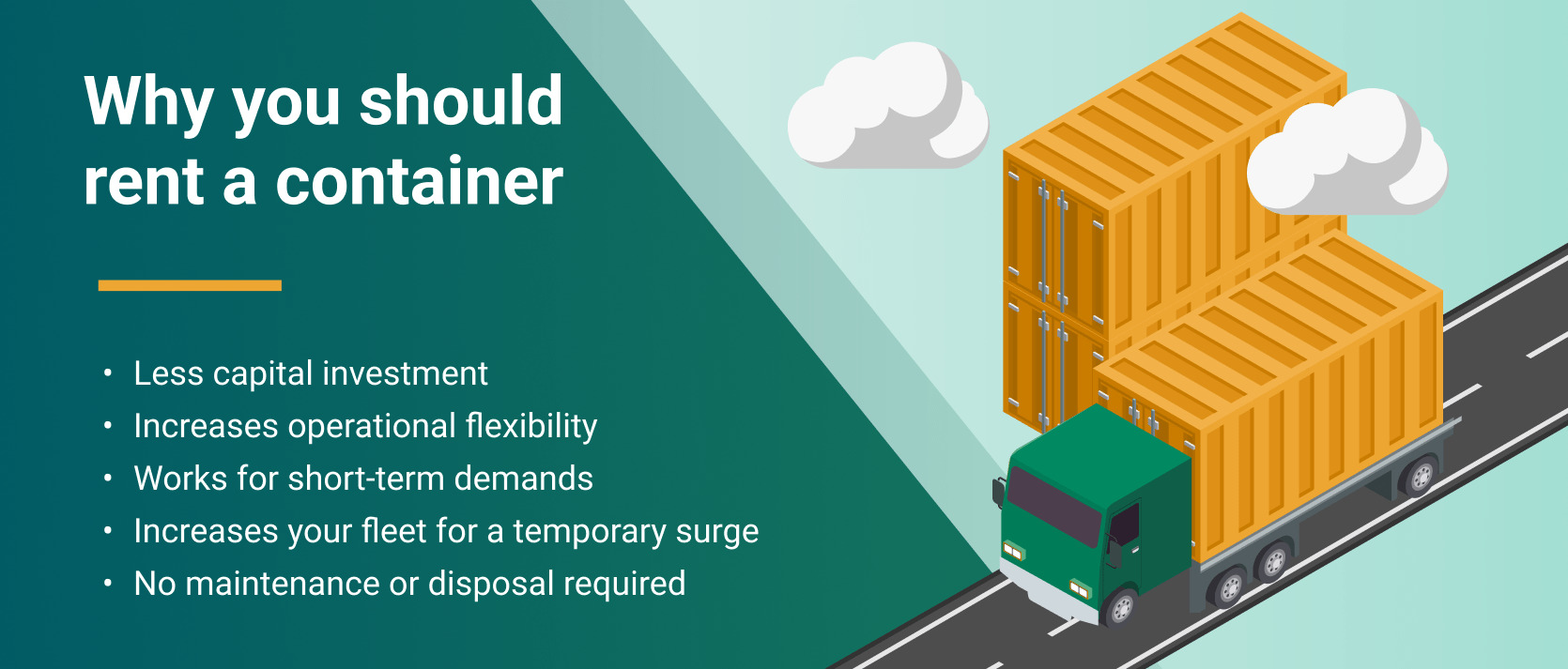 Article Name
Want to rent a 40ft container? Get prices & boxes here [2022]
Description
Rent a 40ft container at best prices. Get price transparency and overview here.
Author
Publisher Name
Publisher Logo