Renting a 40ft container opens a realm of benefits tailored to your specific needs. These containers provide a secure solution for shipping or storage. In this blog, we'll have a look at the cost of this box in different routes, and how you can source them at best rates on Container xChange. 
When faced with the task of shipping a large amount of cargo, renting a 40ft shipping container is your best bet. A 40ft container's standardized dimensions make it an easy option for ocean freight. However, the problem lies in sourcing these boxes from reliable suppliers. 
It can be challenging to switch from one site to another in hopes of finding the right supplier. Not to mention the risk of shipping container scams. All of this can become frustrating, and you may end up settling for something that fails to meet your container needs. 
This is why we at Container xChange have built a platform that alleviates these problems and streamlines your container operations.  To make your container search process one step easier, we've our public search feature that you can try out. 
This feature allows you to pick your 40ft unit from 1,500+ trusted suppliers at competitive rates. You can also see the reviews of these companies given by other partners who've worked with them and choose a company that best suits your business needs. Simply choose "I want to use containers", then select a drop-off and pick-up location, and hit search! Browse through the different deals right here, right now
20 search results found in total. Interested or found the unit you need? Request more details about your deal for your company via email. No commitment.
How much does it cost to rent a 40 foot container 
It's much easier and more flexible to rent a 40ft container than to buy one, especially for short term use. It's important to remember that leasing rates for shipping containers vary between China, Europe, and America for a lot of reasons which we dive into a bit later in the blog, but for now, have a look at how the price of a 40ft HC container differs between different stretches: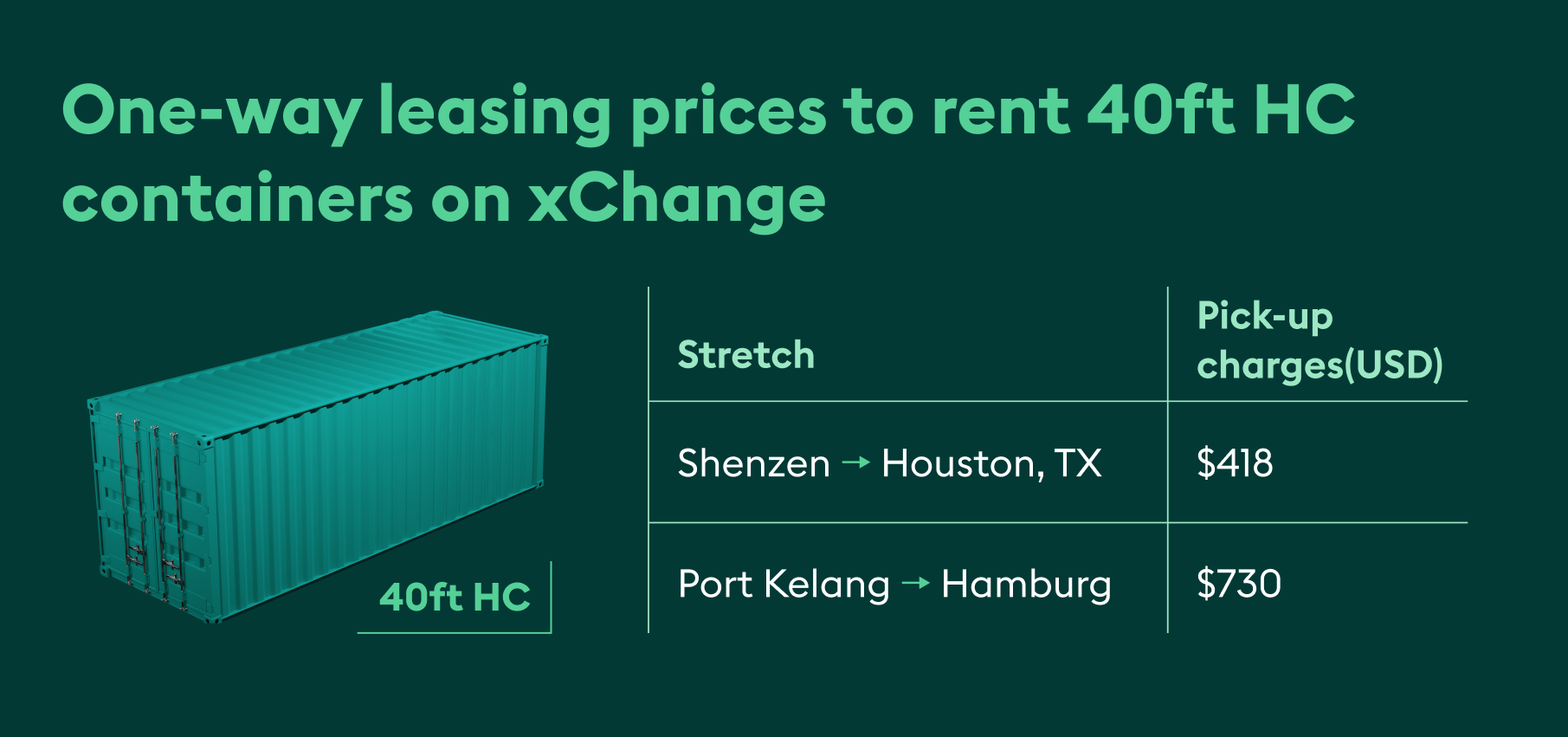 [Note: The rates above are based on the transactions made on the xChange platform and are subject to changes.]
As you can see, the price variation is dependent on the container pickup and drop-off locations, but there are other factors that contribute to this fluctuation such as: 
Supply and demand 

Market trends 

Social trends (strikes, negotiations, etc.) 
The best thing you can do is stay informed and up to date about how these numbers change and why. One way you could do this is by leveraging our monthly logistics report, where you'll get the latest updates on what's happening in the industry and how it could affect you.  Download our latest logistics report here.
Another way Container xChange can help you stay informed is through xChange Insights. This tool provides you with accurate container prices and one-way leasing terms. You can also check container availability in 180+ locations using our Container Availability Index (CAx). Maximize your profits by finding the best time to buy, sell & lease boxes. Keep up with the latest industry market trends and make informed decisions with Container xChange's Insights Freemium today!
Rent 40ft container on Container xChange: New and used
When purchasing new or used shipping containers, it's important to consider factors such as the container's condition, size, location, transportation, and any necessary permits or regulations. It's also advisable to inspect the container in person or obtain detailed photos or videos to ensure it meets your specific needs and requirements. Working with a reputable supplier or dealer can help ensure that you get quality containers that meet your needs.
With Container xChange, this becomes an easy task. You can find a partner on our leasing platform in a few seconds. Browse through vetted leasing companies on our platform and choose the one that's within your budget. Pay the price you're comfortable with and be a part of the 50k+ container transactions that take place on the platform every month.

Container rental and leasing in India [40ft and 20ft HC]
India has gained massive popularity within the industry when it comes to imports and exports. The country has moved to the 22nd rank in the global rankings on the "International Shipments" category. This shows a significant growth as compared to 2014 when it was positioned at 44th position and is due to a further drop in the dwell time (the amount of time vessels spends in port loading or unloading cargo) at Indian ports. 
Leasing containers in India often comes at a more cost-effective price point due to a combination of factors that create a competitive advantage. One of these factors is the strategic geographical location. With a high demand for containers for both imports and exports, the local market is competitive. This drives down leasing prices. Moreover, India's container leasing industry benefits from economies of scale, as it caters to a large volume of shipping needs.
Furthermore, favorable government policies, tax incentives, and the presence of container manufacturing facilities contribute to the affordability of leasing containers in India. Have a look at the pickup charges for 20ft DC and 40ft HC boxes: 
| | | |
| --- | --- | --- |
| Container type | Stretch | Pick up charge (USD) |
| 20ft dry container | Nhava Sheva – Antwerp | $536 |
| | Mundra – Shenzhen | $118 |
| 40ft HC container  | Nhava Sheva – Antwerp | $780 |
| | Mundra – Shenzhen | $292 |
[Note: The rates above are based on the transactions made on the xChange platform and are subject to changes.]
Now you've gained some insights on the cost of these boxes in different locations, so let's see how you benefit by renting a 40ft container: 
5 advantages of 40ft container for rent   
Some of the main advantages of renting 40ft containers are: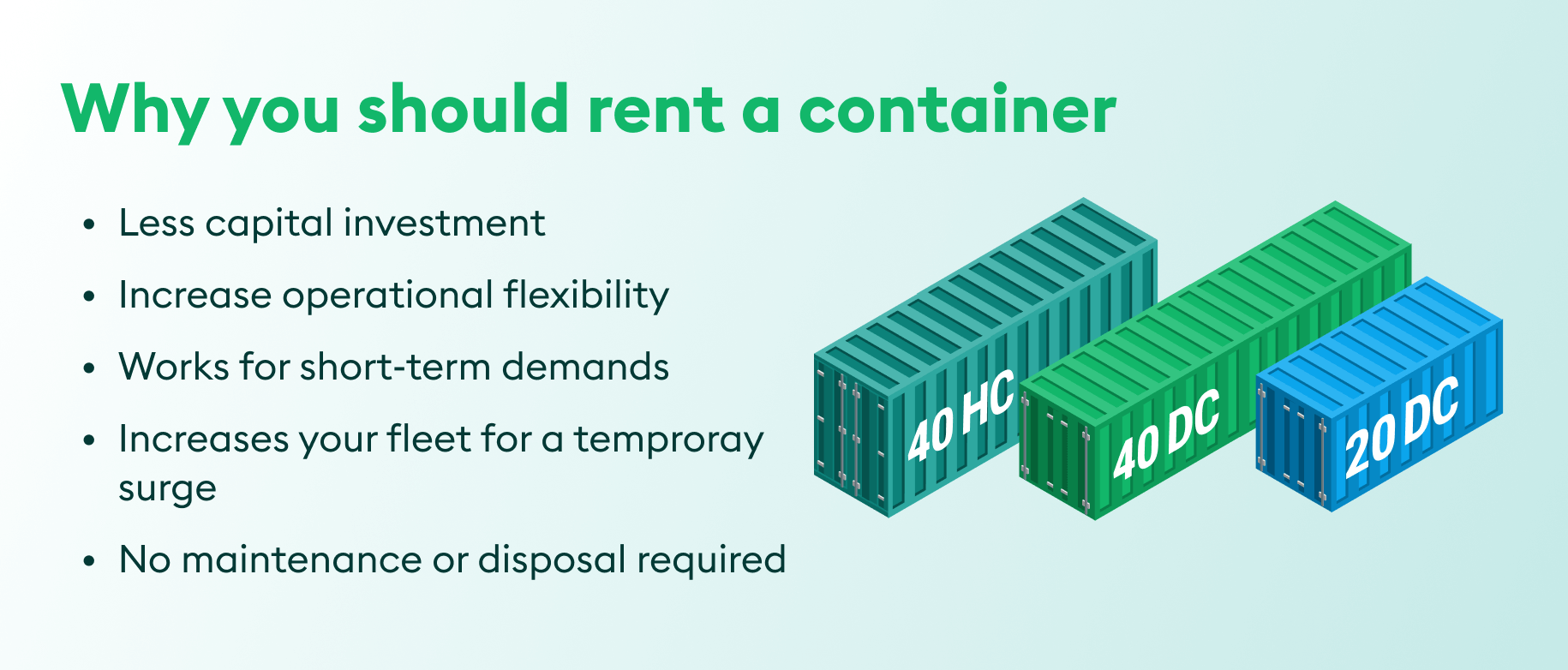 Less capital investment   
If you need containers urgently but don't have massive capital at hand, renting is your best option. If you choose to rent a 40ft container, there's no need for significant shipping container investment and even small businesses can afford it.  
Increases operational flexibility   
When you rent a 40ft container instead of buying it, you can always choose the container lease agreement according to your needs. You can keep control over timing and pricing. This will give you flexibility and reduce unwanted complications from your transactions. 
Works for short-term demands  
If you need containers for a short period or for any temporary use, renting is more beneficial. It provides you with storage, security, and transport for your goods for a set duration of time. Once you return the container, you don't have to worry about it. This also saves you unwanted maintenance costs.  
Increases your fleet for a temporary surge   
There are times in every industry when the demand is higher than expected. If your business is experiencing such a temporary surge, rentals are a good option for you. 
No need for maintenance or disposal  
This is the biggest benefit of renting over buying shipping containers. Maintaining containers requires space, container inspections, and fixing structural damages. All this requires a lot of work and capital investment. If you're renting containers, this is taken care of by the container provider.  
How to rent a 40ft container on xChange
Now that you know the ins and outs of renting a 40ft container, you'll want to find an easy way to find one. Here's where Container xChange comes in. We ensure that you lease containers from trustworthy partners easily at your fingertips. Each of our members go through a mandatory vetting process. So, there's no need to worry about who you're doing business with – we guarantee 100% transparency. 
Our online leasing platform connects you to partners directly via chats and calls and allows you to compare prices to ultimately find a deal that suits you and your budget. We also have a secure and easy payment handling feature – xChange Wallet. With this, you'll be able to check everything related to your:
Balance 
Transactions
Invoices
Account settings
You also get only one consolidated bill at the end of the month, making your payment handling process convenient. 
You will find all this in one place, which makes it safe and easy to manage your payments.
Container xChange takes care of all the time-consuming invoicing and documentation work for you. This way, you can lease 40ft containers as smoothly and efficiently as possible. Become a part of the online marketplace that's taking the global maritime industry by storm and give your business the much-deserved upgrade.  Click on the banner below to start your journey with us today!
Rent 40ft container: Common FAQs
How much can I fit into a 40ft container?
A standard 40ft container can hold approximately 2,390 cubic feet of cargo. This translates to around 21 to 24 standard pallets or a large volume of goods, making it ideal for moving or storing a substantial amount of items.
Can I customize the interior of a rented 40ft container?
Yes, many container rental companies offer customization options. You can modify the interior to suit your needs, such as adding shelves, hooks, lighting, insulation, and more. This flexibility makes 40ft containers versatile for various purposes like storage, workshops, or pop-up shops.
What factors influence the cost of renting a 40ft container?
The rental cost depends on several factors including location, duration of rental, delivery fees, customization, and prevailing market rates. Generally, urban areas and longer rental periods might incur higher costs, while shorter-term leases and remote locations could be more budget-friendly.
Summary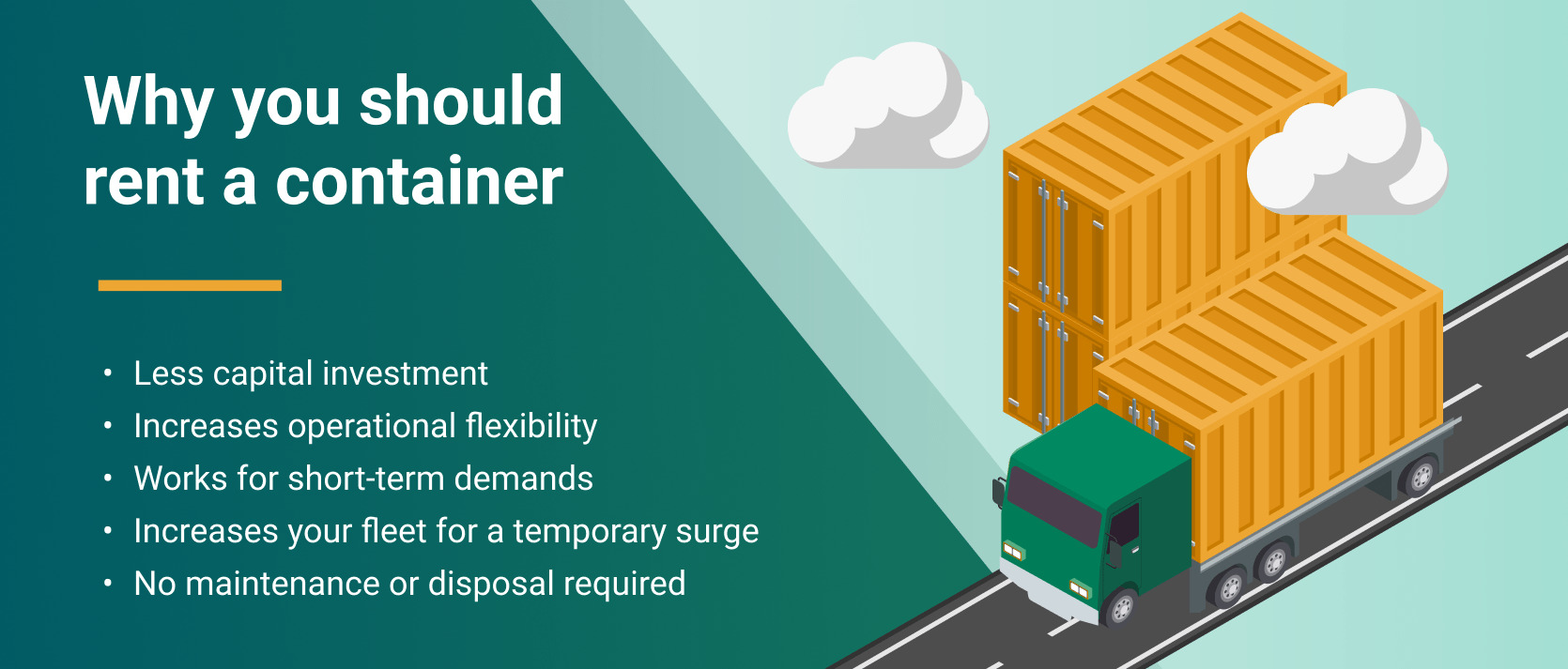 Article Name
Want to rent 40ft container online? Find your box [+get prices]
Description
Rent a 40ft container at best prices. Get price transparency and overview here.
Author
Publisher Name
Publisher Logo