Shipping container lease rates tend to fluctuate over some time. The reasons for this depend on global market trends. In this blog, you'll get an overview of the latest leasing rate market trends and what's in store for 2023.
The global container leasing business is growing at a rapid pace. In fact, the growth is so much that the container leasing market is expected to grow up to US $6100 million by 2024. Today, leasing companies own 55% of the global container fleet.
Imagine you want to lease containers, but the thought of spending hours online looking at different sites to find the 'best' rate overwhelms you. Wouldn't it be much easier if you could handle everything from finding the container you need from trust-worthy suppliers to cracking the best deal and tracking your containers on one platform? Imagine the amount of time and money you'll save!
Well, we have just the solution for you. The Container xChange leasing platform enables you to only deal with vetted suppliers. Moreover, you get instant market price transparency when looking for containers – this means, all prices are stated upfront without any hidden charges. This makes your experience of choosing the right deal smoother and hassle-free. Pay the price that you're willing to pay and do business with who you want to. With 10,000 containers available globally on our platform, you're sure to find what you need.
How does it work? It's easy; all you need to do is choose your pick-up and drop-off locations, choose the equipment type and hit the search button. You'll get a free preview of all the containers available in the selected location within a few seconds. Try it now! 👇
Shipping container lease rates
Leasing a container is estimated to be about 60% more expensive than owning one. However, it's still more popular in the market and the reason is its operational flexibility.
If you're leasing a container, there's no upfront cost you have to bear. Basically, you're just renting a container at an affordable price and then paying a monthly rate (as per your lease agreement).
However, it's essential to understand that shipping container lease rates vary globally due to factors such as
Market rate
Type of containers
Number of containers needed
Pick-up location
So, clearly, the shipping container leasing rates vary between the Middle East, China, Europe, and Asia. You also need to keep in mind the delivery and pick-up fees when you're calculating your overall shipment cost. However, if you're looking for one-way leasing to increase your operational flexibility or avoid repositioning costs, we can help you with all the information you need. Before we get into that, let's look at the leasing rates of 20ft and 40ft boxes.
If you're leasing a container, there's no upfront cost you have to bear. Basically, you're just renting a container at an affordable price and then paying a monthly rate (as per your lease agreement).
Having said that, it's essential to understand that shipping container lease rates vary globally due to many factors. Some of these factors are market rate, the number of containers needed, and the pick-up location.
20ft and 40ft shipping container lease rate
The average leasing rate fluctuates according to the market trends in different locations. Some leasing rates might be slightly higher in the UK than in the US. These rates also depend on the type of box you want to lease, as well as supply and demand.
| | | |
| --- | --- | --- |
| Region | 20ft dry container | 40ft dry container |
| Shanghai – Belfast | US $225 | US $2300 |
| Shanghai – Chicago | US $350 | US $700 |
| Shanghai – Hamburg | US $200 | US $1000 |
These prices have seen significant change compared to 2021 as China has recently seen a decline in average leasing PU rates. Although China has kept a steady rep within the trading industry itself, it seems like 2022 wasn't their greatest year in the industry. Here's what's happening in China and European markets:
Latest shipping container lease trends in China and Europe
The Chinese leasing market has seen a massive drop over the past year. According to our research, the number of containers moving between China and the EU has decreased significantly. This is evident in the container flow, trends in average container prices, and platform leasing rates.
On the contrary, the European market faces an overflow of 40ft HC containers. As a result of this, the average price of these boxes has seen a slight drop. The standard average pick-up rate for a 40ft HC cargo-worthy container decreased from US $2,996 in August 2022 to US $2,773 in September 2022. In China, the average cost of standard container sizes peaked in October 2021 at US $6,662 but declined sharply to US $3,848 in October 2022. This indicates a whopping 42% annual decrease.
These drops are due to factors such as inflation — shippers, buyers, and retailers are cautious with their finances as the inflation rate rises, which means fewer transactions are made in the market. Another reason is that China still faces strict COVID-19 restrictions causing massive port delays, not to mention the fact that truckers find it difficult to coordinate with ports. The fact of the matter is, the demand for containers is dropping, which means the price drops with it.
Pickup charges saw a massive drop between April and May 2022. Dropping from US $1972 to US $317. This was mainly caused by a COVID -19 outbreak which resulted in lockdowns in China. As a result, Chinese ports were flooded with containers and had nowhere to go. Almost like a traffic jam.
Shipping container lease rate: 2023 forecast for China
Our Container Availability Index is one of the methods we use to keep tabs on container movements. We refer to it as the CAx tool. With the help of this tool, we track and predict the progress of container movements by measuring the inbound and outbound containers and displaying the changes in the index.
We usually notice a decline in CAx figures vs CAx values for ports in China towards the end of the year. This is due to weekly export-heavy container movement. However, this time the trend sees a swap with a rising CAx value. A rising CAx value means less movement in Chinese ports than usual.
Foreign trade-related freight traffic in China's eight major ports decreased by 14.6% in the first 10 days of September following a typhoon. It increased from September 11 to September 30, according to data from the China Ports & Harbors Association.
Industry experts predict a long-term fall in China's influence in trading as a result of the decline in container trade on the China-Europe trade lane.
Get the best deals for shipping container leasing on Container xChange
Apart from knowing the latest leasing market trends in the industry, it's also good for you to know where to find quality containers at affordable prices. Container xChange can help you find great leasing deals on our online platform.
We connect global container logistics to help you access more than 1500 companies in 2500+ locations. Here, you'll only be connected to vetted partners as all our members go through a mandatory background check before they join the platform.
Find a box on lease at the most competitive rate only from certified companies. It's time to experience more control over your logistical operations. Negotiate prices and deals directly with the seller and say bye-bye to the middleman. We will take care of the rest for you — from showing you a list of companies that best suits your requirements to secure payment handling and depot communication, all information is transparent and accurate.
You can also benefit greatly by leasing SOC containers for one-way leasing and enjoy increased operational flexibility. By leasing a container on Container xChange, you can find available equipment and their prices with full market transparency. Plus, with our brand new feature Container Control, you can monitor and track your boxes in near real-time, and manage all your bookings and references in one place.
Ready to lease containers? Click the banner below to lease affordable boxes at top rates with ease!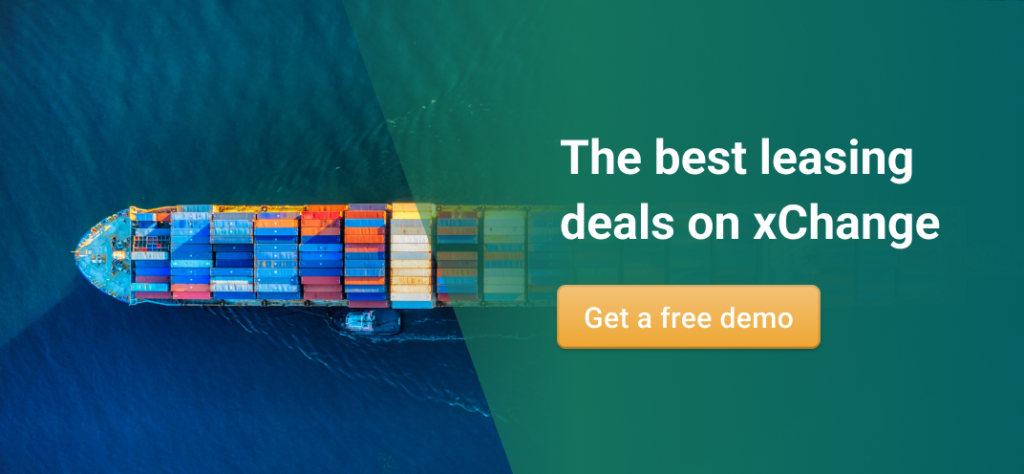 Shipping container lease rates: Common FAQs
How much does it cost to lease a shipping container?
Leasing a shipping container one-way from China to Europe can cost you up to US $720. The pick-up charges from China-US stretch is US $974 and from China to India is US $629.
Who are the largest container leasing companies in the world?
The largest container leasing companies in the world are TRITON International, Seaco Global, Seacube Containers, Florens Container Leasing, and CAI International, among others.
What are the different types of containers available for leasing?
You can lease almost all types of containers. Some of the most commonly leased containers are general purpose containers, flat rack, open top, double door containers, high cube containers, and reefer containers.
[custom-related-posts title="Related Posts" none_text="None found" order_by="title" order="ASC"]
Summary
Article Name
Shipping container lease rates 2022: Your guide to finding the best price
Description
Looking to lease shipping containers? Get an overview of the shipping container lease rates based on 10K monthly transactions on Container xChange's leasing platform.
Author
Publisher Name
Publisher Logo