There are many benefits and ways that you can get through the shipping process with ease. Scroll down to learn more about shipping by freight and how it can benefit you.
The idea of transporting large amounts of goods cross-country is enough to get anyone's heart racing. But don't worry, we're here to help you make this process a stress-free one. Everything must start at the basics, so here's an overview of what you need to know about freight shipping.
What is shipping by freight?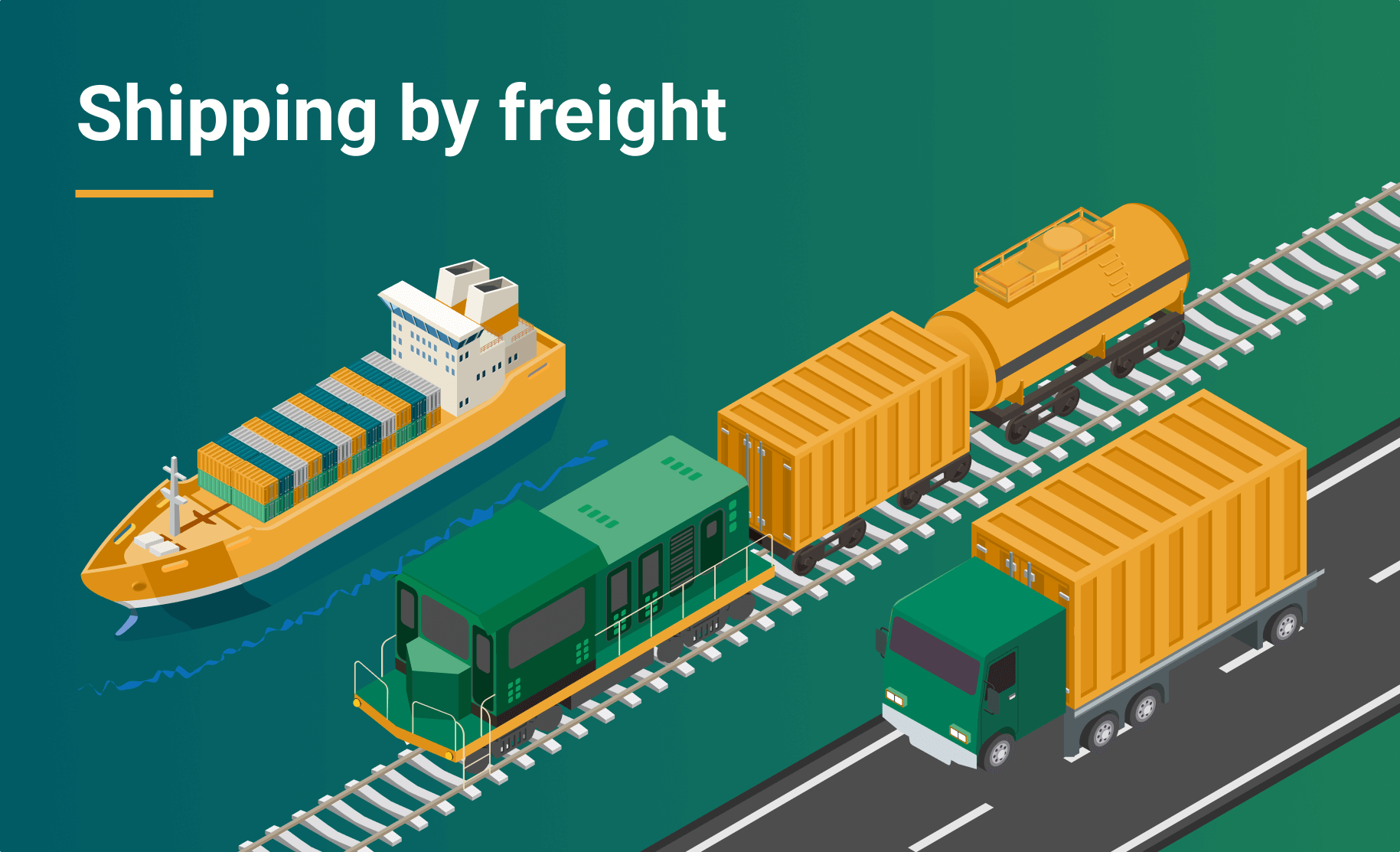 Shipping by freight is defined as goods that are transported by ship, plane, truck, or train. The process is as follows: cargo is loaded into shipping containers and then transported to the desired destination via these freight methods.
Freight shipping is known as one of the most beneficial ways of global and domestic shipping. Let's find out what the benefits are:

5 benefits of shipping by freight
Cost-effective – Shipping by freight is affordable and cost-effective because there are multiple ways to ship freight. This gives you the opportunity to choose which method suits your budget the best.
Safe – Palletizing goods can lower the risk of damage and theft, which makes freight shipping the ideal option. You are also able to track your goods as they're being transported to you or your desired destination.
Environmentally friendly – Sea freight is known to be carbon-efficient as it releases much less air pollution. Read more about how to be eco-friendly while shipping.
Efficient – Most freight companies are accommodating, so no matter the size of your cargo, they will likely be able to ship it. You're also getting good value for money as smaller loads of cargo can be shipped together, so you can share costs.
Large/bulk cargo capability – Freight shipping allows you to send large cargo to your desired destination in bulk, which is an easier and more capable way of shipping.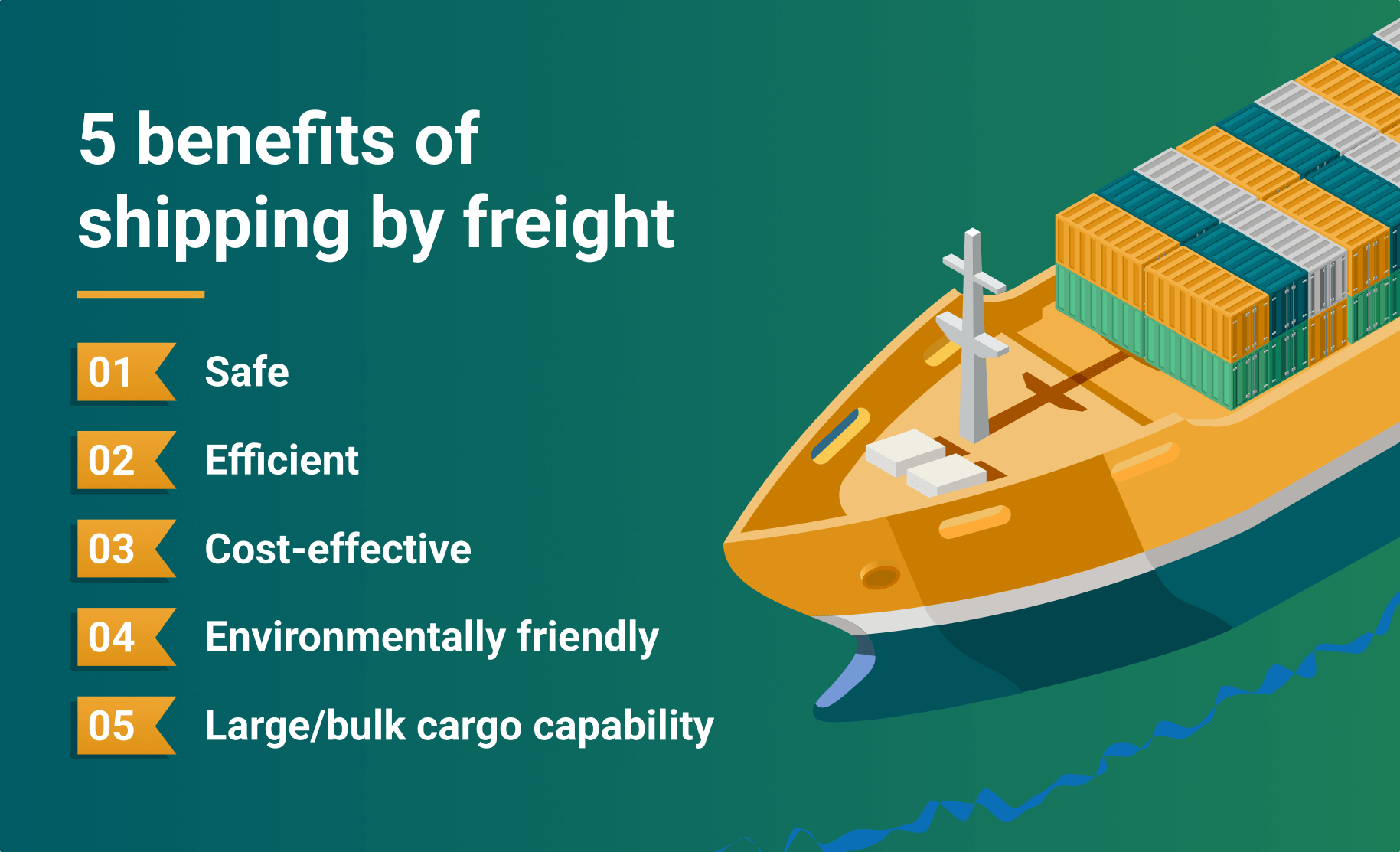 Freight shipping methods
There are five methods of freight shipping, they're as follows:
Full container load (FCL) – The transportation of cargo that doesn't require a truck's full capacity, usually, one truck is in charge of transporting the cargo from one location to another.
Less than container loadWhat is less than container load? Less than container load (less than container load, LCL) is a shipping term that refers to the delivery of cargo in smaller quantities than a full container load. A f... More (LCLWhat is less than container load? Less than container load (less than container load, LCL) is a shipping term that refers to the delivery of cargo in smaller quantities than a full container load. A f... More) – With LCLWhat is less than container load? Less than container load (less than container load, LCL) is a shipping term that refers to the delivery of cargo in smaller quantities than a full container load. A f... More, you can ship fairly smaller cargo or quantities of freight.
Partial truckload – This is a method of transportation for your hefty cargo that may not need to use a trailer to hold a full truckload.
Intermodal – Containerized products which are transported via ocean shipping, air freight, railway or land.
Expedited – Any form of delivery that guarantees to reach its destination much faster than standard delivery methods.
Now that you're clued up about the different freight shipping methods and how freight shipping is beneficial, let's think outside the container and inside the wallet.
Freight rates are one of the most important factors to keep in mind. Let's see what influences shipping freight rates and how you can cut down on some of these costs.
Shipping by freight: Factors that determine rates
Although freight rates are always fluctuating, one thing never changes: how they affect your bottom line. Any logistics organization needs a budget for freight, and it's essential to plan ahead as freight rates vary.
Delivery and flexibility is a determining factor for freight shipping. Have you ever ordered something online and almost immediately waited at the door for your package to arrive? Naturally, overnight or same-day-delivery is expected, you want your goods ASAP, but this can affect shipping rates. The quicker the delivery, the pricier it may be. Bear in mind that distance and routes may add to these costs as well.
Another factor to consider is season. Just like anything, prices may fluctuate due to seasonal trends. Price and demand are copy-cats, so when demand is high, so is the price. Freight rates will inevitably rise when transportation is prioritized. So it's vital to be aware and prepare so that you get the best rates.
It's also good to remember the weight and density of your cargo. Freight classification affects freight rate. The larger the cargo, the more hands are needed to handle it, and the deeper you're going to dig into your pockets.
However, there are ways you can cut down on these costs, perhaps even avoid them all together! Let's look at how you can save on freight shipping costs:
How to cut down on shipping by freight costs
There are some clever ways to cut down on freight shipping costs, so that you can save some money without compromising on quality and service.
Consider packaging – the most obvious way to save on shipping by freight costs is to be mindful. Think less is more and have a minimalistic approach to packaging. Eliminate unnecessary add-ons that might cause your package weight to increase.
Ship off peak – shipping during off peak season can help reduce the cost of shipment. Off-peak means that the demand for shipping by freight is low, so the cost will be low as well.
Build a relationship – establishing a solid, long term relationship with a carrier is a plus when you want to save. The stronger the relationship, the more likely you are to receive discounted rates.
Sharing is caring – the cost of anything decreases when it's cut in half. If you have a smaller cargo load, consider consolidating it, by combining smaller loads of cargo with larger loads. This way, you save up to 25% on freight shipping costs.
Once you've successfully managed the financial aspect, the next part is preparing for shipping. What steps should you take next?
How to prepare for shipping by freight
Getting your shipment from one end to the other can be stressful, it's easy to overlook some things while transferring large loads of cargo because there are so many variables to consider. This is why it's vital to be prepared by knowing the steps that go into freight shipping.
There are six simple steps you can follow to prepare yourself for shipping by freight.
| | |
| --- | --- |
| Preparing cargo | Prep your freight to be loaded onto pallets. Stack and wrap boxes, bags, cartons, drums etc.  |
| Label shipments | Label each piece of cargo and ensure that they are visible.  |
| Selecting freight service  | Select the type of freight service you will use based on freight class and type. |
| Paper bill of landing | Fill out a paper bill of landing between you and your carrier. |
| Scheduling pick up | Schedule a pick up time for your freight. |
| Tracking shipment | Begin to track your shipment to stay updated on the progress of your freight.  |
Freight forwarder vs. NVOCC: What's the difference?
Freight forwarders and NVOCC's are both able to assist you in shipping your freight, however, there are key differences that separate the two. Knowing these differences can help you decide which is the better choice.
What is a freight forwarder?
Freight forwarders are multi-functional supply chain operators. They are in charge of arranging the transportation to get your goods from point A to point B without any hiccups. They take care of all the overwhelming documentation that comes with shipping by freight, so that you don't have to.
What is an NVOCC?
NVOCC stands for Non-Vessel Operating Common Carrier. This means that they are carriers who are able to transport your cargo without owning any vessels. They do this by buying space from vessel-operating carriers and reselling it to shippers. Genius!
So what makes each of them unique? Freight forwarders act as agents to shippers instead of working independently like NVOCC's do. They don't use or own any containers whereas NVOCC's manage and own cargo containers. Freight forwarders typically have cargo warehouses and are slightly more expensive than NVOCC's.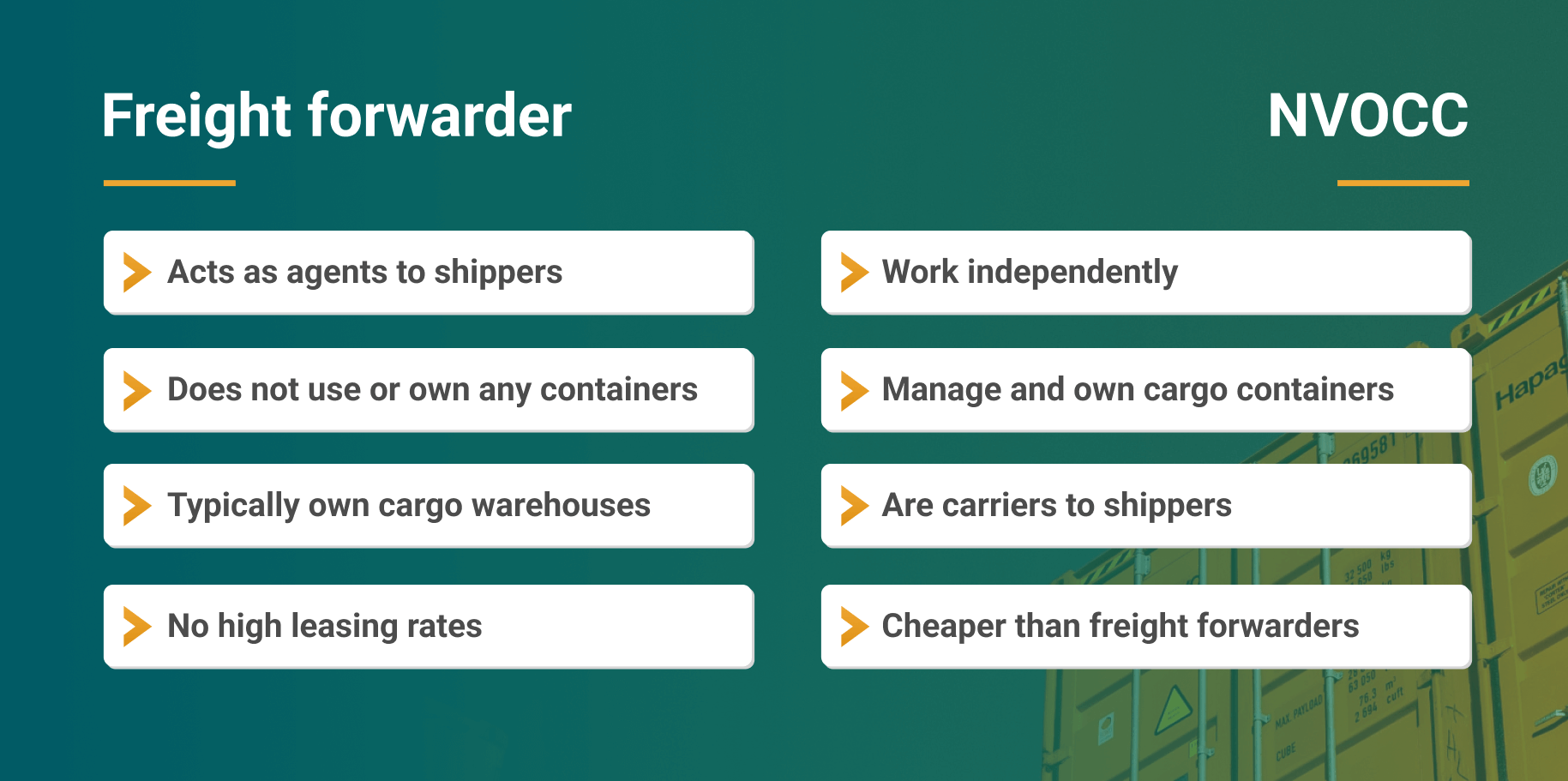 Shipping by freight with xChange
Whether you're a freight forwarder, an NVOCC, or simply wanting to export goods, Container xChange has what you're looking for. We make it easy for you to get in touch with leading industry giants to source the best deals and cut down on extra shipping costs. Here, you're getting value for money.
We know that freight shipping comes with some challenges. That's why we've simplified the process for you by coming up with a digital solution that has all the benefits and none of the fuss.
You can buy and lease containers at your convenience, assess market needs, connect with 1500+ vetted experts in 2500+ locations, all under one digital forum. Wherever you may be, xChange is there with you. We take the utmost pride in safe and fair transactions, so you'll always get the most out of what you put in with us. With multiple valued companies using our platform, we've ensured 100% market price transparency and an easy to understand way to purchase containers.
Are you ready to join the xChange community? Click below to reach out to our experts today.
 Shipping by freight: common FAQs
What can be shipped via freight?
Any shipment that weighs over 150lbs is considered freight and can be transported via plane, truck or ship.
What's the difference between 'parcel' and 'freight'?
Parcels are much smaller shipments which can be transported through regular delivery whereas freight is larger shipments which require advanced coordination.
What's the definition of freight forwarding?
Freight forwarding is the coordination and shipment of large amounts of goods through different carriers via air, sea or railway.
[custom-related-posts title="Related Posts" none_text="None found" order_by="title" order="ASC"]
Summary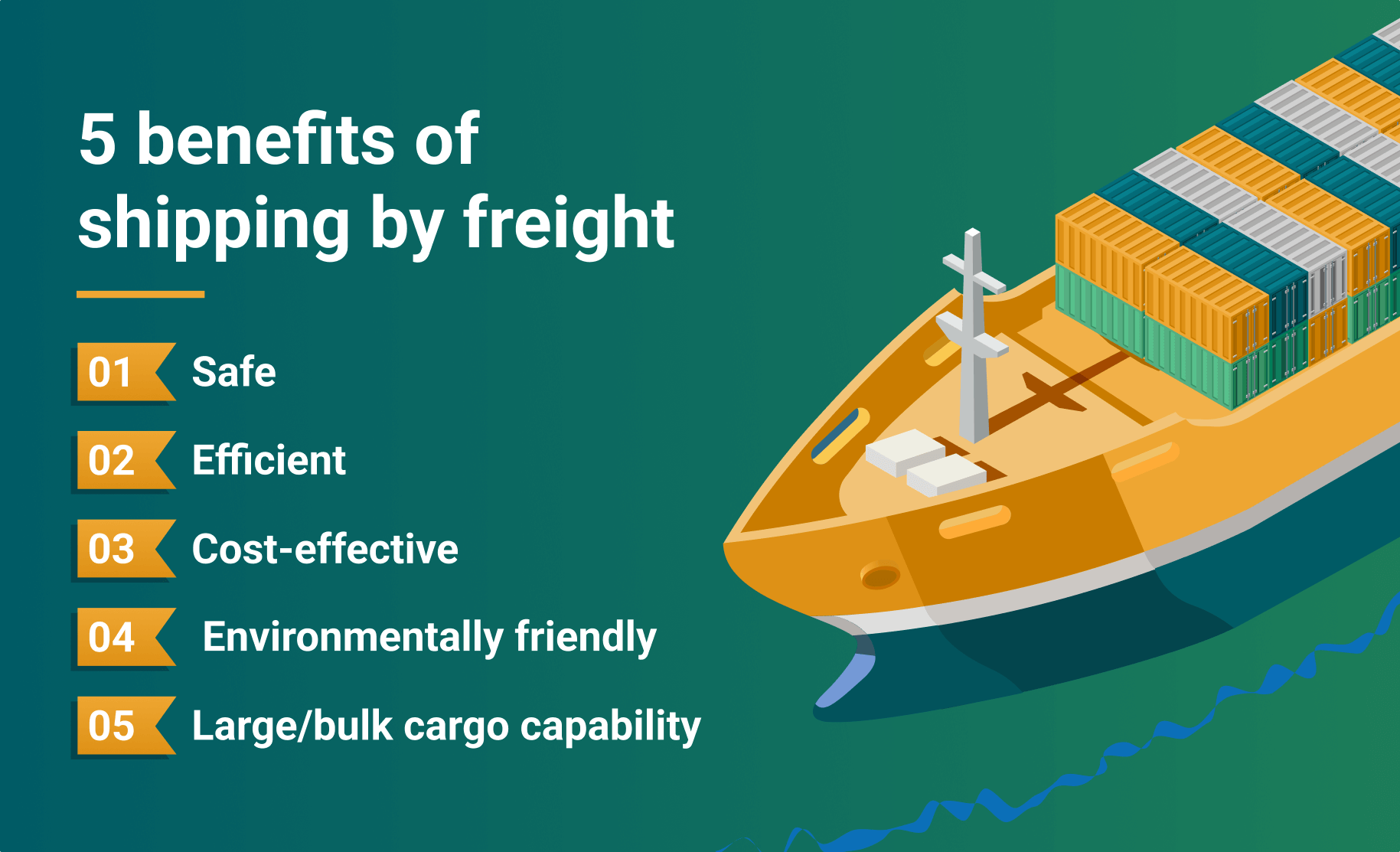 Article Name
Find out what shipping by freight means [+ get benefits & cost]
Description
Want to know how shipping by freight can be beneficial for your company? This blog gives you an overview of the benefits and freight cost.
Author
Publisher Name
Publisher Logo