So you're interested in learning more about ocean shipping, but not sure where to start? Not a problem. Scroll down to find out about the ocean shipping process and why this method of freight is a good choice for you. 
Ocean shipping is one of the most effective methods of importing and exporting goods. In fact, 90% of goods are transported via sea freight. This means that it's extremely important for you to be informed so that you don't find yourself making regretful purchases. Read on to learn all about ocean shipping, here's where to start:
What is ocean shipping?
Ocean shipping is a method of transporting cargo by sea. It's an integral part of cross-border trading, which allows you to ship massive amounts of cargo efficiently. It's also one of the most used and effective methods of transport.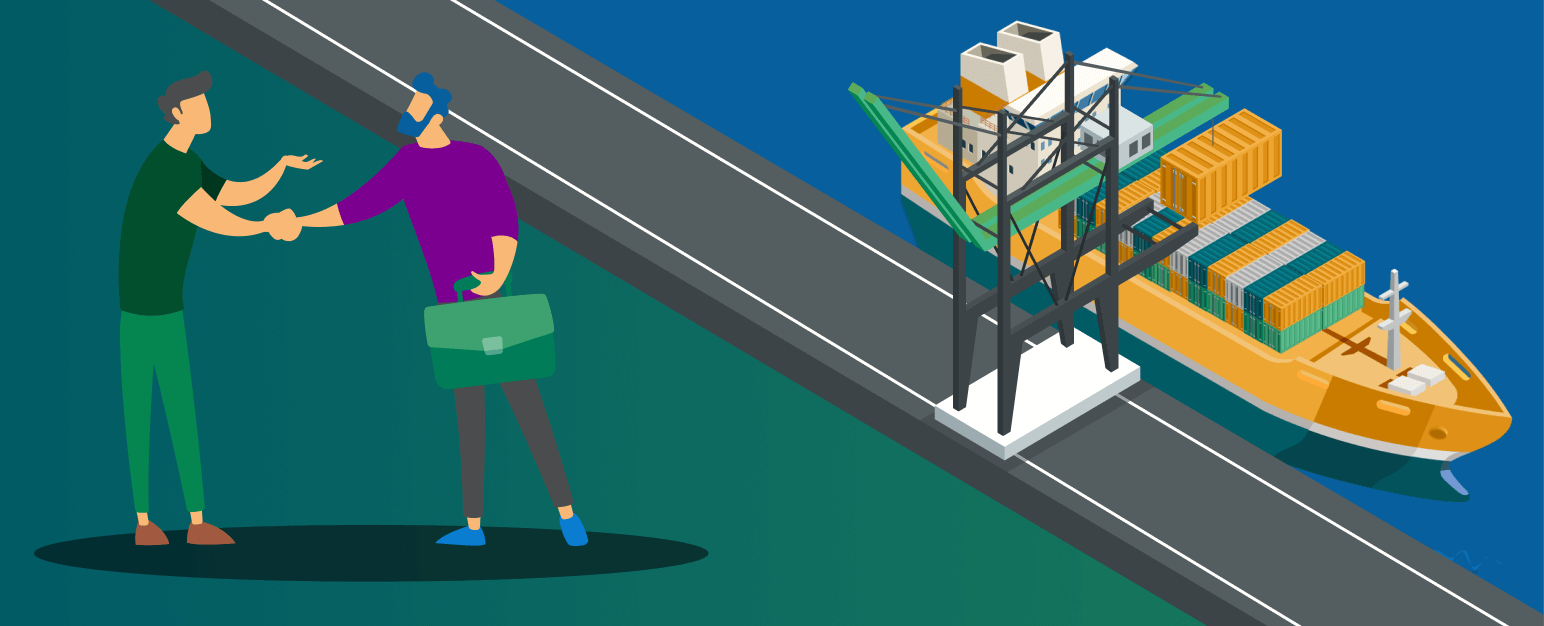 Why choose ocean shipping?
Maneuvering large loads of cargo takes a lot of time. Essentially, you want this process to be as efficient as possible. This is where ocean shipping comes to play. It's easy and reliable.
Distance serves no challenge to sea freight as you're able to transport large amounts in a container at once. This means that there is no back and forth between trading, which is a costly ordeal.
When it comes to costs, it's easy to want to run and hide. Especially, if you're unsure of how certain things can cause a change in the market. There are some interesting factors that influence ocean shipping rates. Here are some of them:
5 factors that influence ocean shipping rates
Many different variables must be considered when choosing a freight forwarder. There are factors that influence ocean shipping rates. It's important for you to know what these factors are. This way, you'll avoid surprises.
Some of the factors you should keep in mind include:
Season – Seasons can affect the price of ocean shipping. There are integrated factors that come with this influence. For example, peak seasons call for a higher demand in shipping, which increases rates.
Container capacity – Container capacity plays a part in determining the increase or decrease of ocean shipping rates. Less container capacity can actually mean increased rates. You can also share containers, but if the shipper fails to fill the entire container, you'll end up paying more.
Currency – A weak domestic currency causes higher, more expensive ocean shipping rates. A strong domestic currency causes the rate to come down a bit. Therefore, it helps to know your domestic currency exchange rate before your shipment.
Bunker fluctuation – Ocean shipping rates are dependent on the rise and fall of oil in the international market. Oil price impacts bunker fuel. Thus, when the oil price increases, it affects fuel rates. High fuel rates mean higher shipping rates.
Extra ocean shipping costs – Delay costs and custom inspection fees can affect shipping rates. Some seemingly insignificant things can cause customs inspection, so it's great to make sure you have all your documentation in order.
It's not all worrisome though, ocean shipping has a sea of benefits – see what I did there? And it's good to know how you can take away from these benefits.
Benefits of ocean shipping
Five ways that ocean shipping is beneficial for you:
Cost effective – The ocean shipping industry offers a competitive freight cost to shippers, which makes it more appealing and in demand.
Safety – Shipping vessels are designed to accommodate hazardous cargo safely. All containers are locked and secure at all times.
Environmentally friendly – Ocean shipping emits less CO2 and has a lower carbon footprint than other forms of transportation.
Versatile – Ocean shipping is designed to transport bulky and oversized cargo such as vehicles and heavy machinery.
Efficiency – Most shipping containers have the option of cost-sharing. This means that smaller shipments can be shared with other cargo in order to fill a container for more efficiency.
It's also great to know which type of container you'll need and how these boxes can be beneficial. Let's look some popular containers.
5 popular ocean shipping container and advantages
You might already be familiar with some of these ocean containers. If not, let's refresh your memory, just in case:
Dry container
20ft and 40ft dry containers are standard shipping containers used for dry cargo shipments. They are easy to install and customizable. Dry containers also have increased loading capacity.
High cube container (HC)
An HC shipping container is a standard container with an extra height as compared to a standard box. It comes with an additional 344 cubic feet of storage. It's designed to be wind and watertight to ensure safety and are durable.
Double door container
Double door containers have two sets of doors on both the ends. These type of boxes are beneficial for you if you want better storage access. They're also modifiable, giving you the option to change the interiors as per your needs. They are safe and convenient to load and unload your cargo.
Tank container
A tank container is a cylindrical container used for transporting liquids and powders. They have a longer life-span which makes them eco-friendly and high quality. They are also safe and reliable.
Tricon container
Tricon containers are small containers that can be joined in a trio to form a 20ft container. They are versatile for deployment and easy to load. Their compact size also means that they take up less space.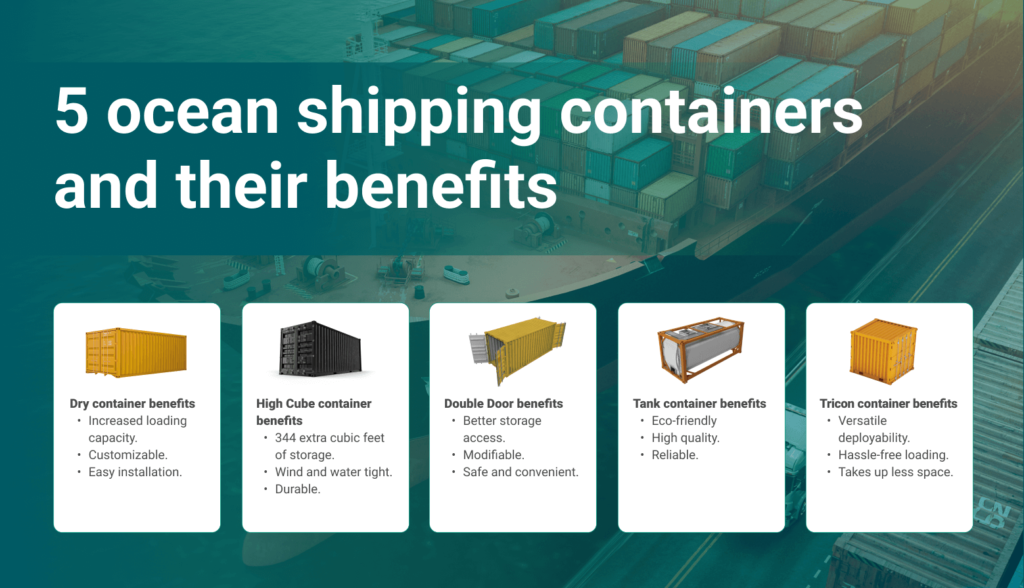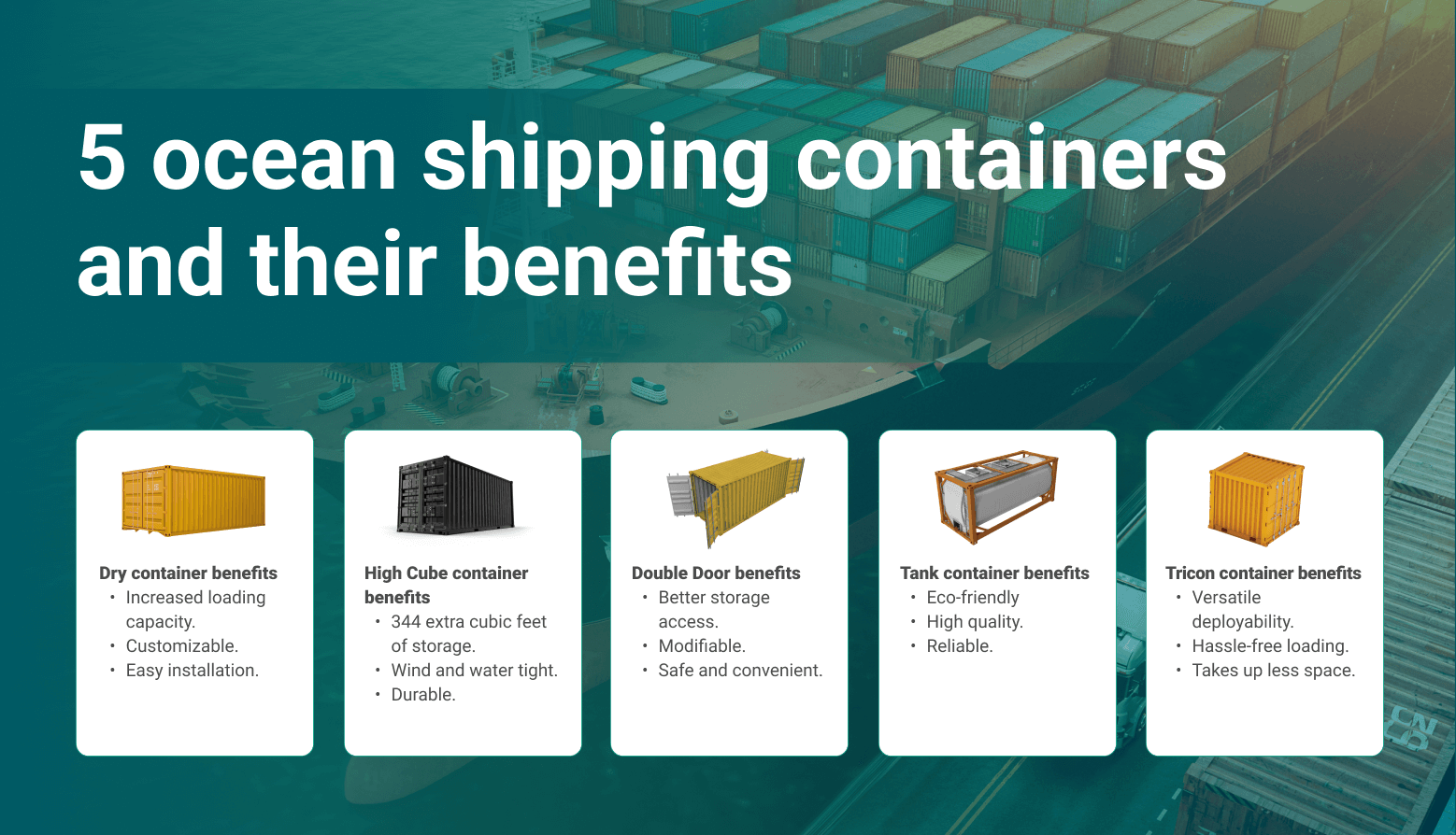 We understand that a trustworthy supplier can either make or break your business. Thus, we make your experience of finding one hassle-free. You want a reliable and consistent partner and we can help you with that. At xChange, there are no short-cuts when it comes to supplier relations.
Get the best deals at xChange
Container xChange is a neutral trading marketplace specializing in global logistics. Our platform gives you access to 1000+ vetted members in 2500 + locations. We believe that trust and transparency in business goes a long way. That's why we provide 100% market price transparency. You're able to see different deals, compare them and choose what suits you best.
It's simple — predictable and transparent pricing are synonymous with xChange. Our goal is to simplify your logistics needs. Many like you are already using our platform to source over 10k containers from big names like Seaco Global and Kuehne+Nagel. And now, you can join them.
Start by signing up for our free basic container trading subscription. Yes, that's right — free! You'll receive 100% market visibility in 2500 + locations. You also have the option to upgrade your subscription at any time.
Enjoy additional benefits by subscribing to our professional package at US $199/month only. With this, you'll get a 6-month membership. You'll also be able to buy and sell containers with zero transaction costs. You'll have unlimited offers and demands coming your way. Here's the best part – with the professional package, all your payments are handled through us.
Get in touch with us directly to find out more about the benefits of our membership plans. Our team of experts are always happy to guide you through. At xChange, we've got it all under one simple platform. Gone are the days of spending countless hours to find what you're looking for.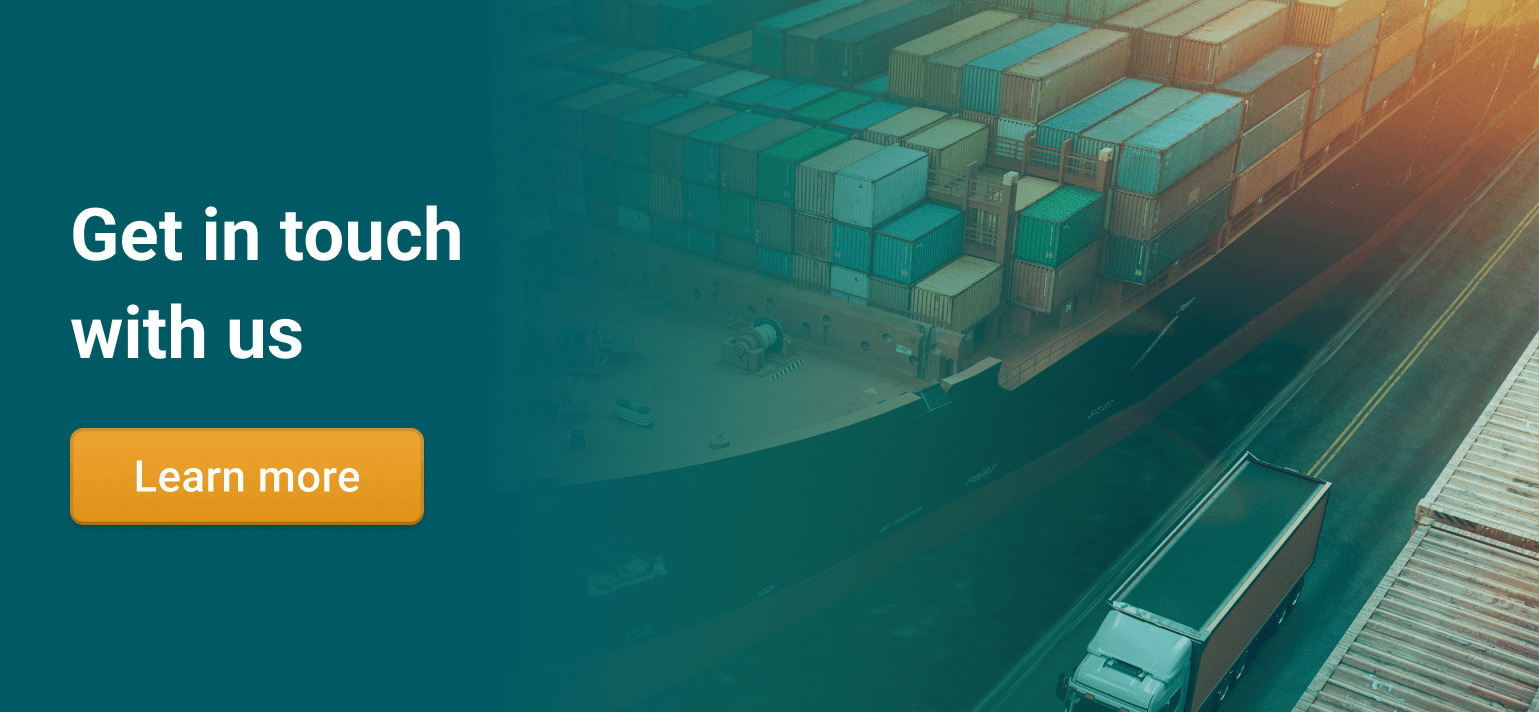 Ocean shipping FAQ
How long does ocean shipping take?
Ocean shipping can take anywhere between 20-45 days or more. This is all dependent on factors such as distance, route and season.
What cargo can be shipped by ocean?
The main types of cargo that can be shipped by ocean include container cargo, dry bulk, liquid bulk and roll on/roll off.,
How long does ocean shipping to China usually take?
The seaport of origin usually determines how long it will take for your cargo to reach China. This can take anywhere between 4 and 68 days depending on where your cargo departs from.
[custom-related-posts title="Related Posts" none_text="None found" order_by="title" order="ASC"]
Summary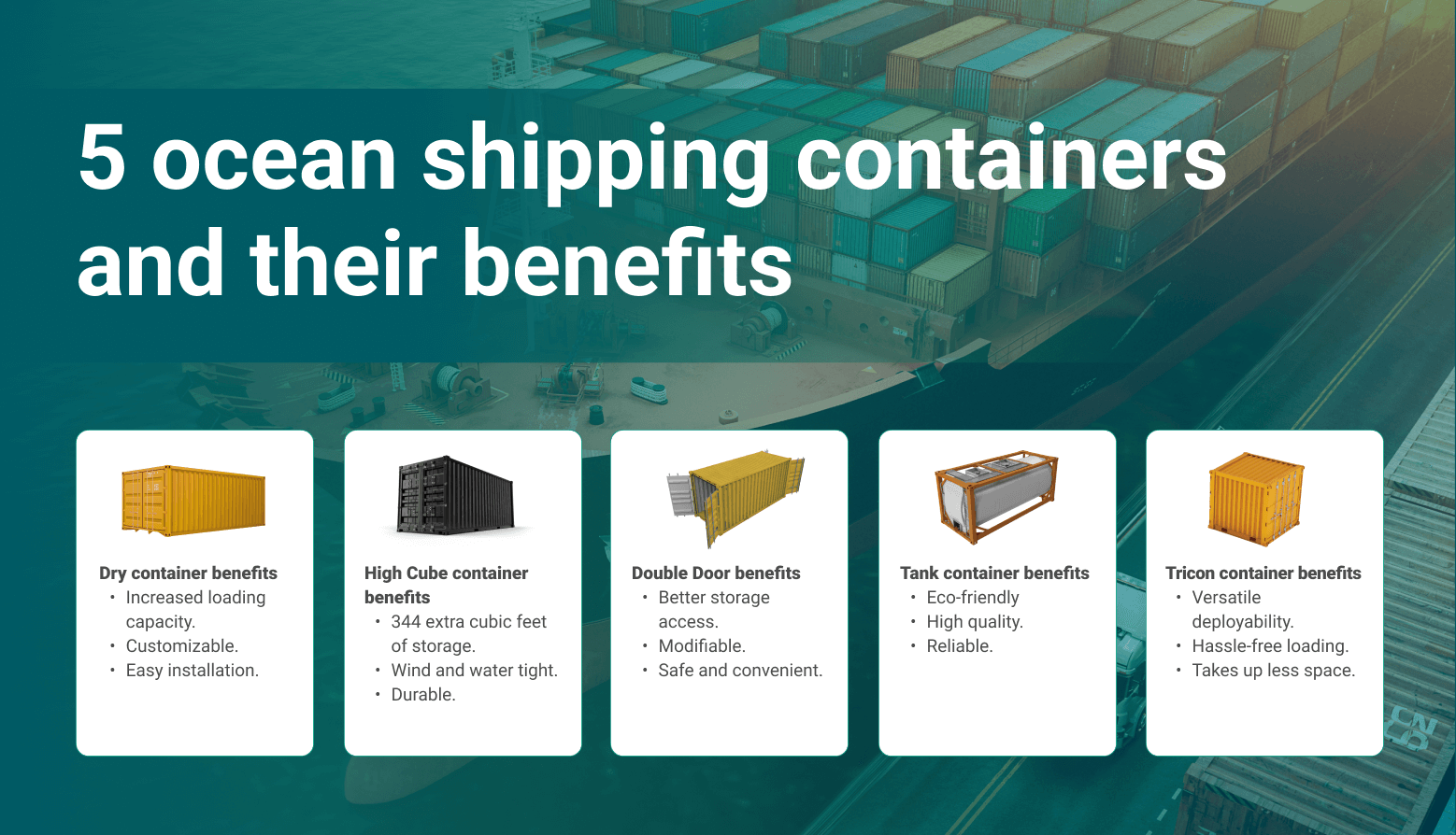 Article Name
What's ocean shipping? Benefits [+ 5 popular container types]
Description
Ocean shipping has many benefits. Read on to know why ocean shipping is the best choice for you and where to find affordable boxes.
Author
Publisher Name
Publisher Logo