Paying Terminal Handling Charges (THCs) is an essential part of the shipping process, and can't be ignored. Read on to get an overview of the different types of THCs. Plus, how you can minimize container surcharges. 
The shipping industry is a lucrative business, but an expensive one too. Being an integral part of the industry, you might have come across the concept of 'Terminal Handling Charges' (THCs) before. So what exactly do THCs entail?
If you sometimes wonder why you pay these additional fees when you're already shelling out on other costs, you're in the right place. In this blog, we'll help you simplify Terminal Handling Charges, and understand their importance.
Unfortunately, you cannot avoid THCs. But there are other surcharges you can completely dodge, such as demurrage and detention fees. But how, you might be wondering? By using SOCs instead of COCs. Luckily, you can find SOCs of all types and sizes, along the stretch you're looking for, on Container xChange. 
We're an online marketplace for leasing and trading containers, with equipment available in 2,500+ locations around the globe. Want to see just how easy it is to find the SOCs you need, at a price you're comfortable with? Choose 'I want to use containers!' type in your pick-up and drop-off locations, and press 'search' to start browsing available offers right away.
What are Terminal Handling Charges?
Terminal Handling Charges (THCs) are fees collected from terminal authorities at ports for the services they provide. These services include equipment handling, container positioning, maintenance, storage and the discharging of equipment.
There are many factors that impact the price of these charges at different ports, starting from the port of origin all the way through to the destination port.
The local charges of a terminal directly affect the THCs, so the cost varies from port to port within each country.  
Unfortunately, Terminal Handling Charges are some of the container fees you just can't get around. Let's learn more about what all THCs include in the next section.
What does the terminal handling fee include?
THCs cover the cost of a variety of services provided by the terminal operator, such as: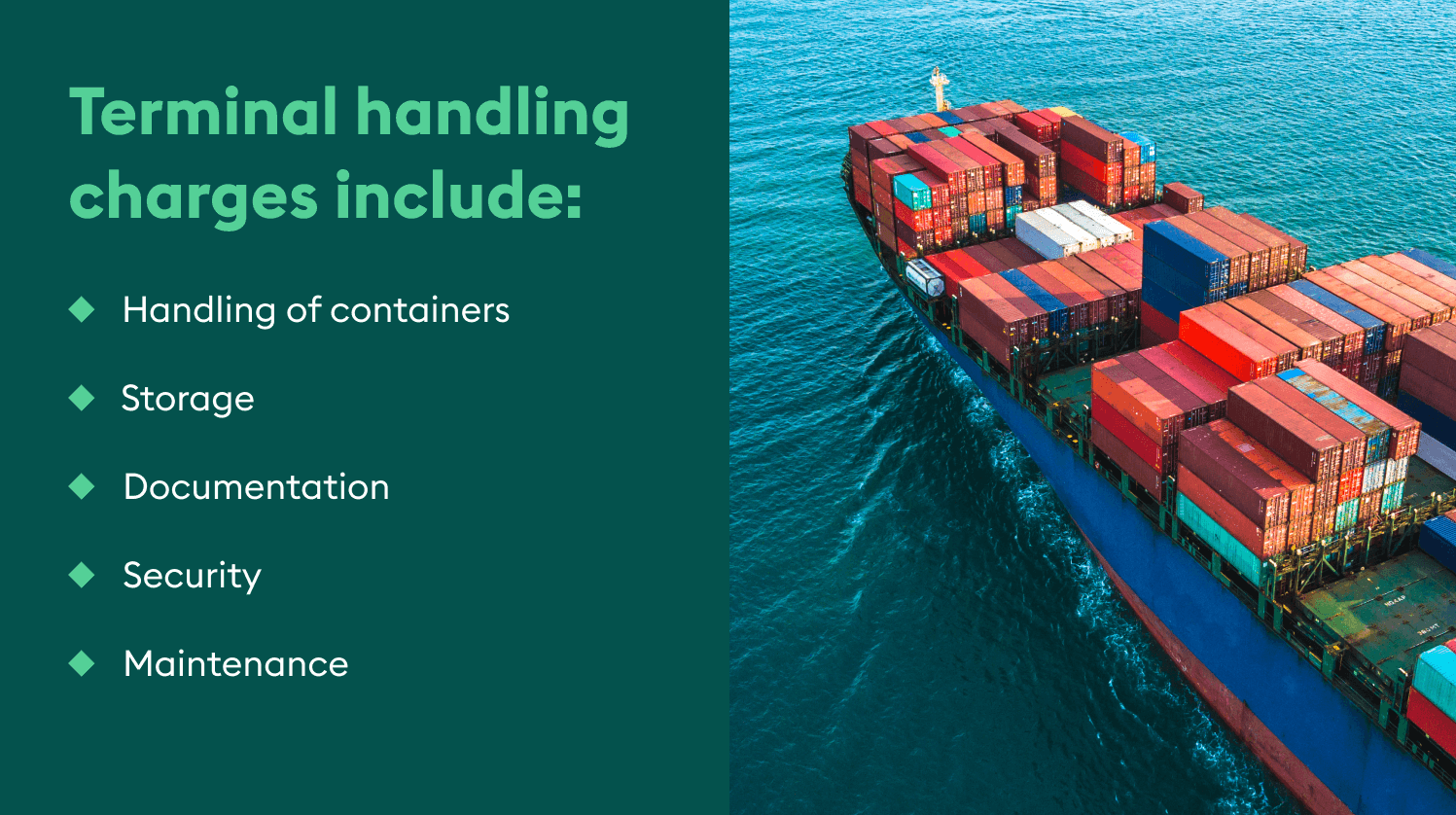 Handling of containers: This includes the moving of containers from the vessel to the yard and vice versa, including the use of equipment like cranes and forklifts.
Storage: The THCs also include storage for containers at the terminal for a particular time frame.
Documentation: Fees may cover the preparation and processing of documentation related to the movement of containers.
Security: Terminals often charge for maintenance and security at the terminal, including the use of security personnel and equipment.
Maintenance: Maintaining terminal infrastructure and equipment is expensive, so this is often included in the final THCs as well.
The specific services added into the final terminal handling charge will vary depending on the terminal operator and the location. It's always important to review the fee structure carefully, in order to understand what services are included. Why? To avoid any unexpected surprises, of course!
Who charges terminal handling fees?
First of all, where are THCs charged? Terminal Handling Charges are payable at the port of origin (OTHC), the trans-shipment port, and the destination port (DTHC).
Terminal authorities charge this fee to shipping companies who then send the cost to the shipper or seller.
Now that we have an understanding of who charges the fees, it's also important to understand why terminals charge them. And where they're using the money. 
It's simple. Freight terminals are now highly tech-rich. This means lots of expensive, complicated machinery that costs heaps of money to repair. To keep these terminals up and running, regular servicing and maintenance is essential. 
Moreover, employees have to be paid for their labor in terminals and ports, and ports need to pay taxes and surcharges. Additionally, as the shipping market grows, there is always room for ports to expand, which requires large amounts of capital for new infrastructure. 

Who pays Terminal Handling Charges?
In most cases, the shipping line is responsible for paying the terminal handling charges on behalf of the shipper/seller. This cost is then sent on to them. The shipping line usually does this when releasing the Bill of Lading, after the final customs clearance procedure.
On the other hand, the carrier usually pays the Terminal Handling Charges at the trans-shipment port, as this is included in their ocean freight cost. 
Ultimately, the responsibility for paying terminal handling charges varies depending on the contract between shipping parties. It's important for all players to be aware of these charges and to factor them into their shipping costs and pricing decisions.
The buyer (consigneeWhat is a consignee? When transporting freight (by ocean, air, or land), there are two parties involved — one who is shipping and the other who is receiving the freight. The recipient of the goods b... More) and seller (shipper) will have an agreement/contract on the THCs at the origin and destination ports, before shipping takes place. 
Seeing as THCs are unavoidable, wouldn't it be helpful to save on other fees? SOCs are the perfect way to reduce container surcharges and save cash. With SOCs, you have more time to get your containers back to the supplier, meaning you can avoid the demurrage and detention fees that are often incurred when containers are delayed at ports.  
Click here to find out how you can find SOCs in the locations you need, in no time at all, and save cash on your next shipment.
Terminal Handling Charges at top ports
Curious about what you'll have to shell out at different ports around the world for THCs? Here's a breakdown of fees for 20ft dry containers in different countries in 2022.
Terminal Handling Charges for TEUs
Country                 
Terminal Handling Charges in USD (Origin)
Terminal Handling Charges in USD (Destination)

Germany

$270

$270

Singapore

$178

$178

India

$130

$124

UK

$225

$225

Japan

$242

$242
So now you've got a better handle on the fees. But what about the different types of THCs? Let's deep dive into this below. 
Types of Terminal Handling Charges
As we mentioned, Terminal Handling Charges are present at origin, trans-shipment and destination ports. So let's learn more about each of these now:

Origin Terminal Handling Charge (OTHC)
OTHCs are paid for port services before a vessel departs the origin port. They're collected by the terminal operator for container movements from the shipper's truck to the vessel.
Destination THC (DTHC)
DTHCs are collected at the port of arrival. This fee includes the loading or unloading of containers, and other charges such as storage, monitoring and port facilities.
Terminal Handling Charge (Liner Out Charge)
The term 'Liner Out Charge' is common on the West African trade route. It's a relatively new term and is stated under the Asia-West Africa Trade Agreement (AWATA). 
AWATA members include China Shipping Container Lines (CSCL), CMA CGM, Delmas, Gold Star Line, Maersk/Safmarine, Mediterranean Shipping Company (MSC), MOL, and Pacific International Lines (PIL).
AWATA was put in place to make the freight structure more transparent. In some countries in West Africa, the Terminal Handling Charges are shown as Liner Out Charge.
It's also important to understand that different containers and cargo types have different Terminal Handling Charges. This is mainly because of the different methods of handling. 
Hazardous liquids need special attention for safe storage and monitoring and often incur higher costs. Similarly, out-of-gauge (OOG) cargo may require the use of heavy-duty forklifts or slings due to their large size.
Reefers also demand constant monitoring to ensure a consistent temperature flow to the cargo. In this way, it's easy to see why special cargo and containers incur higher fees than standard containers carrying standard cargo.
Understanding the Terminal Handling Charge: Example
Let's look at a few examples to understand Terminal Handling Charges better. 
NOTE:
In the following examples, the company names portrayed are false.
THC charged to ABC Pharmaceutical company
ABC Pharmaceuticals in Cape Town, South Africa has a contract to supply 2 x 20ft container loads of insulin to XYZ Imports of Doha, Qatar.
ABC Pharmaceuticals transports these containers to the port of Cape Town for shipment by container carrier Evergreen Line.
Upon arrival at the port, the containers are lifted by port cranes and stacked ready for dispatch. The transport requires reefer containers because of the nature of the cargo. These reefers need regular monitoring by port technicians. The technicians make sure that the desired temperature is maintained and the generators are working correctly until the containers are ready for loading onboard the Evergreen Line vessel.
Here are the terminal handling fees charged to the vessel operator: 
Cost of unloading of cargo from ABC Pharmaceuticals' trucks 

Storage at the port premises 

Monitoring of reefer containers 

Subsequent loading onboard the vessel by the port authority 
Upon arrival at Hamad Port, the reefer containers are offloaded from the vessel and stacked for collection by XYZ Imports. During storage, the reefers are monitored regularly for efficient functioning by technicians at the port.
XYZ's truck imports come for collection, are loaded by cranes or heavy-duty forklifts. The cost is recovered by way of Terminal Handling Charges by the Hamad Port authorities.

What's included in the final shipping cost?
The way a carrier charges Terminal Handling fees also depends on the route of shipping. Usually, the total container shipping cost includes the following surcharges:
Local charges at the origin port

Origin Terminal Handling Charges (OTHC)

Sea/ocean freight charges

Destination Terminal Handling Charges (DTHC)

Local charges at the destination port  
For example: A fully loaded 40ft container shipping spare parts from Shanghai or Hamburg could include the following charges at Origin and Destination ports.  
Export customs clearance (Origin Port)

Booking fee

Origin Terminal Handling Charge (OTHC)

Pick-up charge

Verified Gross Mass (VGM)

Electronic Data Exchange (EDI)

Handling Fee

Destination Terminal Handling Charge (DTHC)

BL release fee

Equipment inspection fee

Import handling
Now that's a lot of charges, don't you think? We're sure you'd like to find out how you can save on other surcharges. If you're curious to learn more, keep reading.
How to use SOCs to reduce shipping surcharges and save money
As you can see, shipping charges can really start to pile up. Luckily, there are some fees you can completely avoid. Especially those dreaded demurrage and detention charges, which can add up to around 20 times the container cost itself! 
In short, you pay demurrage and detention fees when you exceed the agreed upon time frame to use a shipping line's containers. These charges continue to add up each day until you deliver the containers back to the shipping line. Often, delays at ports and terminals are completely out of your hands, yet you've still got to pay the fines. 
So how does using SOCs save you demurrage and detention charges? Basically, instead of using a carrier's containers, you bring your own equipment. When you do this, you're not obliged to return the containers within a specific time frame to the carrier, and can negotiate the free days with the supplier. 
This gives you more flexibility and time to use the equipment. Especially, when you are shipping to remote or distant locations. Finally, you can have more control over the movement of your equipment, including when your containers are picked up and returned to suppliers.
Here's a summary of the main benefits of using SOCs: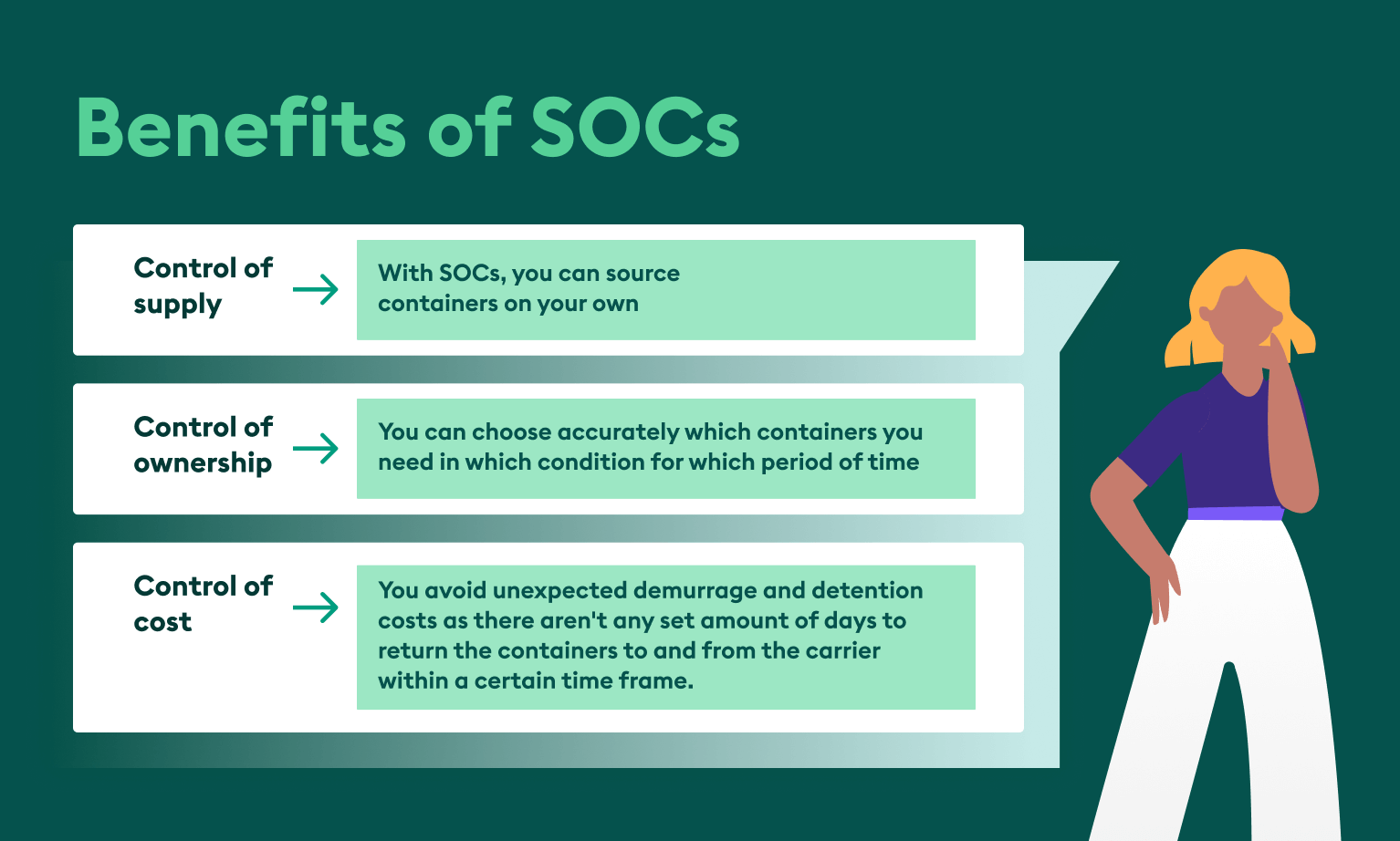 The process of finding SOCs for your one-way shipments is so simple with xChange. Let's walk you through it now. 
Decide on your criteria
First things first, you'll need to decide on exactly what container type and size you require for your shipments. This will depend on what kinds of goods you're transporting. Learn more about the different container types in this separate blog post.
Browse offers
Once you've figured out exactly what you need, head on over to our one-way container leasing platform, and type in your requirements. You'll find a whole host of available offers on SOCs that match your requirements. Here, you can compare the rates of multiple offers at once to make sure you choose the option that works for your budget.
Negotiate a deal
So you've found the perfect offer. Congratulations! Now it's time to negotiate the rates, terms and conditions. The good news? You can talk directly to lessors, no middlemen involved. Make sure you only sign a deal when you're completely satisfied with all of the finer details.

Make safe payments
Finally, you can make all payments directly on the platform you're using to lease containers. How? Using the xChange Wallet. All payments are also 100% safe and secure, and you can keep track of all of your finances in one place. 
Getting containers for one-way moves has never looked so easier, right? 
Get SOCs and reduce surcharges with Container xChange
So how do you get started sourcing SOCs for your container needs? First things first, you'll need to become a member on Container xChange. Once you sign up, these are just a few of the benefits you'll be able to enjoy:
50,000+ container available in over 2,500 locations
Work with vetted and reliable partners
Negotiable prices and 0% commission on deals
Want to find SOCs along the routes you need and reduce unnecessary surcharges today? Click below to sign up for your free demo with one of our friendly and helpful experts. You'll get a sneak peak of the platform, and a chance to ask any burning questions you might have. So what are you waiting for? Get started on your SOC journey with xChange today.
Terminal Handling Charges: Common FAQs
Summary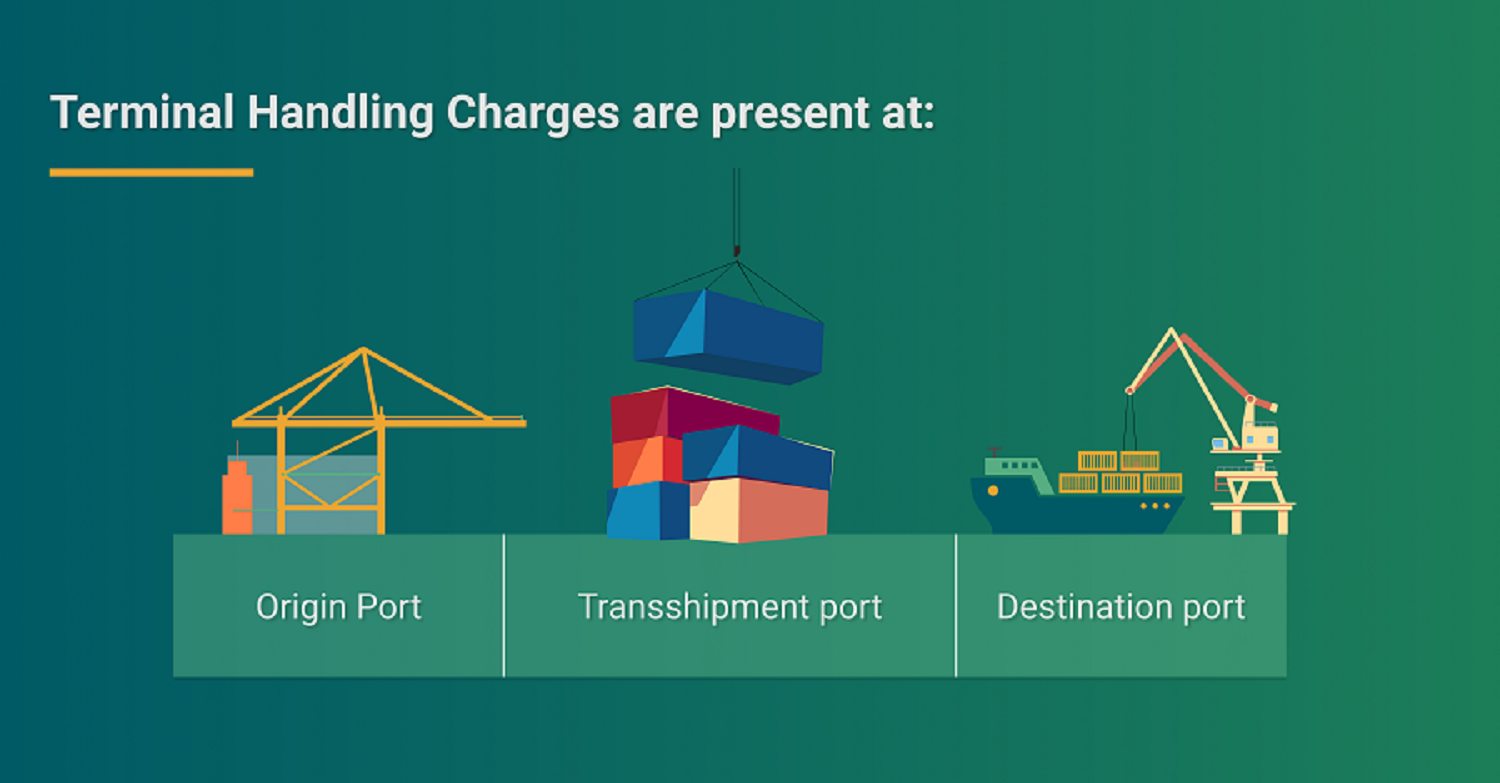 Article Name
Terminal Handling Charges (THC): What to pay at ports? [2023]
Description
Terminal Handling Charges are necessary for ports to run efficiently. Learn all about them, plus how to save on surcharges.
Author
Publisher Name
Publisher Logo