Looking for freight forwarders in China to transport your goods in excellent conditions? Find top-rated freight forwarders located in China, right here. 
Efficiency and cost-effective shipping of goods in mint condition. That's the fundamentals of freight forwarding. To accomplish this, you need trustworthy and experienced freight forwarders and NVOs. Companies that handle logistics and make sure that goods arrive on time.
Keep reading a get the list of the top-rated freight forwarders on Container xChange.
Find a Freight Forwarder in China
The world's 2nd biggest importer of goods, China is also known as the world's factory due to its strong business ecosystem, lack of regulatory compliance, low taxes and duties, and competitive currency practices. The country's economy thrives as a manufacturing powerhouse. All these factors contribute to making China one of the best choices to produce high-quality and low-cost products. And to help the trade expansion, China has a well-developed infrastructure. Being at the heart of production and transport.
This also means that China is devoted to developing and improving logistics and transport. Especially ports, airports, road, and rail links and connections to improve the experience of goods movement globally.
With more than 2000 ports, China has a shipping capacity of over 2,890 million tonnes annually. There are 7 major ports in China — Dalian, Guangzhou, Nanjing, Ningbo, Qingdao, Qinhuangdao, and Shanghai.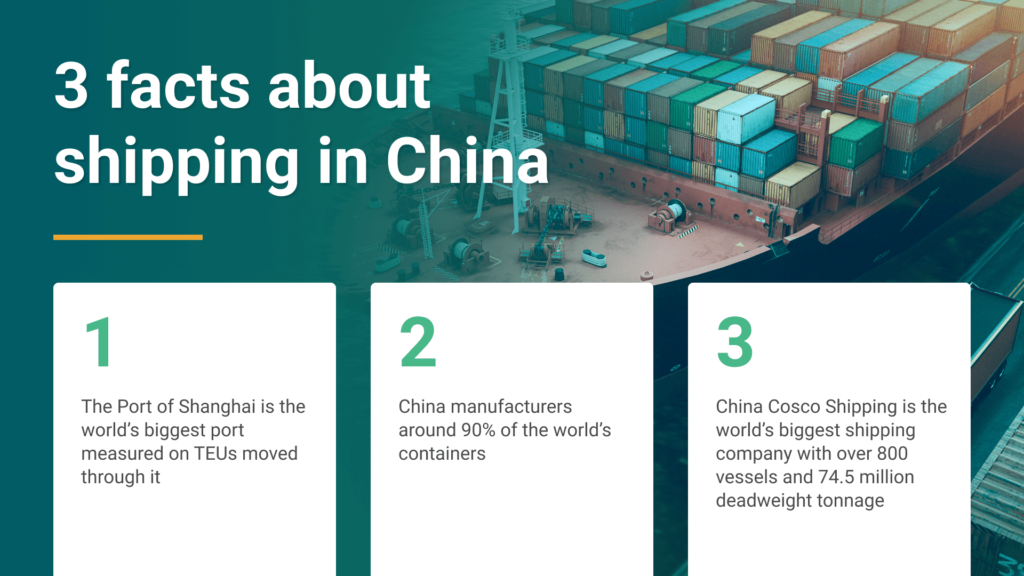 The Shanghai Port is the busiest port in China. And every year more than 450 million tonnes go through the port. The containers are both domestic, national, and international cargo. But it's also responsible for maintaining, manufacturing, and leasing containers, as well as building, managing and operating port facilities.
China is an extremely important part of world trade with its GDP being over 18%. Importing Chinese goods necessitates international freight transportation, and by extension, competent freight forwarders and NVOCCs.
At xChange, we've curated a list of the best-rated freight forwarders in China. The list is based on performance ratings and partner reviews to ensure complete transparency. So, this way you can see how the freight forwarders have been rated by their partners.
Freight Forwarders v/s NVOCCs
​But first, let's understand the differences between freight forwarders and NVOCCs:
| | | |
| --- | --- | --- |
| | FREIGHT FORWARDER | NVOCC |
| 1 | They are associated with the International Federation of Freight Forwarders Association (FIATA); following procedures according to FIATA standards. | They are not linked with any international associations, thus, do not follow any standard procedures. |
| 2 | Freight forwarders are agents to shippers. | NVOCCs are carriers to shippers. |
| 3 | Freight forwarders do not operate or own containers. | NVOCCs manage or hold cargo containers. |
| 4 | Freight forwarders typically own and operate the warehouses they use for the cargo they load to/from airports and seaports. | NVOCCs do not own and operate warehouses. Only large NVOCCs that take on nearly all functions of freight forwarders own warehouses. |
| 5 | Freight forwarders around the world cooperate in their operations to reduce costs and improve timely deliveries. | NVOCCs work independently, using agents or third-party companies to support them. |
| 6 | Freight forwarders may function as agents of NVOCCs. | NVOCCs work independently. |
Read more: What is the difference between NVOCC and Freight Forwarder?
Top Freight Forwarders In China
Here we give you a list of the most reliable freight forwarders in China having a rating of 4.8 and above out of a 5 point scale on our xChange platform. [The top freight forwarders are provided a company rating based on real-time performance and partner reviews].
Shenzhen Rich Fun Railway Logistics Supply Chain Co., Ltd.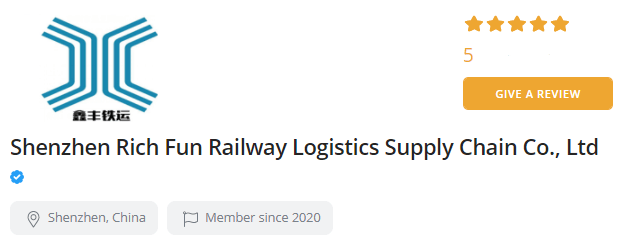 Located in Shenzhen, Shenzhen Rich Fun Railway Logistics Supply Chain Co., Ltd. provides comprehensive supply chain management. The services cover for instance import/export, international multimodal railway transportation, customs declaration, warehousing, dispatch. They mainly operate between China, Europe, CIS, and Iran.
Additionally, they provide customers with FCL/LCL services to worldwide destinations, both direct and deferred air service to major international destinations, document & parcel door to door express; as well as value-added services like cargo security, temporary storage, transportation of sensitive goods, customs clearance, etc.
Learn more about Shenzhen Rich Fun Railway Logistics Supply Chain
Shanghai Longsun Intertrans Co., Ltd.
Shanghai Longsun Intertrans Co., Ltd. was founded in 2020. And with over 20 years in the maritime and freight forwarding industry, the company has vast experience. The company provides international freight forwarding services with import and export of all kinds of cargo. As well as multi-modal movements. Something it has evolved as the most trusted freight forwarder company in Shanghai.
It provides freight forwarding via ocean, air, and land freight along with fast and transparent brokerage services too.
Learn more about Shanghai Longsun Intertrans
Greatmicro Supply Chain Co., Ltd.
Founded in the year 2000, Greatmicro Supply Chain Co., Ltd. is located In Qingdao, China. With a rich experience of 21 years, the company is U.S. FMCSA licensed for domestic trucking brokers and is a professional in the handling of overweight cargo (for >44000lbs).
They provide immaculate transportation services for many goods especially log, lumber, agriculture, food, fruit, etc. They also are classified as Class A freight forwarders in China. 
Learn more about Greatmicro Supply Chain
Cohesion Freight Agency Ltd.

Cohesion Freight Agency Ltd. was founded in 1984. The company provides NVOCC capabilities as well as flexible, end-to-end transport to meet all shipping schedules, routings and requirements.
Located in Shanghai, China, Cohesion Freight Agency Ltd. takes care of all negotiations with carriers on the shipper's behalf. They book space with the shipping lines and process all relevant shipping documentation.
Leaders in international logistics and transportation, the company provides other services like Air Freight Charter, Door-to-Door Transportation, Daily Consolidations, Import/Export, Warehousing & Distribution, Project Cargo, Certified Cargo Screening (CCSF), etc.
Learn more about Cohesion Freight Agency
Concord Freight System Co., Ltd.
Founded in 2009, Concord Freight System Co., Ltd. is aimed to provide low-cost and high-quality logistics services. Services that are based on accumulated experience, knowledge, and their wide network.
Located in Guangzhou, China, it provides comprehensive services that cover sea freight, air freight, inland road transportation, and China-Europe train services. The company offers a wide range of services. Such as warehousing,  clearance of goods, entry-exit inspection and quarantine, and inland transportation.
Concord is a global service provider. Some of the things, They're well-known for being major project logistics providers of chemical products, SOC, OOG cargo, and more.
Learn more about Concord Freight System
Qingdao Speedy Express International Logistics Co., Ltd.
Founded in 2013, Qingdao Speedy Express International Logistics Co. Ltd. is an authorized NVOCC and freight forwarding company by the Ministry of Communications of the People's Republic of China.
Located in Qingdao, China, the company provides international logistics to almost the entire world. They offer one-stop door-to-door, land, sea, and air storage and distribution services for all kinds of cargo and containers.
Learn more about Qingdao Speedy Express International Logistics
Find More Trustworthy Freight Forwarders And NVOCCs In China
Container xChange is the most preferred choice of more than 800 freight forwarders and NVOCCs in the world. xChange helps you find trustworthy freight forwarders, whom you can entrust your equipment, in case of one-way leasing or container trading. 
Or maybe you're looking to join a reputable platform together with other trustworthy freight forwarders? Then this is what the xChange platform can help you with:
Buying and selling containers on a commission-free marketplace
Finding containers for one-way lease

A wide variety of equipment procured from trustworthy partners in 2500+ locations

Connecting with certified firms all over the world to expand your container logistics network
Caught your interest? Then check it out 👇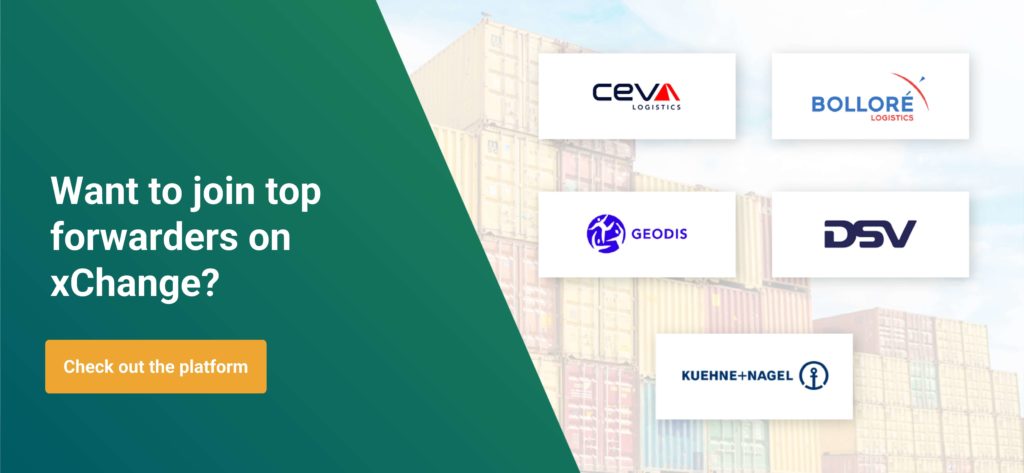 [custom-related-posts title="Related Posts" none_text="None found" order_by="title" order="ASC"]
Summary
Article Name
Top freight forwarders/NVOCCs in China [2022 list]
Description
Get the list of top-rated freight forwarders in China right here. And gain access to credible freight forwarders operating worldwide.
Author
Publisher Name
Publisher Logo