What is a container terminal?
Container terminals or container ports (used interchangeably) are the terms designated for the intermediate destination facilities that enable shipping containers to switch methods of transport en route to their final destination.
Often times, cargo arrives to a container terminal in a single ship and is distributed over several modes of transportation for delivery to inland customers. The terminal is also an area which is designated for the maintenance and temporary stowage of shipping containers. Sometimes, the unloading, loading and storage of the cargo within these containers is also carried out here.
What is the container terminal's role in the shipping process?
Container terminals are located strategically as critical points of a complex logistic network. Maritime terminals host the transfer of containers from ocean vessels to road and rail vehicles and canal barges, and the other way around. They are often a part of a larger port- the largest of which are located around major harbors. When the transloading is between rail and road, the facility is referred to as an inland container terminal.  These are situated in or nearby major cities and are well-connected to maritime containers by rail.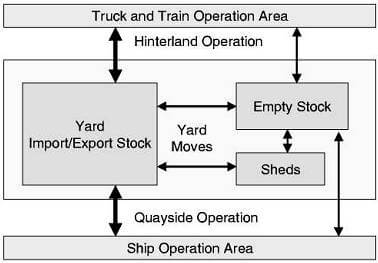 Hinterland connections to maritime terminals are vital to the supply chain. Consider the many landlocked countries in Europe and their inability to trade goods with non-neighboring countries should this interconnectivity fail to exist. The European Sea Ports Organization, which represents all ports within the European Union has stated that "it is essential to build a sustainable pan-European transport network connecting all relevant ports with main inland nodes." As many European countries don't have any seaports, their economic welfare relies heavily on having land connections to seaports in other countries.
Let's also consider the USA and the vast area of land cargo needs to be distributed throughout. Their estimated volume of international freight movement for 2020 is expected to be 4 million tons per day! That's a whole lot of freight and a huge demand for efficient hinterland operations.
What is the operational process of a container terminal?
Upon a ship's arrival at the port, manned quay cranes take the containers from the ship. The quay cranes transfer the containers from the ship's hold and deck to vehicles, such as AGVs (automated guided vehicles). The vehicles travel between the ship and the stack, where they drop off the containers to be stored for a brief period of time. After this period, the containers are taken from the stack by cranes and transported by AGVs to their next transportation mode.  These could be barges, deep sea ships, trucks or trains, for example.
To load export containers onto a ship, these processes are executed in reverse order. Most of the terminals still make use of manned equipment such as straddle carriers, cranes and multi-trailer-systems, though container terminal automation has been making exciting advances.
How are container terminals classified?
According to their ownership between ports, operators, shipping lines and carriers, the container terminals around the world are classified into five main types:
State-run terminals
All the facilities of the public terminals, for instance, loading and unloading processes, tariff rates and allotted places in and out are shared equally among all the shipping lines and operate on a first come first serve basis. Regular tariff rates apply for the handling of containers and other related charges or are otherwise or discounted upon agreed rates.
Carrier-Lease dedicated terminals
These are the result of collaboration between major carriers and port authorities resulting in the signing of long-term lease agreements for exclusive use by these carriers. The carriers are responsible for paying costs which are incurred as priority usages for the carriers. Maersk, as one example, has quite a few terminals contracted for their long-term usage. Furthermore, a few shipping lines have developed partnerships which use multi-user long-term contracts to share out the terminal usages.
Terminals built and operation terminals
Terminal operators are the direct investors in the construction, operation, handling facilities of a terminal. Contracts for lease with the port authorities are made with a deposit towards the total handling charges of the container operations.
Carrier
This is a type of licensing in which a carrier or several carriers together lease the container terminals by making advanced payments to the port authorities or investing directly in their construction, operation and handling services, similar to terminals built and operation terminals.
Joint venturing of the carriers and terminal operators
Shipping lines and the terminal operators establish a company so that the terminals are jointly operated for safe, prioritized and efficient container handling operations.
What are terminal handling charges (THC)?
A completely localized charge which is set by the port at the various locations is a terminal handling charge. THC is a varying charge across the many ports on a shipping route. THCs can be diverse at different terminals within the same port, and even if the container stays with the same shipping line. This charge is an accumulation of costs connected to the terminal provider's property and applies only to ocean freight. These include access, equipment and its use, maintenance, and labour. The wharf, the carrier's terminal facility, or a container freight station (CFS) are the property which is covered in these costs.
THC is a pass-through charge which can be fairly expensive and is legally non-negotiable. They are normally valid for a year but differ in other aspects. Some lines have volume-based THCs at the various ports around the world, while sometimes terminal handling charges are an all-inclusive rate included with the port to port charge. Occasionally some charges, like wharfage, aren't combined but rather charged as a separate fee.
Forwarders don't apply a margin and the THC is easy to check, as most carriers usually display it on their home page. However, it could possibly lead to some confusion, because carriers vary in their application. Some include "destination" THC's in their freight rates, whereas others don't. For this reason, it is important to reference the Incoterms.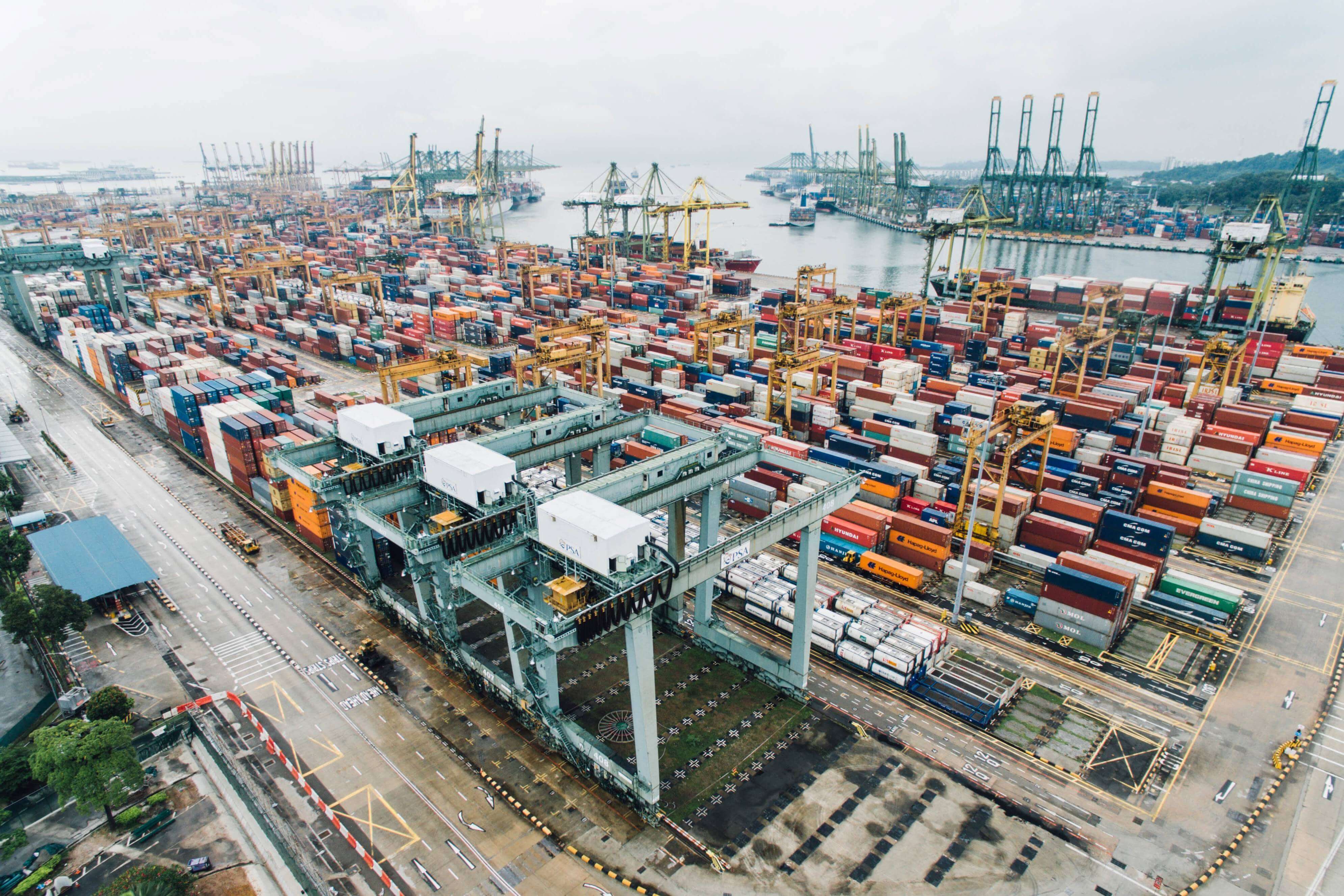 What is the largest container terminal in the world?
As of 2017, seven out of the top ten ports in the world belong to China. Shanghai ranks in at number one and Singapore takes second place. The world's top ports are measured in terms of throughput, which is a standard measure for the productivity of a seaport. Container throughput is defined as a measure of the number of containers handled over a period of time. This is measured using twenty-foot equivalent units (TEU). A TEU is the means of describing the carrying capacity of a train or ship. For example, a 40-foot container takes up the space of two TEUs.
Shanghai is not only the largest terminal in terms of TEU, but also in land area. It is spread over 3,619 square km of land- that's nearly 507 FIFA soccer fields!
Who owns and operates Container Terminals?

Hutchison Ports Holdings
Hutchison Ports is one of the largest container terminal operators in the world headquartered in Hong-Kong. It is the first operator in the world to achieve a throughput of 1.3 billion TEU. They operate in 51 ports in 26 countries across 6 continents. Even though their expansion has slowed down, they are a big player in the market with ports that lie on the BRI stretch.
PSA
PSA International is another major player in container terminal operations headquartered in Singapore. It was formerly the Port of Singapore Authority. From just operating national terminals, PSA branched out in 1996, starting with Dalian, China. PSA now manages 45 terminals across the world. PSA is known for staying ahead of its time, by rebuilding their terminals for mega containerships even before they were operating.
DP World
DP was just a local port operator in 1972 at the Dubai Port. In the late 1990s, they started expanding and is now a globally reckoned name. They operate in 52 terminals across 6 continents. It is one of the fastest growing companies. DP world acquired the shipping line Unifeeder which is a big feat, as a container terminal operator acquiring a shipping line is unheard of.
APM Terminals
APM Terminals is a part of A.P.Moeller-Maersk and is headquartered in the Netherlands. It has 78 terminals and 100 inland services across the world. They are constantly expanding, and they made $4.13 billion in revenue in the year 2018.
Some other big players in the Industry include Cosco Shipping, MSC/TIL, CMA, Yilport Holdings, China Merchant Port Holdings.
What challenges does the future hold?
It has been over 50 years since the first container terminal was put into use, and the world has dramatically changed due to this event. We have come quite far from the days of pre-containerization, break-bulk shipping. Technology has enabled us to begin to automate container terminals and thus reduce dependence on manual labor and increase efficiency.
Some ports are advancing rapidly, however, older technology is still in use in the less developed areas of the world. Unfortunately, it could be many decades before new technologies reach these ports, creating a challenge for the global shipping industry. Furthermore, shipping vessels continue to grow in size and the development of mega ships creates further challenges in respect to the abilities for container terminals around the world to handle the capacity.
Related Posts
Summary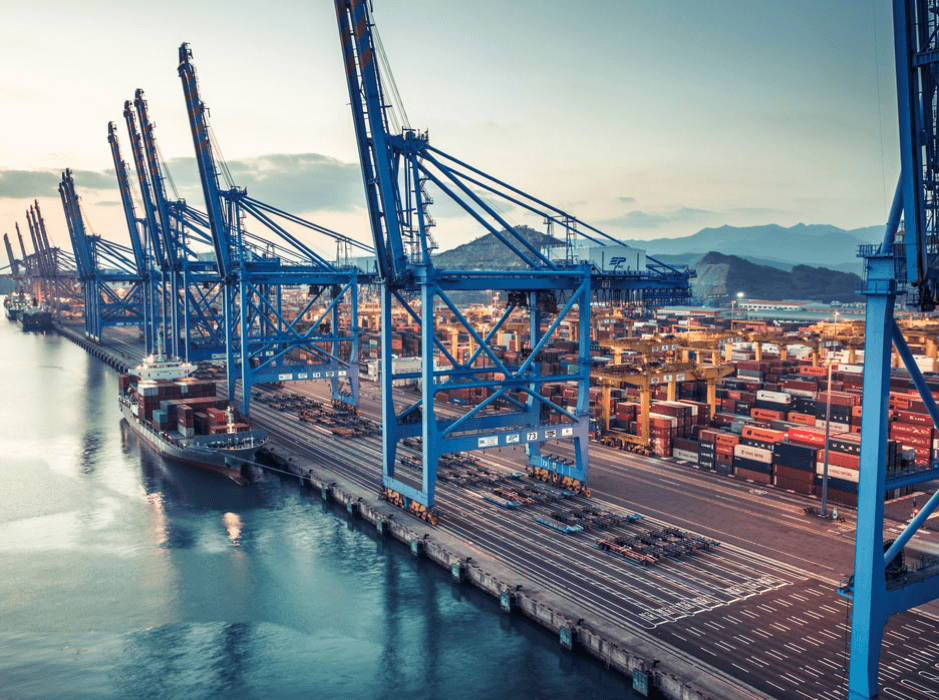 Article Name
Different Types Container Terminals [+ and the biggest operators]
Description
Container terminals or container ports (used interchangeably) are the terms designated for the intermediate destination facilities that enable shipping containers to switch methods of transport en route to their final destination.
Author
Publisher Name
Publisher Logo